Soak up the last bit of summer with these fantastic waterways.
If you haven't gotten around to planning a fun summer float trip, we just have one question for you: what are you waiting for? Hopefully we'll be greeting a hot, sunny Labor Day weekend this year because Missouri has plenty of great rivers that are perfect for a holiday float trip. So whether you're wanting a weekend-long trip or just a few hours on the water, each of these Missouri waterways providers floaters with countless opportunities for additional outdoor recreation, fishing and camping to make the most of your time on the river.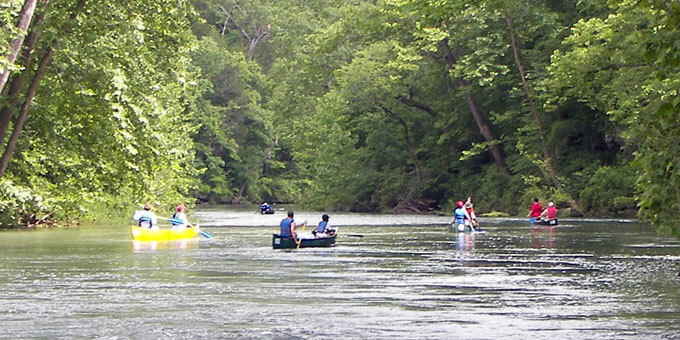 1. Big Piney River
This river covers 110 miles of Texas, Pulaski and Phelps counties and is fed by several large springs, making it ideal for float trips even when there hasn't been much rain. Big Piney River is known for its good fishing, especially in its upper and middle reaches (near the river's source) and plenty of bass and rainbow trout call the river home. Keep your eyes peeled for the rare bluestripe darter and Missouri saddled darter. The surrounding scenery is even better, with lush, tree-topped bluffs peeking over the river's edge and some great swimming spots to enjoy along the way.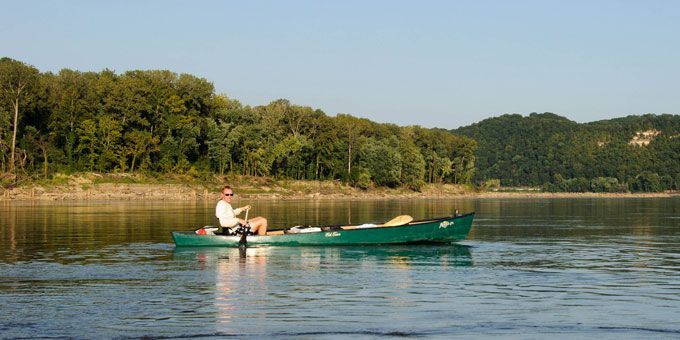 2. Big River
About 83 miles of the Big River is great for canoeing or floating, with slow-moving water and a class 1 difficulty rating. The river meanders through St. Francois, Washington and Jefferson counties and its banks are spotted with park areas that brag plenty of lodging options, fishing spots, hiking trails and historic tours. You'll pass right through the banks of Washington State Park, Twin River Park, Cedar Hill Park and St. Francois State Park so make sure to plan any additional activities with that in mind.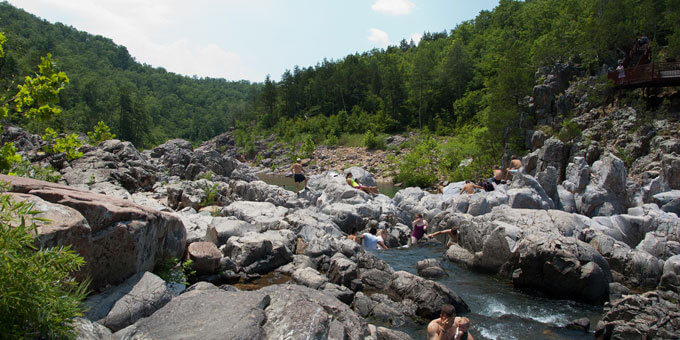 3. Black River
The upper reaches of the Black River brag some of the most beautiful scenery you'll find in the Ozarks. About 30 miles of the river are accessible, with lazy waters that carry floaters past sandstone bluffs, plenty of wildlife and remote Ozark forest areas filled with majestic oaks and pines. Anglers will find the upper Black River to have decent bass fishing and the east fork of the river runs right by Johnson Shut-Ins State Park, which is unnavigable by boat, but such a fun swimming spot. Many floaters prefer the Black River because of its spectacular scenic beauty and variety of accessible streams nearby to explore.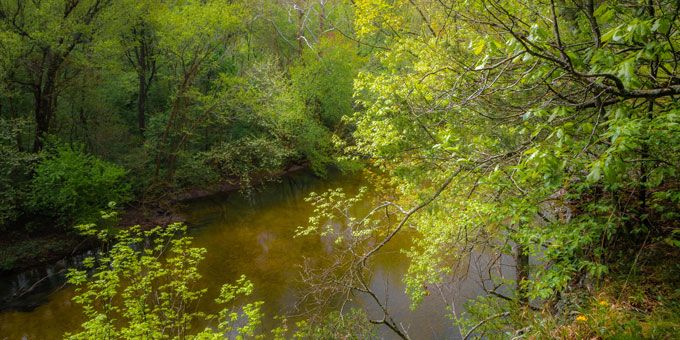 4. Huzzah Creek and Courtois Creek
The Huzzah Creek and Courtois Creek are two, small clearwater creeks that eventually meet with the Meramec River. Just 100 miles from St. Louis, the Huzzah Creek finds its way through Crawford County while the Courtois Creek winds through both Crawford and Washington counties. Both waterways run through Mark Twain National Forest where plenty of outdoor recreation awaits. But before setting out for a float trip, make sure to check the water levels first. These creeks' floatability depends on the season and how much rain there has been.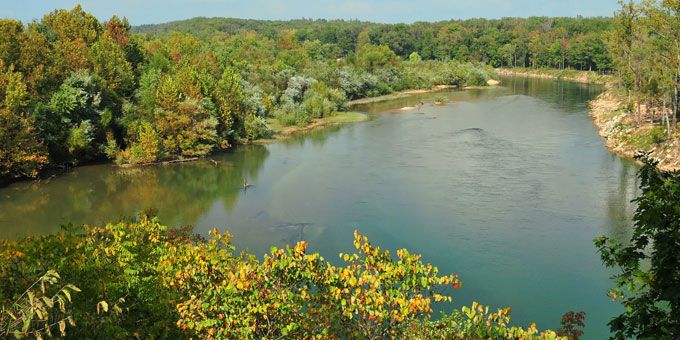 5. Current River
The Current River is typically packed with floaters and boaters during those summer weekends, so if you're planning a float trip for Labor Day weekend, you can bet there will be many others with the same idea. The Current River runs through Dent, Shannon, Carter and Ripley counties, with plenty of springs feeding into it. In fact, just beyond the Pulltite Access point, you'll find Fire Hydrant Spring, which rushes out from a bluff cave. You'll also pass through sections of Montauk State Park and Current River State Park, which boasts incredible views of the river, hiking trails and picnic sites.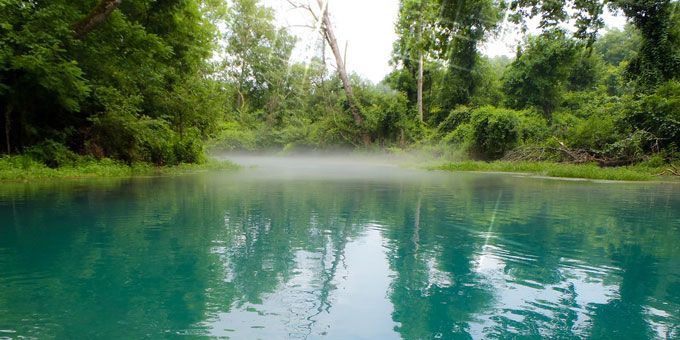 6. Eleven Point River
The Eleven Point River spans 138 miles of southern Missouri and northern Arkansas and attracts millions of visitors every year. Just three hours from Springfield, Missouri, this river is fed by several springs, including the gigantic Greer Spring, the 10th largest freshwater spring in the world. Naturally, Eleven Point River provides wonderful, full waters for floating. The difficulty rating is set at a I and sometimes II level, but the scenery is well worth navigating those twists and turns. The area below the Greer Spring is called The Irish Wilderness, and features rolling hills, leafy forests, striking sinkholes and large caverns.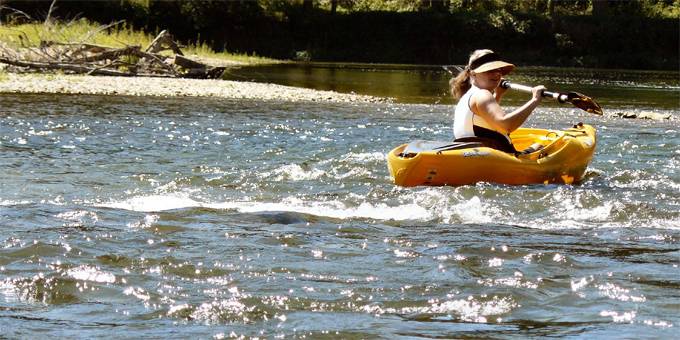 7. Elk River
The Elk River flows through McDonald County and serves as a continual favorite for floaters and canoeing visitors. Even anglers make their way to this river for the large population of bass. The river's edge is occupied by many different outfitters, rental companies, campgrounds and resorts, making it easy to embark on a several day trip filled with scenic Ozark adventures. The Cyclone low-water bridge near big Sugar Creek State Park is the best spot to start a float trip on Elk River.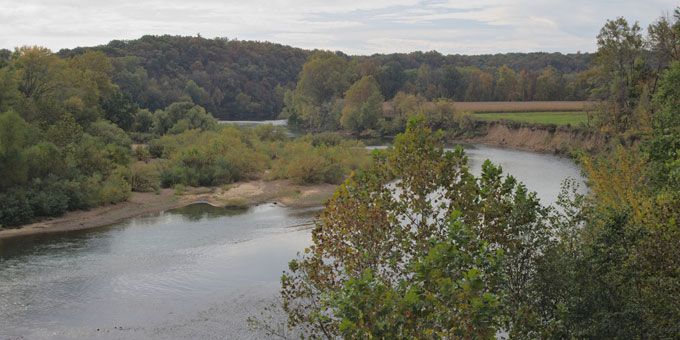 8. Gasconade River
The Gasconade River flows through the Mark Twain National Forest and through 300 miles of Wright, Laclede, Pulaski, Phelps, Osage, Maries and Gasconade counties. Perfect for a group float trip, the calm waters can gain speed quickly in some areas, but the vast majority of it is great floating water. Not to mention, you never know what a turn around the next bend will bring. Plenty of riverside recreation makes for fun camping, hiking and picnicking, the wildlife sightings are unbelievable and the gorgeous Ozark mountains provide magazine-worthy photo ops while you're floating along.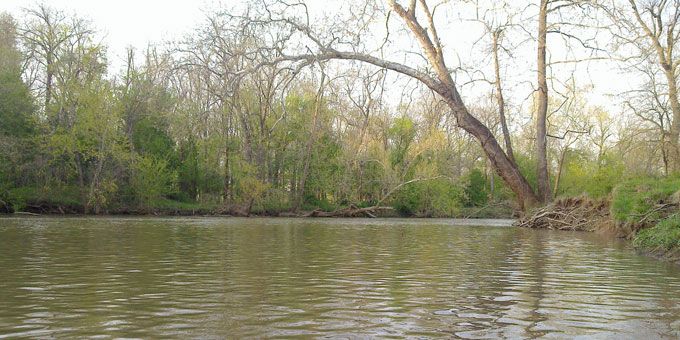 9. James River
The James River is a reputable spot for some great float trips. The James runs through Christian and Stone County and the 22-mile trip from Hootentown to Galena is rumored to be fantastic for fishing floaters. Overnight float trips are totally doable, with plenty of riverside amenities and boat launches. Hootentown covers 47 miles of the river so it's the perfect place to start a float trip, especially if you need to rent any canoes or kayaks and are wanting to be picked up downriver.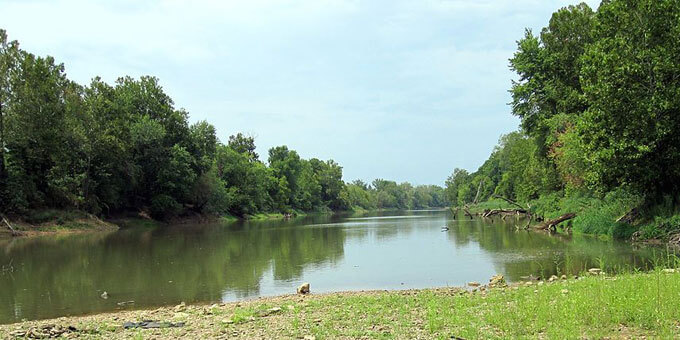 10. Meramec River
The Meramec River flows through six different counties and is a popular floating river year round. Start at Maramec Spring at Maramec Spring Park and float your way down to Meramec State Park for one of the most beautiful and scenic float trips you'll ever have. Spend some time at Maramec Spring Park for great trout fishing or enjoy the winding hiking trails, natural springs and more than 40 caverns within Meramec State Park.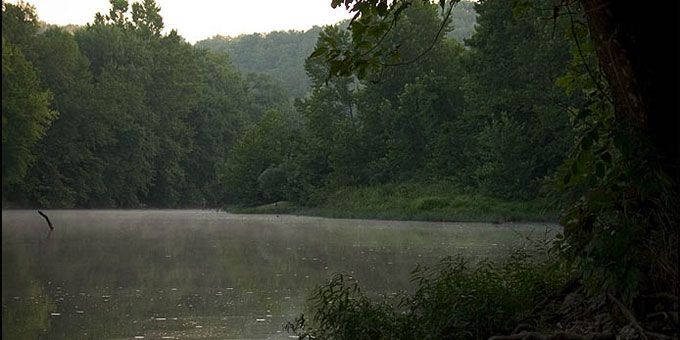 11. Niangua River
If you plan your float trip on the Niangua River, expect it to be crowded. The Niangua River is one of the most popular fishing and floating rivers in Missouri, with a trout hatchery in the adjacent Bennett Springs State Park and plenty of great campsites with convenient places to kick off your float trip. The river flows through Dallas, Laclede and Camden counties, so you'll have the opportunity to stop by Ha Ha Tonka State Park. The park is home to the beautiful ruins of a 20th-century castle and more than 15 miles of hiking trails.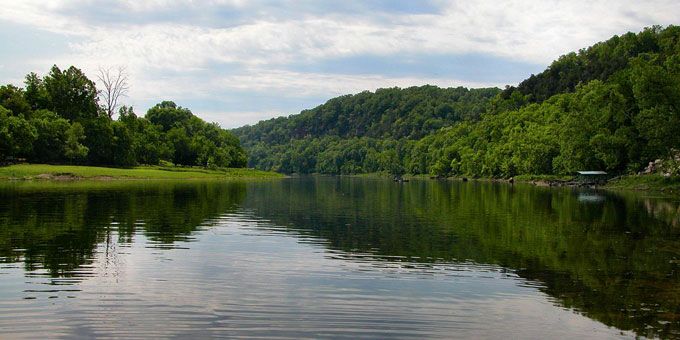 12. North Fork River
The upper areas of the North Fork River flow through the Mark Twain National Forest, which provides floaters with plenty of outdoor recreation activities. The river is a tributary of the White River and flows for 109 miles down into Arkansas. Whether you're floating, canoeing, rafting or kayaking, the North Fork is a great choice. Rated by the Missouri Department of Conservation as a level I and II difficulty, this scenic waterway provides endless summer fun for those looking to soak up the last bit of summer in the Ozarks.
Where do you like to go floating in the summer? Did we miss your favorite spot? Leave us a comment and let us know!