Savannah, GA Attractions
Best Seller
This is one of our most popular activities. Be sure to book soon before it sells out!
Vacationing is something that everyone looks forward to. Depending on where you are going and what you are going to do your vacation could become one of the most memorable experiences of the year. If you are planning on taking your next vacation in the Savannah, GA area then you may want to consider participating in the Savannah Riverboat Sightseeing Lunch and Dinner Cruise. This fantastic cruise may last approximately 2 hours depending on your package selection. The cruise travels through the beautiful scenic Savannah River and while you ride you are provided with an amazing lunch and dinner. This attraction also offers different packages that you can choose from such as the Harbor Sunset Cruise, the Harbor Sightseeing, Narrated Harbor Luncheon and many more.
<
Dec 13
N/A
Dec 14
N/A
Dec 25
N/A
>
Attractions in Savannah, Georgia never disappoint, and the American Prohibition Museum is no exception. This interactive museum takes visitors on a journey through the United States' era of prohibition, complete with exhibits showcasing the rise of the temperance movement, the actions of prohibition enforcement agents, and the eventual repeal of the 18th Amendment. Enjoy period-inspired cocktails in the speakeasy or take home a souvenir from the gift shop. This immersive experience is a must-visit for history buffs and cocktail enthusiasts alike.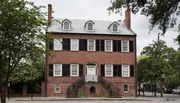 Enjoy taking a step back in time to the 1820s when you stop in and visit the Davenport Museum attraction during your trip to Savannah, Georgia! Initially built as the home of Isaiah Davenport and his family, after his demise his widow Sarah turned a profit running a boarding house within its walls. The property was purchased in 1955 by the newly created Savannah Foundation who worked diligently to restore it to its previous glory. With over 500 different and beautiful artifacts dated from that time period such as furniture and books, you will learn more about the history of this beautiful home and the surrounding area. Known as one of the oldest buildings still in existence in Savannah, you will truly be amazed at the architecture and intricate detail that is seen throughout the home.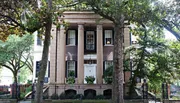 Savannah, Georgia is a place where several historic structures such as homes and grand estates of a period gone by can be found. One such iconic attraction that has drawn tourists for decades is the Harper Fowlkes House and with good reason, the structure illustrates the incredible architecture from an era known as the Greek Revival period. But the beautiful exterior of the grand estate is just the beginning of this tour. From here individuals go inside on a guided tour that will make guests feel as if they were transported through time, the mansion built in 1842 has been preserved to hold many of the artifacts from its past, authentic furniture pieces, and several historical exhibits all of which tell the heritage of the house and the area itself.
<
Dec 10
N/A
Dec 12
N/A
Dec 14
N/A
Dec 15
N/A
Dec 17
N/A
Dec 19
N/A
Dec 21
N/A
Dec 22
N/A
Dec 24
N/A
Dec 25
N/A
Dec 26
N/A
Dec 28
N/A
>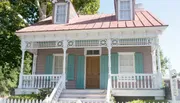 King - Tisdell Cottage attraction is named for the cottages former owners, Eugene and Sarah King as well as Sarah's second husband, Robert Tisdell. The cottage is dedicated to preserving the African American culture and history. It is packed full of a variety of interesting pieces and artifacts that are from the time of 1890s. It is basically a typical "coastal black residence' of the time period. It is a wonderful representation of how African Americans lived in the past. It also includes sculptures from the popular African American sculptor, Ulysses Davis. The cottage was originally built as a Victorian Center Hall Cottage full of gingerbread looks including the wheel and spindle patters that are decorative additions to the front porch.
<
Dec 10
N/A
Dec 11
N/A
Dec 17
N/A
Dec 18
N/A
Dec 24
N/A
Dec 25
N/A
>
Attractions don't get more fascinating than the Webb Military Museum in Savannah, GA. A visit to this museum offers a comprehensive insight into the military history of the United States, with fascinating exhibits showcasing everything from weapons and artillery to uniforms and vehicles. You'll see rare memorabilia displayed with pride, including items such as authentic helmets, weapons from different wars, letters, and photographs. The museum is a must-visit for anyone with an interest in history or military culture.
<
Dec 10
N/A
Dec 11
11:00 AM
12:00 PM
1:00 PM
2:00 PM
3:00 PM
4:00 PM
Dec 12
11:00 AM
12:00 PM
1:00 PM
2:00 PM
3:00 PM
4:00 PM
Dec 13
11:00 AM
12:00 PM
1:00 PM
2:00 PM
3:00 PM
4:00 PM
Dec 14
11:00 AM
12:00 PM
1:00 PM
2:00 PM
3:00 PM
4:00 PM
Dec 15
11:00 AM
12:00 PM
1:00 PM
2:00 PM
3:00 PM
4:00 PM
Dec 16
11:00 AM
12:00 PM
1:00 PM
2:00 PM
3:00 PM
4:00 PM
Dec 17
N/A
Dec 18
11:00 AM
12:00 PM
1:00 PM
2:00 PM
3:00 PM
4:00 PM
Dec 19
11:00 AM
12:00 PM
1:00 PM
2:00 PM
3:00 PM
4:00 PM
Dec 20
11:00 AM
12:00 PM
1:00 PM
2:00 PM
3:00 PM
4:00 PM
Dec 21
11:00 AM
12:00 PM
1:00 PM
2:00 PM
3:00 PM
4:00 PM
Dec 22
11:00 AM
12:00 PM
1:00 PM
2:00 PM
3:00 PM
4:00 PM
Dec 23
11:00 AM
12:00 PM
1:00 PM
2:00 PM
3:00 PM
4:00 PM
Dec 24
N/A
Dec 25
11:00 AM
12:00 PM
1:00 PM
2:00 PM
3:00 PM
4:00 PM
Dec 26
11:00 AM
12:00 PM
1:00 PM
2:00 PM
3:00 PM
4:00 PM
Dec 27
11:00 AM
12:00 PM
1:00 PM
2:00 PM
3:00 PM
4:00 PM
Dec 28
11:00 AM
12:00 PM
1:00 PM
2:00 PM
3:00 PM
4:00 PM
Dec 29
11:00 AM
12:00 PM
1:00 PM
2:00 PM
3:00 PM
4:00 PM
>