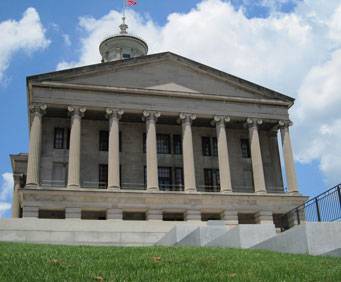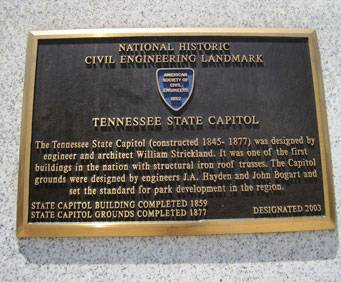 Tennessee State Capitol Building in Nashville, TN
600 Charlotte Ave Nashville, , TN 37243
The following tours go by Tennessee State Capitol Building:
Tennessee State Capitol Building is a Tour Stop / Pick Up for the following tours:

7/15/2019 - 12/31/2019

Hop aboard a charming trolley for a a href="https://www.
The Tennessee State Capitol, located in Nashville, Tennessee, is the home of the Tennessee legislature, the location of the governor's office, and a National Historic Landmark.
The State Capitol was designed by renowned Philadelphia architect William Strickland, who modeled it after a Greek Ionic temple and the building is one of Nashville's most prominent examples of Greek Revival architecture and the lantern at the top is a copy of the Choragic Monument of Lysicrates in Athens. The cornerstone was laid on July 4, 1845 and the building was completed fourteen years later in 1859.
The American Society of Civil Engineers has listed the building as a civil engineering landmark in recognition of its innovative construction, which made unusually extensive use of stone and was an early example of the use of structural iron. Strickland died five years before the building's completion and was entombed in its northeast wall. His son, F. W. Strickland, supervised completion of the structure.
Monuments on the Capitol grounds include statues of two of the three Tennessee residents who served as President of the United States. The second President from Tennessee, James K. Polk, is buried in a tomb on the grounds, together with his wife, Sarah Childress Polk.