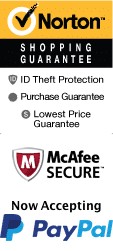 Discover Nashville Inclusive Bus Tours
108 1st Ave S Nashville, TN 37201
1-800-987-9852
Chat Now
Get a tasting of all things Nashville with a Discover Nashville motorcoach tour. The Discover Nashville Inclusive Bus Tours offer admission to sought-after city attractions, as well as an up-close look at all Nashville, TN has to offer tourists and locals alike.
Experience Nashville Bus Tours
Ride along in comfort on board your luxury, 25-passenger bus tour to see Historic Downtown Nashville and the nearby vicinity, where many of the most popular Nashville attractions are located. Save time with this 3.5-hour tour of the city, which will give you fantastic views and in-depth information about the sights you're seeing from the comfort of your bus. Your tour guide is friendly and knowledgeable about local life. A Nashville bus tour is a cool way to get in touch with the city, so be sure to book one of these great tours the next time you visit Music City.
During the tour, you will get spectacular views of many attractions, including Honky Tonk Row, Music Row, the Tennessee State Capitol, the Parthenon, Bicentennial State Park and Mall, Vanderbilt University, Studio B, and more! After the narrated portion of the tour has finished, you will even get to take a personal self-guided tour of the Ryman Auditorium and the Country Music Hall of Fame and Museum.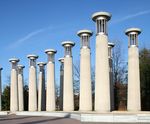 Pass By
Bicentennial Capitol Mall State Park
Located in the heart of downtown Nashville, the park preserves the last remaining view of Nashville's Capitol building. The scenery and atmosphere give visitors a taste of the history and natural wonder of the area, and adjacent to the park is the Farmer's Market, open every day except holidays.

Pass By
Vanderbilt University
This private research university has taught many notable politicians, Nobel laureates, Pulitzer Prize winners, and Academy Award winners in its time, and the 330-acre campus is a national arboretum with over 300 different species of trees and shrugs.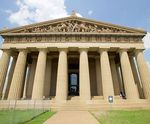 As a full-scale replica of the Parthenon in Athens, this Nashville Parthenon functions as an art museum and stands as the centerpiece of Centennial Park. This version serves as a monument to what is considered the pinnacle of classical architecture.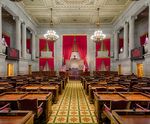 Pass By
Tennessee State Capitol Building
Take a look at the Tennessee State Capitol, which was modeled after a Greek Ionic temple and is one of only ten state capitols without a dome. Guarded by monuments of Presidents Andrew Jackson and Andrew Johnson, the capitol's construction was completed in 1859.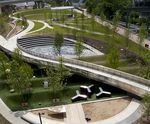 A popular venue for concerts, picnics, parties, games, and river excursions, Riverfront Park is located on the banks of Cumberland River in downtown Nashville. The park offers a great view of the cityscape and LP Field.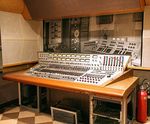 Pass By
Music Row and Studio B
Near downtown Nashville, Music Row is home to hundreds of businesses related to the country music, gospel music, and contemporary Christian music industries. This area is the heart of Nashville's entertainment industry.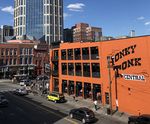 Located along Lower Broadway, Honky Tonk Row became a creative breeding ground for hopeful performers, musicians, and songwriters yearning to make it in Music City. Today, this area maintains a down-to-earth musician hangout attitude while welcoming visitors from around the world.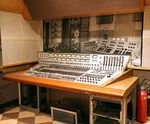 Pass By
Historic RCA Studio B
Famous since the 1960s for being a part of the Nashville Sound, Studio B has been the recording place for many famous country artists, including Dolly Parton, Elvis Presley, Roy Orbison, The Everly Brothers, and more!

Pass By
Fort Nashborough on the Riverfront
Established as a stockade in 1779, Fort Nashborough was a forerunner to the settlement that would become the city of Nashville. Today, a reconstructed fortification stands near the site of the original structure and is maintained by the Nashville Parks and Recreation.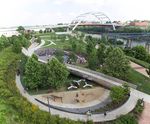 Pass By
Downtown Nashville
When you visit Downtown Nashville, you will see more than just some great country western stars singing. Many of the famous places in Nashville are located in or near the historic downtown area.
If you want to make the tour even better, the Discover Nashville Bus Tours can be paired with two other tours, the Homes of the Stars Tour, which drives you past the homes of acclaimed country music stars from a luxurious motorcoach, or the Grand Legends Tour, which transports you to the Gaylord Opryland Resort and the Opry House. When booked with one of these other tours, you will have a full-day experience of about seven hours exploring the exhilarating Music City!
Of course, after this memorable sightseeing tour, you can take a self-guided tour of these places at your own leisure. Go sightseeing and learn about the live music scene, the local life, and see the eclectic Nashville skyline all in one tour. There are plenty of other brilliant attractions to enjoy after one of these inclusive bus tours. So if you want to take a hop-on hop-off trolley or city tour, see the Country Music Hall of Fame and Museum, see a show at the Grand Ole Opry, take the General Jackson Cruises, a walking tour, or even travel on a trip to explore downtown Memphis, there are many amazing options to make your Nashville, TN travel experience one to remember. There are also many hotels in Nashville to complete your vacation package!
Options:
Discover Nashville
Available 12/12/2023 until 11/30/2024 View Detailed Schedule
Enjoy admission to the Discover Nashville Inclusive Tour, a 3.5-hour tour that offers admission to popular attractions for one of the best tours in Nashville! This convenient tour will save you time as you get a complete look at Nashville with one fantastic tour.
Reviews

Marvin Rusnak
Marlton, NJ
✓
Verified Traveler
"Anyone who plans to visit Nashville should include a Discover Nashville Tour as the first item on their To Do list"
Anyone who plans to visit nashville should include a discover nashville tour as the first item on their to do list. This tour provides a great overview of the town, it's highlights, centers of activity, things to do and see... And it is all done with a great tour guide with a fabulous sense of humor! We thoroughly enjoyed visiting the ryman auditorium, home of the original grand ole opry, and the country music hall of fame, and we are not even country music fans! You will also have a great time on broadway with all the clubs that have musicians entertain you day and night. You gotta go to nashville!

Valerie Carabetta
Somerset, NJ
✓
Verified Traveler
"great way to see Nashville"
The discover nashville tour was a great way to see nashville if you are crunched for time. You get information about the history of each site you visit. You do not stop at the parthenon, so go visit separately if you want to see it, and i think you should. The time at the ryman is more than sufficient, but you don't get to tour the opry. If you are a huge country music fan, you may want to skip the tour and visit the cm hall of fame on your own, as you only get 1 1/2 hours in there. For me, that was plenty of time. I recommend asking questions about what you will see and won't see so you can plan accordingly.

Brian DeGroat
Walden, NY
✓
Verified Traveler
Great tour!We had a great time and i would suggest people take a guided tour if they are offered (like ours was). We wouldn't have found some of the attractions that our tour guide showed us and because of that we experienced everything nashville had to offer

Twila Norris
Wichita, KS
✓
Verified Traveler
"one of the best decisions we did for our vacation in Nashville."
The tours we booked through you were one of the best decisions we did for our vacation in nashville. This gave us a chance to see sites and learn the history of nashville without driving in traffic and trying to find our way. Thank you for the professional way the entire thing was handled. Should we come back, i will be looking you up for more tours.
Frequently Asked Questions for Discover Nashville Inclusive Bus Tours:
What methods of transportation does the Discover Nashville Inclusive Tour use?

This is a 25-passenger bus tour.

Is there any walking involved?

The Grand Legends Combo Tour includes less than 1 mile of walking.

Approximately how long does the Discover Nashville Inclusive Tour last?

Guided Tour Takes Approximately 3.5 Hours, and Combo Tours Take Approximately 7 Hours

For what ages is the tour appropriate?

Great for all ages.

What type of dress & footwear are recommended?

Casual clothing is fine.
Book Now!