Memphis, TN Attractions
Take yourself back in time with the King of Rock and Roll and visit the attraction of the most famous entertainer in history when you visit the magical home at Elvis Presley's Graceland Experience.
Available 731 days between Now & Oct 22
There are very few places that when you step into them you know that you have stepped into history, but Sun Studio is one of them and when you take a guided tour through this attraction, you will be stepping in where music legends have recorded!
Available 434 days between Now & Dec 31
In 1968, the Lorraine Motel was where Nobel Peace Prize winner Martin Luther King was assassinated; now, it's the National Civil Rights Museum, an attraction dedicated to the history of civil rights and equality.
Available 374 days between Now & Dec 31
Oct 29
N/A
Sold Out
Nov 05
N/A
Sold Out
>
Music lovers boot scoot n' buggy their way to Tennessee's Music Hall of Fame attraction deep in the heart of Memphis where there are garments a plenty, hymns a singing, rare memorabilia and video footage.
Available 431 days between Now & Dec 31
This museum is dedicated to educating the public about the history of movie production. This self-guided tour allows its guests to take their time going through the attractions and viewing the exhibits at their own pace. The museum is handicap accessible.
Available 434 days between Now & Dec 31
Experience the wonders at the Pink Palace Museum attraction in Memphis Tennessee, where there's an amazing Piggly Wiggly exhibition which was the first self-serve grocery store, fossil and dinosaur exhibits, Civil War history, and a 3D theatre!
Available 434 days between Now & Dec 31
They say that the Stax Records popularity happened by accident, however this attraction pays tribute to the many stars who started their career with over 2,000 interactive exhibits and galleries that will help to keep the music alive.
Available 630 days between Now & Oct 22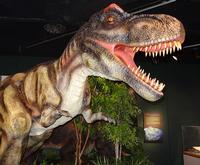 IMAX and Pink Palace Museum Attraction Combination Ticket The Pink Palace Museum Combo Ticket with IMAX is a super great deal that you can not pass up, you will spend up to 4 hours at the exhibit and all ages included.
Available 434 days between Now & Dec 31