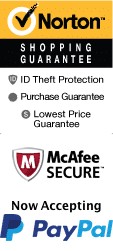 The Grand Hotel on Mackinac Island, MI
ORDERING INFORMATION
Book by Phone:
1-800-987-9852
Book Online:
Mackinac Island is the epitome of classical elegance and historical significance, and no hotel on the island better captures the intangible spirit of Mackinac Island than the Grand Hotel. Ever since 1887 the Grand Hotel has been impressing Mackinac Island visitors, and this historic lodging only seems to get better with age. From hosting lectures by Mark Twain in the late 1800's to being showcased in a number of movies, this hotel's legend only seems to grow with time.

Grand Hotel Holds On To The Formal Values Of Yesteryear
While much of the modern world has taken a turn towards overt casualness, the Grand Hotel holds on to the framework of old world values the same way Mackinac Island is speckled with beautiful Victorian-style architecture. One such sample of this romantic notion is in the policy of formal wear being required of all guests in all areas of the hotel during dinner. This means a coat and tie for the men, and dresses for the women.

The Grand Hotel Is Immortalized In Film
Although the Grand Hotel had been involved in various motion pictures throughout the history of film, it wasn't until the movie Somewhere In Time, starring Christopher Reeves and Jane Seymour, was released that the Grand Hotel really got the movie star treatment it deserves. In fact, the hotel itself could be thought to be the third star of the film. The majority of the movie takes place in the Grand Hotel as Reeves' character attempts to come in contact with a dead actress (played by Seymour) whose portrait is featured in the lobby of the Grand Hotel.

Grand Hotel's Distinctive Facts & Features
As early stated, the Grand Hotel claims to have the longest front porch in the world, and it certainly is something to behold. Stretching to 660 feet and covered with thousands of flowers, the Grand Hotel front porch is a beautiful and focal part of the Mackinac Island social setting.
Five U.S. Presidents have uncovered the magic of the Grand Hotel. These prestigious guests include Harry Truman, John Kennedy, Gerald Ford, George H.W. Bush and Bill Clinton.
The Grand Hotel has been involved in a number of movies, including This Time For Keeps (1949) and Somewhere In Time (1980).
Each of the Grand Hotel's 385 rooms are uniquely decorated.
With the immense popularity of the Grand Hotel, it can sometimes be difficult to get a room, but no worry. With a Grand Hotel Grand Luncheon Buffet and Self-Guided Tour, you'll be able to experience all of the sights in Mackinac Island and elegance of this historical lodging. So, whether or not you can actually find an opening at the Grand Hotel, you'll be able to experience this historic Mackinac Island lodging whenever you're on vacation on Mackinac Island.