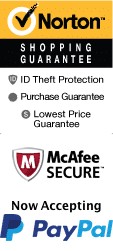 Experience the Best of the Great Smoky Mountains
The Great Smoky Mountains area is one of the most beautiful places in the country. Not only is this region gorgeous, but it also offers some of the greatest entertainment. From immaculate lodging to shows and attractions, there is so much to see and do. With the best of the Smokies, you can create an unforgettable Southern getaway.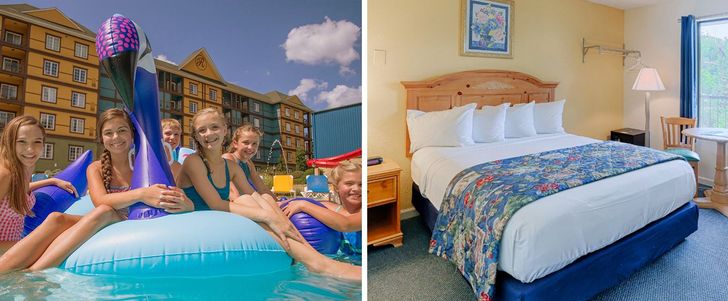 Best Lodging Options
Of course, when you plan a vacation, you need a place to stay. There are many awesome hotels and accommodations in the Great Smoky Mountains, so whether you want to create a casual and fun weekend getaway or an unforgettable luxury vacation, there is something for every family.
The Resort at Governor's Crossing: If you are looking to take your vacation to the next level, be sure to book The Resort at Governor's Crossing. This resort features two water parks, a game room, and mini-golf, allowing visitors to enjoy awesome fun during their visit. Guests can also enjoy comfortable rooms and awesome amenities such as free WiFi, an onsite spa and restaurant, and free breakfast.
The Creekstone Inn: For something a little more low-key yet still pristine, the Creekstone Inn is a wonderful option. This hotel can help you enjoy a home away from home. With an outdoor seasonal pool, complimentary breakfast, flat screen tv with cable and free WiFi, you can have an enjoyable time. Plus, the location is great! The Creekstone Inn showcases grand views of the Little Pigeon River, and guests can even check out a free inner tube for floating the river. It is also located just a little over a mile away from Dolly Parton's theme park and other notable Smoky Mountain attractions. Another great option includes the Clarion Inn Pigeon Forge.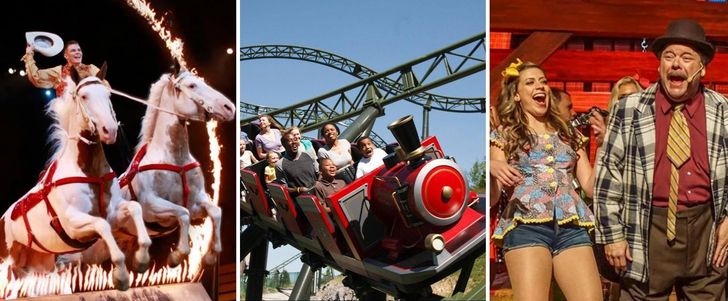 https://www.vacationsmadeeasy.com/GatlinburgPigeonForgeAreaTN/activity/MoonshineMurdersDinnerandShow.cfmDolly Parton's Shows and Attractions
Speaking of Dolly Parton, this theme park is just one of many of her great shows and attractions. Not only is Dolly Parton a country music legend, but she has made a huge impact on the entertainment industry in places like Branson and the Smoky Mountains. In the Gatlinburg/Pigeon Forge area, guests can enjoy amazing entertainment.
Dollywood: This beloved theme park is a place you absolutely must visit when you vacation to the Smoky Mountains. The park is brimming with rides that will thrill. From roller coasters to rides suited for the little ones, there are fun opportunities for every member of the family. There are also many shops and eateries located onsite and shows performed throughout the day.
Dolly Parton's Stampede: Dolly Parton's Stampede is the most famous dinner show in the country. This amazing two-hour showcase features stunning horse tricks, dancing, a patriotic tribute, and original music from Dolly Parton herself. Plus, guests will also be able to dine on a delicious rotisserie chicken dinner with generous servings of mouthwatering sides. Top it all off with a sweet dessert!
Hatfield and McCoy Dinner Show: Everyone knows the story of the infamous Hatfield and McCoy families, but you can witness it live in the Smoky Mountains! See the two feudin' families as they compete with dancing, singing, aerial stunts, rope tricks, and more! All of it is in good fun, and be sure to come hungry because dinner is served. This all-you-can-eat buffet features fried chicken, pulled pork shoulder, 'smashed mashed taters', and buttery corn on the cob. Make sure you leave room for Granny's Special Dessert.
The Comedy Barn Theater: Looking for a hilarious family-friendly show? Be sure to book tickets to the Comedy Barn Theater! The audience will be awestruck by fire-breathing, magic, ventriloquism, and live animals. You will be able to see your favorite Comedy Barn Canines and Comedy Barn Cloggers too! All of this combined with side-splitting comedy makes this show a fantastic addition to any Great Smoky Mountain area vacation.
Magic Beyond Belief with Darren Romeo: Magic is great for all ages. Be sure to head to Magic Beyond Belief with Darren Romeo to witness some awe-inspiring tricks and illusions. Darren Romeo is a decorated magician who has earned awards such as the Academy of Arts' Magician of the Year Award and the coveted Merlin Award. His classic sets and unique flair are sure to bring wonder to all who witness his show!
The Smoky Mountain Opry Variety Show: Witness the best hits from eras past at the Smoky Mountain Opry Variety Show. This show features the greatest songs from artist such as Frank Sinatra, George Jones, Janis Joplin, Stevie Wonder, and more. These legends completely reshaped the music industry, and their music combined with dance numbers, comedy, and magic creates an explosive performance unlike any other!
Some other awesome options include the Country Tonite Theatre, Great Smoky Mountain Murder Mystery Dinner Show Moonshine Murders, and Outdoor Gravity Park.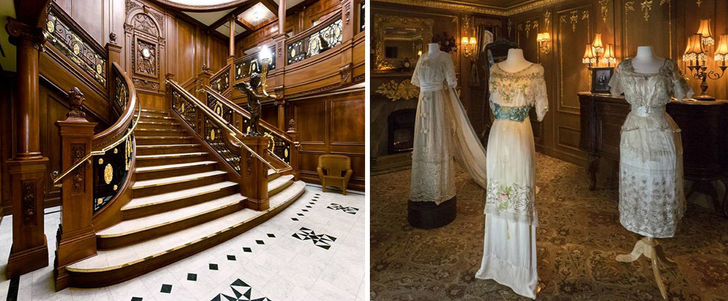 The Titanic Museum
While you are in the Gatlinburg/Pigeon Forge area, be sure to stop by the Titanic - World's Largest Museum Attraction. This museum truly gives new perspective and knowledge of the harrowing tragedy. Walk into a huge replica of the Titanic herself and see exhibits that create an immersive look into the ship's voyage. Guests can browse galleries and see authentic artifacts from the ship itself. Visit a genuine replica of the Grand Staircase and touch a simulated iceberg. There is no better way to learn about the Titanic.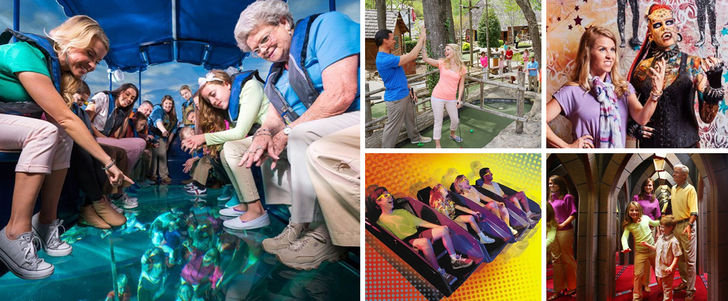 Ripley's Attractions
There are so many awesome Ripley's Attractions in the Pigeon Forge/Gatlinburg area. These include everything from mini golf to an aquarium and an interactive theater. Do not miss out!
Ripley's Believe It or Not Museum Gatlinburg TN: Ripley's is known for the oddities that he collected during his lifetime, and his legacy showcases those things in a fun and unique way. Explore the Odditorium which is brimming with everything from shrunken heads to a model train made of matchsticks. The most bizarre artifacts from around the world can be found right in the Great Smoky Mountains!
Ripley's Aquarium of the Smokies: For animal lovers, there truly is no better place to go than Ripleys Aquarium of the Smokies. Here, guests can see countless exhibits detailing marine life like never before. See stingrays, jellies, sharks, and more while educating yourself about the ocean. There is also a restaurant on site, so you can grab a bite to eat and get back to exploring.
Ripley's Mini Golf: Mini Golf is great for all ages, and Ripley's offers two different courses. Ripleys Davy Crockett Mini-Golf and Ripley's Old MacDonald Mini Golf are both 18-hole courses that provide fun for all ages.
Ripley's Marvelous Mirror Maze: Make your way through a classic mirror maze during this fun activity. This labyrinth puts your skills to the test and is awesome for the entire family!
Ripley's Haunted Adventure: Those who are braver can head out to Ripleys Haunted Adventure. This haunted house-style experience features a live actor, haunted halls adorned with creepy decorations, evil clowns, and more.
Ripley's Moving Theatre: See some awesome films in a brand new way at Ripley's Moving Theatre. This attraction is perfect for all ages. During the films, guests will be immersed in these movies through seat movement, 3D effects, and state-of-the-art sound.
Get ready to experience the best of the Great Smoky Mountains during your next vacation! With these awesome lodging, show, and attraction options, you are bound to have an unforgettable time in the Gatlinburg/Pigeon Forge, TN area. Whether you see the Dolly Parton's Stampede show, visit the Titanic Museum, or learn about the ocean at Ripley's Aquarium, this is the place to be!