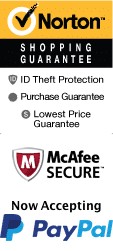 Ripleys Aquarium of the Smokies In Gatlinburg, TN
88 River Road Gatlinburg, Tennessee 37738

The Smoky Mountains are going undersea at Ripley's Aquarium Gatlinburg, Tennessee. There are more than 10,000 aquatic animals from around the world that call Ripleys Gatlinburg TN home. You can explore some of the world's finest elements of nature and wildlife, including 350 different species at the Ripley's Aquarium Tn exhibits. The various Ripley's Pigeon Forge / Gatlinburg exhibits take you on exciting adventures through the Tropical Rain Forest, the Ocean Realm, the Coral Reef, a Shark Lagoon, a Gallery of the Seas, the Sting Ray Bay and more.
Ripley's Aquarium in Gatlinburg TN
You will have the opportunity to pet a sting ray at the Touch a Ray Bay exhibit at this Gatlinburg TN aquarium, then explore the workings of the Ripley aquarium with a visit to the Systems Control in Ripley's Aquarium Gatlinburg TN. Crawl through the underwater tunnels at the Penguin Playhouse Ripley's Aquarium Tennessee and watch as these energetic black and white creatures swim and twist and dive all around you. At the Gallery of the Seas exhibit at the Ripley's Aquarium Pigeon Forge / Gatlinburg location, you'll have the opportunity to explore some of the most unique and outstanding species found underwater. Ripleys Gatlinburg Aquarium is known for presenting the world's oddities, and this place is no different. The Gallery of Seas exhibit shows you the strange cuttlefish, a relative to squids and octopuses, the latter of which can also be found in the tank. Sea nettles, or jellyfish, are also on display, with their long, flowing tentacles.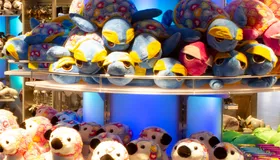 The Feeding Frenzy restaurant is on-site, in case you need to grab a bite to eat while visiting the aquarium Gatlinburg TN. Dine among the graceful, gliding sting rays, then get a souvenir from the Cargo Hold Gift Shop to bring home with you. The Cargo Hold features marine gifts, as well as works from local artisans - including some of the penguins.
Exhibits at Ripley's Aquarium of the Smokies Pigeon Forge Gatlinburg Aquarium Include:
Brand New 4-Story Play House at Ripley's Aquarium Gatlinburg
New to the Ripley's Aquarium of the Smokies Gatlinburg, TN is the play house adventure area. Here, guests will be able to burn off some energy as they climb, slide, hop, and have a blast on four stories of fun obstacles. Explore Turtle Crossing and look out at the aquarium below in the observation bubble. There are so many awesome things to discover.
Shark Lagoon at Ripley Aquarium
This area features a huge 340-foot long glidepath which brings guests face-to-face with some of the largest animals at the aquarium. Guests can see everything from sandtiger sharks to tarpons, green mora eels, sea turtles, and giant stingrays.
Penguin Playhouse Ripley Aquarium Gatlinburg TN
Get up-close and personal with some of the most playful and adorable creatures. This area features a huge indoor and outdoor habitat which houses dazzling penguins. Watch them swim, play, and socialize for a truly inspiring experience that you will not find anywhere else!
Stingray Bay at Ripley's Gatlinburg
This unique exhibit features a variety of unique ray species. Here, guests can learn all about the cownose ray, spotted eagle ray, and southern stingrays. See them up-close in awesome touch tanks and get a truly hands-on experience! Guests can also see bonnethead sharks and leopard sharks in this area.
Gallery of the Seas at Gatlinburg Ripley's Aquarium
Discover 'Nature's Artwork' at this colorful exhibit. Here, guests can learn all about a wide variety of different creatures. See a stunning octopus, sea stars, corals, jellies, cuttlefish, lionfish, Japanese spider crabs, scorpionfish, and more! This whimsical and educational display will intrigue and spark the imagination.
Discovery Center at Ripley Aquarium Tennessee
The Discovery Center at this Gatlinburg Tennessee aquarium is the premier place to go for those who want to get a hands-on experience! This fantastic area features touch tanks and tons of information about the creatures housed here. Guests can touch moon jellies and learn about them alongside educators. Touch tanks are also available for horseshoe crabs and puffer fish. Guests can also participate in fun activities, puzzles, and more!
Coral Reef at Gatlinburg Ripley Aquarium
The Coral Reef exhibit is one of the most colorful displays found at the center. A few of the species of fish guests will see here include the regal blue tang, clown triggerfish, clownfish, sohl tang, butterfly fish, foxface rabbitfish, and more! There are also free dive shows that go on during the day.
Ocean Realm at Ripley's Aquarium Smokies
Take a glimpse underwater to see schools of fascinating creatures at the Ripley aquarium TN. The Ocean Realm exhibit is home to weedy scorpionfish, spotted garden eels, flounder, and more. There are tons of fish species in gorgeous schools for an educational experience.
Tropical Rainforest at Gatlinburg TN Ripley's Aquarium
The rainforest is just as important as the ocean, and you can experience the marine life held in this jungle area at the Tropical Rainforest Exhibit at the aquarium in Gatlinburg Tennessee. This exhibit houses piranhas arapaima, anableps, and colorful poison dart frogs.
You'll want to remember your time in the Smokies forever, and a visit to the Aquarium in the Smokies gives you the perfect chance to create lasting memories on your vacation. For the best experience, pair this with other family-friendly things to do! Browse some gorgeous Ripley's Aquarium of the Smokies photos to get a glimpse of the brilliance. sevierville tn aquarium aquarium sevierville tennessee ripley aquarium parking tennessee aquarium gatlinburg ripley's aquarium in gatlinburg tennessee
Reviews

Mike Prouty
North Augusta, South Carolina
✓
Verified Traveler
"This place was amazing "
This place was amazing and so much better than the one in atlanta.

Judy DeGraff
Paoli, IN
✓
Verified Traveler
Great for kids! Parking is cheap. Only 20 mins from pigeon forge. Great pic's!
Tip: Get there early!!!!

Josh Brotsky
Scott Depot, WV
✓
Verified Traveler
It was awesome! So much to see and do, we could have spent more time here, but it was a little busy. Great place for family

Sandra Price
Thomson, GA
✓
Verified Traveler
We had a great time and all i did was show the email at the box office an she gave us tickets. Saved us time and money
Frequently Asked Questions for Ripleys Aquarium of the Smokies In Gatlinburg, TN:
Approximately how long could a customer plan to spend at Ripleys Aquarium of the Smokies?

Guests spend about 2 - 4 hours here.

What amenities are available?

There is a gift shop and restaurant.

Are wheelchairs and strollers available?

Wheelchairs and strollers are available at Guest Services for a fee.

Is Ripleys Aquarium of the Smokies handicap accessible?

Yes.

Is photography & video recording allowed?

Yes.

For what ages is Ripleys Aquarium of the Smokies appropriate?

Great for all ages.

Is parking available at Ripleys Aquarium of the Smokies?

There is plenty of paid parking available.