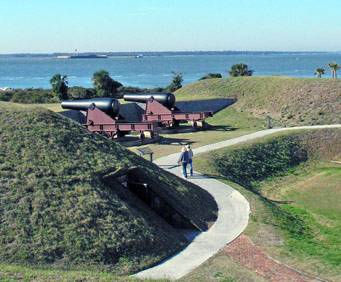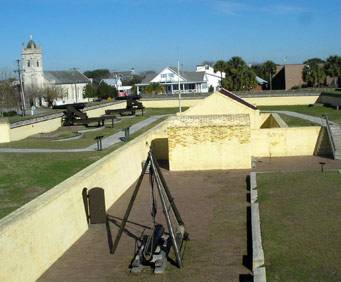 Fort Moultrie in Charleston, SC
1214 Middle Street
Visit Fort Moultrie at Sullivans Island for a glimpse through the military history of Charleston from the Revolutionary War through World War II.
The Fort's history began in June 1776, when the not-yet-finished fort took fire from nine British warships during a nine-hour battle. The British fleet finally retreated, saving Charleston at the time from British occupation what is known as one of the first victories of the war.

One of the most pivotal moments in American history occurred in 1861, when Confederate troops fired on Union troops at Fort Sumter in what would be the first shots fired of the Civil War. Both Fort Sumter and Fort Moultrie were ravished throughout the course of the war. Threats of submarine, air, and nuclear attacks brought about further renovations to the fort during the two world wars. Today, visitors can walk through time and explore the fort by way of a self-guided brochure and interpretive signage. The Fort Moultrie Visitor Center offers guests literature and tour information, restrooms, and a bookstore to help make history come alive!
The following tours go by Fort Moultrie:
4/19/2019 - 12/31/2019
Climb aboard the Carolina Belle to enjoy the beauty of the Charleston Harbor and learn the rich history of the Holy City during this scenic and relaxing sightseeing cruise.
4/19/2019 - 12/15/2019
Powered only by the wind in the sails, the schooner Pride will take you on a cruise around the historic Charleston Harbor for a Sunset Sailing Cruise for great views of the 18th and 19th century buildings that line the coast.