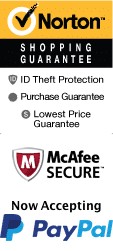 Charleston Facts, History, and General Info
Founded in 1670, Charleston, South Carolina has over 300 years of remarkable history. Known for its Southern hospitality, elegant charm, cobblestone streets with well-preserved structures and unique culture, Charleston was named one of the Top Ten places to visit in North America by Cond' Nast Traveler Magazine. Once you spend some time here, you will easily see why! Here are some interesting facts about Charleston:
General Facts about Charleston
Population: Just over 100,000; the Tri-County Area boasts close to 555,000 residents.
Location: Charleston is about halfway between Washington D.C. and Miami, Florida along the Atlantic Coast. Charleston claims about 90 miles of Atlantic coastline and goes 50 miles inland.
Climate: Temperate to subtropical, the region has about 230 days of sunshine each year and has an average daily temperature of 65.6 degrees Fahrenheit.
Time Zone: Eastern
State Motto: South Carolina actually has two State Mottoes: 'Dum Spiro Spero' ('While I breathe I hope') and 'Animis Opibusque Parati ('Ready in Soul and Resource').
Busy Port: More than eight million tons of cargo pass through the Port of Charleston every year. It is the largest cargo port on the Southeast Atlantic coast.
Historical Significance of Charleston
Though it was first settled in 1670, Charleston officially became a city in 1783.
The first decisive victory in the Revolutionary War was fought here at the Battle of Fort Sullivan.
America's first museum, The Charleston Museum, was founded here in 1773.
The Ordinance of Secession was signed here to begin the unrest that led to the Civil War.
The official beginning of the Civil War happened here at Fort Sumter in 1860.
Several of the most amazingly-preserved plantations and historical homes in America can be found here.
Charleston attracts hundreds of thousands of visitors each year. Besides the historical significance, Charleston offers some great attractions, beautiful landscapes and elegant architecture which makes for a wonderful place to stay. Come visit this enchanting and unique town for yourself on your next South Carolina getaway and see why people love living and visiting here so much!