Mouthwatering selections that will blow your mind
Food is one of the few universal things in life. Everyone eats and everyone has some kind of food that they absolutely love. For those of you who are a little more adventurous, then there is absolutely no shortage of choices in this East Coast state. From cupcakes to burgers or even authentic Cuban cuisine, Virginia is a veritable banquet of tastes. You can get seafood anywhere on the coast, but these delectable restaurants are unique to Virginia. So grab a pen and check out these fantastic foodie choices the next time you're looking for some great Virginia food!
The foodie's dream come true is made real in Virginia! Be sure to visit these favored restaurants to sample the cuisine, culture, and colorful flavors of this East Coast state.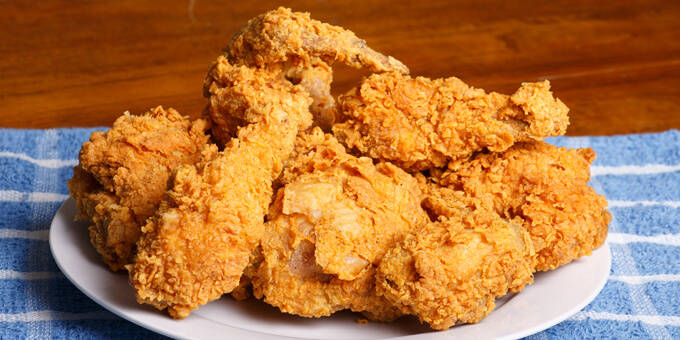 Moseberth's Fried Chicken
1505 Airline Blvd
Portsmouth, VA
Moseberth's Fried Chicken is a walk-up restaurant that has been in business for 75 years and is very popular locally. There is no inside dining available, so you have to take your food with you. As the name implies, Moseberth's specialty is chicken, and it can be purchased by the piece, in family meals or any combination. BBQ and fish sandwiches as well as various sides, soups and salads are also offered at this delicious fried eatery.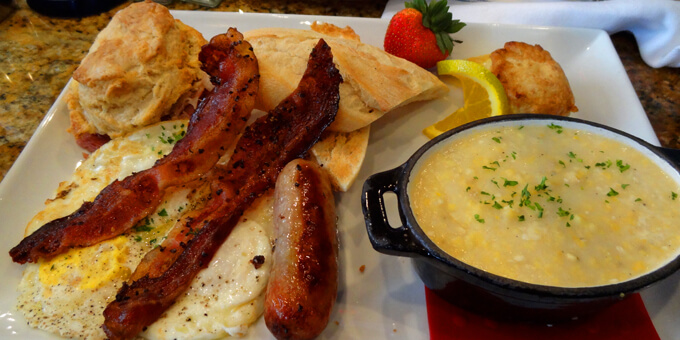 Blue Talon Bistro
420 Prince George St.
Williamsburg, VA
Focused on "serious comfort food" and a relaxed atmosphere, the Blue Talon Bistro is located in the heart of historic Williamsburg and only a short distance from the Colonial Willamsburg[1] living history museum. This delicious restaurant is definitely something that foodies shouldn't miss. This bistro style restaurant offers special plates for each meal of the day and a menu that is a mix of both classic and modern dishes. The restaurant offers a wide variety of food, but there is a solid French flavor or influence to many of the options.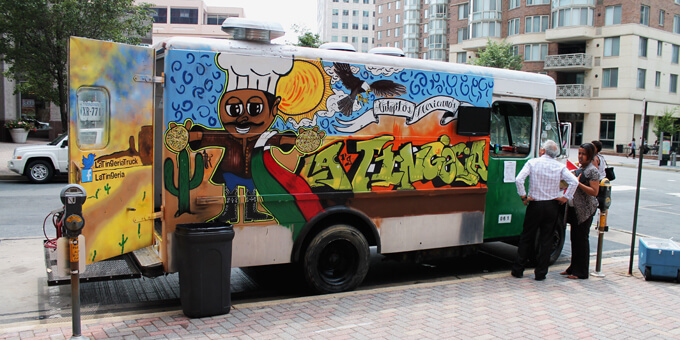 La Tingeria
Arlington, VA
La Tingeria is a series of food trucks that cruise through Arlington serving up authentic Mexican food at a great price. The menu includes tinga, sopes, tacos, flautas, quesadillas, and elotes locos. The owner uses his mother's and grandmother's recipes to make these tasty dishes as authentically Mexican as possible. La Tingeria can often be found near outdoor events and on the main streets of Arlington, and it really shouldn't be missed!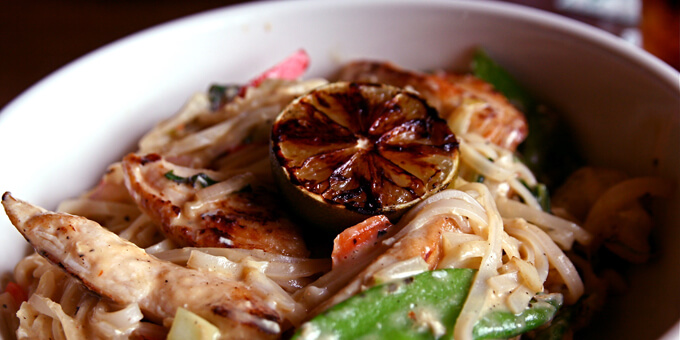 Thai Winchester Restaurant[2]
24 S. Loudoun St.
Winchester, VA
The Thai Winchester Restaurant has been operated by a Thai family for many years and has won a lot of awards for its Thai cooking including the city's People's Choice Award several years in a row. A few of the delectable options include roasted duck noodles soup, wasabi dumplings and kra pow gai sub. This hidden gem features a wide variety of tastes from spicy to mild and even some vegetarian options, making it a great choice no matter your preferences.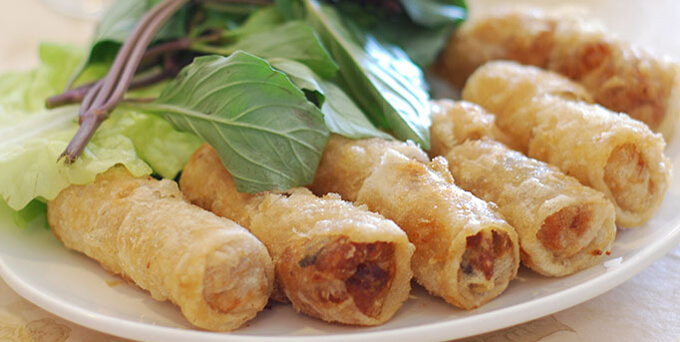 Viet Royale
6767 Wilson Blvd
Falls Church, VA
Viet Royale is a Vietnamese restaurant that has been ranked in the top 100 best places to eat in Northern Virginia for several years in a row. It is well known for its spring rolls with fish sauce. Other specialties are fried wontons with soy sauce, crab claws with shrimp paste, and cellophane noodles. The restaurant also has a lot of vegetarian dishes and vegetarian options for other dishes. Located inside, Viet Royale is one of many restaurants and shops worth visiting in the Eden Center[3] so be sure to leave yourself time to check out some of the other awesome stores and restaurants!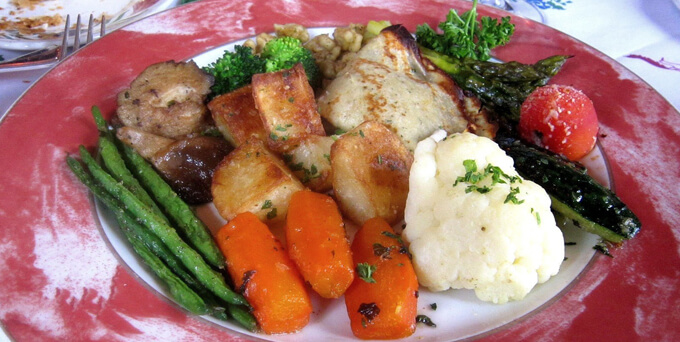 L'Auberge Chez François
332 Springvale Rd
Great Falls, VA
L'Auberge Chez François offers the finest French dining in the area and has a great reputation for hand crafted gourmet food. Visitors can sign up for cooking lessons in classic and contemporary French cuisine from the owner and chef of the restaurant. The L'Auberge Chez François also has an excellent assortment of French wines. The restaurant opened in 1976 and is decorated with pictures from the owner's homeland in, Obernai, France.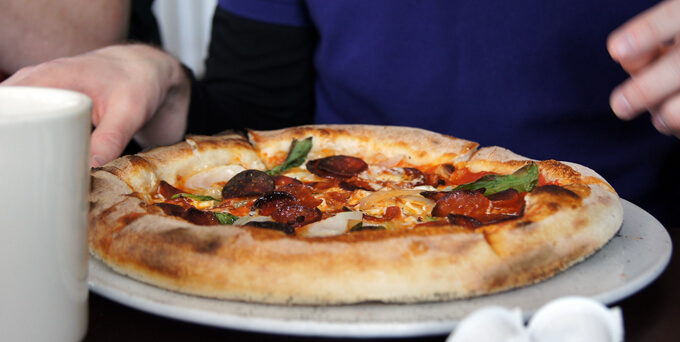 RedRocks Arlington
904 King Street,
Alexandria, VA
Red Rocks Arlington is a pizza parlor nestled in the shadow of the nation's capitol. There are four locations in the D.C. area where foodies can try different styles of pizza, craft beer and a unique wine menu. The main location has added burgers and pub fare to the menu as well. Red Rocks Arlington also has a pizza, pasta and salad buffet on weekends that simply can't be beat.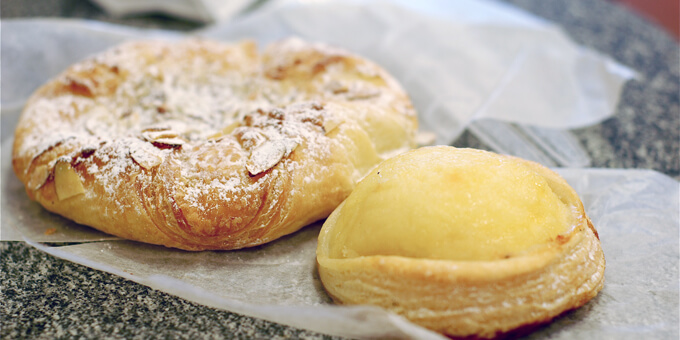 The Swiss Bakery and Pastry Shop
5224 Port Royal Road
Springfield, VA
The Swiss Bakery and Pastry Shop is famous for its handmade pastries crafted in the greatest of European traditions. The owners take their European ancestry seriously and try to stay true to the baking tradition of the continent. This full-service retail bakery offers delicious artisan breads, French pastries, European-style desserts and even wedding cakes and fresh ice cream and sorberts. The Swiss Bakery and Pastry Shop also has a "green" kitchen, and use renewable items as often as possible. The bakery participates in the local farmers market and Oktoberfest as well and is located near Lake Accotink Park[4], which has plenty of beautiful picnic areas, trails and scenic locations where you can relax and enjoy your yummy baked goods!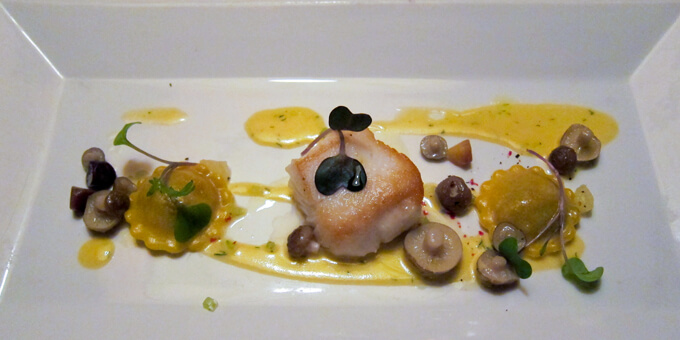 The Inn at Little Washington
Middle and Main Street
Washington, VA 22747
The Inn at Little Washington is fantastic bed and breakfast decorated from the 18th century with luxurious styling. But that's not why it made our list—this historic inn features an outstanding dinner menu. The kitchen uses locally produced seasonal vegetables and locally grown or produced items as often as possible, making delicious old-fashioned favorites and fantastic appetizers that are as much a treat to eat as they are to look at.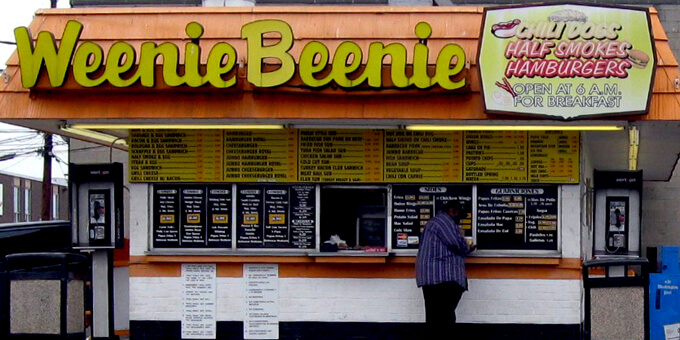 Weenie Beenie Sandwich Shop
2680 S. Shirlington Rd.
Arlington, VA
The lone survivor of what was once a restaurant chain, the Weenie Beenie Sandwich Shop is a walk-up food stand that sells hotdogs, burgers and other similar foods. The half smokes are particularly popular among the locals. The location also has a breakfast menu, although it should be noted that the stand is closed on Sundays in observance of the owner's religion.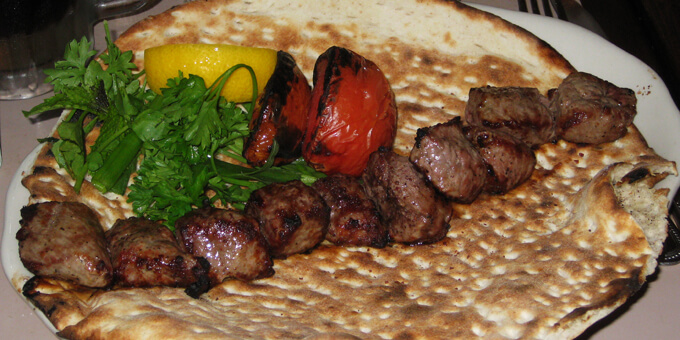 Kabob Bazaar
3133 Wilson Blvd
Arlington, VA
Kabob Bazaar in Arlington is one of the best Persian cuisine restaurants in all of the Washington D.C. area. Iranian music plays softly in the background as you enjoy your flavorful meal. Every day the restaurant offers a different menu and homemade bread baked in a special oven from Iran. The kabobs are prepared in the open and cooked as you watch. The restaurant is also decorated with authentic Persian art, photos, plates and other decorations to add to the atmosphere.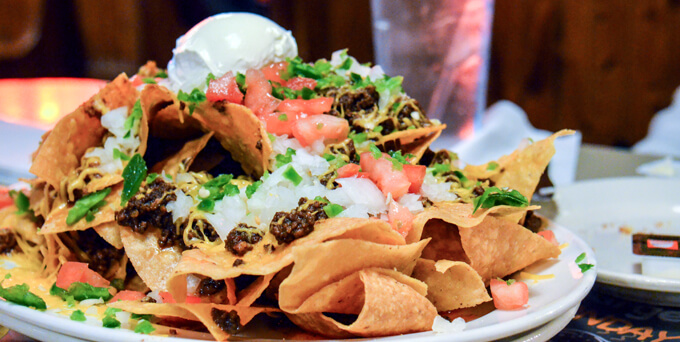 Hard Times Cafe
1404 King Street
Alexandria VA
Hard Times Cafe has a handful of locations including one in Alexandria, VA. This establishment was opened in 1980 by a pair of brothers as a chili restaurant. The brothers still have and use chili recipe that their grandfather used on the Texas cattle trail in the 1800s. The restaurant features chili nachos, deep fried pickles, whiskey river BBQ bacon burgers and big salads. This is down-home soul food restaurant is located right by the nation's capital and has an open mic night on Tuesdays for local musicians.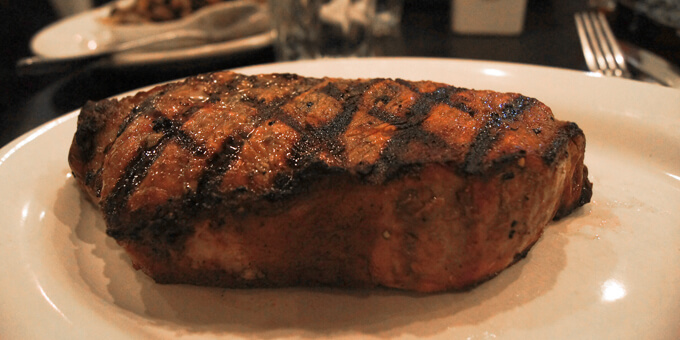 Ray's the Steaks
2300 Wilson Blvd
Arlington, VA
Ray's The Steaks is a moderately-priced steakhouse centrally located in the Washington D.C. area. While the real star of the restaurant is the steaks, which are cooked on an open grill and served with mashed potatoes and creamed spinach, the restaurant also serves mouthwatering burgers and seafood. Despite the supreme quality of food, the dining atmosphere is casual so everyone will be able to enjoy without worry. The restaurant is also only a short walk from several museums, shops, and art galleries, including the Smithsonian National Museum of Natural History, making it a great choice whether you're a die-hard foodie or simply looking for some hearty food after a day of sightseeing.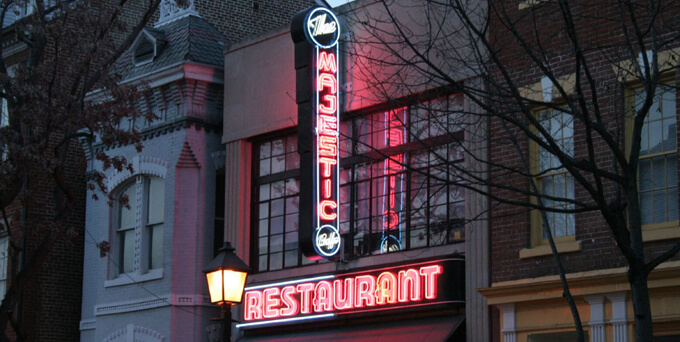 The Majestic Cafe
911 King Street
Alexandria, VA
The Majestic in Alexandria has been a staple of the area since 1932 and though it has closed once and changed hands a few times, this fantastic art deco building serves some absolutely delicious gourmet food. The Majestic Cafe goes the extra mile to use locally sourced food as often as possible and the menu boasts hormone-free meats, delectable seafood, fantastic mixed drinks and excellent desserts. A few of the more higher-rated dishes include the shrimp and grits as well as the delicious cheesecake. This awesome historic restaurant is only a few minutes away from the Torpedo Factory Art Center[5], and is a popular location to visit while in the area. Get the most out of your afternoon by checking it out before or after trying a delicious meal!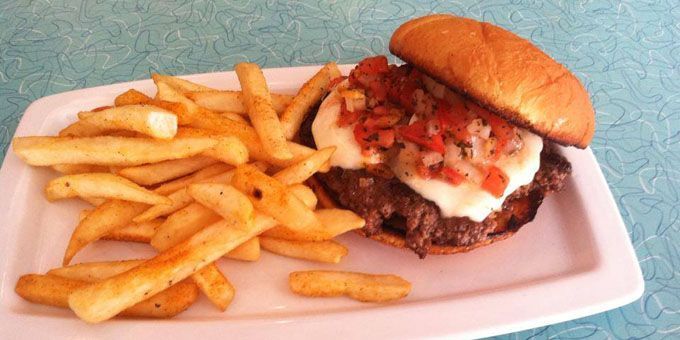 Burger Bar
8 Piedmont Ave.
Bristol, VA
While there are multiple locations called "burger bar" this particular Burger Bar is located in Bristol, Virginia and has been serving classic burgers since 1942. New owners recently restored the name and appearance of the original 1942 restaurant and visitors can sink their teeth into 16 different kinds of burgers at this diner-style restaurant. Entrees are all named after Hank William songs, and some of the more popular choices include the "Oh My" cheeseburger which is two grilled cheese sandwiches wrapped around a hamburger patty. There is also the "Big Mic" which is the owner's version of a "Big Mac." Other kinds of sandwiches as well as milkshakes are also available. The atmosphere of this cute little diner is definitely a plus as well, and country music fans can round out the trip with the Birthplace of Country Music museum[6], which is only a few minutes away.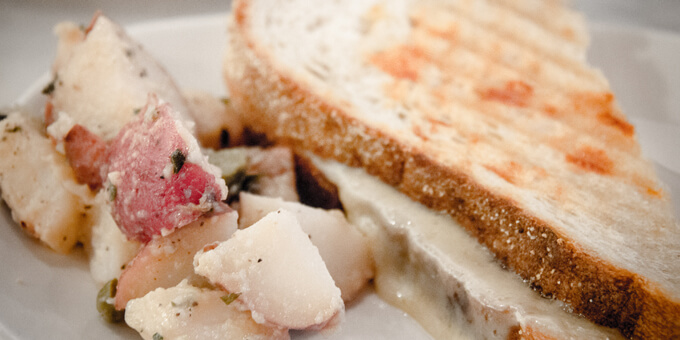 Cheesetique
2411 Mt. Vernon Ave.
Alexandria, VA
Only 20 minutes from the heart of the nation's capital, Cheesetique is a cheese and wine bar, and is all about cheese. There are more than 200 kinds of cheeses available, and a good wine and beer selection as well. Visitors can choose from the delicious cheese plates, cheese boards, and other cheesy foods. As an added bonus, it's also close to many attractions like the National Harbor[7], which simply shouldn't be missed—especially during the holiday season.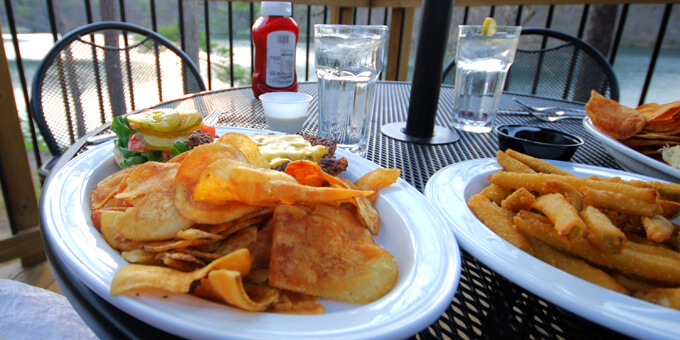 Lakeview Restaurant
14239 Douthat State Park Road
Millboro, VA
The Lakeview Restaurant at Douthat is a rustic eatery on the shores of Douhat Lake State Park. With a glass enclosure and odd hours that change during the year, this might seem like a strange choice to make our list, but this gem is one of the most peaceful and fantastic restaurants you'll ever visit. With a simple but tasty menu of comfort foods including soups, sandwiches, homemade chips and a salad bar, you will be able to focus on the fantastic atmosphere and take a break from the hustle and bustle of the city at this fantastic restaurant.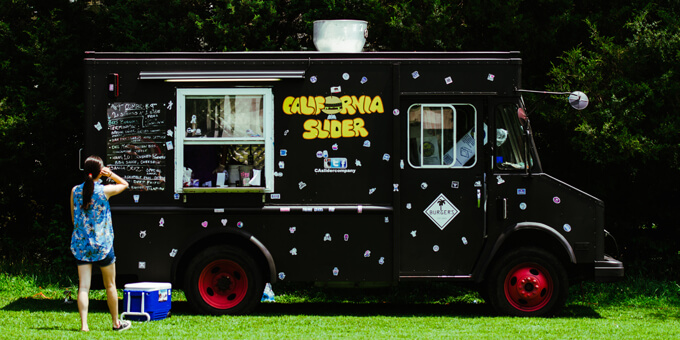 California Slider
Washington, D.C.
California may not have invented the slider, but they have perfected it, and this food truck of the same name turns out some really good sliders. The California Sliders food truck also has fish tacos and its burgers offer a unique taste with a combination of Mexican, Vietnamese and Korean foods. The combination of west coast and Asian cooking philosophies and ingredients make for some interesting tastes that foodies will love.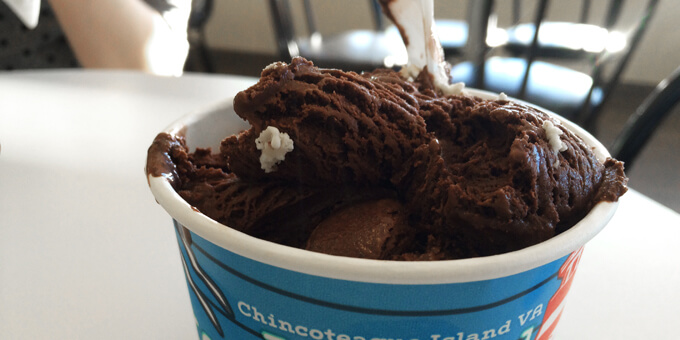 Island Creamery
6243 Maddox Blvd
Chincoteague Island, VA
Island Creamery makes its own ice cream in small batches and uses the best local ingredients possible. The 17 percent butterfat mix Island Creamery is known for gives the ice cream a sweet and unique taste and texture that locals love. This ice cream shop has been open since 1975 and features a very recognizable lighthouse building outside, which makes it pretty hard to miss. Unusual ice cream flavors include Snickers cheesecake, bourbon caramel crunch and wallops rocket fuel, although creamy and sweet favorites like chocolate and vanilla are also available.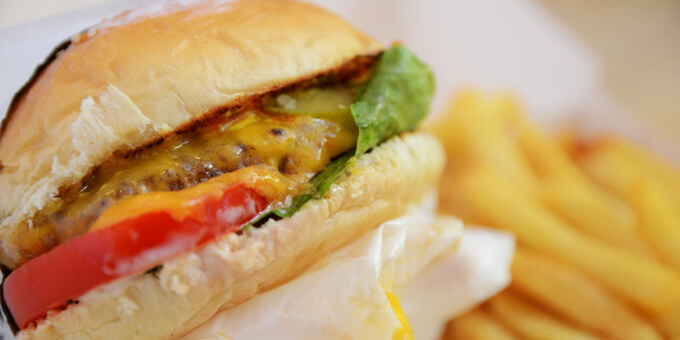 Miami Vice Burgers
Arlington, VA
This bright blue truck with flashy lettering is easy to spot. Miami Vice Burgers serves a simple menu featuring a dozen or so different types of burgers, fries and drinks. You can get your burger made from beef, chicken or veggie patty. Chasing food trucks is a great way to experience different parts of the city, and since everyone knows that some of the best food comes from trucks, this one is definitely worth the time.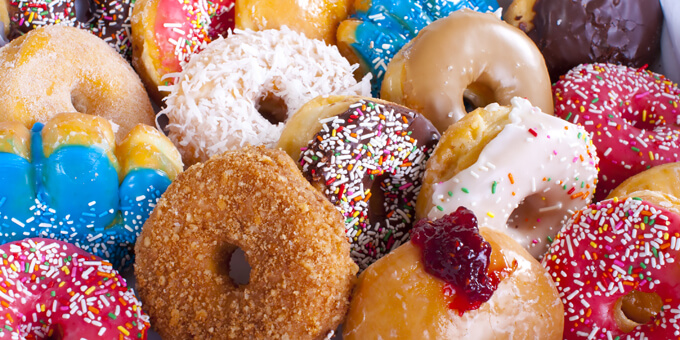 Crazy Good Donuts and Ice Cream
2201 Upton Dr #904
Virginia Beach, VA
There are few better combinations than ice cream and donuts, so of course, Crazy Good Donuts and Ice Cream in Virginia Beach has to be on our list. This sweet business offers donuts with a dozen different icing flavors and toppings to choose from as well as 18 different flavors of ice cream and more than 20 toppings. The eatery even has a few signature specialties including the donut sundae which features ice cream and toppings piled on a delicious sweet donut. Breakfast sandwiches and beverages are also available.
Revolutionary Soup
108 2nd Street SW
Charlottesville, VA
Revolutionary Soup is a locally owned independent restaurant with two different locations in Charlottesville. As the name implies, this establishment is dedicated to soups of all sorts and offers eleven different kinds of soup from hearty stews to delicious vegetable soups. The restaurant always keeps a few staples around, and rotates the rest of the menu to offer more options to customers. Sandwiches and salads are also available. Revolutionary Soup is proud to use as many local and organic products as possible and is open all day. Perfect for a cold Virginia afternoon, this spot is near several historical and tourist locations.
Palladio Restaurant
17655 Winery Rd.
Barboursville, VA
Palladio Restaurant is located inside Barboursville Vineyards[8], which has been around since the 18th century. The restaurant showcases some of the best wines from the vineyard, and visitors can even get a tour of the vineyard along with dinner for the full experience. The gourmet menu features a variety of soups, salads and sandwiches that compliment the wine. This high-class establishment requires a reservation for dinner and reservations for lunch are recommended.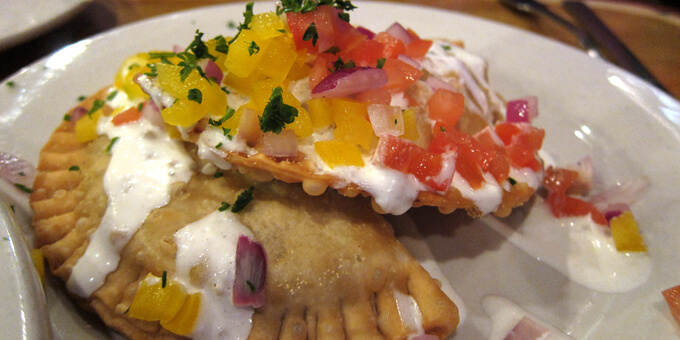 Kuba Kuba
1601 Park Ave.
Richmond, VA
Kuba Kuba actually has two locations in Virginia, both of which offer fantastic Cuban cuisine passed down from generation to generation. Founded in 1998, this little diner features regular dining during the week and brunch on weekends. Entrees, sandwiches and salads all have a Cuban flair and breakfast is served all day.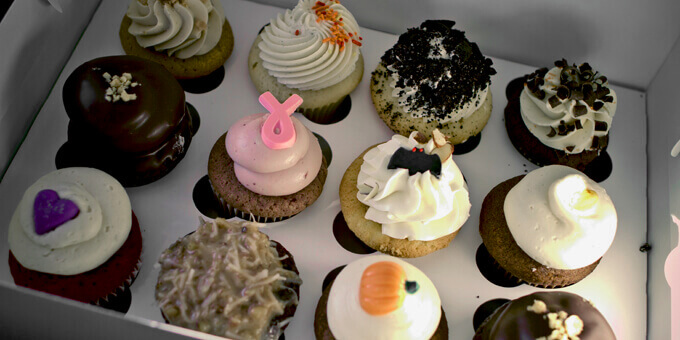 Cupcakes Actually
1607 Village Market Blvd, Suite 108
Leesburg, VA
Everyone knows that cupcakes equal happiness, and it's not hard to find a cupcake bakery no matter what state you are in. However, Cupcakes Actually is a little different as it does its best to use local ingredients and make all the cupcakes from scratch each day. Flavors vary from week to week and vegan and gluten-free cupcakes are also available at this deliciously sweet bakery.
So, have you been to any of these fantastic restaurants? Do you have a favorite spot that didn't make our list? Tell us about it in the comments, and don't forget to share with your foodie friends!