YOUR PEACE OF MIND IS OUR TOP PRIORITY
Should you need to cancel at any time, you have up to 48 hours from your vacation start date to do so for a 100% future travel credit.
The air is crisp, the leaves are turning, and the savory scent of brats floats on the air – it must be time for Oktoberfest! During a few days in September or October, tiny towns and big cities call out to German heritage with festivals, games and of course, plenty of beer. If you're inclined to lift a stein or two, these are the 12 best Oktoberfests in the Central U.S.
Grab your scarf and your favorite people to head to one of these amazing Oktoberfest celebrations! Nothing truly complements fall weather than beer, brats, and Bavarian fun.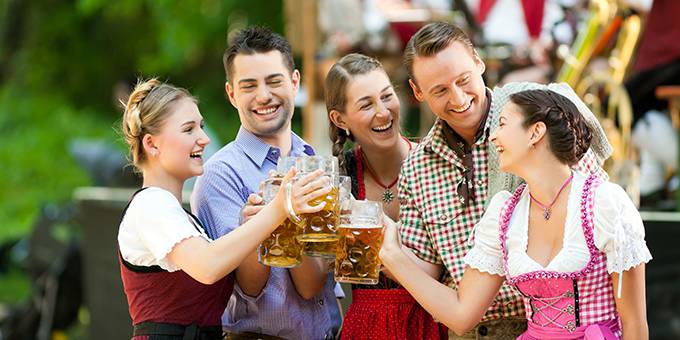 Nashville Oktoberfest
Nashville, TN
October 5 - 8
Billed as the second-largest Oktoberfest in the nation and the oldest festival in Nashville, this four-day Nashville Oktoberfest event spans 10 city blocks and welcomes over a quarter million people each year. Held at the First Tennessee Park, it is one of the best beer-tasting events in the country. But it's not just about the beer (though there are plenty of suds!) – it's also about delicious German food, three stages of live music, a parade through downtown and many more family and kids events no self-respecting Oktoberfest devotee will want to miss. And if you feel a need to work off all that tempting food and beer, the 5K Bier Race and Run can help ease your conscience.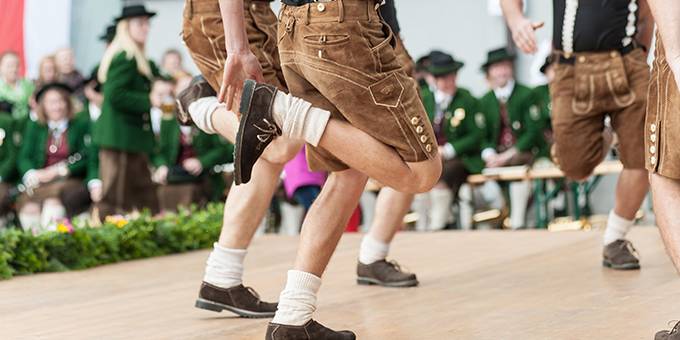 Chattanooga Oktoberfest
Chattanooga, TN
October 14 - 15
Those looking for a true beer-tasting challenge can find it at the Chattanooga Oktoberfest at the Chattanooga Convention Center, which boasts four biergartens with over 99 varieties of local and seasonal craft brews for your sipping pleasure. Add in mouth-watering Bavarian cuisine and it's sure to be a good culinary time. But that's only the beginning; the festival also features Oompah bands, a 5K run, the crowning of Mr. and Mrs. Oktoberfest and a market with over 200 vendors offering their authentic wares. Artoberfest, a celebration of art and culture, allows visitors to purchase unique artworks or create some of their own during the Chalk Art Competition. And of course, there will be Polka Dancing for anyone who's feeling a little footloose.
New Ulm Oktoberfest
New Ulm, MN
October 6 - 7 and October 13 - 14
Voted one of the best Oktoberfest celebrations in the U.S., the New Ulm Oktoberfest held in New Ulm has grown to fill four venues – the Best Western Plus New Ulm, Schell's Brewery, Downtown New Ulm and Morgan Creek Vineyards – while spanning two glorious weekends. Indoor and outdoor stages feature traditional polka bands, providing an authentic musical backdrop for the festival. Visitors can tour Schell's Brewery, where they will sample German-style lagers, enjoy horse-drawn trolley rides through downtown, and enjoy a wealth of German food. Don't forget one of the top attractions: the 45-foot Musical Glockenspiel in downtown, whose chimes can be heard throughout the festival.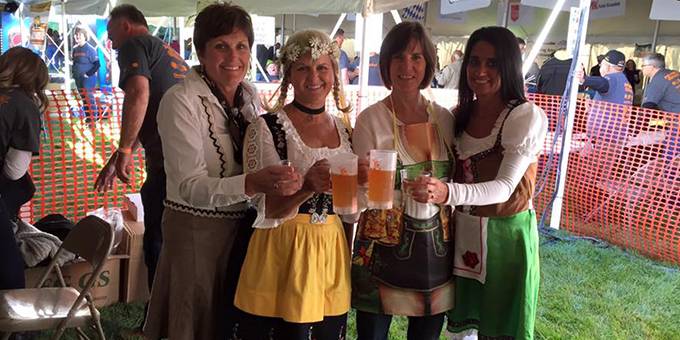 Kohler Falls Oktoberfest
Sheboygan Falls, WI
September 8 - 9
A world of fun, food and beer awaits in Sheboygan Falls at the Kohler Falls Oktoberfest, where visitors will enjoy the hottest in live entertainment, games for the kids and plenty of fun for the adults, too. In addition to a variety of beer available for tasting, the festival features a fish fry with all the trimmings and an authentic Germanfest lunch. While kids play in the inflatable bouncy houses, adults can enjoy the Oktoberfest Beer Olympics and try their hand at the flip cup, beer cup stack, quarters and beer pong. Those who want to work off the calories of all that rich food and beer – and do something great for charity at the same time – can participate in the annual 5K Bier Run and Walk. All of the great festivities are held at River Park.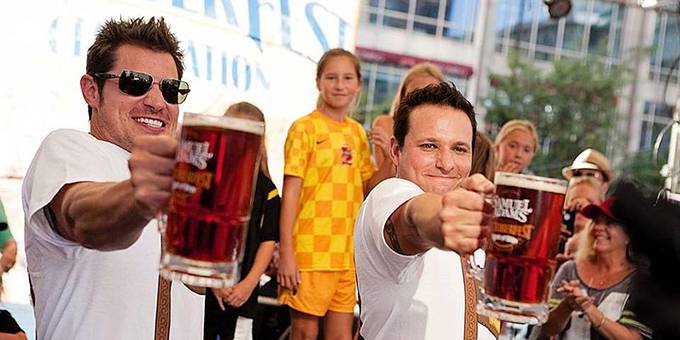 Oktoberfest ZinnZinnati
Cincinnati, OH
September 15 - 17
Known as the largest Oktoberfest celebration in the nation, the three-day Oktoberfest ZinnZinnati in the heart of Cincinnati features fun for all ages. In addition to a plethora of food, beer and wine, visitors can enjoy the Running of the Wieners, featuring over 100 dachshunds dashing in hot dog suits. There is also the Chicken Dance, an annual tradition with thousands of dancers led by a Grand Marshal – a must for any die-hard Oktoberfest fan! Other fun includes the Gemuetlichkeit (Goodwill) Games, with the Beer Barrel Roll and Beer Stein Race, and the Glier's World Brat Eating Championship, where world champion eaters arrive to battle to be the best. Music, merchandise, kids' games and more make this a true family-friendly option with fun for all, all held at Downtown Cincinnati.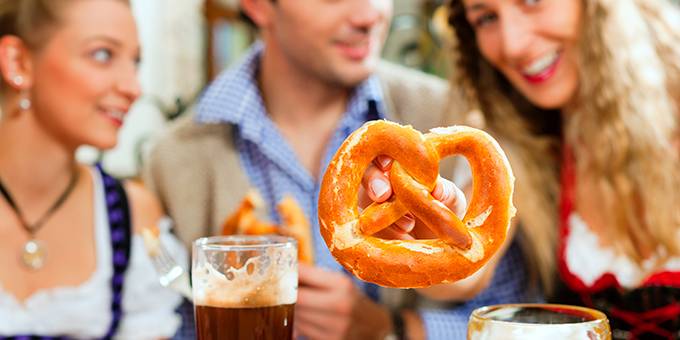 Seymour Oktoberfest
Seymour, IN
October 5 - 7
Looking for Oktoberfest with a carnival? That's what you get at Seymour Oktoberfest. A full-scale carnival with fun for adults and kids alike is just one corner of the enjoyment offered up by this three-day festival held in Downtown Seymour. Other events include traditional German music and dance, one of the largest parades in Southern Indiana, and the Hot Air Balloon Glow and Race. Fun for adults includes the brat eating contest, the stein hoist, and of course, the expansive Biergarten. Events for kids are quite popular too, including activity booths and the annual Prince and Princess Contest.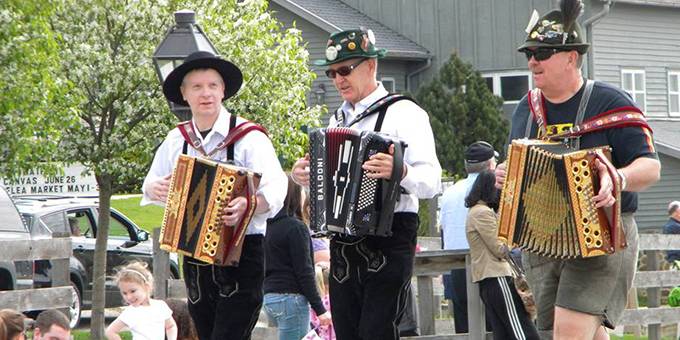 Amana Oktoberfest
Amana, IA
September 29 - October 1
Oktoberfest at the Amana Colonies begins with a tribute to everyone's favorite reason for Oktoberfest in the first place: The Official Keg Tapping Ceremony. After that it's off to the races with a downtown parade, live entertainment, family-oriented activities and even a theater production. Want to try your hand at a variety of traditional games? Contests include log sawing, keg throwing, brat eating and a 4.3 mile run and walk. And of course, throughout the festival are vendors with plenty of merchandise, biergartens with a variety of brews and of course, delicious German foods that all ages will enjoy. The Amana Oktoberfest is definitely one that you do not want to miss out on!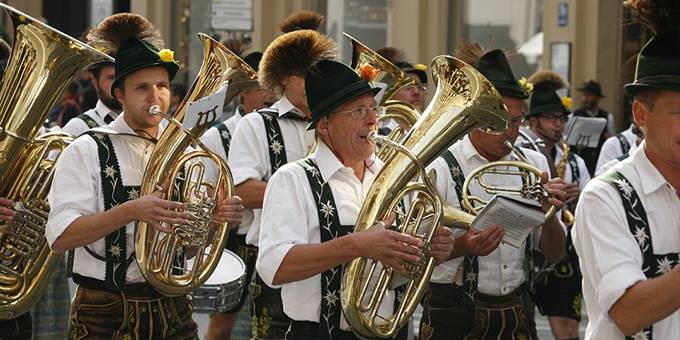 Hermann Oktoberfest
Hermann, MO
Every Weekend in October
Covering four fun-filled weekends in October, the Hermann Oktoberfest in Hermann, MO takes advantage of the vibrant colors of the changing leaves as a backdrop to Oompah bands, authentic German food and of course, plenty of beers to enjoy. In addition to the fun found at downtown vendors, visitors will also find the doors wide open at various wineries in the area, offering a top-notch tasting experience. To accommodate those who like to indulge a little, the Hermann Trolley is on hand to shuttle revelers to destinations all around town – and back to their lodging when another night of Oktoberfest fun winds down.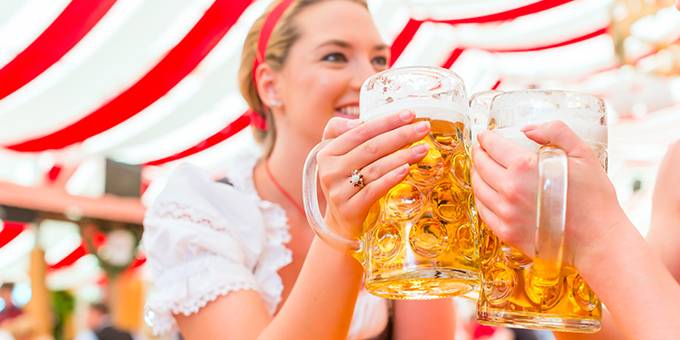 Tulsa Oktoberfest
Tulsa, OK
October 19 - 22
Considered one of the biggest Oktoberfest celebrations in America, the four-day Tulsa Oktoberfest event brings Bavarian cuisine, traditional arts and crafts and internationally-known German bands to the heart of Oklahoma. Kids can enjoy the JugendZelt, a combination of magic, science and circus entertainment guaranteed to wow them, while parents can get their game on in the Oktoberfest Games Arena. Or simply watch while others compete in the Dachshund Dash and Costume Parade or the sausage-eating contest. Over 40,000 feet of tents, stages and more at the River West Festival Park is the center of the fun – and of course, that includes biergartens and a huge variety of vendors selling authentic Bavarian foods for everyone to enjoy.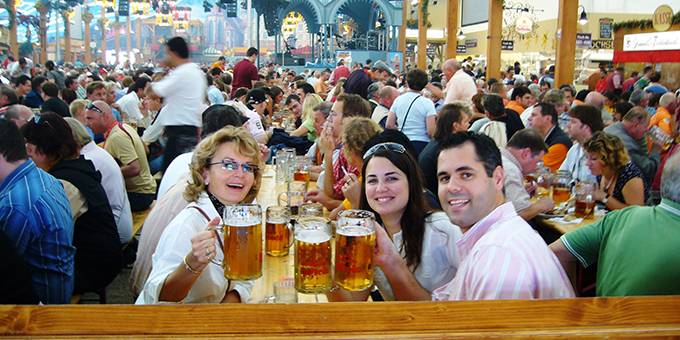 Oktoberfest Fargo
Fargo, ND
September 14 - 17
Established in 2009, the Oktoberfest Fargo might be new to the fun but it certainly brings the excitement. The Tapping of the Keg starts the action, which then proceeds to a Pub Crawl for the adults held in Downtown Fargo. Enthusiasts of all ages will love the Running of the Wieners, as well as the Obstacle Course. Sampling the brats and beer is another highlight, as is the stein holding contest. Live music, a host of games and activities for kids and parents alike help ensure everyone has a great time during this day-long event.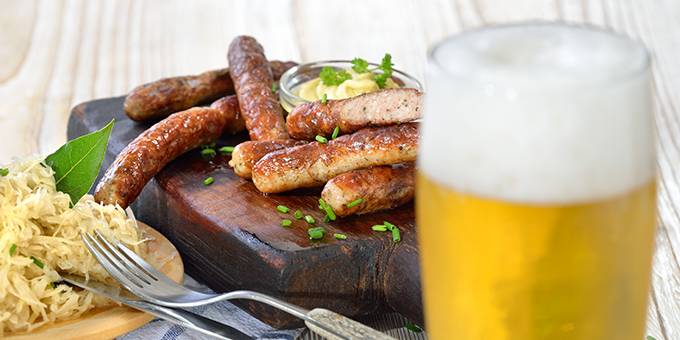 Addison Oktoberfest
Addison, TX
September 14 - 17
For the last thirty years, Addison Oktoberfest has welcomed visitors from across the nation to enjoy a wide variety of brews, including the traditional Paulaner Bier, as well as delicious German foods. Dozens of entertainers take to the various stages at Addison Circle Park during the four-day event. In addition to the music, visitors can enjoy barrel rolling and barrel bowling, Dachshund races, a German spelling bee, car show and a fun-for-all carnival complete with rides, games and food galore.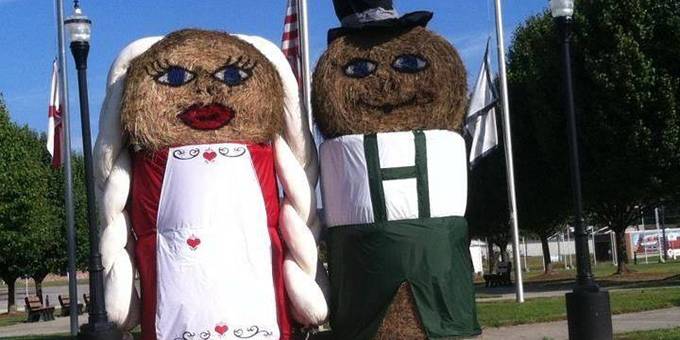 Cullman Oktoberfest
Cullman, AL
October 4 - 8
The whole town of Cullman, AL gets into the Cullman Oktoberfest! From German dinners served at a variety of churches, cafes and other venues around town to the candlelight walking tour, those in the area are ready and eager for their four-day festival. Visitors can indulge in a variety of beers and food, enjoy live entertainment, participate in a hilarious Bed Race and ogle old cars at the popular car show in downtown Cullman. From art shows to ghost stories, there are plenty of activities for the kids as well. The festival can be found nearby the Cullman County Museum, so explore various parts of history during this amazing event!
Have you ever enjoyed the brats and brews at a fantastic Oktoberfest? Have you enjoyed an Oktoberfest in the Central U.S. that didn't make our list? We would love to hear about it!