YOUR PEACE OF MIND IS OUR TOP PRIORITY
Should you need to cancel at any time, you have up to 48 hours from your vacation start date to do so for a 100% future travel credit.
You can still beg for beads with the best of them, even far away from Louisiana
While Mardi Gras and New Orleans often go hand in hand, the colorful celebration is not limited to just one city or state. All across the United States, people don costumes or masks and adorn their cities in purple, gold, green, and beads in a festive observance of Fat Tuesday. The traditions and events vary between each city and state, so no matter what your tastes may be, you can find a Mardi Gras festival that will suit you, even if you are nowhere near New Orleans.
Mardi Gras is heavily associated with Louisiana, but the entire United States offers various mardi gras celebrations! Head out to one of these festivals to experience Mardi Gras without having to make a trip to Louisiana!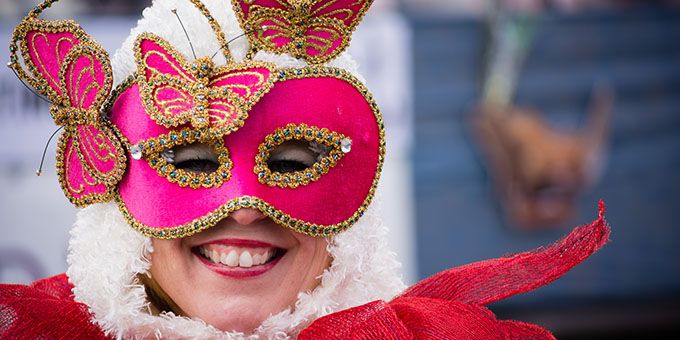 St. Louis, MO[1]
The St. Louis Mardi Gras is one of the largest Mardi Gras celebrations north of Louisiana. One of the first events of the Mardi Gras season is a Cajun cook-off, for those wanting to put their southern-style cooking to the test or even learn how to cook Cajun-style meals. The mayor also hosts a Mardi Gras Ball at the City Hall, if you want to enjoy a classy evening. The tickets for the ball start at $150, and feature cocktails, food, dining, entertainment, and of course, dancing. The festival's grand parade happens on the Saturday before Fat Tuesday, when the final event, Fat Bluesday, takes place. Everyone is invited to watch the Blues hockey game and enjoy a variety of Mardi Gras entertainment.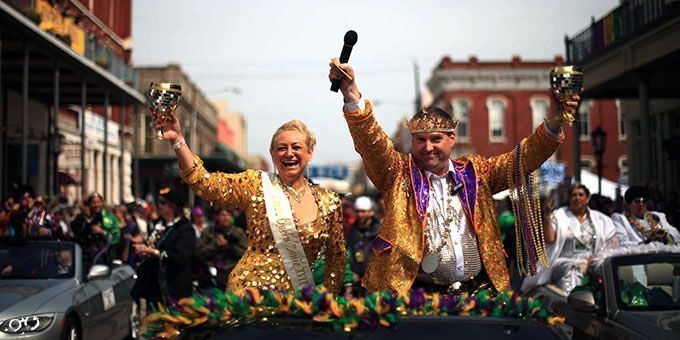 Galveston Island, TX[2]
The third largest Mardi Gras celebration in the United States takes place in Galveston, Texas. You can partake in all of the celebration's typical festivities while enjoying time on the beach. More than 300,000 people are expected to visit Galveston Island during the Mardi Gras celebration, which features more than 30 concerts, 22 parades, 20 balcony parties, and five masked balls. The Jockusch Building hosts multiple balcony parties where you can enjoy drinks and the best view of the parades down below, as it offers vantage points to both of the main parade streets. On Fat Tuesday evening, the final parade goes through the downtown and includes eight marching bands and all of the parading Krewes.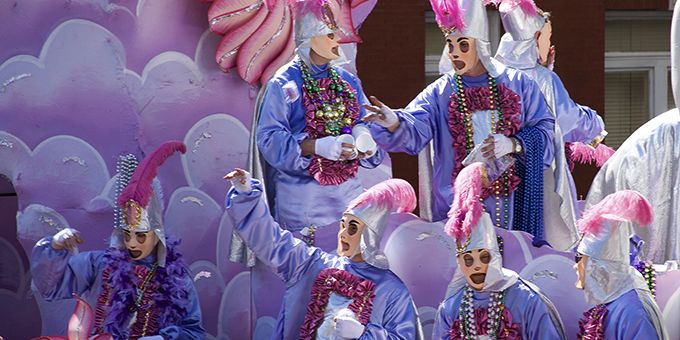 Gulf Coast, MS[3]
Over 450,000 visitors head to Gulf Coast, Mississippi annually to view the more than 20 parades that happen every Mardi Gras. A few of the parades have been around for more than 40 years, like the Ocean Springs-Elks Mardi Gras Parade and the Pass Christian Mardi Gras Parade, which has been around for more than 80 years and benefits a local catholic school. In addition to the parades, there are several other events that bring people back every year, including a gumbo cooking class which is hosted at the Discovery Center and teaches visitors how to cook this famous southern dish.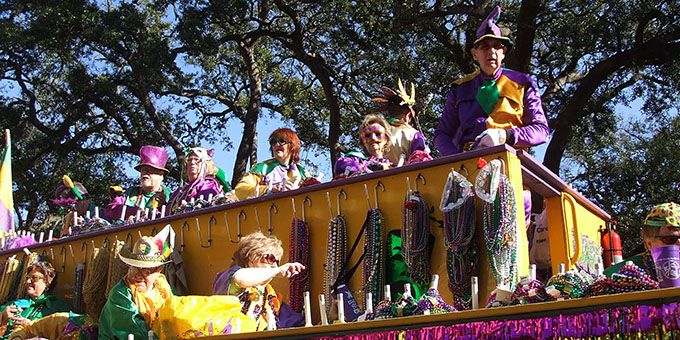 Mobile, AL[4]
Known as the oldest Mardi Gras celebration in the U.S., Mobile, Alabama was celebrating Carnaval as early as 1703, before New Orleans was even founded. The Mobile Mardi Gras offers many parades, colorful floats, and events typical of other Carnival celebrations. But the mystic societies of Mobile are what truly set the city apart. Dating back to 1704, mystic societies have been holding private balls and invitation-only events for their members, and many of these events are still hosted today. Since Mobile has the oldest Carnaval celebration, it is also fitting that there is a Mobile Carnival Museum[5], where you can learn about the art of costume design and float decoration, as well as the traditions and history of Mardi Gras.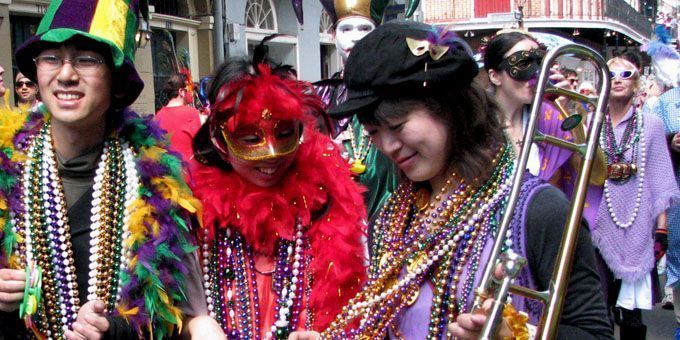 Dallas, TX[6]
The Mardi Gras celebration in Dallas, Texas is a one-day music festival that features 28 different bands scattered across five stages. You can enjoy a full day of music as well as eat delicious Cajun food. The festival takes place at the State Fairgrounds and only costs $35.00 to attend, or $45.00 on the day of the event. Pavillion tickets are also available to those who want cocktail service and a chance to listen to some bands perform private acoustic sets. On Fat Tuesday, the city of Dallas also hosts a Mardi Gras parade that features hundreds of floats and New Orleans food such as shrimp po'boys and gumbo.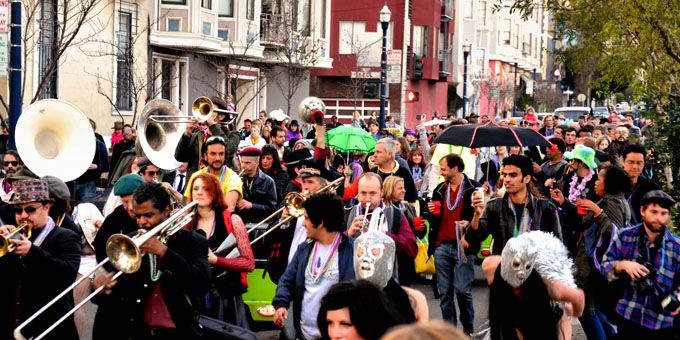 San Francisco, CA[7]
The San Francisco Carnaval has been taking place for nearly 40 years and continues to draw a big crowd. The 2-day event is held at the end of May and features a Grand Parade, dancing, costumes, and plenty of music. The San Francisco Carnaval is known for the many choreographed dancers who are dressed in outlandish and colorful costumes and dance down the streets. The beautiful City by the Bay is the only North American city to be a part of the Federation of European Carnival Cities and you can see the worldwide influence by the many Latin American, Brazilian and Spanish cultural flairs. The Grand Parade features a Brazilian style samba school dancing through the streets and a multitude of drummers and musicians from Japan to Africa.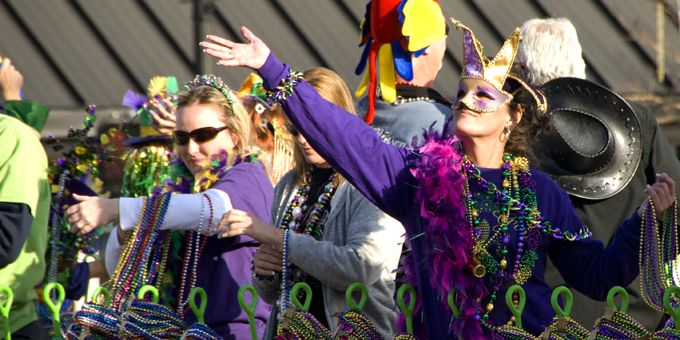 San Diego, CA[8]
The San Diego Mardi Gras parade and celebration is a one-day block party event for people 21 and over. The event was voted one of the "Top 10 Mardi Gras Events to Attend" by USA Today and is hosted in the Historic Gaslamp District. The streets are blocked off from 5 p.m. until midnight and feature a number of bands, DJs, a Big Easy Parade, and plenty of drinks. There are VIP tickets that offer the best parade viewing spots and a number of drink specials. No matter what ticket you buy, you are guaranteed a fun-filled evening in beautiful San Diego.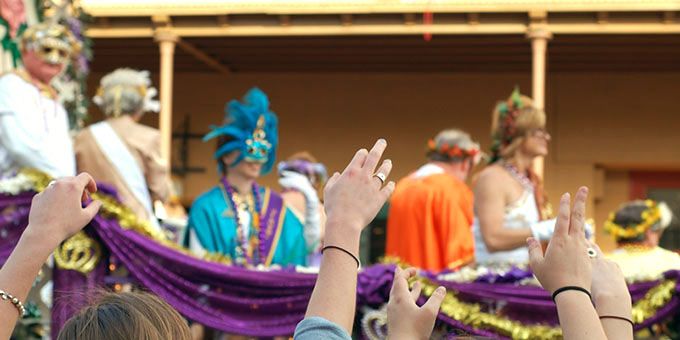 Pensacola, FL[9]
Beach towns make perfect locations for Mardi Gras festivals and Pensacola, Florida is no exception. The Mardi Gras festivities kick off in Pensacola Beach at the beginning of January with a parade and a community king cake. For the entire month, the city hosts a number of Mardi Gras parades and balls. The events are oriented to all ages, with something for everyone. The grand parade attracts more than 100,000 people and there are usually more than 250 parade entries.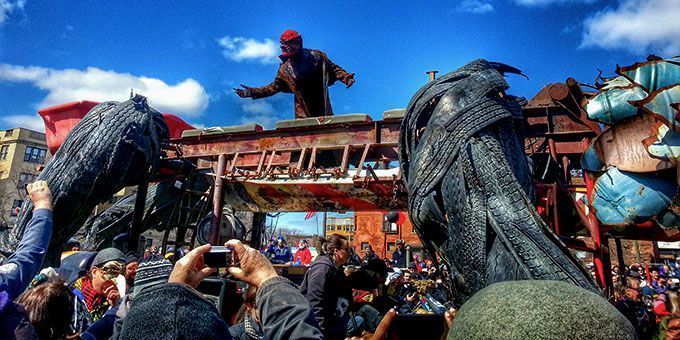 Detroit, MI[10]
The Marche du Nain Rouge is a springtime celebration of the city's prosperity and bold spirit and is Detroit's very own Mardi Gras, complete with masks, costumes, and a parade. There are floats, a marching band, and plenty of food and drinks provided by local restaurants. Each year, the city comes together and marches down the streets adorned in bright colors to chase the Nain Rouge, a red-faced demon that causes trouble, out of the town. The event is steeped in folklore, and much like Mardi Gras, brings the city together around a common history that is unique, a little weird, and a whole lot of fun.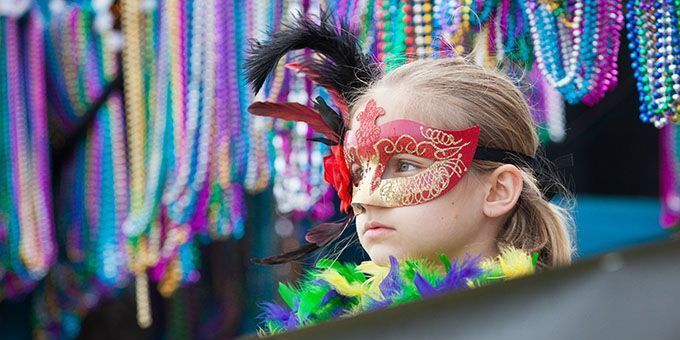 La Crosse, WI[11]
The La Crosse Mardi Gras celebration is centered on two events:, the Costume Ball and the Family Festival. Both events seek to raise money for the Aquinas Catholic Schools. The Costume Ball includes a Rex and Queen, who are properly dressed in their royal garb, and a number of krewes that represent the local parishes. The Family Festival features games and Cajun food and the La Crosse Mardi Gras has, in recent years, been able to donate more than $10,000 to the Aquinas Catholic Schools through various Mardi Gras events and it is the spirit of giving as well as the entertainment that keeps people coming back year after year.
Have you been to any of these Mardi Gras festivals? What's your favorite place to celebrate Mardi Gras? Share with us in the comments, and don't forget to Like and Share on Facebook!
1. ^ St. Louis, MO
2. ^ Galveston Island, TX
3. ^ Gulf Coast, MS
4. ^ Mobile, AL
5. ^ Mobile Carnival Museum

6. ^ Dallas, TX
7. ^ San Francisco, CA
8. ^ San Diego, CA
9. ^ Pensacola, FL
10. ^ Detroit, MI
11. ^ La Crosse, WI