There's more to a Louisiana Mardi Gras than New Orleans
Mardi Gras, or Fat Tuesday, was originally a French Catholic celebration which has a long-lasting history in the formerly French-owned territory of Louisiana. The first Mardi Gras parade in the United States was believed to be in 1837 in New Orleans, but the tradition quickly spread throughout the southern regions of the state and beyond. Since then, the Mardi Gras celebration has grown to include not only the enjoyment of delicious food but weeks of parades, live music, dancing, masked balls, and a lot of thrown beads.
While New Orleans is the first city that comes to mind when you think about this holiday, Mardi Gras is a party that takes place all around the state and indeed the world. For those of you not in New Orleans, we have compiled a list of the best celebrations in Louisiana where you can, as the Cajuns say, "laissez les bon temps rouler," or let the good times roll.
For a fantastic Mardi Gras experience, head to the gorgeous state of Louisiana. There are plenty of other places to celebrate the festival, so whether you head up north or down to the bayou, these festivals offer tons of fun!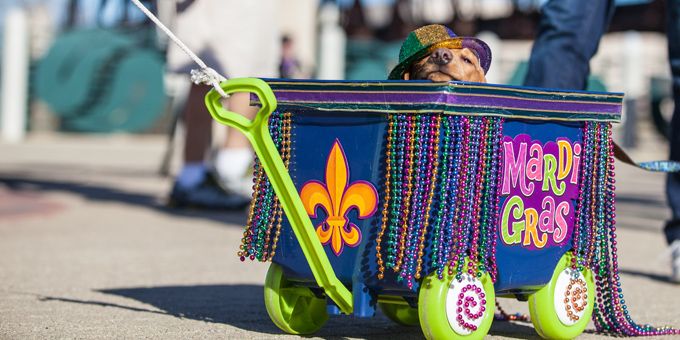 Lafayette, LA[1]
Lafayette, Louisiana is the largest city in the Acadiana region, and masked men on horseback used to ride from house to house during Mardi Gras, seeking donations in order to make a gumbo. Musicians often joined the masked men in their "parades" and the homeowners would sometimes throw a chicken at the men, which if caught would provide the meat for the gumbo. Although the parades are a bit different today, the merriment and masks are still there. Two weeks before Mardi Gras, the town of Lafayette begins a series of parades, including a pet parade, that are nearly continuous. The city also hosts two festival events: one at Clark Field and the other at Cajun Field. Both feature live music, food, and crafts, and costumes.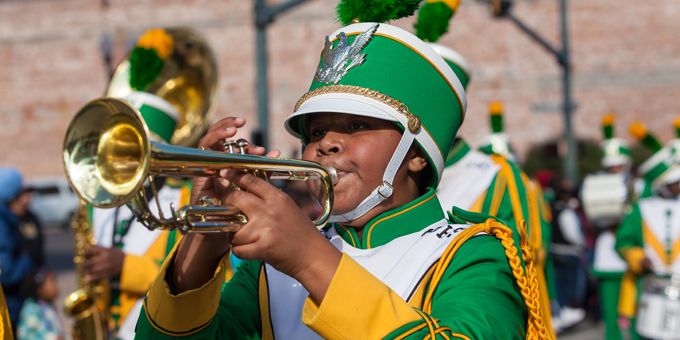 Houma, LA[2]
Home to one of the largest Mardi Gras festival in Louisiana, Houma boasts a number of parades and some of the best Cajun dining. Over the course of a week, the city puts on several parades, most with multiple krewes displaying their elaborate floats and entertainment. From late January until Fat Tuesday, the city is adorned with bright colors and shining beads and becomes full of mouth-watering sights and smells. Mr. Ronnie's Famous Hot Donuts, Bertinot's Best Bakery[3], and Cannata's Market[4] are all famous in Houma for making some of the best king cakes you can find during Mardi Gras and should not be overlooked while in the area.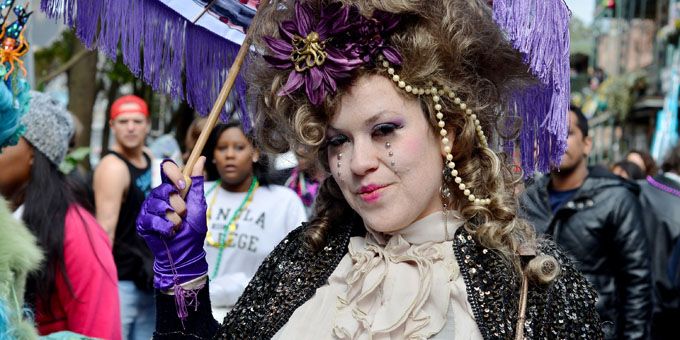 Bogalusa, LA[5]
The Mardi Gras tradition of Bogalusa is relatively new, dating back to 1981 when it was started to bring more attention to the business district. It is now one of the largest parades held by a town of its size. Today, the parade features nearly 20 marching bands, 38 floats, and more than 100 motorcyclists that introduce the loud and rambunctious procession. The parade began with only 80 people and six floats and has grown into a grand parade that attracts thousands of visitors to this small southern town.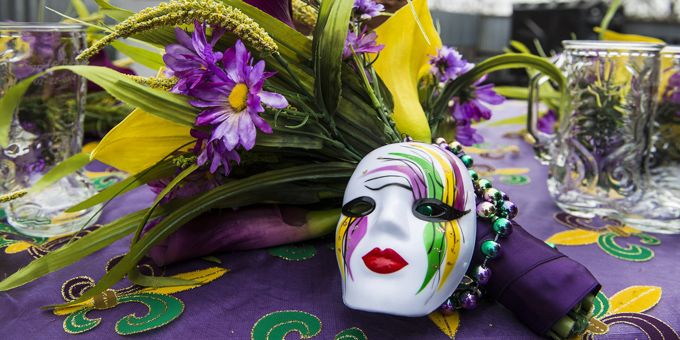 Alexandria, LA
For more than 20 years, the Alexandria Mardi Gras Association has been providing Mardi Gras festivities to the city of Alexandria, Louisiana. Starting in December, the city hosts multiple parades before Fat Tuesday, with varying themes including the annual Krewe's Parade which includes the typical sight of hundreds of beaded necklaces being tossed to the crowd. Naturally, you cannot have a Mardi Gras celebration without feasting and for $20 a ticket you can enjoy champagne and great food at the Taste of Mardi Gras that is hosted at the Riverfront Convention Center. In recent years, the city has also been offering a few family-oriented activities like the King City Party at the Zoo, which includes a children's parade, costumed characters, and zoo animals; and the Free Zone, an alcohol and tobacco-free area that offers a variety of activities for kids, teens, and the whole family.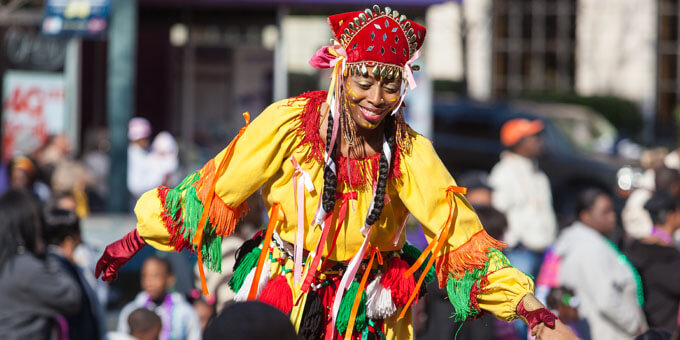 Shreveport, LA[6]
Shreveport hosts some of the largest Mardi Gras parades in Northern Louisiana, which attract more than 400,00 people. The city is adorned with gold, green, and purple and it's easy to find king cakes in any flavor. The parades attract many people because of the unique themes and commitment to diversity. For example, the Krewe of Barkus and Meoux[7] hosts a pet parade which features all kinds of animals, from goats to dogs, dressed in Mardi Gras colors and costumes. Another such Krewe is the Krewe of Harambee which was founded in 2000 by a group of African Americans in celebration and remembrance of Martin Luther King, Jr. The krewes host various events throughout the year including a parade.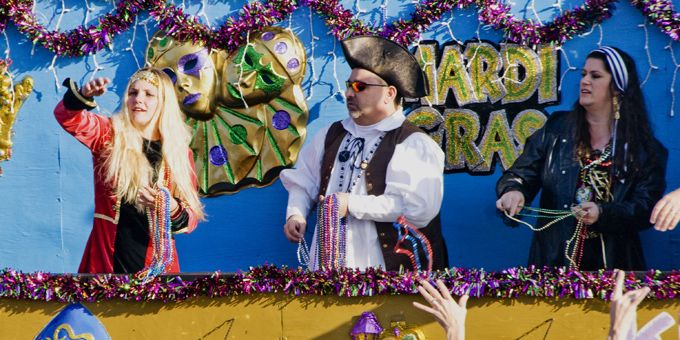 New Roads, LA
New Roads is one of the oldest towns in Louisiana and also home to one of the oldest Mardi Gras festivals, dating back to 1881. Although the town is small, it has brought in as many as 80,000 people to celebrate Mardi Gras. The town itself is adorned with history and includes beautiful 19th-century creole and Victorian homes which serve as a backdrop to the parades. The city offers two parades: the Community Center Parade, which is the oldest outside of New Orleans, and the New Roads Lions Carnival Parade.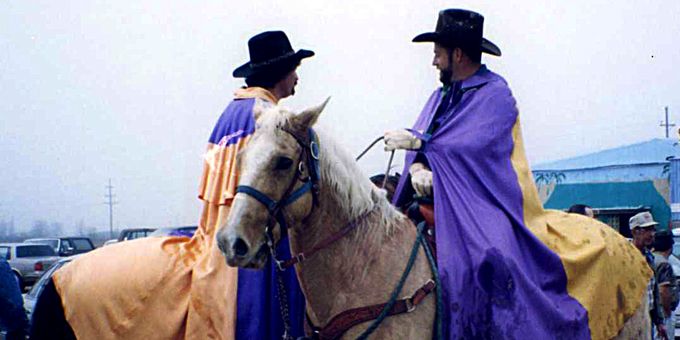 Eunice, LA[8]
The Courir de Mardi Gras is taken seriously in Eunice, as riders from the community still wake up early on Fat Tuesday and begin riding horseback through the countryside asking farmers for gumbo donations. The riders are adorned in masks and colorful costumes and once they have finished their tour around the city, they make their way to Second Street in the mid-afternoon for a parade through the town center. There is also a street dance and jam session that is held downtown. The old time traditions don't stop with the ride, as the city also holds a hog-butchering that has been a longtime part of the Cajun Mardi Gras. The visitors can enjoy a variety of Cajun food made from the hog, as well as other types of dishes.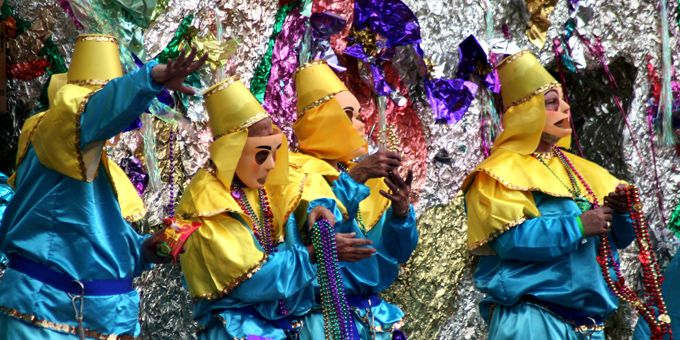 Baton Rouge, LA[9]
The Baton Rouge Mardi Gras festival hosts a variety of entertainment but is particularly known for its parades, with many of the colorful and unique krewes making an annual appearance. The Krewe Mystique has been around for 40 years and has presented themed floats since 1977, such as Enchantment Under the Sea and even Star Wars. Founded in 2001, The Krewe of Artemis is the only all-female parading krewe in Baton Rouge. These various krewes are what make the Baton Rouge Mardi Gras festival special and each year they provide wild floats, music, balls, and fun entertainment for the city.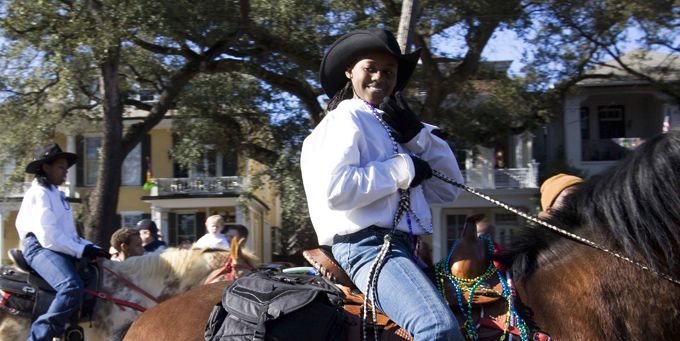 Courir de Mardi Gras at St. Landry Parish[10]
St. Landry Parish keeps the historical Mardi Gras tradition alive, as well as adding plenty of modern parades and entertainment. Historically, Mardi Gras in the Cajun country consisted of masked and costumed horseback riders begging neighbors for ingredients to make a community-wide gumbo feast. At St. Landry Parish, the community is invited to enjoy this tradition in a Courir de Mardi Gras event where you can dress up in colorful costumes and chase after a live chicken. The chicken run event takes place on Fat Tuesday, but the days prior are full of parades, live music, art exhibits, and barn and street dances.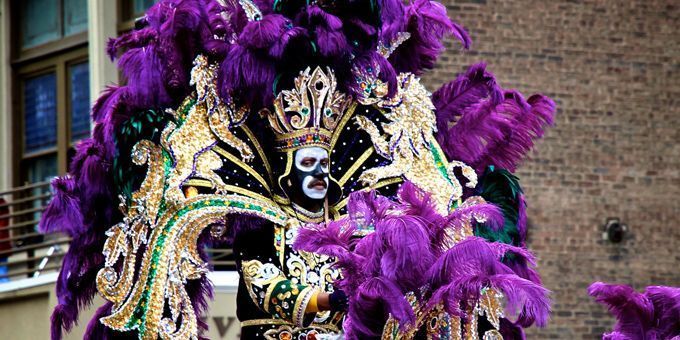 Lake Charles, LA[11]
Lake Charles and the southwest region of Louisiana take the Mardi Gras festival so seriously there is an app that shows you the parade routes and times, and even notifies you of the activities across the region. Lake Charles prides itself on its family-friendly and joyous spirit and has an entire day devoted to activities which allow the entire family to be involved in this fun celebration. If you are wanting Cajun food, then Lake Charlies is also the place to be, as it hosts not only one but two gumbo cook-offs and an event called Taste de la Louisiane, which features a delicious variety of southern and Cajun food. The "joie de vivre" or joy of living is definitely alive and well in Lake Charles, Louisiana.
Do you know of another Louisiana town with a rocking Mardi Gras celebration that should have made our list? Tell us all about it in the comments! Don't forget to share with your friends as you mark your calendars for this fun celebration!