From unicorns to zombies, these fantastic themed bars offer way more than a drink
You can get a drink just about anywhere, but there are some locations that go above and beyond to provide not only delicious beverages, but a fantastic and unforgettable atmosphere. These spectacular themed bars will not only provide you with some great food and drinks, but also a one-of-a-kind experience that you'll not soon forget!
Want to spice up your weekly night out with fans or impress a new date with drinks? Visit one of these awesome themed bars to sip cocktails and enjoy pop culture icons and aspects that offer a unique drinking experience.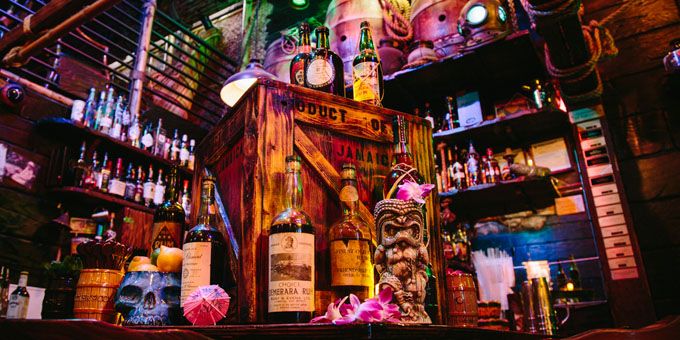 1. Smuggler's Cove
650 Gough St.
San Francisco, CA 94102
Although it is branded as a tiki bar, Smuggler's Cove[1] feels more like an island hideout. Tucked away down a small San Francisco street, the bar specializes in tropical drinks and features more than 550 rums. Taste classic Caribbean cocktails while being surrounded by decor that will make you feel as though you were transported to an exotic island. Let your mind run wild with pirate fantasies as you taste some of the finest rums around.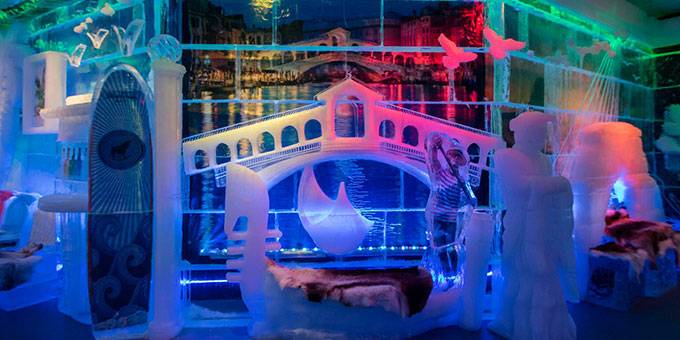 2. Minus5 Ice Experience
3770 S Las Vegas Blvd
Las Vegas, NV 89109
Chairs, walls, and glasses made of ice may sound like a restaurant in Alaska, but the Minus5 Ice Experience[2] is all about bringing the Arctic to the toasty city of Las Vegas. Sit on ice chairs and drink your favorite beverage from ice glasses. Don't worry about the cold though; upon arrival, you will be given gloves and warm parkas or faux fur coats to stay warm. Then, grab a drink and explore the frozen bar with its themed rooms, complete with ice sculptures. You can even have your photo taken by an in-house photographer to capture the moment! Make sure to check out their other locations as well at the Shoppes at Mandalay Palace and Grand Canal Shoppes at The Venetian and The Palazzo.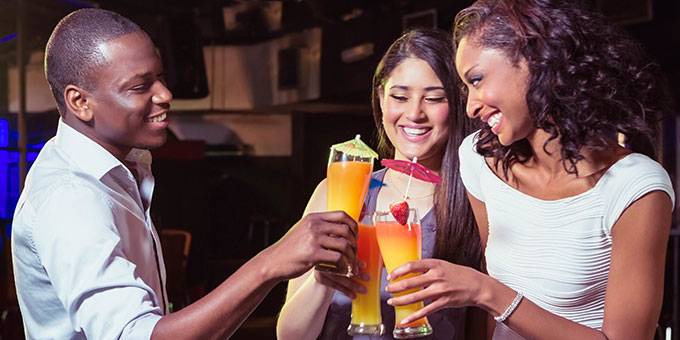 3. Psycho Suzi's Motor Lounge
1900 Marshall St. Northeast
Minneapolis, MN 55418
For motorheads that love to get their drink on, there's no better place to go than Psycho Suzi's[3]. This motor lounge features a main bar, a riverfront patio, and the Shangri-La. Combining the vibes of a tiki-bar gone bad, this unique bar is the perfect place to go if you are looking to have an amazing night out. Make sure to try one of the favorites like the Mai Tai cocktail or The Cannibal!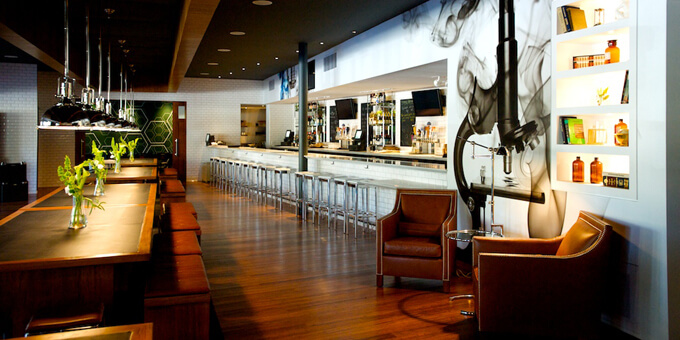 4. The Lab Gastropub
3500 Figueroa St.
Los Angeles, CA 90089
As clean and shiny as a scientist's lab, the Lab Gastropub[4] offers a great selection of beers and wines along with savory food. The open layout and large windows allow the California sun to fill the bar with wonderful, natural light. Make sure to swing by in the afternoon from 4-6 to take advantage of the everyday happy hour at this fun science-themed bar.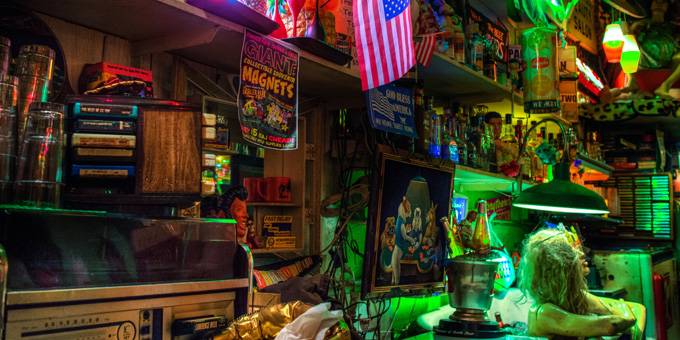 5. Trailer Park Lounge
271 W 23rd St.
New York, NY 10011
In New York City it takes a lot to stand out amidst the hundreds of unique restaurants and bars, but the Trailer Park Lounge[5] manages to be one of the weirdest and most entertaining bars in the city. With cheese wiz inside a shadow box along the wall, neon signs, and Elvis posters, the lounge could not be more kitschy, but it's all part of the fun. Order some chili-cheese tots and a PBR, which may come out in a plastic cup, and enjoy this one-of-a-kind experience.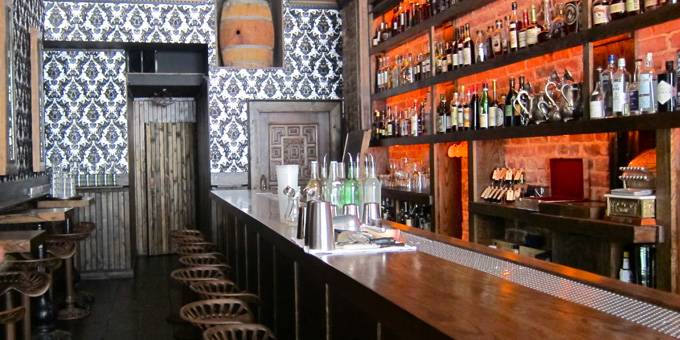 6. Wilson & Wilson
505 Jones St.
San Francisco, CA 94102
Located within the private Bourbon & Branch[6] bar, Wilson & Wilson[7] is a speakeasy hidden inside a speakeasy. This secretive detective-themed establishment serves up adventurous and swanky drinks to the few who can earn entrance. Once you enter Bourbon & Branch, another secret door in the back will lead you to this fine establishment. Once inside, you will find the drink menu hidden within a case-file. Be sure to order the 3 drink sample, which allows you to enjoy three signature concoctions.
7. The Unicorn
1118 E. Pike St.
Seattle, WA 98122
As unique as the mystical animal it is named after, the Unicorn[8] bar is a carnival themed dive bar that will take you for a ride. The featured dishes are delicious, deep fried corn dogs, and interestingly named sides such as unicorn balls and elephant ears. The colorful walls and wild decorations create an amazingly fun ambience. After filling your stomach, you can sip on a specialty drink like a banana hammock or my little pony, and play some old arcade and pinball games.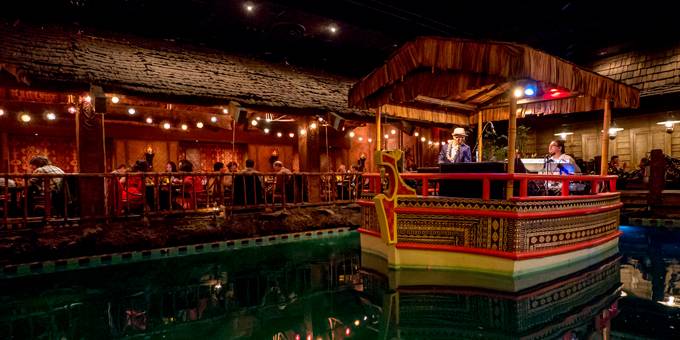 8. Tonga Room and Hurricane Bar
950 Mason St.
San Francisco, CA 94108
Located in the Fairmont Hotel[9], the Tonga Room & Hurricane Bar[10] has been serving up delicious cocktails to the San Francisco area since 1945. The decor is done in a stereotypical tiki style, and features a cool floating stage on a lagoon in the center of the room. Most nights a band serenades the customers from the floating stage. Take a trip back in time to the era of tiki bars and enjoy this forever-popular bar that has served celebrities, locals, and even U.S. presidents.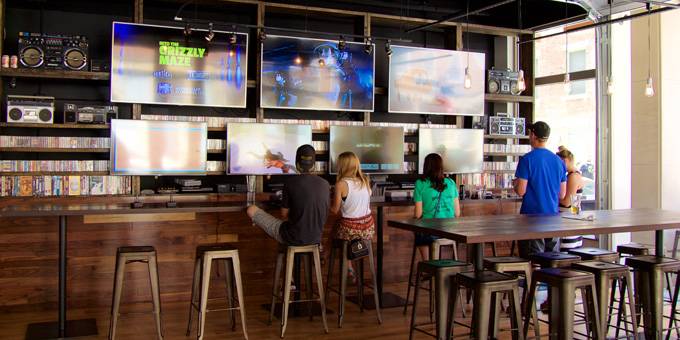 9. 16 Bit Bar and Arcade
254 S 4th St.
Columbus, OH 43215
The 16 Bit Bar and Arcade[11] is an adult's dream come true; a place where you can relive your childhood and buy alcohol at the same time. Grab a beer or your favorite cocktail and enjoy more than 40 various arcade games. With insanely fun events, the 16 Bit Bar and Arcade never gets boring. Catch a retro movie like "Wayne's World" on movie night or take part in High Score Sunday, where you can earn drinks by beating top scores.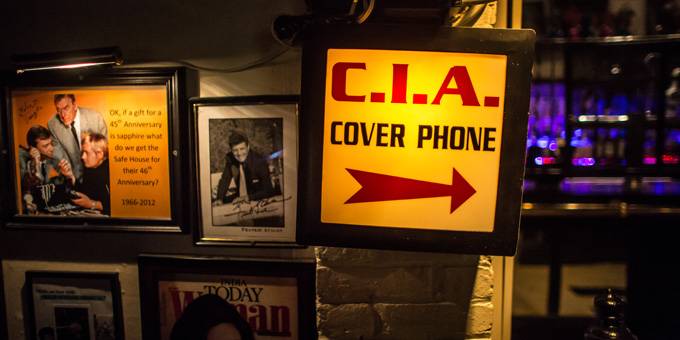 10. The Safe House
779 N Front St.
Milwaukee, WI 53202
For those enamored by the life of espionage, The Safe House[12] is definitely worth an investigation. A creative spin on the classic speakeasy, this bar is truly a fun and creative experience. A password is required to enter. However, if you do not know it, you may still gain entry after passing a few silly and entertaining tests, all of which are broadcasted to the patrons already within. Once inside, you can peruse the entertaining decor, go on a scavenger hunt to solve a mystery, and enjoy the numerous spy-themed drinks; shaken, not stirred, of course.
Do you know any awesome themed bars in the U.S. that didn't make our list? Have you tried any of these amazing spots? Tell us about it in the comments below, and don't forget to Like and Share!