YOUR PEACE OF MIND IS OUR TOP PRIORITY
Should you need to cancel at any time, you have up to 48 hours from your vacation start date to do so for a 100% future travel credit.
Choosing the right kind of tour makes all the difference.
Booking a guided tour or planning your own independently are both great options, but each certainly has its advantages and disadvantages. Whether you're heading out to red rock country for a day-long hiking adventure, or you have your mind set on exploring the historic sites of Boston, choosing the right kind of tour is an important decision.
When you visit a new city, it can sometimes be a bit overwhelming. There are so many landmarks, local attractions, and things to see that you may not even know where to start! Learn how to select the perfect tour for you and your vacation.
DIY Tours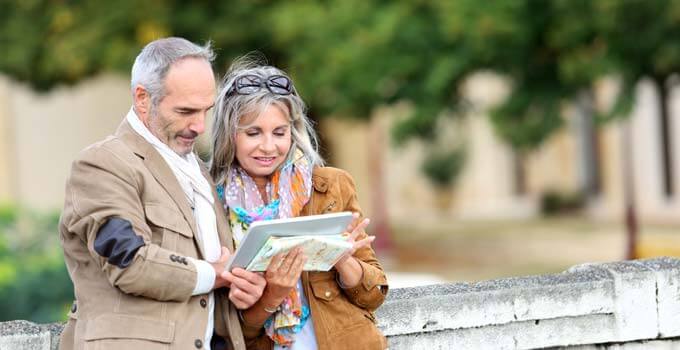 A do-it-yourself tour means that you are choosing your own tour locations, providing your own transportation to each one, and paying any entrance fees necessary to get into museums, attractions, and other sightseeing areas. As with all things DIY, there are ups and downs to doing it yourself, but the more informed you are, the better! Consider these factors before making your decision.
Advantages:
You can customize your route. Instead of letting a travel tour company choose your tour stops for you, the DIY route allows you to pick the specific locations you're interested in seeing. So if art museums aren't your thing, skip right over it and head on to the next best thing.
You can linger as long as you want. Nothing is worse than being rushed from site to site on a guided tour when all you want to do is hang out for a while and soak up the experience. Luckily, with a tour, you don't have to worry about that. Stay at each tour stop as long as you want to.
You get to explore some of the lesser-known areas. If you've already been to the location once before, a guided tour might not be the best option. You've more than likely already seen the typical first-time visitor attractions and you're probably ready to dig a little deeper. With a self-guided tour, you can hit up all the spots that the locals love and have a whole new experience altogether.
You can set your own schedule. With a self-guided tour, there's no need to wake up at 7 a.m. to catch the 8 a.m. tour bus. This is a vacation, after all! Pick and choose when you want to begin and end your day and don't bother feeling rushed to head out the door.
You won't get lost in the crowd. Sometimes group travel can be overwhelming, especially when you're touring in large groups of 15 or more. Planning your own tour allows for some extra space for yourself or your family. Separating yourself from a pack of tourists might also open up more opportunity to chat with locals and get a better sense of the area's culture and traditions.
Disadvantages:
You may not get as much out of it. If you're a newcomer to the area, there's always much to learn from the locals. While planning the tour yourself, you may miss out on some great details only a local would know.
Some situations can be dangerous. In a more remote location like the Grand Canyon, a tour guide is ideal because you're more likely to avoid disaster. If anything were to happen, you wouldn't be alone and your guide should be knowledgeable enough to know what to do. Also, sticking together with larger groups in a foreign city is never a bad thing, especially if you're a young person traveling alone.
It takes a lot more work. Instead of just hopping on a tour bus and enjoying the ride, going the DIY route means you'll have to do all the research, planning, and logistics yourself.
Guided Tours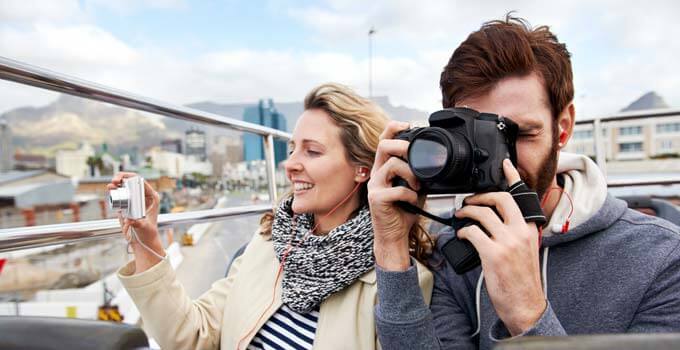 A guided tour means that you will have an expert guide leading you to each location, providing transportation, and oftentimes, narrating along the way. In some instances, private tours are available for just you and your family, but many guided tours involve larger groups of tourists who tour an area together. For social butterflies, this is an ideal situation!
Advantages:
A guide can provide valuable insight about the area. Expert guides are extremely valuable and can help you navigate a new place while providing insight about the history and culture of the area.
All you have to do is buy the ticket. Forget the research and planning — let the tour guide do all the work. Your tour guide will pick out all the tour stops and provide the transportation, so you can simply enjoy listening, exploring, and snapping all the photos your heart desires.
You're bound to make a friend or two. While touring a new area, you're likely to strike up a conversation with some of the other tourists in your group. Some people even end up meeting lifelong friends this way and travel the world with them.
You'll have access to more resources. In rougher areas like national parks, tour companies can provide you with the necessary resources to make it through barren landscapes. I know my Dodge Caliber won't make it through the Grand Canyon, but Arizona Tour and Travel Group has helicopters, Jeeps, and boats. I think that will do the trick.
Guided tours are great if you're on a tight schedule. If you only have a certain amount of time to spend touring, a guided tour is the way to go. You'll waste less time getting lost or figuring out logistics, and more time sightseeing.
Disadvantages:
You may not get to see everything. Unfortunately, most guided tours don't allow you to pick and choose the sites you want to visit. So if there's a specific place you're just itching to see, find out if you can customize your guided tour or consider going the DIY route.
You may see too much. The same is true on the opposite side of the spectrum. If you only want to see a few sites but the tour schedule has you booked for a full-day expedition featuring 20 or more sites and attractions, a guided tour might not be for you.
You can't tour at your own pace. Some guided tours don't allow you to take in the sights and sounds of an area at your own pace. If you'd rather forego the strict scheduling and prefer a more leisurely pace, look for a guided tour with longer stops or maybe just pick a few locations you'd like to visit and head there on your own.
As always, cost is a big variable in choosing whether to tour independently or book a guided tour. Unfortunately, it's impossible to say which option is more cost efficient because the prices and variables are far too diverse, but in most cases, booking a guided tour is a great way to gain access to a number of attractions and museums with a one-time fee. If the tour company doesn't specify whether or not your admission is covered at certain tour stops, make sure to ask.
However you choose to sightsee while traveling, we hope you have the best experience possible. Which do you prefer: DIY tours or guided tours? Comment below and let us know why!