Open wide and take a bite of the controversy, featuring the country's most savory key players.
Which is better: the savory burnt ends of Kansas City or that moist southern Texas meat, slathered in thick sauce? Or maybe the spice-rubbed pulled pork of the Carolinas better suits your taste buds? It's an age-old battle that may never truly be resolved, but there are certainly more than enough barbecue aficionados running around that are willing to bet their lives on one or the other.
The word "barbecue" can actually mean different things in various regions of the country. This savory dish, usually involving meat and sauce, has become a universal staple of American cuisine and first surfaced during colonial times.
Whether you are a fan of Memphis BBQ or prefer the Midwestern style of Kansas City, barbecue is some of the most mouthwatering cuisine - and some of the most competitive. So which really is the best BBQ around?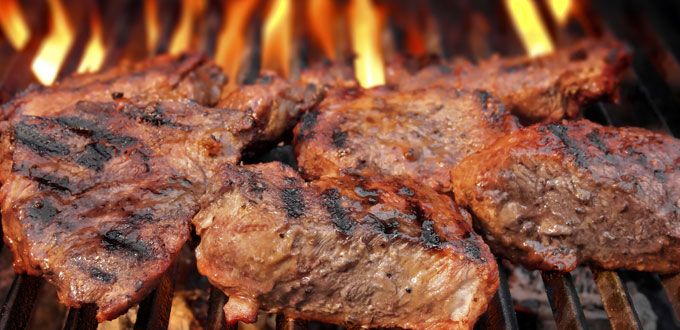 Today, America's Barbecue Belt spans the length of the southern states: Alabama, Louisiana, Georgia, Tennessee, Missouri, Kentucky, and Texas, and also includes North and South Carolina. Each area takes pride in their cooking techniques and ingredients, and usually, residents believe their barbecue to be the best of all varieties.
Things get a little intense when it comes to barbecue, and every year people from all over the country head to competitions like The International BBQ Festival[1] in Owensboro, KY, the Memphis in May World Championship Barbecue Cooking Contest[2] in Memphis, TN and the Blue Ridge BBQ and Music Festival[3] in Tryon, NC to get a taste of the rivalry.
But before we can determine whose barbecue really is the best, we need a quick run-down of each region's style. And then, I think we need to taste them all. So who's cooking?
Texas Barbecue
Beef is the most popular meat choice in central Texas barbecue. It's common to see tender sliced beef brisket cooked over mesquite and served without sauce alongside beans, coleslaw, potato salad, and white bread. The priority is really on the quality of meat instead of any flavorful sauces, and if there is sauce served with cuts of meat, it's usually much thinner than the thicker, sweet sauce of Kansas City. Barbecue in the Panhandle is also comparable to that of central Texas, but is often served with apricot preserves and onion rings.
East Texas barbecue is commonly made with both beef and pork and is usually chopped, heavily sauced, and served on a bun. Hot sauce and a sweet, thick, tomato-based sauce are used to flavor the meats which are indirectly smoked over hickory wood.
Goat or mutton, in addition to beef, are also a feature of west Texas barbecue. The meat is rubbed with spices and then cooked over oak, hickory, or pecan wood in an enclosed pit. West Texas barbecue cooks at a low temperature for hours, resulting in extremely flavorful cuts of tender meat.
Our top three Texas picks:
Memphis, Tennessee has been called the "Barbecue Capital of the World" and visitors frequently travel from around the country to get a taste of some of the most famous barbecue joints in town. Ribs here are typically served dry (without sauce) and seasoned with a tangy rub, but they're also served wet (with sauce). Pulled pork is another popular favorite, often drenched in a sweet tomato and vinegar-based barbecue sauce. A good memphis barbecue sauce should be thinner than the average tomato-based sauce and sometimes a bit spicy. Traditional sides include coleslaw, cornbread, beans, and sliced white bread.
Our top three Memphis picks:
Kansas City Barbecue
Burnt ends are a Kansas City staple but if you're headed here, you'll find a variety of meats at the 100 plus barbecue restaurants in the city. Chicken, pork, mutton, beef, and turkey are all slow-smoked and then slathered with a thick tomato and molasses-based sauce. In Kansas City, the sauce is where it's at. Barbecue sauce here comes in a variety of flavors from sweet and tangy to spicy and bold, but the most popular seems to be the sweeter concoctions. A diverse assortment of southern sides are paired with KC barbecue such as coleslaw, cheesy corn, french fries, potato salad, and macaroni and cheese.
Our top three Kansas City picks:
Carolina Barbecue
North Carolina is known for its whole hog barbecue. The whole pig is cooked for several hours over a smoke pit, pulled into stringy chunks and then generously smothered with a vinegar-based pepper sauce. Some in the western areas of the state add a little ketchup to the sauce as well. This Carolina-style pulled pork is fatty and juicy and usually comes served with a mayonnaise-based coleslaw and deep-fried hush puppies.
Our top three North Carolina picks:
South Carolina barbecue is also a whole hog barbecue state but is well-known for its mustard-based Carolina Gold sauce: a sugary and zesty blend of vinegar, mustard, brown sugar, and spices. A variety of thick and thin sauces are used all over the state, including mustard and vinegar-based sauces and tomato-based sauces. One distinguishing South Carolina dish is known as barbecue hash. A blend of chicken or pulled pork, vinegar, onions, mustard, and seasonings like salt and pepper, this dish is usually served over rice.
>Our top three South Carolina picks:
Kentucky Barbecue
Kentucky is unique in that mutton is the main choice of meat for barbecue in the western part of the state. Although a variety of meats are used statewide, mutton is a Kentucky specialty — especially in Owensboro. The meat is usually cooked over hickory coals and dipped in a thin, dark Worcestershire-based sauce. Barbecue on the western side of the state features a sweeter, tomato-based sauce that's spicy.
Our top three Kentucky picks:
With such a broad selection of barbecue profiles with various flavors and cooking techniques, it's difficult to pick a favorite. We have our own biases (being so close to Kansas City) but we'll just keep that to ourselves. So which barbecue do you think is the best? And why? Comment below!