See the world through the eyes of these photographers.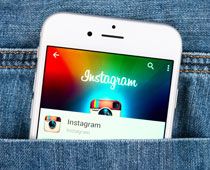 Ever get the urge to just drop everything and go somewhere? I think we can all relate. But unfortunately, it's hard to just "drop everything and go" when you have bills to pay and dogs (or children) to take care of.
Thankfully, nowadays we have this handy thing called Instagram. This absolute wonder of the social media world gives us the chance to see things we otherwise could not and experience cultures and sights from around the world. Starting your day with a brilliant vision of the Bahamas or a cool rain over Paris can be the difference between another ordinary day and an absolutely uplifting workday. Ahead, 30 inspiring Instagram accounts that will undoubtedly satisfy all your travel cravings.
Instagram is one of the most inspiring social media options out there. If you love travel, be sure to give these Insta pages a follow to get inspired to take your own travel adventures.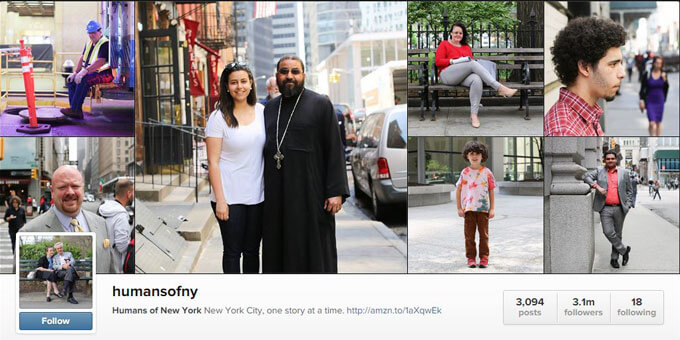 1. Humans of New York — @humansofny[1]
Have you always wanted to visit New York? Blogger, author and photographer, Brandon Stanton's photos give you the rare chance to see New York through the eyes of its inhabitants as he shares tiny tidbits of their lives with each shot.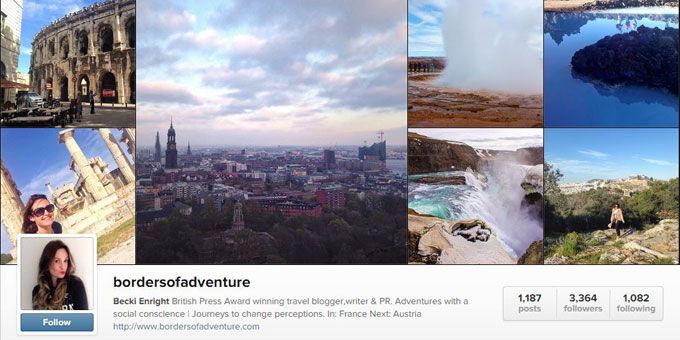 2. Becki Enright — @bordersofadventure[2]
This travel blogger documents just about everything she sees as she travels with photos of locals, fascinating scenery and in-the-moment shenanigans. The occasional foodie photo also offers a brief slice of the local food scene.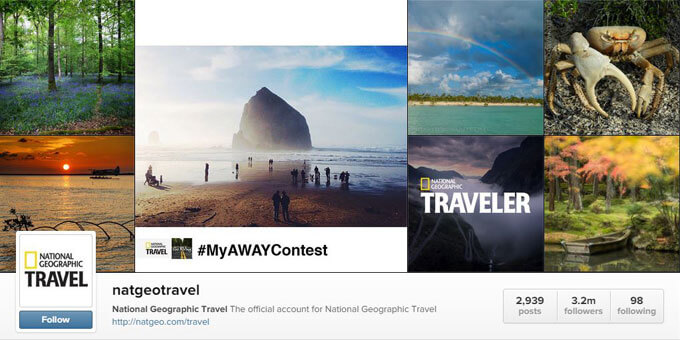 3. National Geographic — @natgeotravel[3]
Of course, the official Instagram of National Geographic can be nothing short of incredible. Snapshots of breathtaking landscapes and wildlife from all over the world are constantly teasing adventure seekers.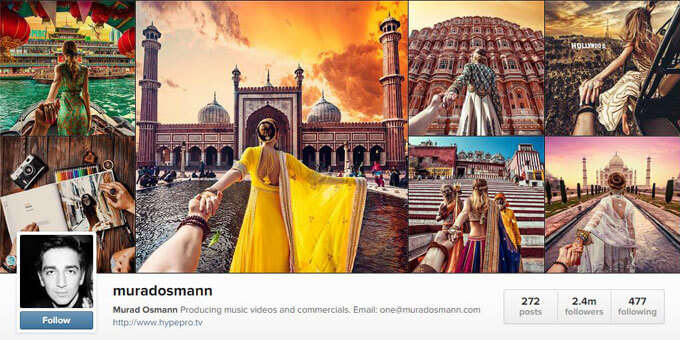 4. Murad Osmann — @muradosmann[4]
Those who like a good love story will love this interesting collage of photos. This photographer intertwines his relationship with world exploration, snapping every photo hand in hand with his girlfriend as she leads the way.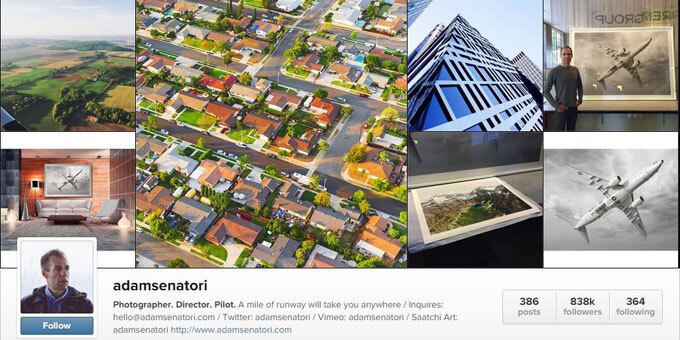 5. Adam Senatori — @adamsenatori[5]
Many of this pilot's photos have the unique perspective of being thousands of feet up in the air. Take in stunning aerial views of major cities, expansive valleys, mountain peaks and shorelines with this artistic pilot's Instagram account.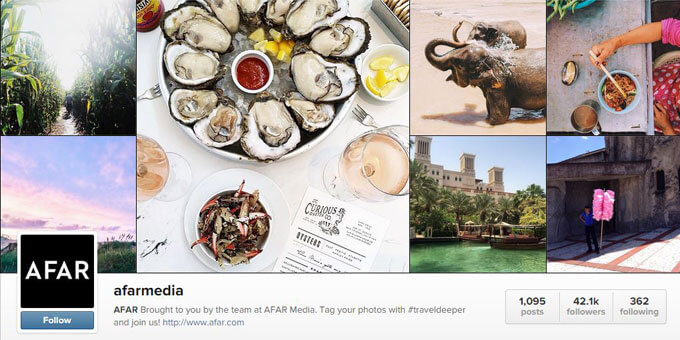 6. AFAR — @afarmedia[6]
This group of diverse travelers offer a widespread look at life around the globe. Contributing photographers are consistently posting brilliantly colorful and intricate scenes that tell simple, yet profound stories.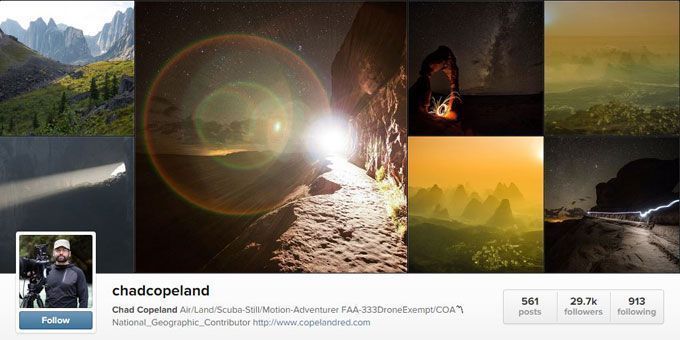 7. Chad Copeland — @chadcopeland[7]
This National Geographic contributor has been scouring the world for two decades, capturing exotic stills and videos of locations far and wide. The Grand Canyon, the Great Getu Arch in China and the Great Barrier Reef are just a few delightful sights to see on his page.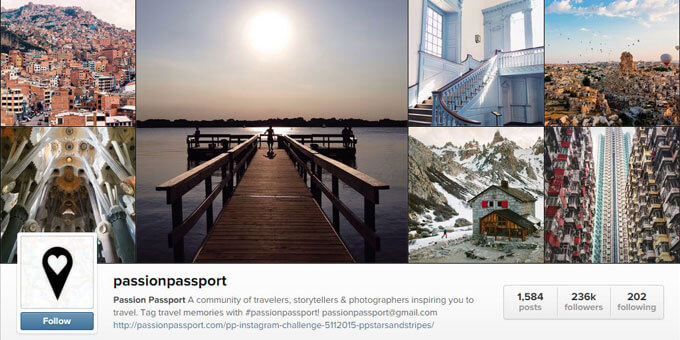 8. Passion Passport — @passionpassport[8]
This online community of travelers share their pictures and stories in an effort to inspire others to pack their bags and head out for an adventure. Start your day with Passion Passport and you're sure to get your daily dose of adventure.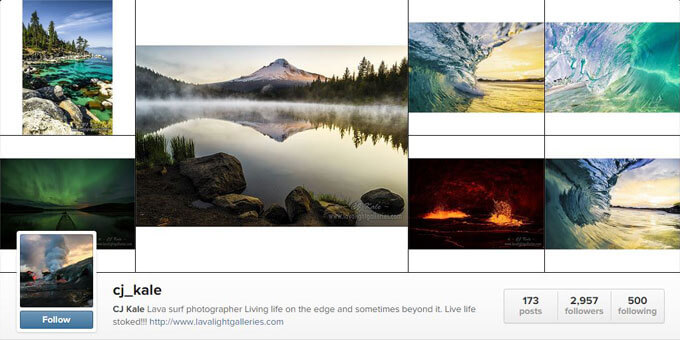 9. CJ Kale — @cj_kale[9]
A self-proclaimed "lava surf photographer," you never know what you're going to get with this guy, but his photos are unbelievable. Striking colors and textures jump out from each photo as he takes you on a journey through some of the Earth's most vivid destinations.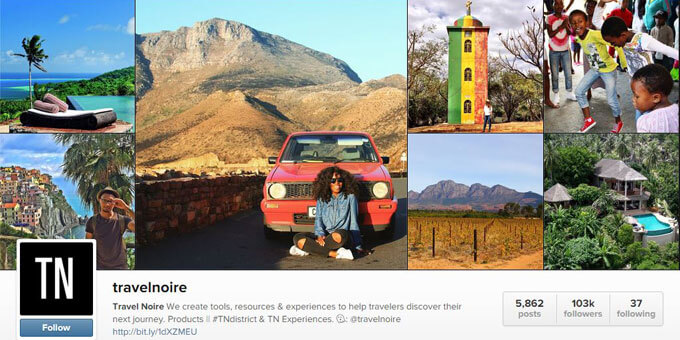 If this account doesn't make you want to travel, I don't know what will. Each photo depicts an immersive experience with places and individuals all over the globe. Live vicariously through these photographers and see the world.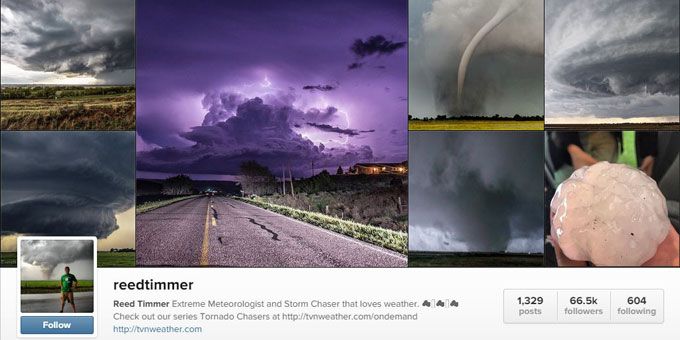 11. Reed Timmer — @reedtimmer[10]
This guy is actually a meteorologist but he captures the most incredible severe weather around the country. See unbelievable cyclones above Texas, insane lightning over Moore, Oklahoma after twisters and double rainbows over the horizon in Arizona.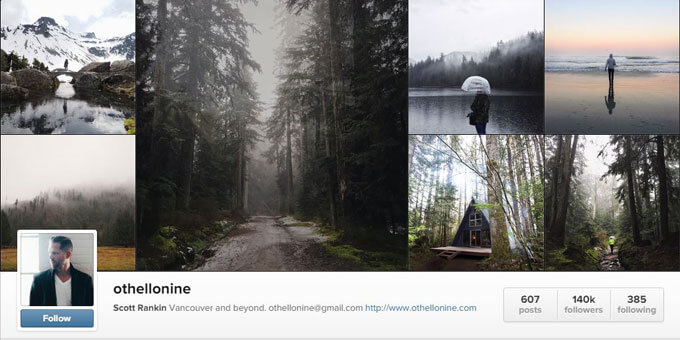 12. Scott Rankin — @othellonine[11]
Scott's dreamy looking photos are mostly taken in Vancouver, British Columbia. They have a cloudy, somber appeal to them and he clearly has an eye for photography that will make you want to get out there and see it all for yourself.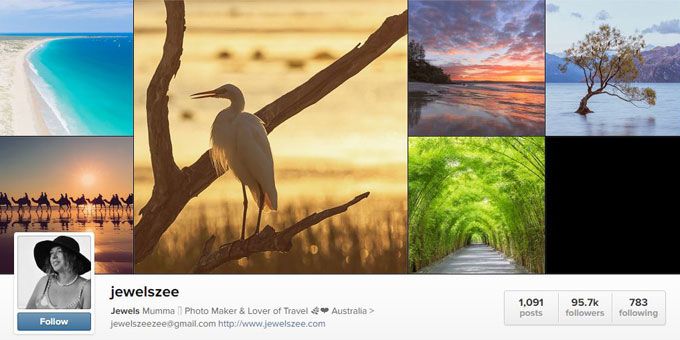 13. Jewels — @jewelszee[12]
This Australian mom captures the beauty of everyday life on her side of the planet. Her expansive travels as a forty-something are filled with lots of "firsts" and colorful pictures to tell the story.
14. Dave and Deb — @theplanetd[13]
USA Today, Forbes and Reader's Digest all declared this Instagram one of the top travel instagrams. And for good reason. Brilliant images reflect this husband-wife duo's adventures and they're almost too beautiful to be real. But they are!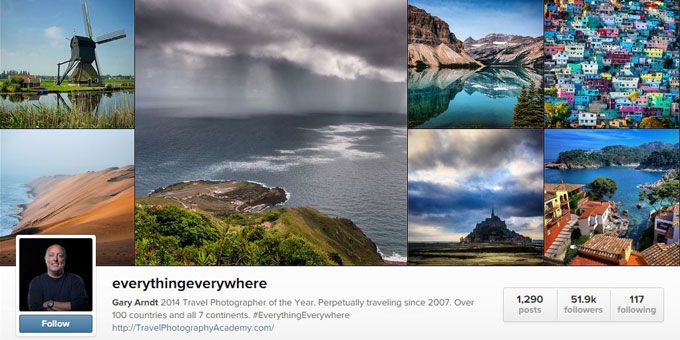 15. Gary Arndt — @everythingeverywhere[14]
Enjoy scenes from literally everything and everywhere as 2014 Travel Photographer of the Year Gary Arndt opens his world to you. Visit the Louvre, diving penguins in Antarctica, the Eiffel Tower in France and so much more.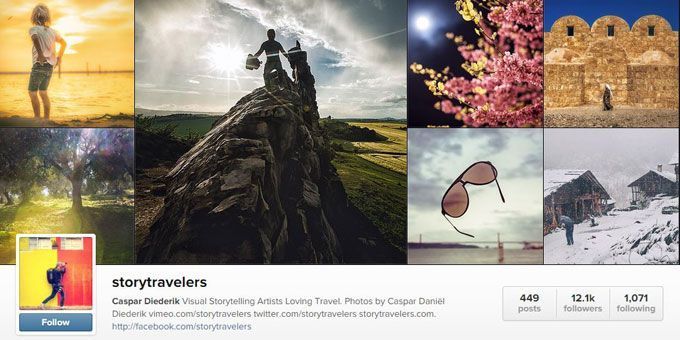 16. Caspar Diederik — @storytravelers[15]
Each of Caspar's pictures is accompanied with a tiny story for those filled with wanderlust. Start your day with his inspiring snapshots of playful travels from country to country.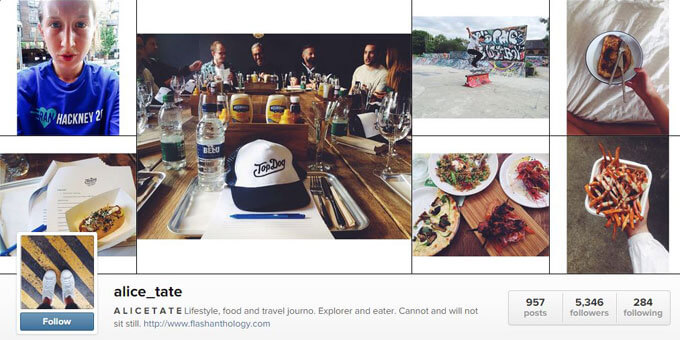 17. Alice Tate — @alice_tate[16]
This young lady is a travel writer, blogger and food enthusiast, and has lots of obligatory foodie pics filling up her Instagram page. But as she snaps away, she delves into the cultural aspect of everything she tastes, sharing notes about new places and experiences.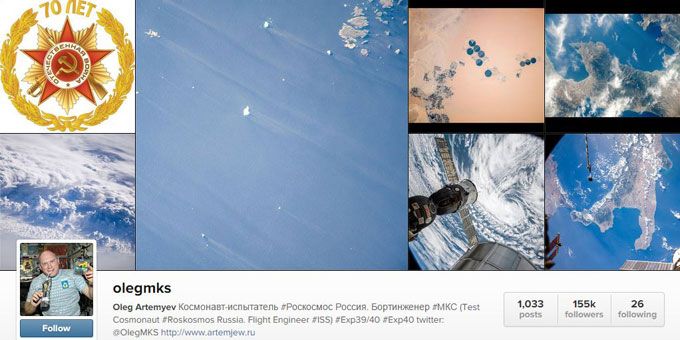 18. Oleg Artemyev — @olegmks[17]
If you like to travel, why not travel to outer space with Oleg Artemyev, a Russian astronaut. His profound photos are unlike any other, with breathtaking ethereal views of the Aurora Borealis over the South Pole from, swirling clouds over continents like Asia and Africa, and the jagged ridges of mountain ranges.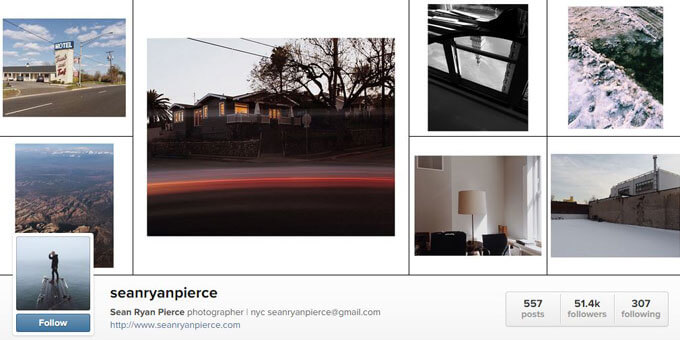 19. Sean Ryan Pierce — @seanryanpierce[18]
This talented New York City based photographer captures the essence of the city through portraits, spaces and nature. He uses shadows and light rather than filters to give his photos a unique flair that keeps you coming back for more.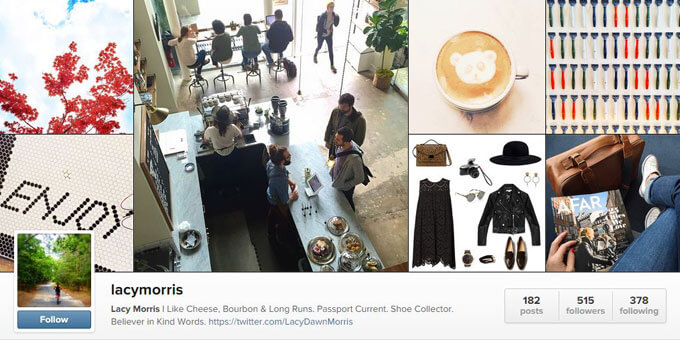 20. Lacy Morris — @lacymorris[19]
Whether you're getting lost on a shaded road, experiencing a new restaurant or making your way to South Beach, you can go with Lacy Morris, an avid and fashionable explorer and photographer.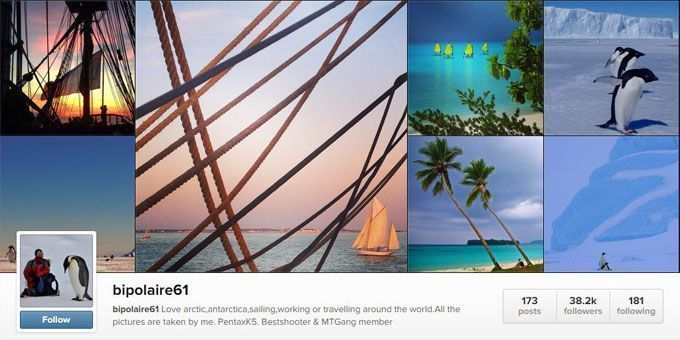 21. bipolaire61 — @bipolaire61[20]
For those who dream of seeing the Arctic, this Instagram is full of nothing but that. Frozen scenes featuring penguins waddling across ice-coated plains, beached fishing boats caught in the icebergs of Greenland, the interior of the igloos of Antarctica and so much more.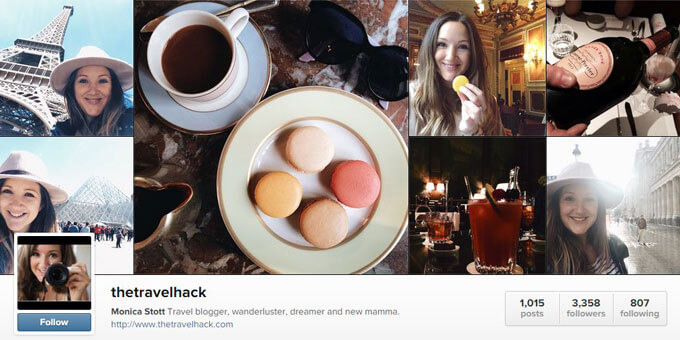 22. Monica Stott — @thetravelhack[21]
Before there were pictures of her baby, there were pictures of her dog. This new mother shares her travels (and her tiny love) as she roams the Wales and England areas and shares valuable tips and tricks on her travel blog.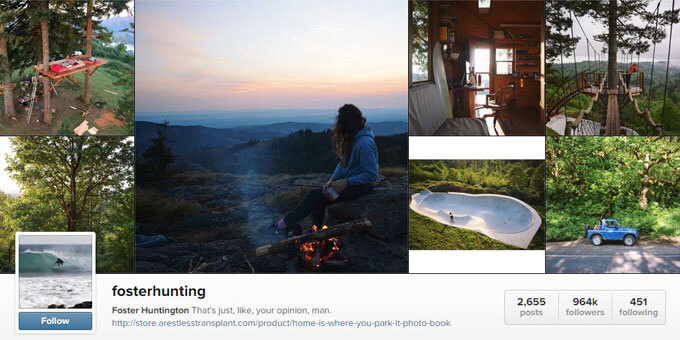 23. Foster Huntington — @fosterhunting[22]
While traveling the country in a van, this guy and his friends built a treehouse to live in. He posts pictures of everyday treehouse life and is in the process of putting a book together with advice, tips and directions on how to do the same.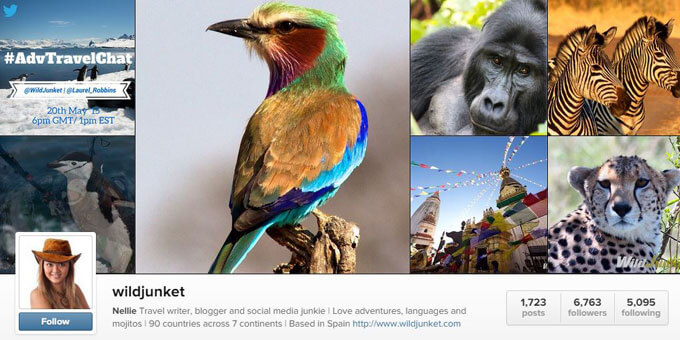 24. Nellie — @wildjunket[23]
This travel writer is based in Spain but her Instagram photos take you far and wide across 90 different countries and seven continents. She shoots a lot of wildlife photos featuring the majestic animals of the African plains, alongside the architectural wonders of Spain, Iran, Central Asia and more.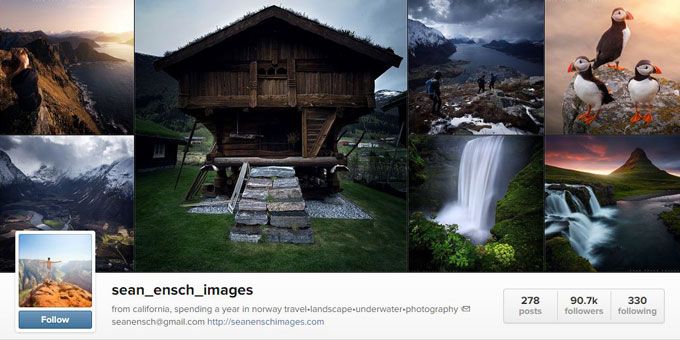 25. Sean Ensch Images — @sean_ensch_images[24]
These surreal and stunning photographs will take you to new heights every day. Sean specializes in landscape, travel and underwater photography, and spent a year in Norway gathering magnificent images and is consistently adding to his portfolio of pieces online.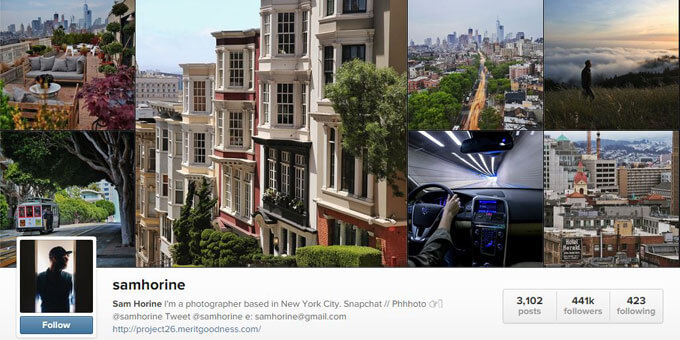 26. Sam Horine — @samhorine[25]
Urban scenes of New York fill this Instagrammer's page with hillside lofts, cityscapes and an abundance of nature photos from his travels. It's safe to say he gets out a lot, so you never know where you'll find yourself when you stumble upon his page.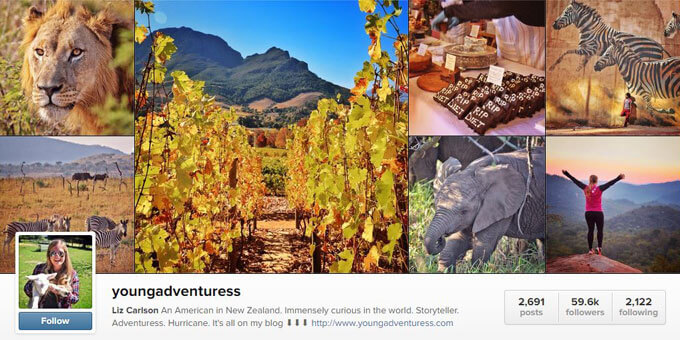 27. Liz Carlson — @youngadventuress[26]
This young American shares her adventures in New Zealand with visual storytelling, often featuring the furry faces of tigers, lions and other interesting animals. Whether it be swimming with turtles in the Great Barrier Reef, glamping on a safari or hiking the mountains of South Africa — you can be right there with her.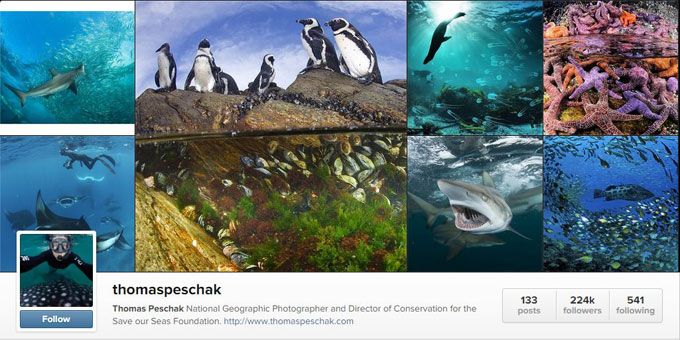 28. Thomas Peschak — @thomaspeschak[27]
Another National Geographic photographer, Thomas Peschak posts the most stunning photos of wildlife across the globe. His photos provide the rare opportunity to get up close and personal with some animals you may never get the chance to see in real life.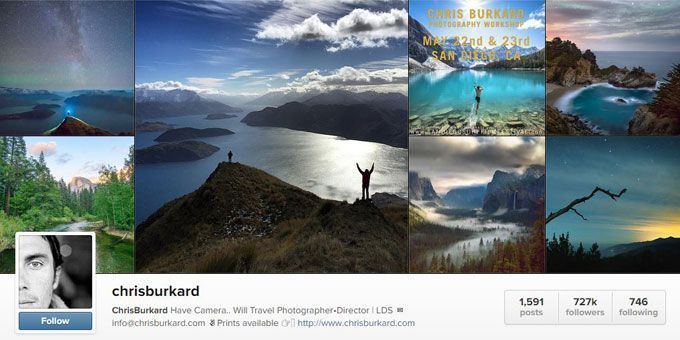 29. ChrisBurkard — @chrisburkard[28]
This travel photographer spends his days scouring the globe for fantastic visuals. His photos are always full of vibrant colors and incredible displays of natural beauty and people enjoying it.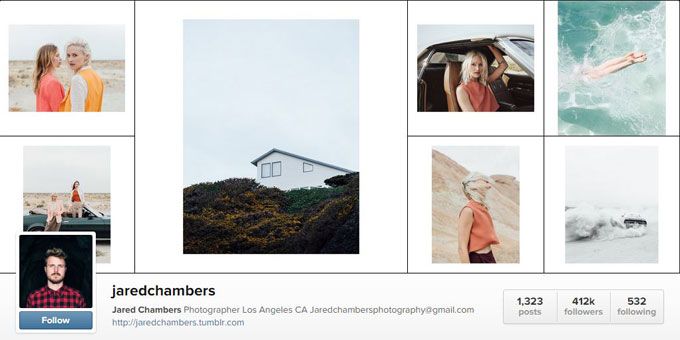 30. Jared Chambers — @jaredchambers[29]
This photographer is based in Los Angeles and captures clean cut, dazzling images of the coast. The simplicity of his work is enticing and all you beach bums out there are bound to love this guy.
What other Instagrams do you follow that inspire you to travel? Share in the comments below!