Cool off this summer with these family-friendly, watery wonders.
When it comes to summertime, the best way to spend a hot, sticky day is with a cool, refreshing dip in the community pool. Available to anyone and everyone looking to make a splash, public pools are an inexpensive way to make sure the whole family has fun without stressing about water park prices. Below are 15 of America's most awesome community pools — all featuring incredible water park-ish amenities!
Cool off from the hot summer sun with these amazing public pools. From the luxurious to the community spots, these pools are sure to help you make some awesome new memories.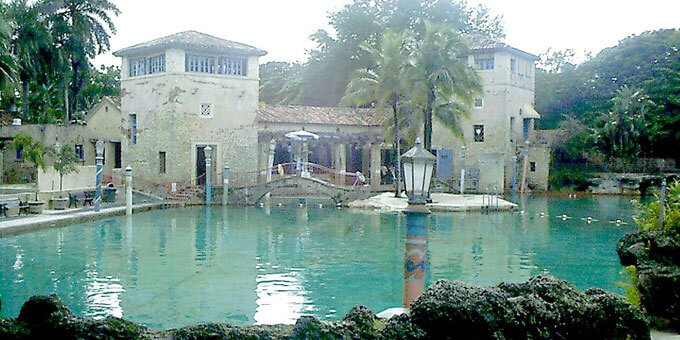 1. Coral Gables Venetian Pool — Coral Gables, FL
The 820,000-gallon Mediterranean-style Coral Gables Venetian Pool[1] was first created in 1923 and still serves as one of the area's top tourist attractions, featuring beautiful limestone rocks, two tall lookout towers and lush palm trees. Fed by an underground aquifer, the water is always fresh and warm and the scenic waterfalls only add to the overwhelming sense of relaxation and luxury. Although not a pool for very young children (ages 3 and under), all families are welcome to enjoy a dip in what was once a hotspot for celebrities and big names in Coral Gables, Florida.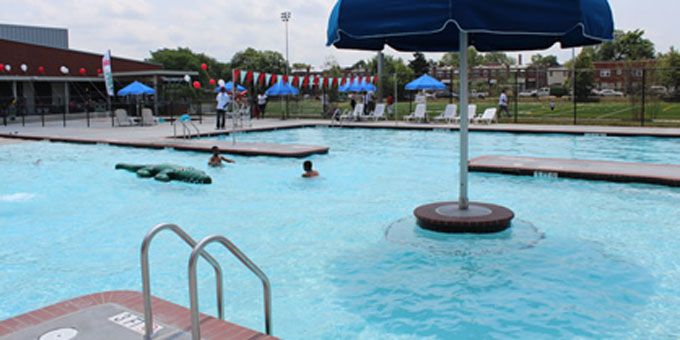 Rosedale Pool[2] is Washington, D.C.'s newest outdoor pool, featuring newly renovated water slides, a shallow kids' play area, fun spraying fountains and plenty of lanes for lap swimming. The pool is part of the Deanwood Recreation Center and Library and its facilities are known to be exceptionally clean and affordable for visitors and residents. Just make sure you get there before noon because this swimming spot is a popular one and the poolside chairs go quickly!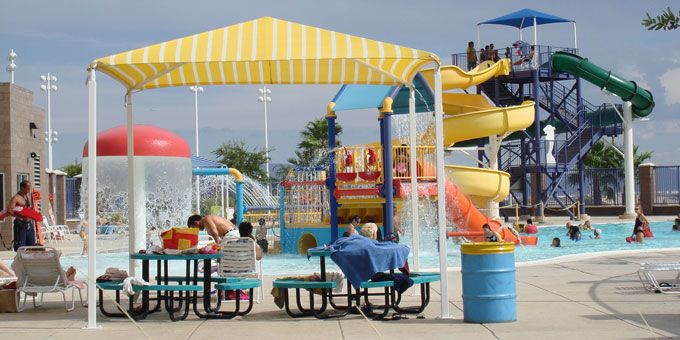 3. Desert Breeze Aquatic Facility — Las Vegas, NV
The Desert Breeze Aquatic Facility[3] offers the best of both worlds: educational swimming programs and an exciting outdoor water park. This family-friendly water playground is complete with a shallow beach entry, interactive play areas and two huge water slides for never-ending fun. The indoor pool is just as impressive, with countless lanes and aquatic classes for youth and adults like Water Aerobics, Synchronized Swimming, life guard certification and more.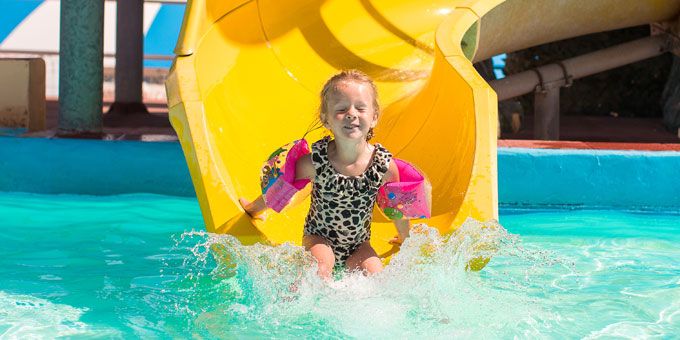 4. Superstition Shadows Aquatic Center — Apache Junction, AZ
This highly affordable public pool offers a full day of splashes and sun for just $1/child and $2/adult, and the olympic-sized pool is just one of its many features. Surrounded by the beautiful scenery of the Superstition Mountains to the east and the Goldfield Mountains to the north, Superstition Shadows Aquatic Center[4] features water slides, diving boards, a whirlpool, large tip bucket and more, all great for kids of any age. Affordable foods are available at the snack bar and the pool also hosts swimming classes and special events for residents and visitors alike.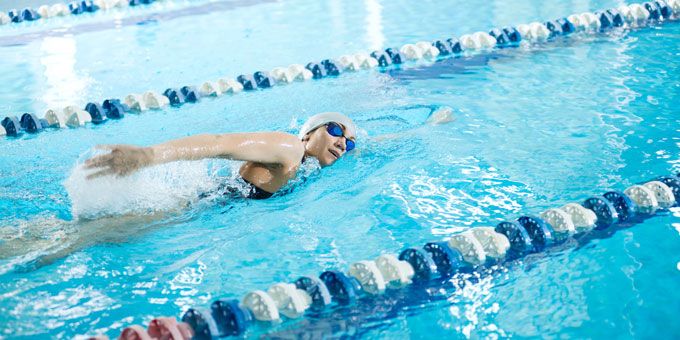 5. Alga Norte Park Aquatic Center — Carlsbad, CA
The state-of-the-art Alga Norte Park Aquatic Center[5] in Carlsbad is a part of the 32-acre Alga Norte Community Park and provides guests with everything they need to have a perfect summer day in the city. The sprawling 183-foot competition pool is great for laps and diving, while the adult-only warm water spa is the perfect spot for uninterrupted relaxation. The aquatic center's kiddie splash pad offers young ones an exciting way to cool down on a hot summer day and a concession stand filled with tasty snacks is always nearby when those tummies start rumbling.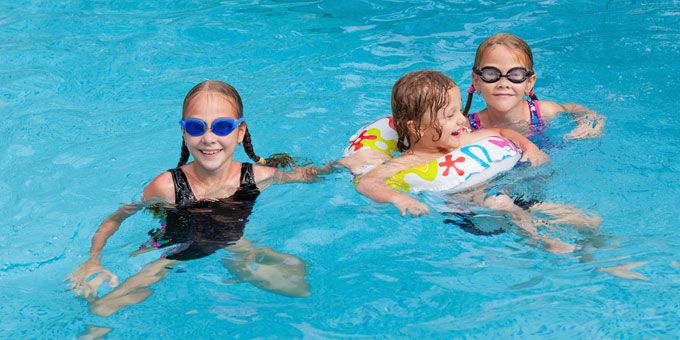 6. Portage Park Pools — Chicago, IL
Portage Park[6] in Chicago offers both an outdoor and indoor pool for those looking to get a good swim in. The outdoor pool is an olympic-sized wonder that actually hosted the U.S. Olympic swimming trials in 1972, with all of its impressive eight lanes and diving boards! Although more suited for serious swimmers, the outdoor pool also features a water playground, ideal for younger children. The indoor pool at Portage Park is heated and also great for swimming a few laps.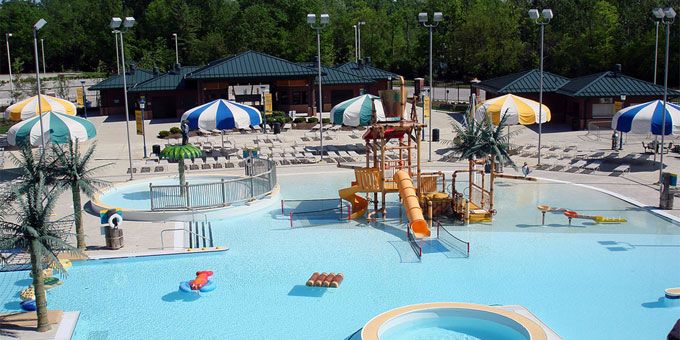 7. Splash Island — Plainfield, IN
Splash Island[7] provides visitors with spectacular indoor and outdoor options. The 20,000-square-foot indoor aquatic center is home to a two-story water slide, a whirling vortex and more. The interactive kiddie area and lily pad crossing are perfect for wiggly kids yearning for the typical water park experience, while the six-lane competition pool provides an outlet for more serious swimmers or parents looking to get a good workout while the kids play. Outside, families can enjoy large water slides, a 900-foot lazy river, a heated kiddie pool with a 500-gallon tip bucket, an in-pool basketball court and much more. Snacks are available at the SnacKabana and guests are welcome to bring their own coolers.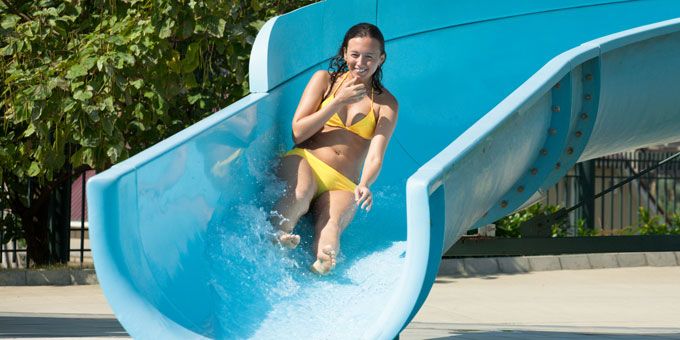 8. Walter R. Bauman Aquatic Center — Middleton, WI
The Walter R. Bauman Aquatic Center[8] in Middleton is fully equipped with two 134-foot water slides, an interactive play area for kids, an eight-lane lap pool and a diving area. The aquatic center features 345,580 gallons of splashtastic fun for the whole family. The aquatic center also provides guests with a sandbox area where younger kids can dry off while playing in the sand and a concession stand offers food and drinks for those in-between mealtime snacks. Out of town visitors can enjoy the perks of this awesome public pool for less than $5 a person.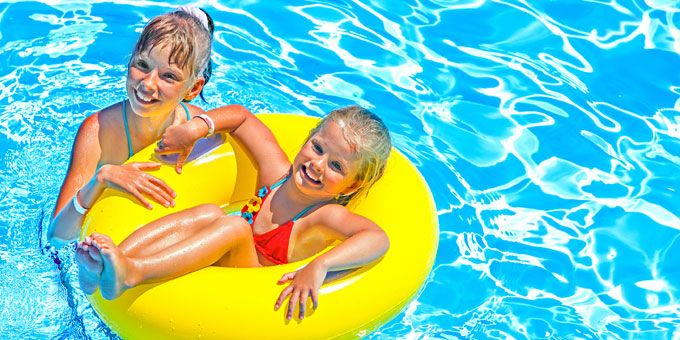 The Fort Collins City Park Pool[9] is located in City Park next to Sheldon Lake and offers plenty of post-swimming activities like nature walks, bird watching and boating on the lake. The pool itself is outfitted with water-shooting geysers, a relaxing lazy river, a water playground and a shallow water play area for the kiddos. City Park Pool also features two different water slides, a 30-foot drop slide and an open twisting slide, for the thrill seekers in the family. A picnic area on site also makes for a convenient spot for lunch.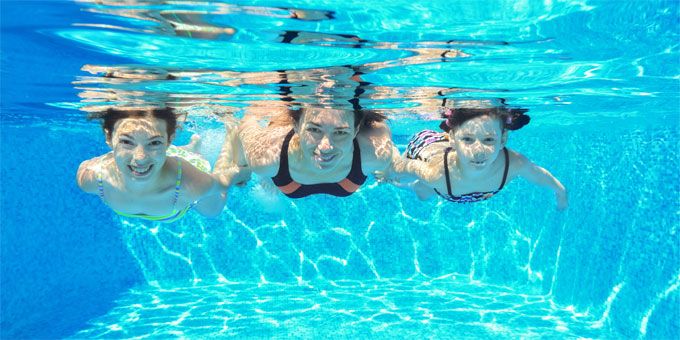 10. The Texas Pool — Plano, TX
This pool functions as a nonprofit community swim club and is actually shaped like the state of Texas. The Texas Pool[10] has been around since 1961, providing guests with a fun place to escape the summer heat with splashes, swimming and relaxation. The 168,000-gallon saltwater pool is home to two water slides, a diving board, a volleyball net, and a circular island in the center of the pool. Plenty of poolside seating is provided and barbecue grills and picnic tables are also available for public use. Popular community events at the Texas Pool include movie nights, cannonball contests and family hot dog nights.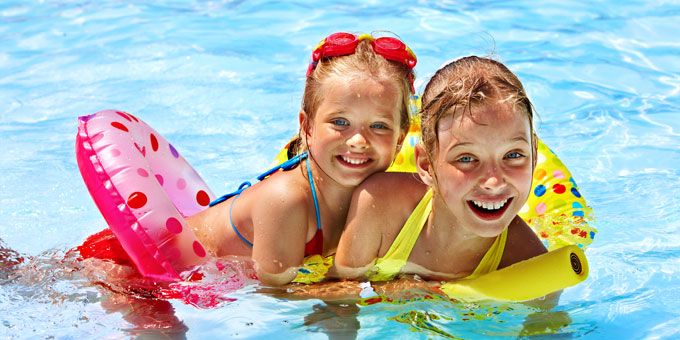 11. Kingsport Aquatic Center — Kingsport, TN
The region's only indoor Olympic pool can be found at the Kingsport Aquatic Center[11] in Kingsport, Tennessee. The indoor section of the center is home to three different heated pools for every type of swimmer; professional or beginner. The outdoor portion of the Kingsport Aquatic Center is well-suited for nothing but mindless fun, with a 900-foot lazy river, two water slides, playground features like rope monkey bars that stretch across the water, as well as fun classes and programs year round. The pool can also be reserved for parties or special events.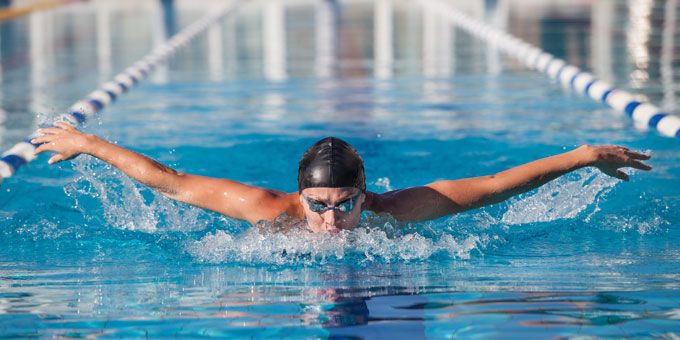 12. Goodman Pool — Madison, WI
The Goodman Pool[12] provides visitors with the ultimate water park experience, without the water park prices. The Goodman Pool offers much more than just your typical run-of-the-mill public pool, with two fantastic water slides, a shallow water playground for youngsters and an eight-lane lap area, complete with diving boards. Visitors will find just about everything they need here, with amenities like the sandy play area, soft, grassy surrounding areas for sunbathing, concessions and lots of shade to cool off in.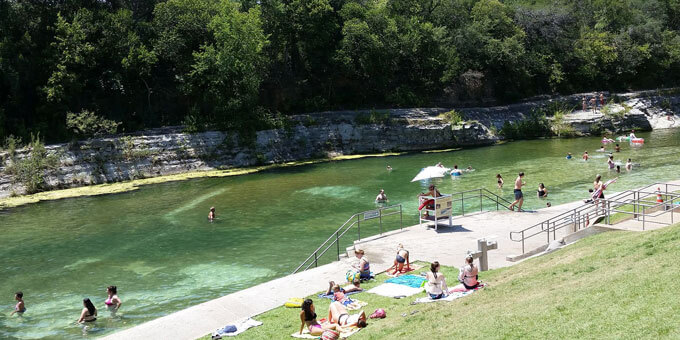 13. Barton Springs Pool — Austin, TX
This popular swimming hole in Austin, Texas is fed by natural underground springs and brags a year round temperature of 68-70 degrees. Barton Springs Pool[13] consistently ranks as one of Austin's premiere swimming spots with three acres of clear waters and a reputation for fun times. The pool is surrounded by grassy hillsides (perfect for laying out in the sun atop a big beach towel) and an educational exhibit detailing the historical value of Barton Springs is located just next door to the bathhouse. And just a fun fact: The founder of the Sundance Film Festival, Robert Redford, swam here as a child!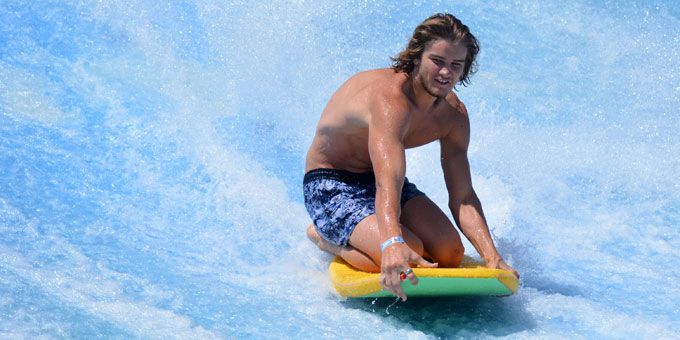 14. Republic Aquatic Center — Republic, MO
The Republic Aquatic Center[14] is packed full of awesome amenities for kids and adults. A shallow beach entry is perfect for young, nervous swimmers, as well as spray features, water buckets, an umbrella jet and a child's slide. The adults and older kids will enjoy the lap lanes, surf simulator, speed slide, corkscrew slide and diving boards and this popular aquatic center also provides shady areas with lounge chairs to cool off in and a party zone for birthday parties and other events. For just $5 a person, the Republic Aquatic Center has a lot to offer!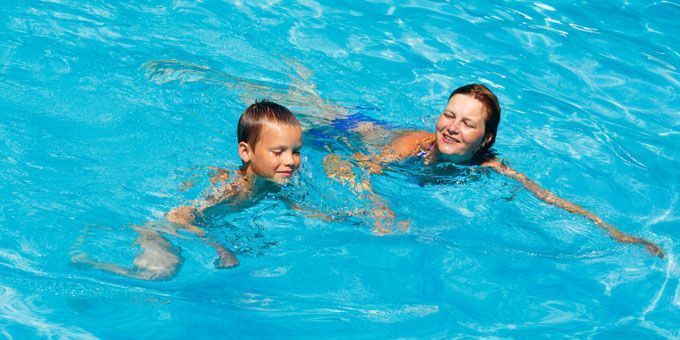 15. Martin Luther King Jr. Outdoor Pool — Silver Spring, MD
The Martin Luther King Jr. Outdoor Pool[15] is Silver Spring's premiere public pool, with a little something for everyone. The public center features three separate pools: a relaxing leisure pool with a shallow lagoon, lazy river, water playground and water slides, the main pool which has six lanes for lap swimming, and the Tot Pool for little ones who need extra supervision and shallow water. The entire complex is great for recreational swimmers, families and competitive swimmers alike.
What's your favorite public pool? Does your hometown have a really cool one that we forgot to mention? Comment below and let us know!