Experience some of Chicago's most iconic foods.
A trip to Chicago isn't quite the same without some of the foods Chicagoans love best. As you start digging into the city's main grub, you'll notice that people here do things a little differently. Hot dogs topped with ketchup are an abomination, cheeseburgers are actually "cheezborgers," and if you're going to order an Italian Beef Sandwich from anywhere in Chicago, expect it to be one of the messiest meals of your life. Seriously, don't plan on ever wearing that shirt again.
The windy city certainly has its own specialty foods that contribute to the area's unique culture and appeal. So to taste the true flavor of Chicago, make sure you try one of the following on your next trip.
Chicago is known for some of the most iconic places such as the Bean, Willis Tower, and of course, Navy Pier. However, the Windy City is also a foodie destination. Experience the best Chicago cuisines with these delicious foods.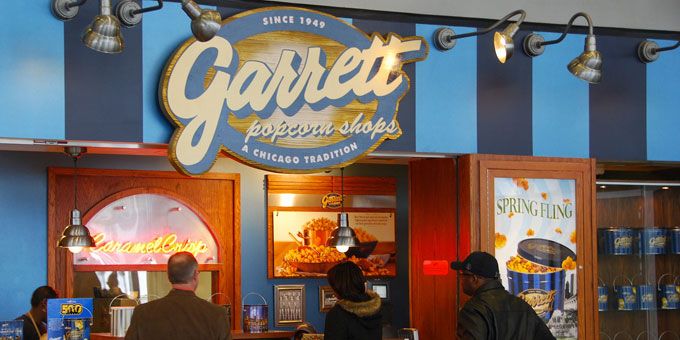 1. Garrett Popcorn Shops
Garrett Popcorn Shops[1] is a true Chicago classic and you'll find the most delicious flavor mixes here. This gourmet popcorn company and its secret family recipes have been around for more than 60 years now and is best known for its mouthwatering Garrett Mix: a blend of sweet caramel popcorn with cheddar cheese popcorn. But the flavors don't stop there. Create your own tin of popcorny-goodness with their other signature flavors like Macadamia Caramel Crisp, Pecan CaramelCrisp, Almond CaramelCrisp, Cashew CaramelCrisp, Buttery and Plain. You can find Garrett Popcorn Shops at 12 different locations around the city.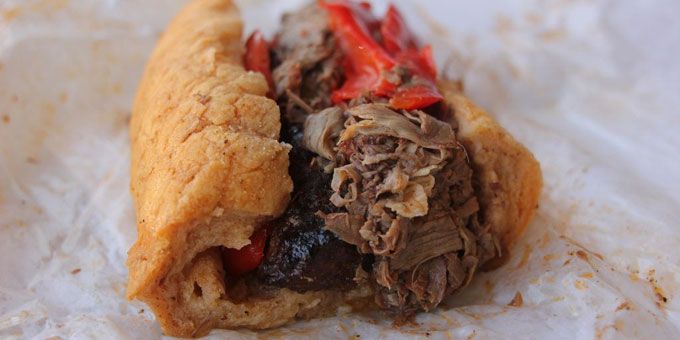 2. Italian Beef Sandwich from Al's #1 Italian Beef
The only way to eat a Chicago-style italian beef sandwich is with it completely soaked in a jus. A popular dish in the city, the Italian beef sandwich is typically made with four simple ingredients: french bread, thinly-sliced, oven-cooked roast beef, a jus and giardiniera, which is a seasoned celery and bell pepper mixture. Al's #1 Italian Beef[2] is one of the best places in Chi-town to pick up one of these monsters. If you order your sandwich "wet" here, as most people do, staff will literally submerge the entire sandwich in a pot of a jus and serve it dripping wet. So prepare yourself. Although messy, that's the true Chicagoan way. And that's one juicy, savory meal you likely won't regret.
3. Smoked Shrimp from Calumet Fisheries
Calumet Fisheries[3] is rumored to have some of the best deep fried and smoked fish in the city and although the restaurant itself is less than impressive-looking, the food will leave you speechless. Located right next to the 95th Street Bridge, this fish shack doesn't provide customers with any seating or restrooms, but instead, with irresistible smoked and fried shrimp, catfish, scallops and the like. The fried options are coated in a delicious layer of crunchy cornmeal while the smoked options are cooked right there in a smoker out back. The fish is marinated in brine overnight before it's smoked over oak wood for several hours, which can only result in some of the most tempting fish around.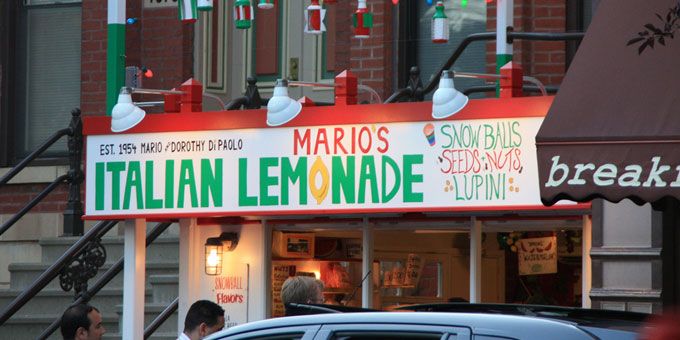 4. Italian Ice at Mario's
When the lines are always long, the owners only take cash and you just have a two hour window to get your Italian Ice, it says a lot that the customers keep coming back time and time again. Mario's Italian Ice[4] in University Village is a Chicago staple for both visitors and residents alike. Fresh flavors like watermelon, fruit cocktail, cantaloupe, strawberry and more with chunks of real fruit make Mario's a heavenly choice for those hot summer days.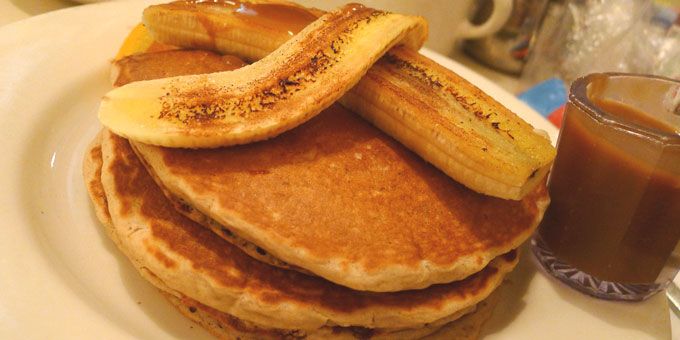 5. Pancakes from Nookies
If you're a sucker for good breakfast food, head to Nookies[5] for the best pancakes in the city. Choose from buttermilk pancakes, banana nut pancakes, mango coconut pancakes, strawberry and blueberry pancakes or healthy multigrain pancakes for a breakfast you'll never forget. Topped with fresh fruit, these fluffy, sweet favorites aren't your average Denny's entree — they're far from it. Nookies first opened in 1973 in Chicago's Old Town and has since expanded to three other Chicago locations in order to meet the demand.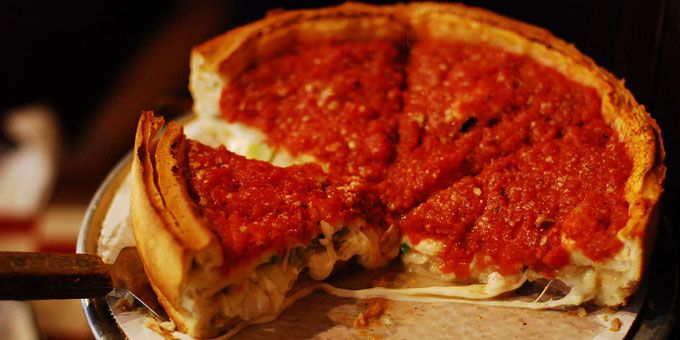 6. Deep Dish Pizza from Giordano's
Giordano's[6] serves up some of the most delicious and authentic Chicago deep dish pizza. And with 16 locations in the city alone, they're not too hard to find. The infamous Giordano recipe for stuffed pizza is more than 200 years old and it's been a hit in Chicago since 1974. Since then, Giordano's has claimed the title of "Chicago's Best Pizza" for years and once you taste the enticing stuffed pizza that everyone raves about, you'll understand why.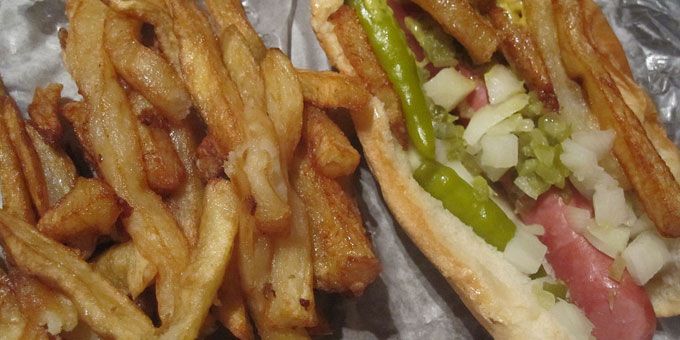 7. Chicago-Style Hot Dog from Gene & Jude's
Everyone know a hot dog in Chicago is unlike any other. There are about a million different places in the city you can pick one of these up, but Gene & Jude's[7] is one of the most awarded — and gratifying. With "no seats, no ketchup, no pretense, no nonsense," this citywide favorite is one place that's guaranteed to serve up a mouthwatering Chicago-style dog 100 percent of the time. Topped with mustard, relish, onion and peppers these are some serious hot dogs, and Gene & Jude's even boasts a double dog for the extremely hungry patron.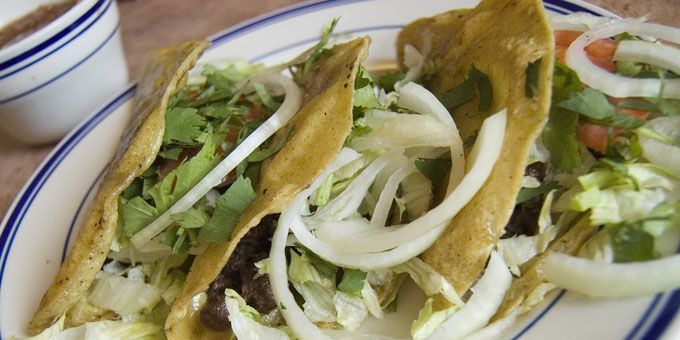 8. Mexican food in the Pilsen Community
Chicago is just full of fantastic mexican food but the best of the best are located on the city's lower west side in the Pilsen neighborhood. Taqueria Los Comales[8] is also a great choice for Mexican food in the windy city.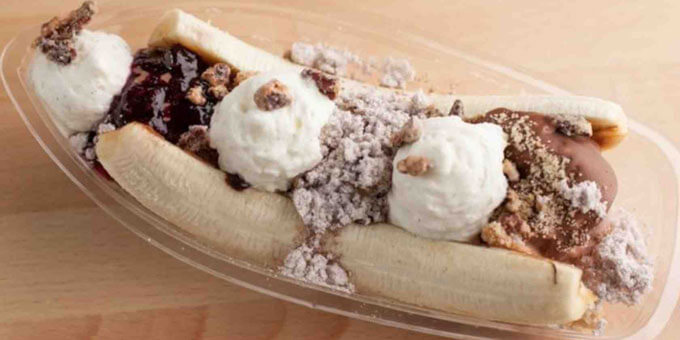 9. A Hot Fudge Sundae at Margie's Candies
The homemade hot fudge is really what makes this place so great and Margie's Candies has served up some of the best sweet fudge for almost a century now. Countless customers have set foot inside Margie's to get their sugar fix, including Al Capone, The Beatles, The Rolling Stones and many of the Hollywood stars. The original location at 1960 N Western is now accompanied by a second location at 1813 Montrose, for even more of the rich homemade candies, ice cream and hot fudge.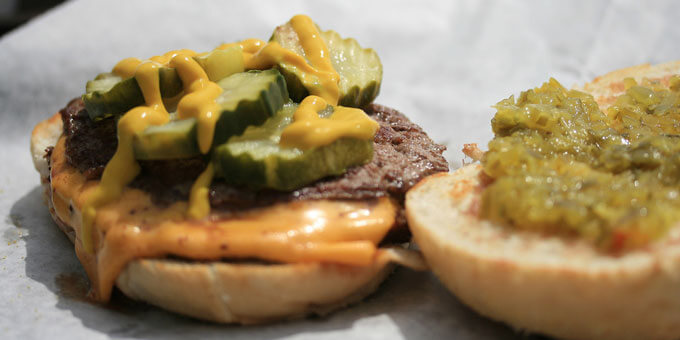 10. A "Cheezborger" from Billy Goat Tavern
A well-known Chicago favorite, Billy Goat Tavern[9] is world famous for its "cheezborgers" and its long history in Chi-town. First opened in 1934 by Greek immigrant William "Billy Goat" Sianis, the tavern got its name from a stray goat that made its way inside and was adopted. That goat stuck around and so did the legend that officially cursed the Chicago Cubs. But customers from far and wide still come to taste these infamous cheeseburgers. And even though the burgers are quite simple, (really, just some patties, a bun and cheese) it's all about the experience. And having been there several times before, I can assure you that you'll definitely have that.
Where do you like to eat when you visit Chicago? Did we miss any of your favorites? Please let us know in the comments below!