Spend the holiday weekend enjoying the wilderness of New York state.
There's more to the Empire State than just big city. New York is actually home to several gorgeous family campgrounds with oceanside campsites, hiking trails through the Adirondack Mountains and historic landmarks and lighthouses. Many still remain within close proximity to all the big city fun, so campers can enjoy the best of both worlds.
Of course, if you haven't already made your Labor Day camping reservations this year, we highly recommend calling ahead to reserve your spot as soon as possible. Some campgrounds only reserve a percentage of their campsites but it's always better to play it safe. Below are some of New York's best, just waiting to host you and your family.
Pack up the family, pitch your tent, and have a fantastic Labor Day weekend in the stunning state of New York. These camping spots are the best of the best, so be sure to book your spot soon!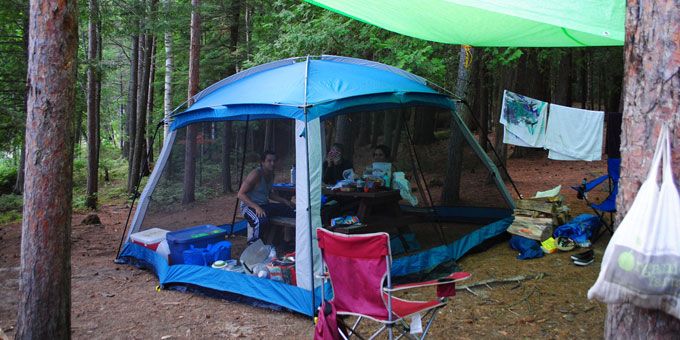 1. Fish Creek Pond Campground
4523 State Route 30, Saranac Lake, NY 12983
If you're looking to get out and really enjoy nature, Fish Creek Pond Campground[1] is the place to be. Located in the northern Adirondack Mountains, Fish Creek is a family tradition for many and this campground sees more than 100,000 campers each year. Choose from 355 camping sites, most of which are right on the shore, and countless activities for the whole family. Three different ponds make up Fish Creek for fishing, hiking, biking, swimming, canoeing and kayaking. Although there's plenty to do at the campground, you'll also find Adirondack Scenic Railroad Adventures[2] in nearby Lake Placid and The Wild Center[3], a natural history center with interactive exhibits. There is even more outdoor recreation just 15 minutes southwest of the campground.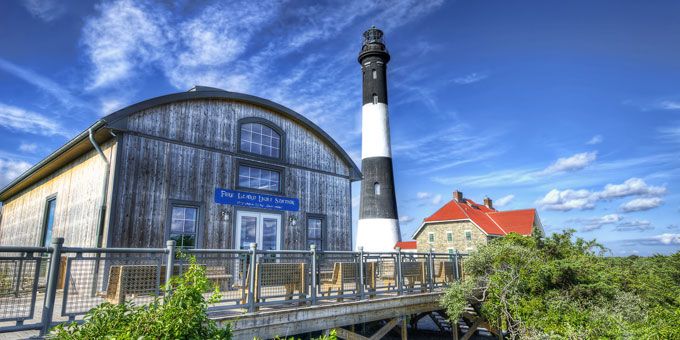 2. Fire Island National Seashore
Ocean Beach, NY 11770
Fire Island National Seashore[4] is a captivating escape from the everyday life with towering sand dunes, an abundance of wildlife, beautiful shoreline, and historic landmarks. Families have a few different options for camping on this barrier island, with Watch Hill[5] family and group tent campgrounds, Smith Point County Park[6] tent and RV campgrounds or backpacking and wilderness camping with a permit in the Otis Pike Fire Island High Dune Wilderness area[7]. In addition to fun outdoor recreation like fishing, boating and swimming, families can take a break from the outdoors with a visit to Fire Island Lighthouse[8] for a tower tour of the restored 168-foot-tall historic lighthouse. The historic William Floyd Estate[9] is also open for tours every Friday, Saturday, and Sunday from 10 a.m. - 4 p.m. The free walking tours take you through the 25-room home of William Floyd, an important figure in American history who was also one of the signers of the Declaration of Independence.
3. Grand Island KOA
2570 Grand Island Blvd., Grand Island, NY 14072
Camp with KOA, a well-known camping giant at the Grand Island KOA[10], where abundant amenities like 50-amp service, spacious lots, wifi, cable TV, a swimming pool, and more make you feel right at home. Not only that, but the amazing Niagara Falls is just seven miles away! Buffalo, New York is also just an hour southeast of the Grand Island KOA and is home to delicious eateries and fun attractions like the Buffalo Zoo[11], the Albright-Knox Art Gallery[12] and the Edward M. Cotter[13], a legendary fireboat and National Historic Landmark that offers visitor tours and rides.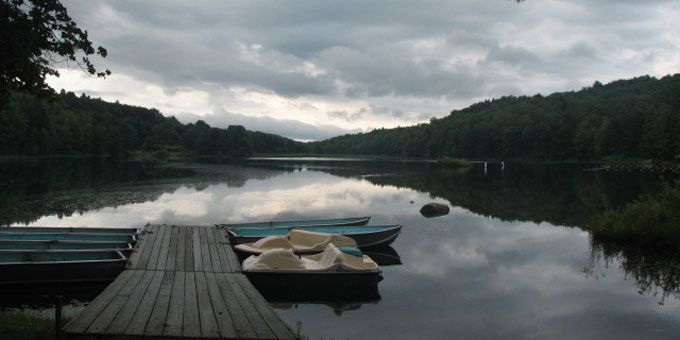 4. Cherry Plain State Park
10 State Park Rd., Petersburg, NY 12138
Cherry Plain State Park[14] is anything but "plain." Situated on 175 acres, the park offers guests comfortable camping amenities with 30 different camping sites: 10 trailer sites, 10 tent sites on the shores of Black River Pond and 10 hike-in tent campsites. The sandy beach offers waterfront relaxation and swimming for the kids, nature trails wind through the park's forested landscape and anglers can take advantage of the fishing and boating on Black River Pond. Pets are also welcome at Cherry Plain State Park, so don't worry about boarding the dog. Bring him or her along for the ride!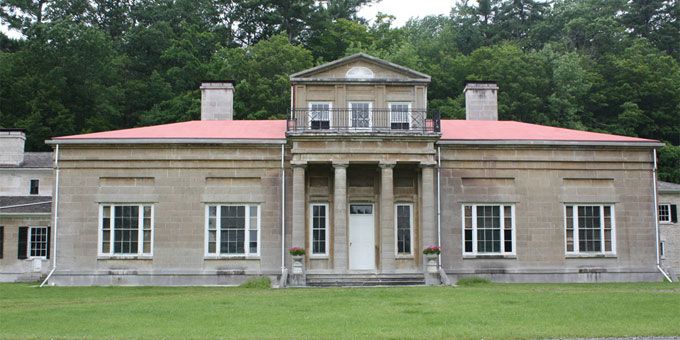 5. Glimmerglass State Park
1527 County Highway 31, Cooperstown, NY 13326
Just 15 minutes north of Cooperstown, Glimmerglass State Park[15] rests along the edge of Otsego Lake and provides families with plenty of enjoy outdoor activities like hiking, biking, fishing picnicking and boating. All Glimmerglass State Park campsites have grills, fire rings, picnic tables and access to shower facilities and firewood is sold within the park. Hyde Hall[16], a historic neoclassical country mansion and National Historic Landmark, is also located within the park and offers informative tours of the home and property. Hyde Hall is also reportedly haunted, and offers evening candlelit tours for those who want to delve into the mysterious past of the home. Minutes away in Cooperstown, you'll find the National Baseball Hall of Fame[17], full of family-oriented programs and exhibits for all ages.
6. Nickerson Beach Park
880 Lido Blvd., Lido Beach, NY 11561
Nickerson Beach Park[18] is perfect for families with children and teens because of the many added features and amenities. Unfortunately, the tent sites in the campground are closed for construction this season, but if you have an RV, you'll find plenty of sites to park it. A beachfront property gives campers the chance to swim in the Atlantic Ocean or if preferred, there are two swimming pools at each end of the park. The Fun Zone features a skate park, two basketball courts, soccer fields, beach volleyball courts, a baseball field and a playground and nearby picnic areas complete with barbecue equipment make it easy to stop and break for lunch. There's even a dog run for the fur pets who need to release some wiggles while on vacation. Nickerson Beach Park has it all, with a prime location on Long Island's south shore.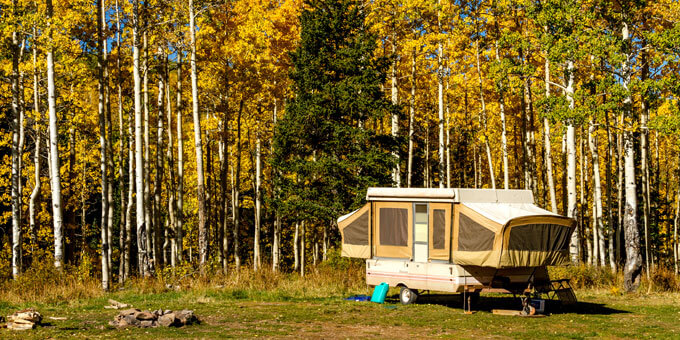 7. North Pole Resorts
This top-rated family-owned resort is just three miles from Whiteface Mountain, a popular vacation destination year round. North Pole Resorts[19] features an inn, cottages, and a campground that's broken into two separate sections. The Resort Section sits on the shores of the Ausable River. The 15-acre campground has spots for RVs, tents and even offers camping cabins--all with stunning mountain views. Families can also take advantage of the many amenities including a general store, Wine & Spirits Shop, game room, bathhouse, two outdoor pools, a dog walk, playground and more. Guests can also choose to set up camp at 100 Acre Woods, just west of the Resort Area. This section also offers RV, tent and cabin sites with an abundance of outdoor recreation right at your front door. The hiking and biking trails in the area lead to the Whiteface Mountain state trail system and public beach--both of which are free and available for anyone who wants to use it. The Wilmington Town Beach, just a short walk away, hosts free concerts every Thursday night and the Ausable Chasm[20] (the "Grand Canyon of the Adirondacks") is just a half hour northeast of the campground.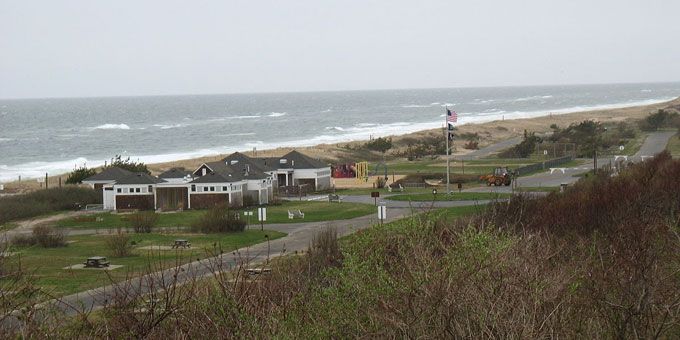 8. Hither Hills State Park
164 Old Montauk Hwy., Montauk, NY 11954
Located on the South Fork of Long Island, Hither Hills State Park[21] offers 168 oceanside campsites. Dogs are more than welcome to join guests in this family-friendly state park campground, where fishing, hiking, sunbathing on the beach and swimming consume the every day. Campsites feature picnic areas, fire pits, a convenience store, showers, and more. The campground also has a host of fun recreation programs during the summer featuring line dancing, magic shows, family movies, children's summer theater and environmental programs. If you want to explore the area outside of the campground, hop in the car for a 15-minute drive to Rita's Stable[22] where you and the family can enjoy a leisurely trail ride through the beautiful nature trails of Montauk.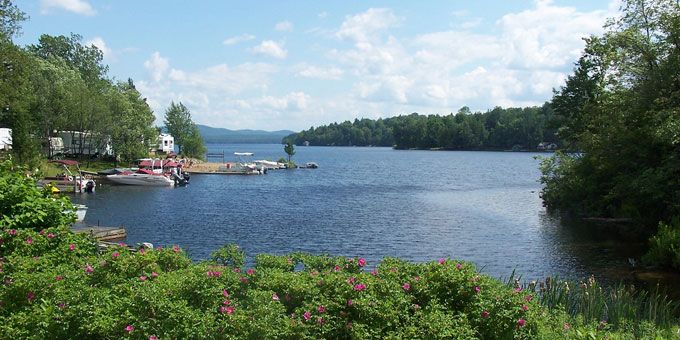 9. Cranberry Lake Campground
243 Lone Pine Rd., Cranberry Lake, NY 12927
Cranberry Lake Campground[23] is part of a breathtaking 50,000-acre wilderness area featuring 173 campsites, 50 miles of scenic hiking and biking trails, and fishing and boating on Cranberry Lake. Families can swim at the beach, rent a canoe or rowboat, or just spend the day hiking through the forested landscape of the Adirondacks. The campsite provides campers with all the amenities they need to be comfortable, including hot showers, toilets, a boat launch, boat rentals, firewood, and picnic areas with fireplaces, grills and tables. Although Cranberry Lake Campground is a secluded destination, the privacy and peacefulness is worth it.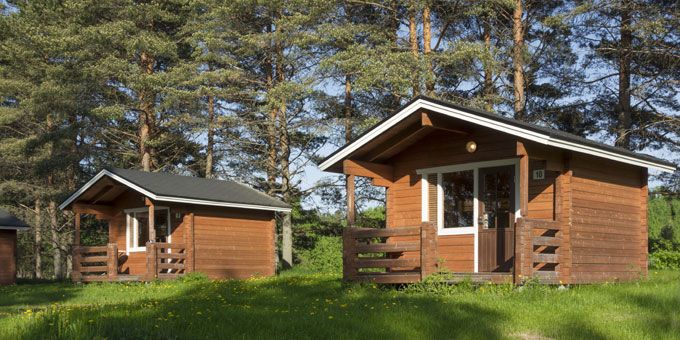 10. Paradise Bay Park Family Campground
2360 Shadyside Rd., Findley Lake, NY 14736
No matter what kind of camper you are, you'll be comfortable at Paradise Bay Park Family Campground[24]. Choose from large RV and fifth wheel sites, tent sites and cabins stocked with a full-size kitchen, utensils and coffee maker. Rest easy knowing all of the sites have a private fire ring, picnic tables, water, electric and 30 or 50-amp hookups. For fun, guests can enjoy the heated pool, mini golf, boat rentals, and free hayrides at the camp store every Saturday night. Just 10 minutes northwest of Paradise Bay Park, you'll find the Lake Erie Speedway[25] where exciting special events and races are the norm, or head over to Waldameer Water World[26], just across the Pennsylvania border, for some family waterpark fun. If you're looking for even more outdoor recreation, check out Panama Rocks Scenic Park[27], just 30 minutes east of the campground.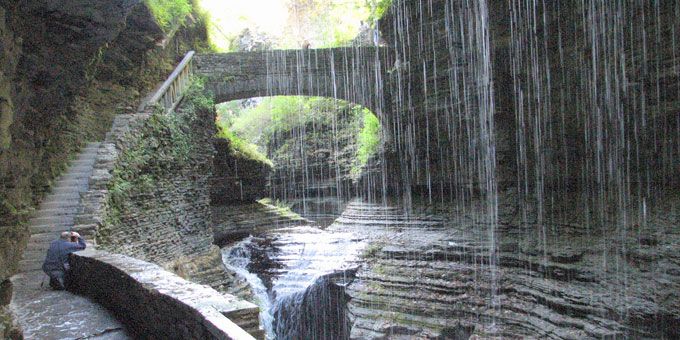 11. Watkins Glen State Park
1009 N. Franklin St., Watkins Glen, NY 14891
Watkins Glen State Park[28] is an extremely popular state park known for its vast beauty and awe-inspiring views. It even won 3rd place in USA Today's reader's choice poll for the Best State Park in the United States! The park has rustic cabins and 305 campsites with hot showers, restrooms, picnic tables and grills alongside endless outdoor recreation. Hike the Gorge Trail, which features 19 spectacular waterfalls, rent a paddle boat, go swimming at the beach or visit some of the other nearby attractions in town. The Corning Museum of Glass[29] is just 30 minutes south of Watkins Glen State Park and is home to 35 centuries of glass art, live glassmaking demonstrations and the Glass Innovation Center. You'll even have the opportunity to take a Make Your Own Glass class. Also close by, you can experience some of the local wineries and vineyards with the Seneca Lake Wine Trail[30] in Watkins Glen, just three miles from the state park.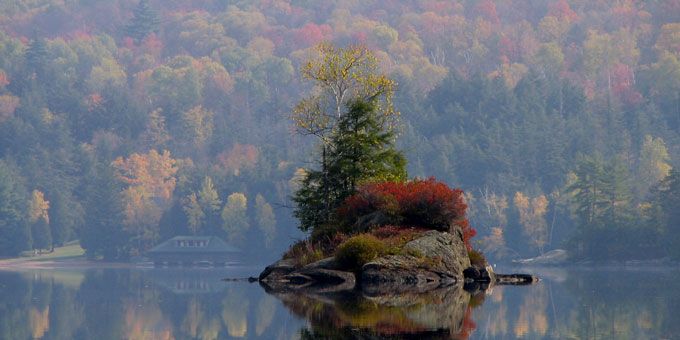 12. Saranac Lake Islands
4468 State Route 3, Saranac Lake, NY 12983
For those campers wanting to do a bit of boating, Saranac Lake Islands[31] is a fantastic place to set up camp. Experience the Saranac Lake Islands as you fry your own freshly caught fish, hike the trails of the Saranac Lakes Wild Forest to the north or the High Peaks Wilderness Area to the south, and fall asleep each night under a beautiful blanket of stars. The islands of the Lower Saranac Lake are beautiful and serene, but at the same time, families are never far away from the attractions and activities of the village of Saranac Lake[32] and surrounding areas. While in town, check out the family-friendly corn maze at Tucker Farms, Inc.[33] in Gabriels, NY, grab a bite to eat at the Fusion Market[34] in Saranac Lake or ride the brand new Rail Explorers[35], a six-mile, family-oriented railbike journey through the wilderness of the Adirondack Mountains.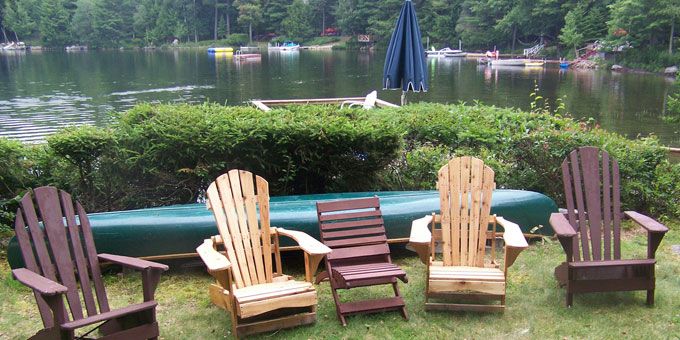 13. Forked Lake Campground
381 Forked Lake Campsite Lane, Long Lake, NY 12847
Forked Lake Campground[36] is home to 80 different campsites with picnic tables, fire rings, a boat launch and boat rentals. Firewood is available for purchase and guests will have access to toilets as well. Canoeing, fishing and boating are just a few of the recreational activities available at Forked Lake Campground. Any anglers in the family will love fishing at Fork Lake because of its ample supply of trout, bass, perch and panfish. The surrounding Sargent Ponds Wild Forest offers beautiful scenic trails and the Owls Head Mountain Trail is also a commonly hiked area.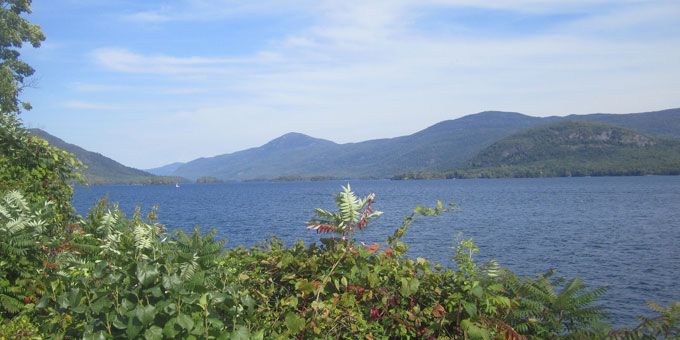 14. Lake George Escape
175 East Schroon River Rd., Diamond Point, NY
This 178-acre camping resort has plenty of activities for the whole family. Lake George Escape[37] is never void of excitement with two pools, tennis courts, a lakeside beach, a playground for the kids, mini golf, horseshoe pits, boat rentals, volleyball courts, fossil hunting, gem mining and more. Families can choose to occupy either a tent or RV site, and rustic cabins are also available for rent. You definitely don't need to leave the resort to have fun, but if you decide to, there are plenty of nearby activities as well. Six Flags Great Escape & Splashwater Kingdom is just 13 minutes north of the campground in Lake George, which will be open up until Labor Day, is just 10 minutes north of the campground. Saratoga Springs[38] is also just a half hour south of Lake George Escape and provides visitors with countless activities and attractions including the Saratoga Race Course, a great location to catch an exciting horse race.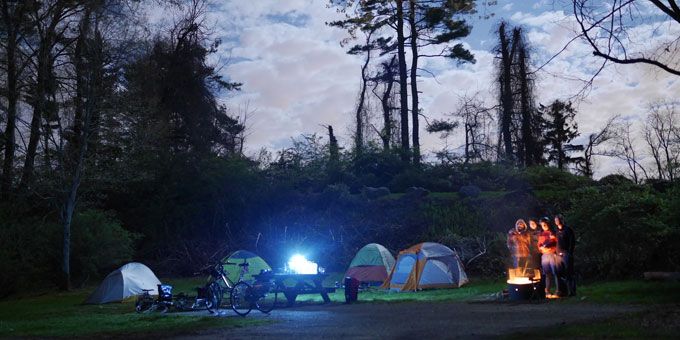 15. Croton Point Park
1A Croton Point Ave., Croton-On-Hudson, NY 10520
There's always something fun going on at Croton Point Park[39], with frequent family events, a beautiful view of the Hudson River, and plenty of great camping opportunities. The park offers RV and tent sites in addition to rentable cabins. Croton Point Park's 500 acres are filled with picnic areas, recreational ball fields, hiking trails, and even festivals and concerts during the summer months. The park also has a boat launch for those who want to fish, and the scenic Blue Mountain Reservation, just 20 minutes north of Croton Point Park, offers unparalleled opportunities for mountain biking, hiking, and wildlife observing. Also, two miles northeast of the park, families can enjoy the Van Cortlandt Museum[40], housed inside a historic colonial home. The museum is full of 18th century furniture, a fully equipped colonial-style kitchen, and outside, guests can walk through beautiful gardens populated with heirloom plants.
What will you be doing this Labor Day weekend? Do you usually camp? If so, let us know what your favorite camping spot is!
Upper Arlington Labor Day Arts Festival in Upper Arlington, OH
September 4
This arts festival is one of the best in the area, featuring more than 200 artists, all working with various mediums. The cool thing about the Upper Arlington Labor Day Arts Festival[41] is that it doesn't just encourage patrons to enjoy the art of others, but also to create art themselves. The Arts Activities Area gives visitors the chance to join in on the fun and create their own masterpieces. Creative minds will love this celebration, which also features live music and delicious refreshments.