YOUR PEACE OF MIND IS OUR TOP PRIORITY
Should you need to cancel at any time, you have up to 48 hours from your vacation start date to do so for a 100% future travel credit.
Use those savings to drive some of the most beautiful roadways in the country.
Americans all over the country are rejoicing due to some of the lowest gas prices the nation has seen in the last six years. In fact, according to inflationdata.com, inflation adjusted gas prices in January of 2015 were actually lower than they were during the depression.
Gas prices have been steadily falling for several reasons including the decline of crude oil prices, increased oil production in the U.S., and more drilling in the Gulf of Mexico. All of these factors contribute to that "jump-for-joy" feeling we get when the gas pump stops ticking at 20 dollars.
Automobile owners are probably wondering how long their monthly budgets will benefit from the lower prices and how much the numbers they see on those gas pumps will fluctuate. The U.S. Energy Information Administration[1] (EIA) has projected that regular gasoline retail prices will drop to an average of $2.33/gallon in 2015, in comparison with 2014's average of $3.36. The EIA also estimated that the average household will spend about $750 less on gasoline in 2015 than they did in 2014.
Now the only question is: what are you going to do with all that extra cash? With gasoline prices at an all-time low, now is the perfect time to head out for an adventure on some of America's most scenic roadways. So pack up the kids, climb in the car, and venture out into the sunset. Below are a few picturesque roadways to consider.
Vacations can get a little pricey, so travelers are always looking for a way to save some cash on a getaway. Luckily, gas prices are getting cheaper and cheaper by the day. Now is the time to head out on that road trip you've always wanted to go on!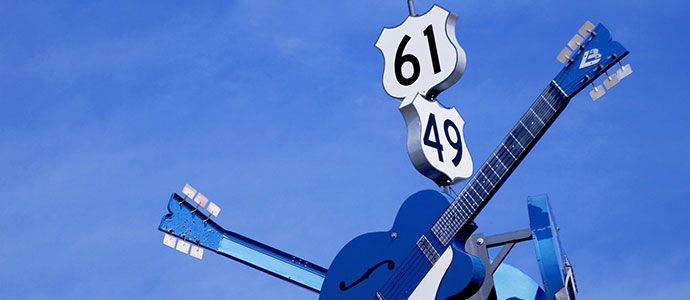 1. The Blues Highway

Route: Memphis, TN to Merigold, MS
Driving time: 2 hours
Estimated fuel cost: $8.76
For a trip down the Blues Highway on U.S. Route 61, the journey starts in Memphis, a city packed full of entertainment. The Stax Museum of American Soul Music encourages visitors to walk through the famous Studio A that was once filled with the hearty sounds of Otis Redding, Booker T. & the M.G.s, and many others. Once on the road, this 108-mile scenic drive parallels the Mississippi River and takes drivers through historic communities like Tunica where live blues, jazz, and soul music can be found in just about every venue. Clarksdale isn't much farther down the highway from there and is home to Morgan Freeman's Ground Zero Blues Club. Once in Merigold, MS, stop by Po Monkey's Lounge for an authentic rural juke joint experience. Tourists from all around the world make it a point to stop by, but just a heads up — the joint is only open on Thursdays.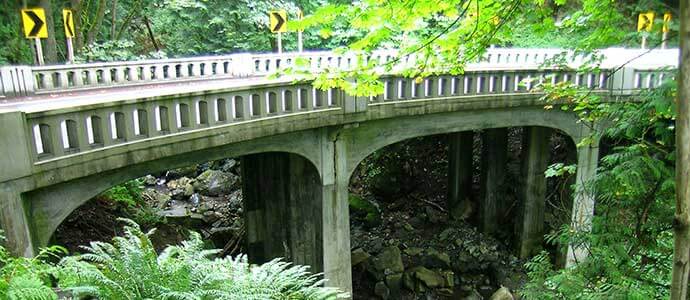 2. Chuckanut Drive[2]

Route: Bellingham, WA to Seattle, WA
Driving time: 1 hour 45 minutes
Estimated fuel cost: $8.53
North of Seattle on State Route 11, lies 21 miles of perfect, bayside road that meanders carelessly through Skagit Valley. This scenic roadway clings to the cliffside, opening up incredible views of the water below. The Padilla Bay Shore Trail, Pacific Northwest Trail, and Larrabee State Park (Washington's first state park) are all en route to Seattle. Chuckanut Drive[3] ends in Bellingham, but drivers can hop on I-5 and continue for 65 more miles, onto Seattle. Don't forget to stop by the ever-popular Oyster Bar on Chuckanut Drive for some of the west coast's most delicious oysters on the way to the Emerald City, home of the Space Needle, the original Starbucks, and Bill Gates' House.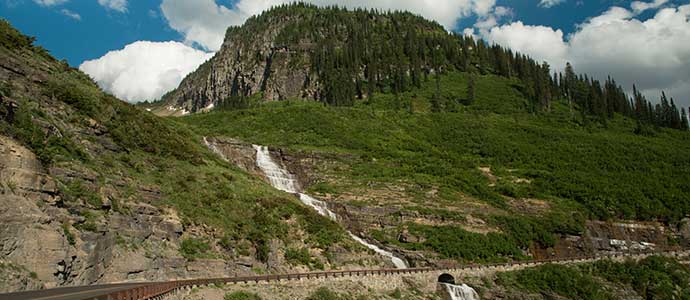 3. Going-to-the-Sun-Road

Route: St. Mary, MT to the West Entrance of Glacier National Park, MT
Driving time: 1 hour 30 minutes
Estimated fuel cost: $4.06
The only road to cross Glacier National Park, the Going-to-the-Sun Road is a curvaceous east to west route that offers stunning mountain views over a variety of terrain. Guaranteed glimpses of wildlife, like mountain goats and bighorn sheep, only add to the natural beauty of the area. Motorists enjoy the drive through the 6,646-foot-high Logan Pass that features all kinds of terrain including thick forests, glacial lakes, and mountain passes. Roadside scenic overlooks provide ample opportunity to get out of the car, and a number of natural landmarks line the road. Landmarks such as Jackson Glacier, one of the largest glaciers in Montana, St. Mary Lake, and Lake McDonald. This 50-mile route is prone to unpredictable weather, so it's a good idea to check the National Park Service for road closures before heading out.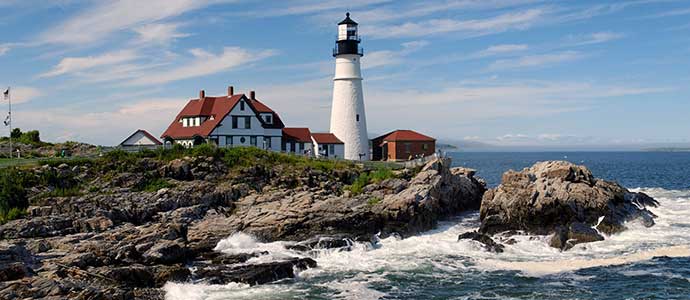 4. Historic Route 1[4]

Route: Portland, ME to Miami, FL
Driving time: 2 days
Estimated fuel cost: $159.83
The oldest highway on the east coast, Historic Route 1[5] runs through 15 different states, from Maine all the way to Florida. A total of 1,799 miles, this coastal stretch of asphalt is overflowing with roadside attractions from seaport towns, southern diners and dive-ins, classic lodging, and cultural museums. A visit to the Portland Head Light is a good way to kick off the journey. The lighthouse is America's second oldest and was built in the 1790's. Other historic sites along the way include Ferry Farm, Virginia, where George Washington lived as a child, and South Carolina's Darlington Raceway, NASCAR's first speedway. The route takes drivers through fantastic cities like Washington D.C., Philadelphia and New York City for a spectacularly diverse road trip.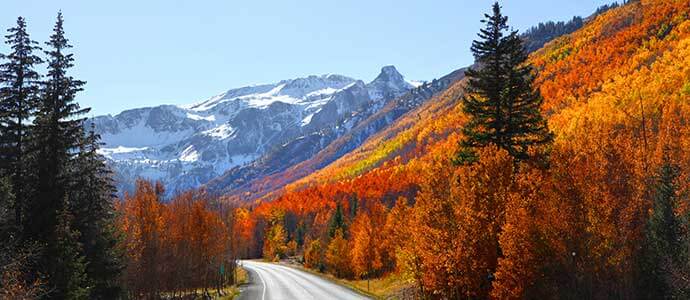 5. Million Dollar Highway

Route: Silverton, CO to Ouray, CO
Driving time: 33 minutes
Estimated fuel cost: $2.56
This segment of US Route 550 features about 25 miles of winding road, carving its way through the San Juan Mountains. Although the lack of guardrails in some areas is concerning for some, the highway is well maintained and speed limits are low. Many enjoy their drive along the Million Dollar Highway. This cliffside drive boasts jagged rock faces and spectacular views of snowcapped peaks, sloping, fir-covered mountainsides, and some of the most beautiful sunsets. The route lies between the historic mining towns of Ouray and Silverton, both small, Victorian towns cradled between summits of the Rocky Mountains. The towns feature rustic lodging and family-friendly activities like ice-climbing at the Ouray Ice Park, cross-country skiing, local shopping, the Ouray Hot Springs Pool and ice skating and extreme downhill skiing at Silverton Mountain, to name a few.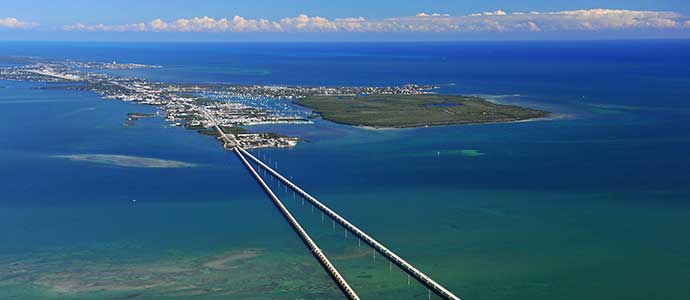 6. Overseas Highway[6]

Route: Miami, FL to Key West, FL
Driving time: 3 hours 15 minutes
Estimated fuel cost: $16.60
The Overseas Highway[7] rests between the Gulf of Mexico and the Atlantic Ocean. Its reach spans 166 miles of road atop pristine ocean waters filled with incredible wildlife like manatees, dolphins, and colorful fish. Surrounded by deep waters and small coral islands, the tropical scenery is complemented by a serene, smooth ride down what some like to call "the magic carpet." The Federal Highway Administration's National Scenic Byways deemed the Overseas Highway an All-American Road in 2009, making it one of just 30 other recognized byways in the country with the All-American Road title.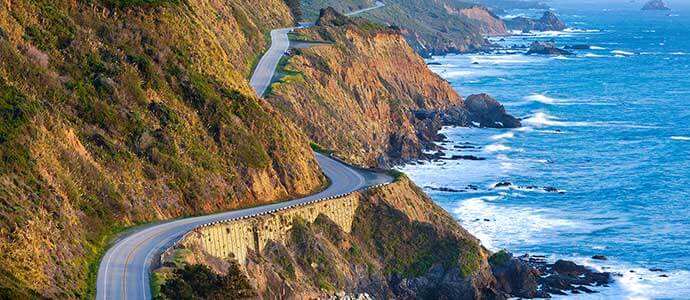 7. Pacific Coast Highway[8]

Route: Monterey, CA to Morro Bay, CA
Driving time: 2 hours 45 minutes
Estimated fuel cost: $12.93
This rocky, coastal route is a beautiful display of Californian charm featuring majestic redwood forests and clear, sandy beaches. The 123-mile journey from Monterey to Morro Bay includes pit stops like the grand Big Sur State Park and Nepenthe, an indoor-outdoor restaurant that provides guests with incredible views of the Santa Lucia Mountains. The 20th century architecture of Hearst Castle in San Simeon is just begging to be explored with daily tours of the luxurious mansion and Bubblegum Alley in San Luis Obispo is truly a sight to see. The alley, lined with sticky, chewed bubblegum, attracts visitors from around the world and entices them to leave their own ABC gum behind. For an adventurous drive over the Golden Gate Bridge, start your road trip in San Francisco.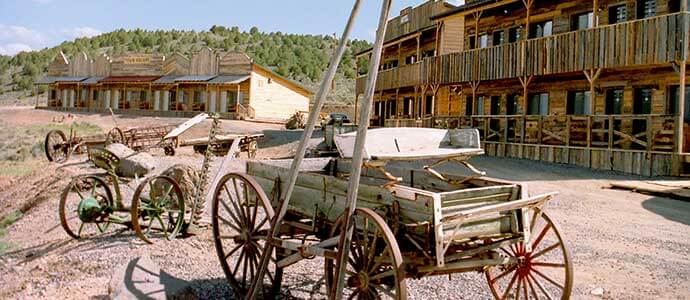 8. Patchwork Parkway[9]

Route: Parowan, UT to Panguitch, UT
Driving time: 1 hour
Estimated fuel cost: $3.81
Also known as Scenic Byway 143, Utah's Patchwork Parkway[10] is a journey through 48 miles of high plateaus that were once traveled by Native Americans migrating for the summer. The terrain is ever-changing from red, jagged rocks jutting up from the earth, to thick trees lining the roadside. Several pit-stop worthy locations are scattered along the way, including Panguitch Lake and Brian Head Peak, the highest point along the byway. Conclude the drive in Panguitch, the very first community in Garfield County settled by pioneers in 1864. The area is full of fun attractions like live entertainment, breathtaking hoodoos of Bryce Canyon, and the Grand-Staircase Escalante National Monument.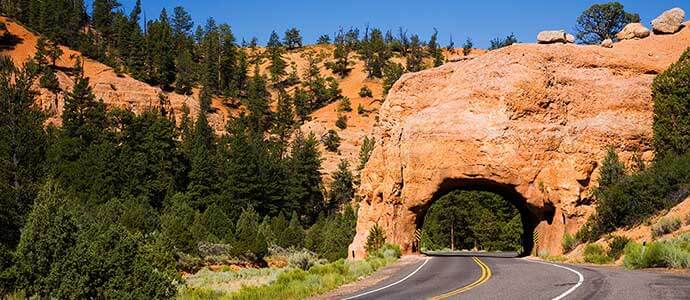 9. Red Rock Scenic Byway[11]

Route: Sedona, AZ (from Interstate 17 to SR89A)
Driving time: 15 minutes
Estimated fuel cost: $0.61
The 7.5-mile-long Red Rock Scenic Byway[12] on Highway 179 may be short but its dramatic twists and turns through the Coconino National Forest have a lot to offer. On top of beautiful views of majestic rock formations and the heavily forested national park, several historic sites rest on the route's roadside. The Chapel of the Holy Cross is right off of Highway 179 on Chapel Road. The front face of the building features a huge cross and window that stands 250-feet tall and sprouts up from red rock wall thousands of feet high. Along the route, Cathedral Rock also commands the attention of passersby with prominent features and hiking trails that lead to the top. Several different camping, hiking, and biking opportunities are sprinkled along the route, as well as Pink Jeep Tours' incredible guided excursions for an unequaled adventure in America's red rock country.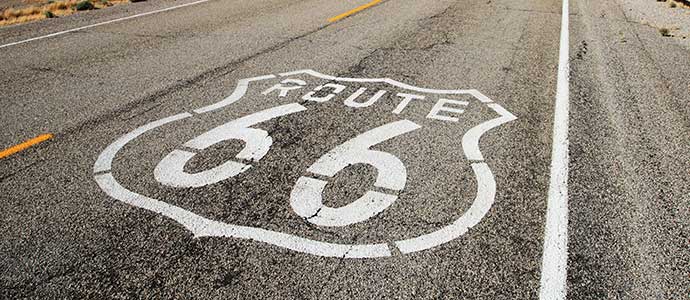 10. Route 66[13]

Route: Chicago, IL to Santa Monica, CA
Driving time: 2 days
Estimated fuel cost: $278.76
The Mother Road is obviously one of the most well-known road trips in America, and for good reason. The entire 2,451 miles span eight different states and the road was one of America's very first highways. From Chicago, Illinois to Santa Monica, California, the sights on Route 66[14] are endless. Chicago is the perfect place to start, with Navy Pier, the Willis Tower, the Lincoln Park Zoo, and more. Farther down the road in Baxter Springs, Kansas, Brush Creek Bridge still stands and is the last fixed Marsh Rainbow Arch bridge in the country. Other roadside favorites include Historic Fort Reno, an old military camp built during the Indian Wars, southwest Missouri's Meramec Caverns, California's Old Pasadena, and the traditional land of the Hualapai people in Arizona. But our favorite roadside stop is the Vacations Made Easy office in Springfield, Missouri!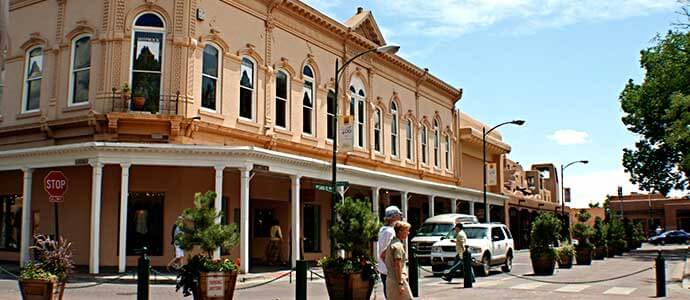 11. Santa Fe National Historic Trail

Route: Santa Fe, NM to Independence, MO
Driving time: 12 hours 30 minutes
Estimated fuel cost: $72.62
This historic roadway stretches across five different states for more than 900 miles of asphalt and prairie lands. Back in the 1800's, the Santa Fe trail was used by trail riders for trade, but today tourists enjoy its numerous pit stops. Starting in Santa Fe, a great start to the trip is a visit to the historic Santa Fe Plaza, where a variety of cultural shops, restaurants, and museums await. From New Mexico to Missouri, the views of the Capulin Volcano, the Great Sand Dunes, Fort Larned, and more are plentiful with numerous opportunities to explore the neighboring communities along the way. For less car time, just select a portion of the trail and spend more time exploring the sites along the way.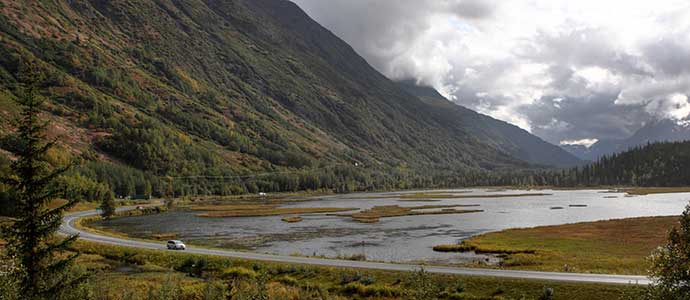 12. Seward Highway

Route: Anchorage, AK to Seward, AK
Driving time: 2 hours 30 minutes
Estimated fuel cost: $13.63
Head out from the waterfront town of Anchorage on the shore of Turnagain Arm for 127 miles of rustic roadway. Drive through the Kenai Peninsula where the soaring peaks of the Chugach Mountains seem to touch the sky. Stop by Indian Valley Gold Mine and pan for gold or visit some of the oldest buildings on the Turnagain Arm. The route features several different scenic overlooks and hiking trails and provides plenty of lodging in the form of cabins, hotels, and RV parks. The small town of Hope is an outdoor enthusiast's dream with guided fishing, river rafting, cultural eateries, and the Hope & Sunrise Museum filled with antique gold mining equipment. The harbor town of Seward is home to the Alaska SeaLife Center and is also known often as "The Gateway to Kenai Fjords National Park."
Have you traveled any of these scenic roadways already? If you don't plan to spend your extra gas savings on a road trip, what will you do with it? Leave a comment and let us know!
**Estimated fuel costs were calculated based on the United States Department of Transportation's average fuel efficiency of a U.S. light duty passenger vehicle. Actual costs may vary based on your vehicle's fuel efficiency.