YOUR PEACE OF MIND IS OUR TOP PRIORITY
Should you need to cancel at any time, you have up to 48 hours from your vacation start date to do so for a 100% future travel credit.
Keep the doctor away with these delicious local apple ciders
There are plenty of things to enjoy during fall in Michigan from apple picking to pumpkin pies and leaf piles. But, of course, you can't miss the star of the show--the delicious cider pressed right on the shores of the Wolverine State. While there are dozens of ciders to choose from, these top thirty offer the most delicious drinks, the best pastries and the most fun in the state!
Cider is one of the most delicious parts of the fall season. Experience the flavors of autumn at these awesome Michigan cider mills which offer up fun and delicious drinks to those who visit.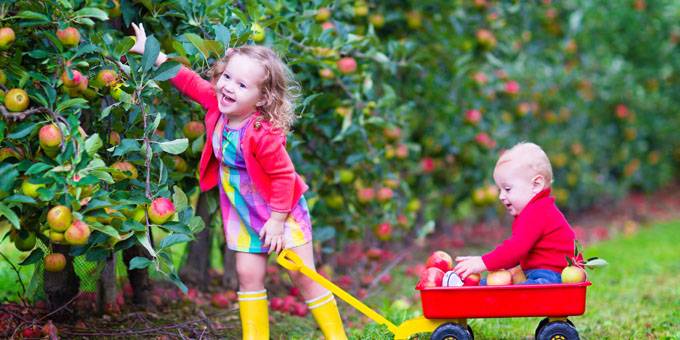 Hy's Cider Mill
6350 37 Mile Rd.
Romeo, MI
Hy's Cider Mill[1] is a small farm market offering u-pick apples, pumpkins, and baked goods. Some say that Hy's has the best cider in the Detroit metropolitan area. The mill is located about an hour north of Detroit in Romeo, Michigan. Picnic tables are scattered along the property to give families plenty of space to relax and enjoy the view. When in season, visitors can pick from over ten different apples including, Cortland, Gala, and Golden Delicious. Also, families can view apple cider being made and play on bales of hay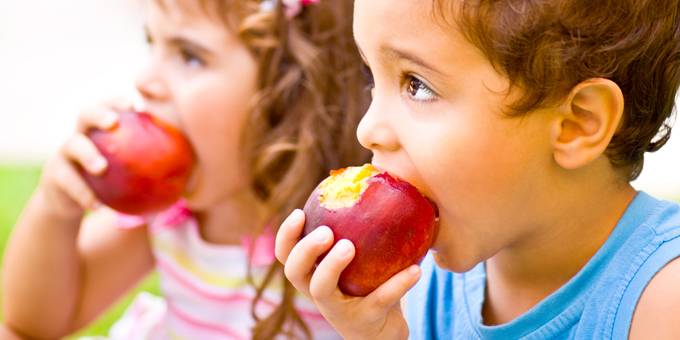 Long Family Orchard, Farm & Cider Mill
1540 E. Commerce St.
Commerce Charter Township, MI
The Long Family Orchard, Farm & Cider Mill[2] is located in Commerce Township. There is a small corn maze and petting zoo for children which is open seasonally. Also, the property features a large picnic area, a giant jumping pillow, pedal karts, hayrides, and a giant slide. In addition to offering donuts and cider, the orchard also sells apple butter, preserves, honey and breads. Visitors can to pick their fruit or purchase fruit that has been picked by the Long Family Orchard staff.
Blake's Orchard & Cider Mill
17985 Armada Center Rd.
Armada, MI
A one-stop shop, Blake's Orchard & Cider Mill[3] sits on 500 acres at three independent facilities. As the first pick-your-own orchard in Michigan, the small farmhouse has evolved into a fun destination that has everything from pick-your-own orchards to Barnyard Funland, featuring a tricycle track and animals. The general store sells salsa, jams and a line of sweets. Also, there are climbing structures, a three-story haunted barn, a 3D maze, haunted hayride and zombie paintball for the kids. Other attractions include the Fall Harvest Tour and the Michigan Lavender Festival.
Phillips Orchards
1995 E. County Line Rd.
St. Johns, MI
Phillips Orchards[4] is a sixth generation family farm that supplies a variety of fruits and vegetables to the area. The apple orchard consists 34 varieties and visitors may also enjoy peaches, gourds, plums, pumpkins, and squash depending on the season. Also, Phillips serves fresh apple cider, and visitors can watch the cider-making process every weekend in the fall. The mill also sells caramel apples, donuts, pies, and breads. They also carry fresh produce and products from local farmers and vendors.
Spicer Orchards
10411 Clyde Rd.
Fenton, MI
Here visitors will find everything needed for a fun-filled day on a farm at Spicer Orchards[5]. This five generation farm features a cider mill and donut shop in addition to various fresh foods throughout the year. Little ones will enjoy the pony rides and a large playground area while adults will appreciate the winery tour, wine sampling, and lunch on a patio with a picturesque view of the orchard. The entire family can see how donuts are made, take a hay ride, or run through the corn maze. Spicer Orchards hosts a fall festival each weekend during the months of September and October. Make sure you also stop by Fenton Fire Hall[6], only a few minutes to the north, for some delicious food and some great local history.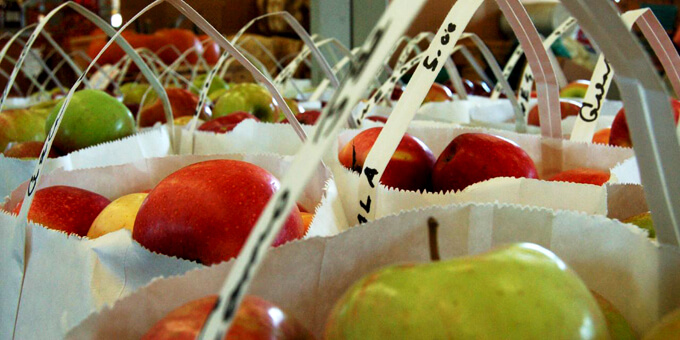 Franklin Cider Mill
7450 Franklin Rd.
Bloomfield Hills, MI
Franklin Cider Mill[7] has been providing non-pasteurized fresh cider and hot donuts for almost two centuries. Expect to see long lines of locals and visitors waiting patiently along the tree-lined property to get a taste of cold cider slush and warm donuts. Visitors also enjoy delicious apples, baked goods, and jams. Additionally, Franklin Cider Mill sells smoked beef and a large variety of cheeses. On select weekends, the mill hosts car and bike shows.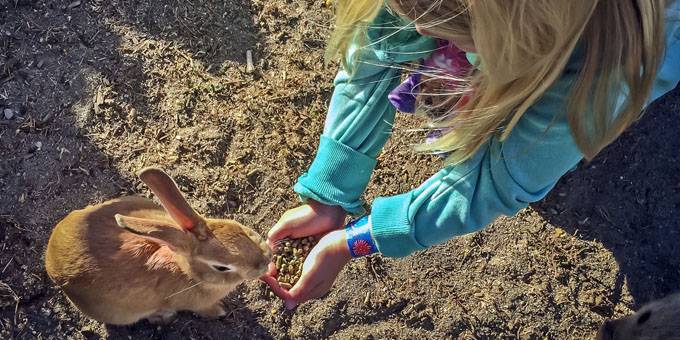 Erwin Orchards
61475 Silver Lake Rd.
South Lyon, MI
Located just outside Detroit in South Lyon, Michigan, Erwin Orchards[8] has been passed down through three generations. For more than 95 years, the farm has produced some of the best apples, raspberries, and pumpkins in the state of Michigan. Erwin's uses the latest technology to manage over 200 acres of farmland. In return, guests receive delicious cider, spiced donuts, and caramel apples. Seasonal activities include a petting zoo, wagon rides, paintball, a corn maze, and a carnival bounce. A live band entertains on some weekends.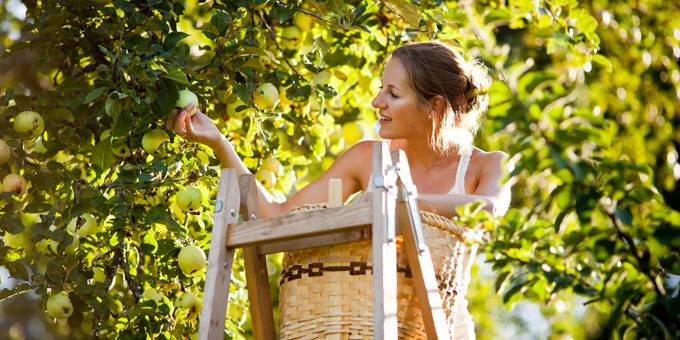 Parshallville Grist Mill
8507 Parshallville Rd.
Fenton, MI
Parshallville Grist Mill[9] (also known as Tom Walker's Grist Mill) is a historical landmark that rests on the banks of the North Ore Creek in Livingston County. The 136-year-old mill began as a flour mill and is one of the few water-powered mills remaining in Michigan. In addition to getting a taste of freshly pressed cider, people come from all over the state to get their lips on Parshallville's homemade Dutch apple pies. Other treasured treats include heirloom apples, spiced donuts and caramel apples. Guided tours are conducted during the cider season. Also, Parshallville's Gift Shoppe offers a variety of locally produced specialty items and gifts.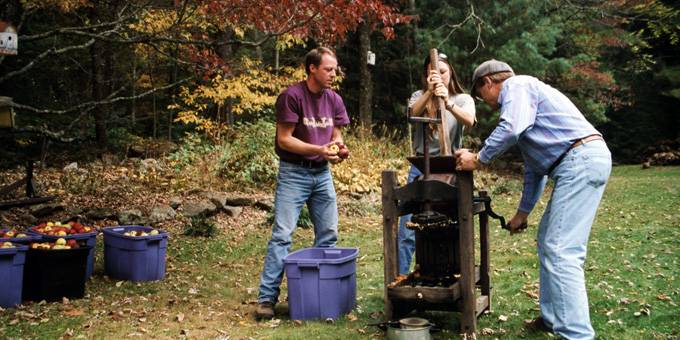 Goodison Cider Mill
4295 Orion Rd.
Rochester, MI
Best known for its pistachio nut bread, Goodison Cider Mill[10] uses a century-old press to produce apple cider. Hundreds of jugs are filled each day for visitors to carry home. The restaurant sells a variety of homemade goodies such as preserves, jellies, donuts and candy apples. On Sundays, the mill schedules a moonwalk, entertainment by a bluegrass band, and a balloon artist. Weekend fall activities include pony rides and a pumpkin patch. You can also check out Meadow Brook[11], a National Historic Landmark, which is only a few minutes away and offers tours and plenty of history.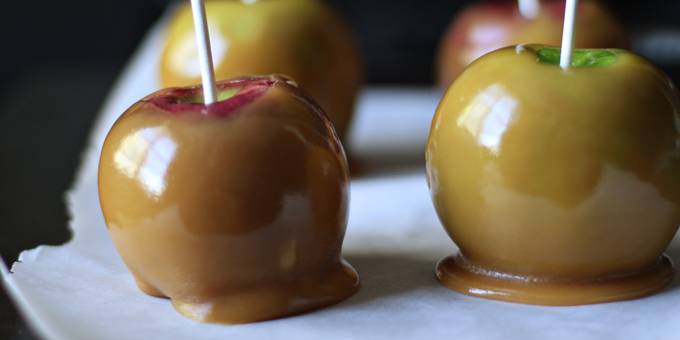 Alber Orchard and Cider Mill
13011 Bethel Church Rd.
Manchester, MI
Alber Orchard and Cider Mill[12] is well worth the trip if only to get a taste of their mouthwatering caramel apples. Other delicious products include pretzels, cider, donuts, apple butter, and apple jam. Alber has over 50 kinds of apples, including heirloom varieties. The mill offers fresh cold cider and plenty of activities to enjoy. In the fall, visitors can take tractor-drawn hayrides, walk through a 7-acre corn maze, and collect pumpkins from the pumpkin patch. Also, Alber hosts several events during the fall months.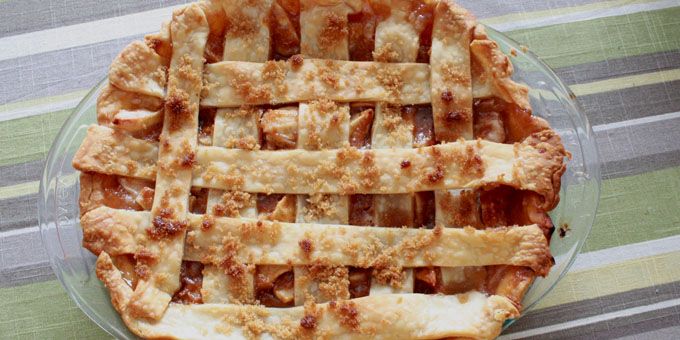 Stony Creek Orchard & Cider Mill
2961 32 Mile Rd.
Romeo, MI
Surrounded by 300-foot locus and pine trees, Stony Creek Orchard & Cider Mill[13] offers visitors a place to pick apples, pumpkins, and raspberries. The property has a Donut House, a salesroom filled with homemade pies, caramel apples, maple syrup, honey, and jams. In addition, antique farming equipment fills the land, making for a memorable photo op. Guest will enjoy the picnic area where they can watch children play on bales of straw while drinking cold cider and eating hot donuts. Fun activities include farm animals, horse riding and wagon rides.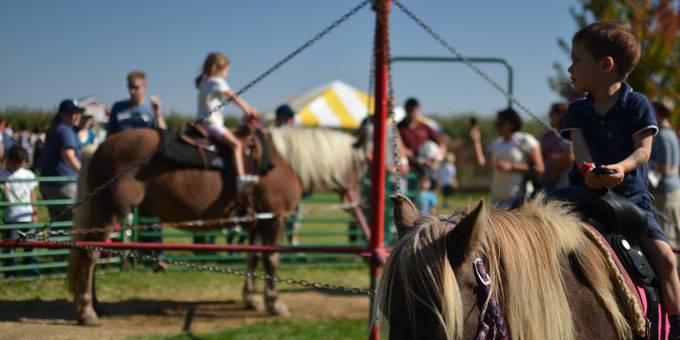 Meckley's Flavor Fruit Farm
11025 S. Jackson Rd.
Somerset Center, MI
Meckley's Flavor Fruit Farm[14] is the ideal place for those who appreciate a bit of nostalgia. Meckley's bakers rise in the wee hours of the morning to bake bread, pies and donuts with fresh ingredients from local vendors. Signature items include apple fritters and carmel apple pies. In addition to an ice cream parlor featuring sixteen hand dipped flavors, Meckley's store is filled with unique items like vintage linens, repurposed items and candy reminiscent of earlier days. Meckley offers fresh cider pressing, a pumpkin patch, pony rides, hay rides, bounce house, hot dog roasts and live entertainment.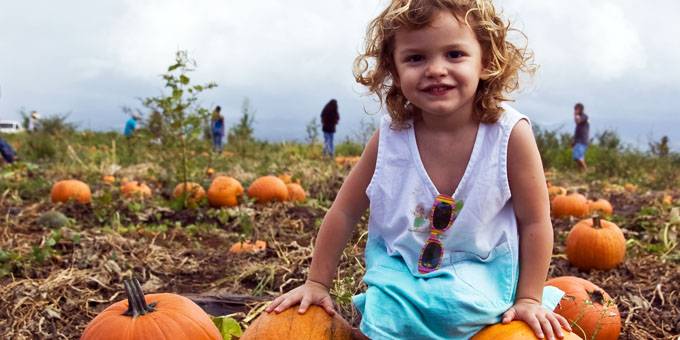 Porter's Orchard
12060 Hegel Rd.
Goodrich, MI
Porter's Orchard[15] is home to award-winning apple cider. The family operated business offers cider donuts and caramel apples. Visitors may pick their own apples, choose pumpkins from the pumpkin patch, and travel through a corn maze. Children will enjoy the inflatables and farm animals. Throughout the year, Porters hosts various events including a pet adoption drive. When you're in the area, make sure you don't miss the Yellow Dog Marketplace where you're sure to find some antique treasures and unusual trinkets to take home or even give as gifts!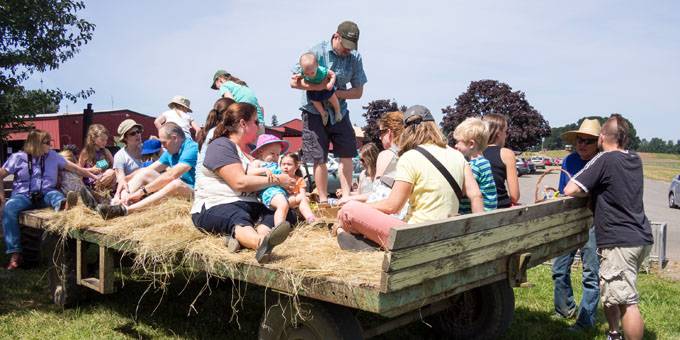 Mueller's Orchard
6036 Lobdell Lake Rd.
Linden, MI
Mueller's Orchard is a family-owned business located in Genesee County. Once a stop for stagecoaches, the orchard offers pressed cider, fresh fruit, and baked goods. Guests hop on wagons to explore the family farm. Children enjoy playing at the Free Farm Playground and feeding the animals at Owen's Barnyard. Mueller's Orchard is host to many yearly events including a vintage car showcase, an antique tractor show, and an animal rescue adoption event.
Diehl's Orchard & Cider Mill
1479 Ranch Rd.
Holly, MI
Diehl's Orchard & Cider Mill[16] is a family-owned and operated orchard and cider mill that has been in business since 1954. The farm sits on 100 acres in Holly, Michigan, and offers a variety of pre-packaged apples including Honeycrisp, McIntosh, Jonathan and Gala. Fall favorites include apple cider, apple butter, apple cider vinegar and Michigan grown popcorn. Diehl's Orchard and Cider Mill hosts a lot of activities including, educational tours, hayrides, and campfire events. Also, there are picnic areas, playgrounds and haystacks for the kids. Diehl holds an annual Ciderfest, an all-day event, featuring live entertainment, dancing, and a craft show.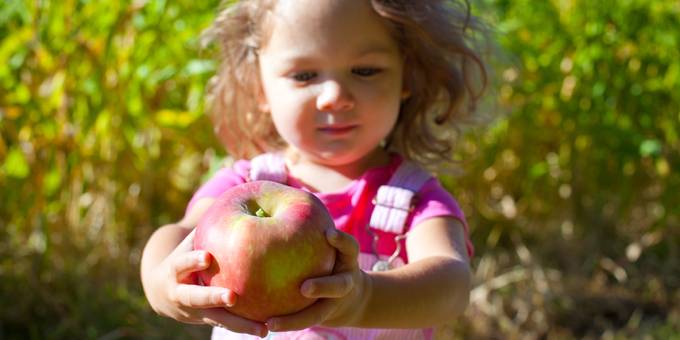 Obstbaum Orchards
9252 Currie Rd.
Northville, MI
Located right outside of Detroit in Northville, Michigan, Obstbaum Orchards[17] welcomes families of all sizes. Apple cider, fresh apple cinnamon donuts and laid-back hayrides are all in store at the 40-year-old apple and cider mill. Visitors can watch the donut process, view how cider is pressed and check out the baker making apple pies. Obstbaum Orchards features a country store that carries the farm's highly sought-after Montmorency Tart Cherry Juice Concentrate. Moreover, the cider is made from the fruit of local farms and is available at the family-run orchard and winery.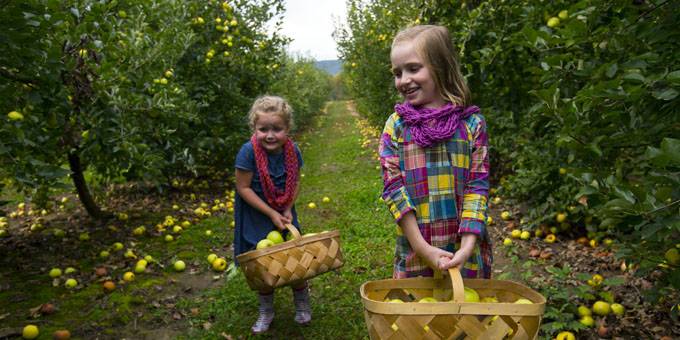 Westview Orchards & Winery
65075 Van Dyke
Washington Township, MI
Westview Orchards & Winery[18] is one of Michigan's oldest orchards. What started as a small family farm in 1813 has expanded into 188 acres of fruit-picking, cider-milling, corn-mazing fun for the entire family. During a visit to the orchard, visitors can stock up on farm fresh seasonal vegetables such as sweet corn and asparagus as well as homegrown fruits like cherries, peaches, and plums. In addition to tasty treats at the bakery, ice cream shop and winery, Westview's state-of-the-art cider mill churns out fresh apple cider in the fall for everyone to enjoy. For fun, guests can take a wagon ride, visit the petting pavilion, and glide down a 40-foot slide.
Robinette's Apple Haus & Winery
3142 4 Mile Rd NE
Grand Rapids, MI
Robinette's Apple Haus & Winery[19] in Grand Rapids, Michigan has been a family farm since 1911. In addition to the cider mill, the family-owned farm has a bakery and a wine tasting room with artwork and unique gifts. There are mountain bike trails and other fun activities like a jumping pillow, hayrides, and a corn maze on the site.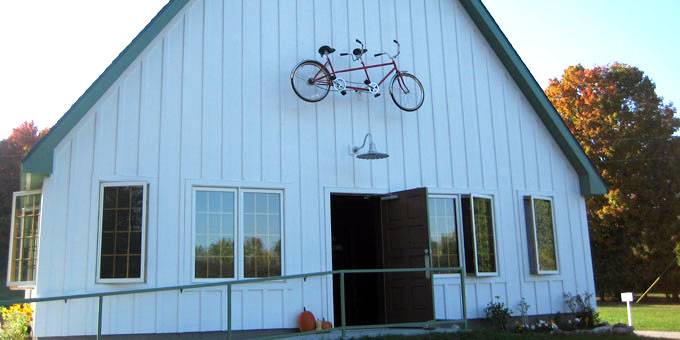 Tandem Ciders
2055 N. Setterbo Rd.
Suttons Bay, MI
Tandem Ciders[20] is located on the Leelanau Peninsula in Northern Michigan. They specialize in making artisan hard ciders with a European flare. The tasting room offers a cozy atmosphere for sampling, mingling, and fun. To help guests understand the story behind the cider, a well-trained staff explains the motivation for each cider. Tandem Ciders also hosts several events throughout the year. Once you've finished sampling the cider, you can head over to Knot Just a Bar[21] for some family dining, relaxation and maybe a couple of drinks as well.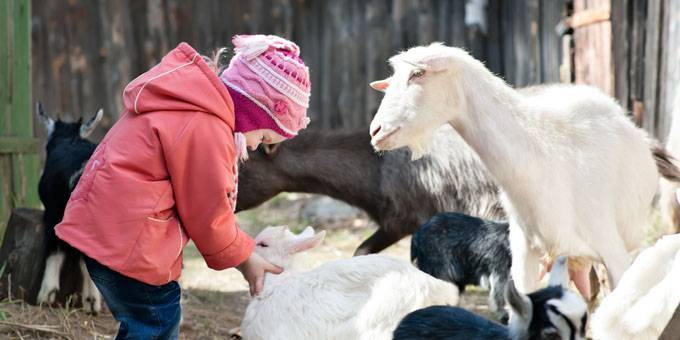 Country Mill
4648 Otto Rd.
Charlotte, MI
Fun for the entire family, Country Mill features a cider mill, winery, bakery, farm market and gift shop. Guests may pick apples, blueberries and pumpkins from the orchard when in season. Additionally, the mill also houses a petting zoo and a three-acre catfish pond. Country Mill also features activities like inflatables, train rides, family photo shoots, haunted events in the month of October, and a Lionel Train Layout in the end of November.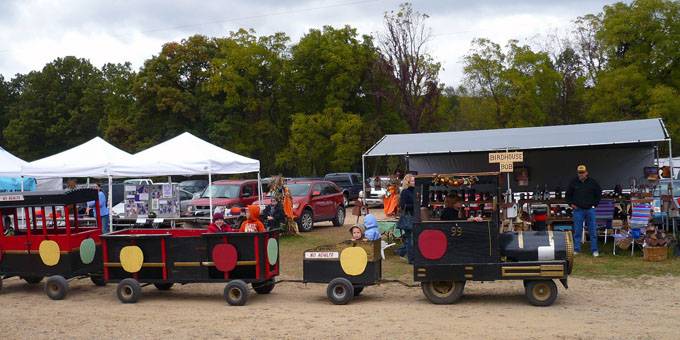 VerHage Fruit Farms & Cider Mill
8619 W. ML Ave.
Kalamazoo, MI
VerHage Fruit Farms & Cider Mill[22] has moved family fun up a notch by offering free live music, free entertainment for the kinds and the longest zip line in southwest Michigan. Apple season begins the first weekend after Labor day when visitors get to see fresh unpasteurized cider being made from a 125-year-old press. The bakery offers hot cake donuts, homemade pies, cinnamon rolls, fudge, and quiche daily. The Country store features unique gifts, jams, jellies, gourmet treats and Amish goodies. During the week, visitors can book an appointment to "Build Your Own Tour." Activities include train rides, hay rides, pony rides, gold mining, face painting, and an 850-foot long, 50-foot tall zip line. In addition, the farm hosts an Apple Festival the last Saturday in September to mark its anniversary. Be sure you don't miss checking out the Kalamazoo Farmers Market[23], where you can find fresh food and other items made by locals.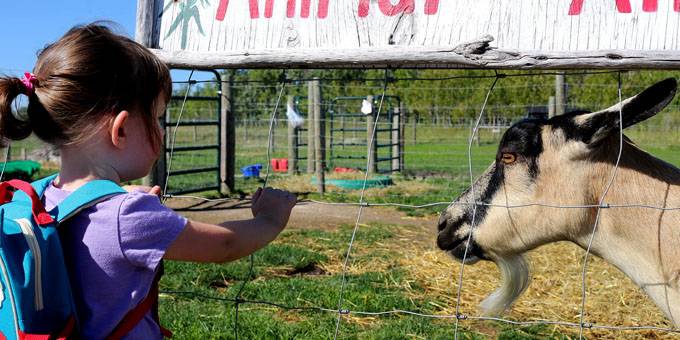 Erie Orchards & Cider Mill
1235 E. Erie Rd.
Erie, MI
Visitors yearn for the savory, fresh blueberries, peaches, apples and pumpkins that are harvested from this family-owned farm. Moreover, Erie Orchards & Cider Mill[24] harvests a variety of apples including Ida Red, Red Delicious, Granny Smith, and Honeycrisp. Visitors get to experience shopping at the country store, picking fruit from the orchard, running through the corn maze, and stopping by the animal center. Most of all, guests enjoy sipping on cider and munching on donuts. Occasionally, Erie's hosts a family night, which includes bonfires, music, and hayrides.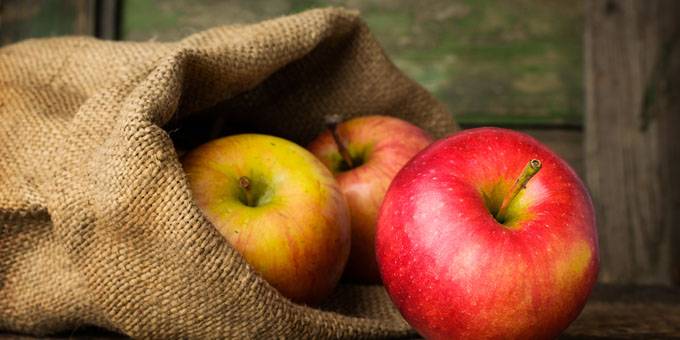 Anderson & Girls Orchards
2985 N. Sheridan Rd.
Stanton, MI
Once a small farm stand, Anderson & Girls Orchards[25] has expanded into a large farm market inundated with cherries, plums, pears, apples, and peaches. The property features a cider mill, bakery, ice cream parlor, petting zoo, corn maze and wagon rides. There is also a well-stocked loft filled with Victorian items and Christmas decorations. Customers crave for the cider made from a secret family recipe. Grandma Anderson's Ice Cream Parlor offers 12 flavors of ice cream and a variety of sandwiches and side dishes.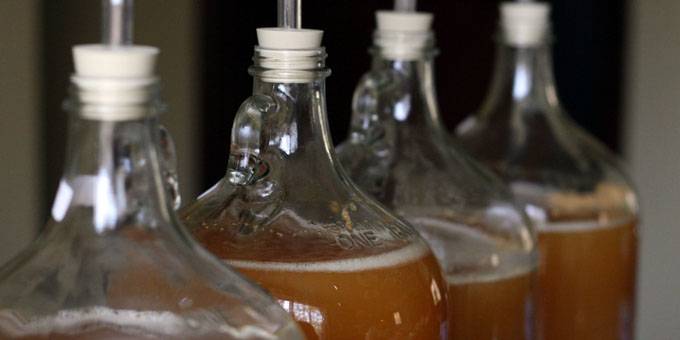 Virtue Cider
2170 62nd St.
Fennville, MI
Virtue Cider[26] is located on a 48-acre farm in Fennville, Michigan. The mill partners with local farmers to find the highest quality heirloom apples. Virtue uses a combination of traditional European farmhouses and modern fermentation techniques to bring customers the best tasting hard cider possible. Moreover, each part of the cider process takes place in a different location on the farm. Guests over 21 may also take a tour, sample products, shop in the bottle shop and participate in cider tasting dinners.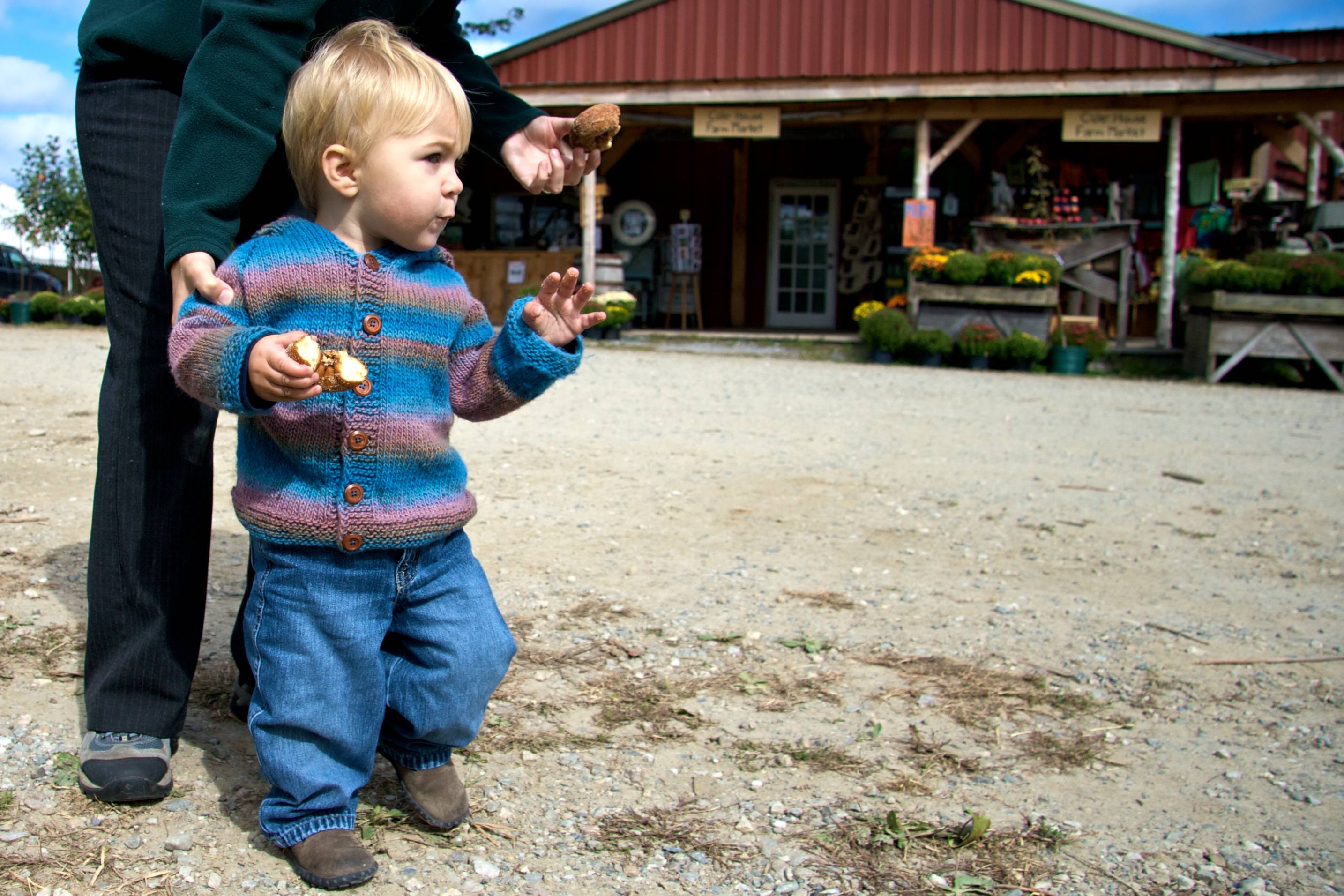 Plymouth Orchards & Cider Mill
10685 Warren Rd.
Plymouth, MI
Winner of Michigan's Annual Apple Cider Contest in 2013, Plymouth Orchards & Cider Mill[27] draws people from all over to enjoy tangy cider, cinnamon donuts, and delicious holiday pies. The mill even takes orders for fresh pies until the day before Thanksgiving. Customers can sit and relax in the comfortable heated eating space to while they cider and watch the award-winning donuts being made!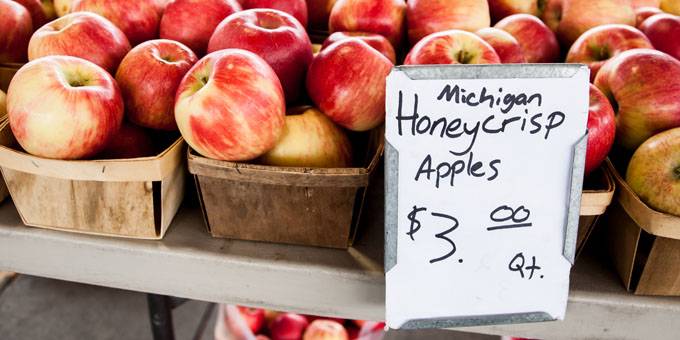 Three Cedars Farm
7897 Six Mile Rd.
Northville, MI
Three Cedars Farm[28] has everything a person looks for in a farm including live animals, bonfires, and kettle corn. A favorite among visitors is the Cider & Donut Hut which features hot, cold and slushy cider and three types of donuts. The Country Store offers special collectible items, old fashioned candy, and mums. Visitors enjoy a host of activities including hayrides, a pumpkin patch, and a corn maze. During Christmastime, Three Cedars Farm features Santa Claus to get everyone in the holiday spirit.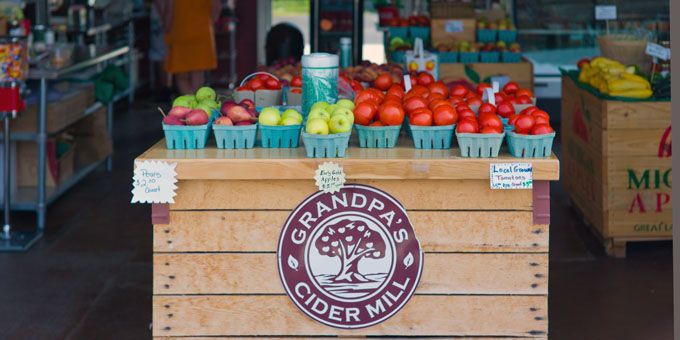 Grandpa's Cider Mill
2941 Friday Rd.
Coloma, MI
Visitors are greeted by a garden of metal dinosaurs on their way to Grandpa's Cider Mill[29]. Think of it as an introduction of what's to come. Here visitors get to see apples as they run through the cider press behind a 50-foot glass enclosure. Samples of over 25 flavors are available for guests to enjoy. The on-site bakery offers tantalizing cider donuts, fruit pies, and of course, Grandpa's famous cider. During the harvest season, families can take part in various activities including a cornfield maze, pond fishing, and a hayride.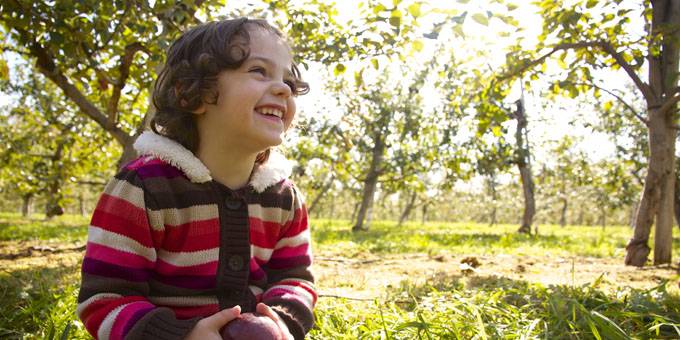 Knaebe's Mmmunchy Krunchy Apple Farm
2621 S. Karsten Rd.
Rogers City, MI
Knaebe's Mmmunchy Krunchy Apple Farm[30] is a quaint cider mill that features colorful displays, trains running around the walls, and a cozy atmosphere. In addition to the normal donut options, the bakery serves a delicious specialty donut called BAM (bacon, apple, maple) which is absolutely to die for! Other tasty items include cakes, pies, apple crisps and cookies. IN 2016, the mill opened a new hard cider tasting room where the 4 new Twisted Roots Cider flavors are served to anyone over 21. The tasting room also features local hot dogs and brats with all the fixins!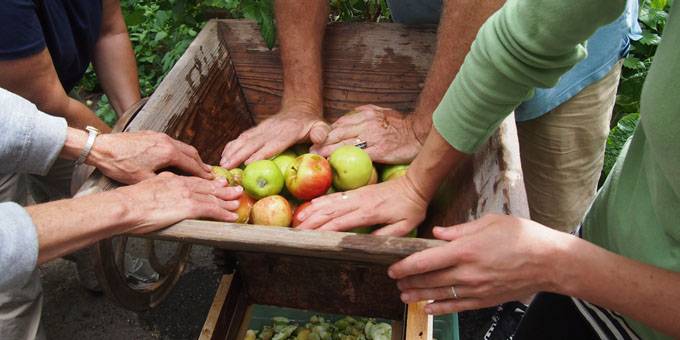 Kilcherman's Christmas Cove Farm
11573 N. Kilcherman Rd.
Northport, MI
Framed by Lake Michigan and Northport Bay, Kilcherman's Christmas Cove Farm offers apples, cherries, peaches, and plums. Famous for its antique apples, the farm has 250 varieties of apples. Visitors can also enjoy viewing the largest old glass pop bottle collection in the world with more than 10,000 bottles. Also, the property has numerous historical signs hanging in the rafters of its apple barn.
So, did your favorite Michigan cider mill make the list? Do you know of any other must-visit locations? Tell us your favorite cider mill memory in the comments and don't forget to share the article with all your cider-loving friends!