Cleverly avoid fees with these smart carry-on bags.
Nothing is worse than being slammed with airline fees. (Although getting frisked by the TSA after walking through a full-body scanner is definitely a close second.)
Airlines seem to come up with all sorts of creative ways to make sure you're half broke before you fly off into the sunset; booking fees, ticket change fees, fees for unaccompanied minors, premium seat fees, etc. Oh wait, I almost forgot about the $10 charge for one of those dinky Virgin America pillows. Seems fair.
Ready for some good news yet? We're on your side. And we've picked out three carry-on bags that are spacious enough to negate the need for an additional bag — and a checked baggage fee. Since most airlines allow a free carry-on bag, wouldn't it be nice to find a bag that's both big enough to fit all your stuff and small enough to fit those required carry-on dimensions and weight allowance?
Fashionistas, bargain hunters, and avid travelers alike will find style and convenience with this highly-rated and carefully curated selection of carry-on bags. Take to the skies with flair!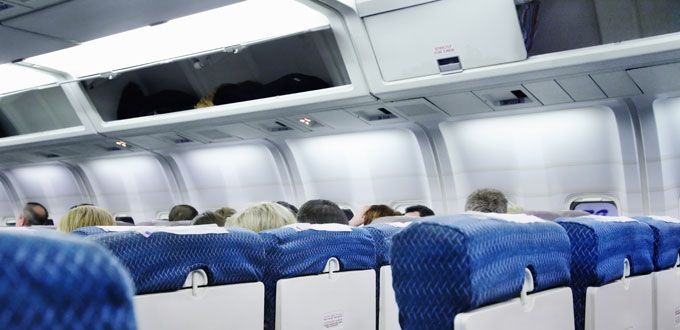 We did the hard work for you by purchasing each of these bags, testing them out, and then compiling our results below. (You can thank us later.)
Remember, most airlines require carry-­ons to be 22" L x 14" W x 9" H and not more than 25 lbs., but check with your airline for specific guidelines, as they may differ.
Economy Class:
North Star Sports 1050 Tuff Cloth Carry-On[1]
$
Dimensions: 21" L x 14" W x 9" H
Weight: 2.1 lbs.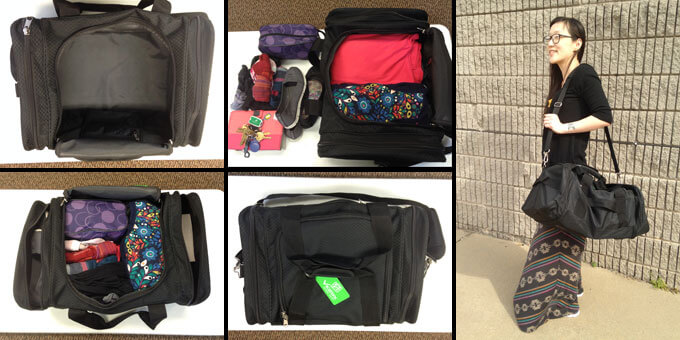 Our programmer, Kati, took this bag with her on a recent trip to Philadelphia. She's been traveling a lot lately for her sister's wedding and refuses to dish out money for checked luggage, so she's becoming somewhat of an expert in packing a carry-­on for a long weekend (and running through the terminals with it).
The North Star Sports bag may not be the most fancy-looking piece of luggage, but it was her favorite as soon as she saw all the luggage arrive at our office. It's very reasonably priced and is roomy and functional.
While preparing for her trip, she found that the North Star Sports bag makes packing extremely easy. The large zipper on the top of the main compartment easily fit two piles of folded clothing without any adjusting. She managed to fit shoes and liquids in one of the large side compartments and a book, keys, and tablet in the other; all of which were easily accessible while going through security, waiting at the gate, or getting on the plane. She also was able to pack two pairs of jeans, three t-shirts, two sets of pajamas, a fleece jacket, two dresses, two cardigans, four pairs of socks, two pairs of tights, a makeup bag, and toiletries. The bag weighed 14.2 lbs. with everything in it, and it still had room for a few more outfits.
Kati's a pretty petite lady, but she was able to comfortably carry the bag using the carry handles and she said the bag felt very light with the padded shoulder strap.
We only paid $35.70 for this North Star luggage, making it a bargain buy for sure.
Pros:
Lightweight and stores easily
Very sturdy
Spacious, yet lightweight
Large zipper on the top of the bag makes packing a breeze
Large side pockets for easily accessible objects
Sturdy, padded shoulder strap
Cons:
Bag's main compartment had very little padding and structure (not great for delicate objects)
Very casual-looking
Business Class:
Olympia Deluxe Overnight Business Tote[2]
$$
Dimensions: 17" L x 14" W x 10" H
Weight: 9.2 lbs.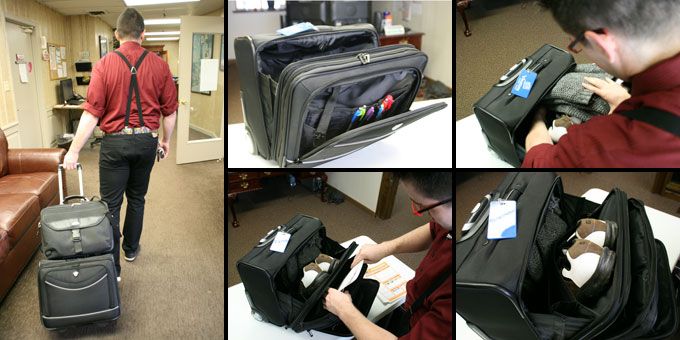 One of our accountants, Max, took the Olympia Deluxe Overnight Business Tote for a spin around the office (and looked very professional doing it). Perfect for the frequently traveling business person, this bag has just enough space for at least one change of clothes and any notes, papers or office supplies you might need, without being overly cumbersome.
He was able to pack two bulky sweaters, a pair of shoes and a few office supplies in this bag with no trouble at all, and he had a generous amount of space to spare. Even with all that packed in, the bag still only weighed 14.35 lbs.
Others on Amazon who had also bought this bag said it fits perfectly in an overhead compartment. (Unfortunately we didn't have a simulated plane in the office to try it out, otherwise we would have.)
This Olympia tote is made with sturdy, durable material — high quality 1200d jacquard and polyester with metal ball bearing in-line wheels. It's easily transportable yet professional enough to bring into those meetings with you, and at $67.99, this Olympia tote is quite the steal.
Pros:
Features a padded mini laptop compartment
Distinguished printed interior lining (for the fashion savvy traveler)
Sturdy retractable handle
Two front zipper pockets with organizer
Spacious main compartment
Cons:
Main compartment does not open completely
Definitely an overnighter; not ideal for weeklong trips
First Class:
Delsey Expandable Spinner Trolley[3]
$$$
Dimensions: 21" L x 14" W x 9" H
Weight: 12.25 lb.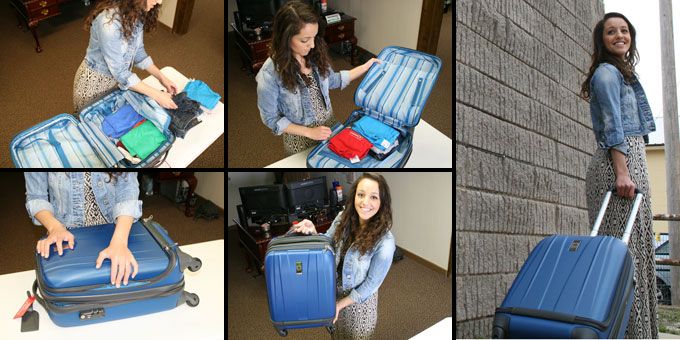 I had the privilege of taking this Delsey Trolley for a spin around the office grounds and I have to say, if I didn't already have a nice set of luggage waiting for me at home, this bag might just mysteriously disappear from the office.
In addition to being stylish, the Delsey Expandable Spinner Trolley is also very functional. Large interior compartments easily distinguish this carry-on as the obvious choice for a weeklong excursion, and the hard exterior isn't dense and heavy like many of those other hard-shelled bags.
Instead, its light, polycarbonate exterior makes lugging it around pretty easy. Again, no simulated airplane was available, but I did drag it around the office, lift it through a gate outside (long story), and pick it up to set it on a table several times. I wasn't sore the next day and definitely didn't need to ask Max for any help, so you can bet it would be convenient to lift in and out of an overhead compartment.
While packing, I was able to fit five pairs of jeans and six t-shirts in this carry-on, but it could easily have handled much more, including shoes, books, toiletries, and other common accessories.
Some of my favorite features of the Delsey bag were the spacious, inner sections and the outer zipped pocket, perfect for laptops, bagged liquids, or anything that needs to be accessed quickly and easily.
Even though it was the most expensive bag of the three, the price pales in comparison with its competitors and was worth the $87.94 we spent on it.
Pros:
Lightweight, hard exterior
Stylish
Outer zipped compartment
Retractable handle
Expandable for extra space
Cons:
Dimensions are listed on Amazon as 9 x 19 x 14 inches but with the handle, it's actually 9 x 21 x 14 inches.
Elastic straps inside the large inner pocket are too large to secure small articles of clothing.
Just like you, we wish that airline travel would be free and we could pack as much as we wanted in as many bags as our hearts desired. And in a perfect world, we could. But the reality is, flying is an expensive venture. We hope these three bags will help you cut down some of that cost by making an initial investment but saving so much more in the long run.
So what are your thoughts? Are you ok with paying the extra baggage check fee to bring an additional bag? What kind of carry-on do you like to travel with? Let us know!