Get a unique look into the origins of some of the world's most influential females
It takes a brave person to stand up to societal norms and demand change, but these ten remarkable women did just that. Each of these ladies has impacted lives across America and the world with their revolutionary thinking, actions, and hope for societal change. At the birthplaces and childhood homes of these women, you can gain a deeper understanding of the trails and successes that lead each to her place in history.
History has been shaped by powerful women for centuries. Explore the lives of some of these world-changing, influential figure heads and learn just how important their contributions were!
Harriet Beecher Stowe
Harriet Beecher Stowe House[1]
Cincinnati, OH
Famous for her novel, "Uncle Tom's Cabin," which highlights the harsh treatment that African Americans received under slavery, Harriet Beecher Stowe often wrote and took public stands on the social issues that plagued 19th century America. Harriet and her husband were bold people and advocates of the Underground Railroad, and even housed several fugitives. Harriet moved often and there are numerous landmarks across the country of her numerous homes and important places. The birthplace of Harriet was demolished and the Harriet Beecher Stowe House in Cincinnati, Ohio, featured above, is actually her childhood home. The building has been transformed into a historical site.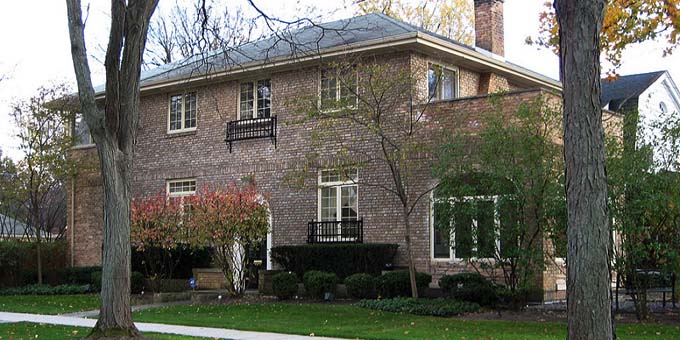 Hillary Clinton
Private Residence
Park Ridge, IL
Hillary Clinton is a politician, public health activist, and former first lady. She was elected to the U.S. Senate in 2001 and the U.S. Secretary of State in 2009 and she ran for the 2016 presidential candidacy. Before all of that, Hillary grew up in this home, located in the Chicago Suburb of Park Ridge, IL. At Park Ridge Public School, she was a teacher's favorite and heavily involved in various extracurricular actives. In 1987, the family sold the house and moved to Arkansas. Today the house is privately owned, but visitors can see the building from the street.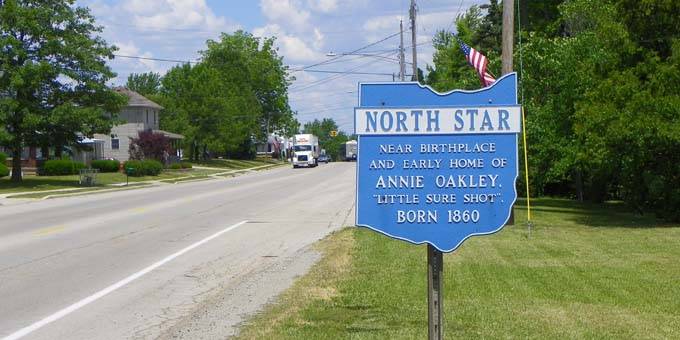 Annie Oakley
Patterson Township, OH
Annie Oakley was a competitive sharpshooter from Ohio. Oakley believed women should learn to use a gun; not for showy sharpshooting skills like hers, but for the empowering image it gave. She also pushed for women to be independent and educated. One of the lasting legends of Annie Oakley is framed in the musical written by Irving Berlin, titled "Annie Get Your Gun". At her home in Patterson Township, Ohio there is a stone-mounted plaque in the vicinity of the cabin site, which was placed by the Annie Oakley Committee in 1981. Her home was where, at the age of eight, she began shooting and hunting to support her widowed mother and siblings. Visitors can learn more about Annie Oakley at the Garst Museum, which has an entire section on the life of Annie Oakley thanks in part to donations from the Annie Oakley Center Foundation[2].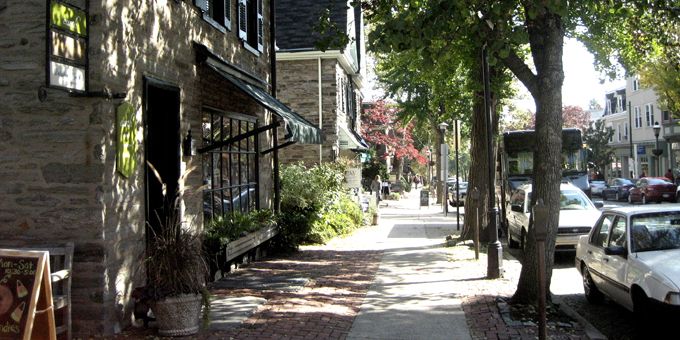 Louisa May Alcott
Childhood birthplace and Street
Philadelphia, PA
Louisa May Alcott took a stand in a society that cared little about the employment success of women. She worked for years at whatever jobs she could find and at 22, she had her first book published. By 35, she wrote her most famous novel, "Little Women". Although well-known for living in Massachusetts, Louisa was actually born on Germantown Avenue in Philadelphia, PA. Now the location of the Cunningham Piano Company, you may still see a historic marker located on the street noting her birthplace. If you want to learn even more about Louisa, her writing, and her family, you will want to visit the location where she wrote "Little Women", The Orchard House in Massachusetts.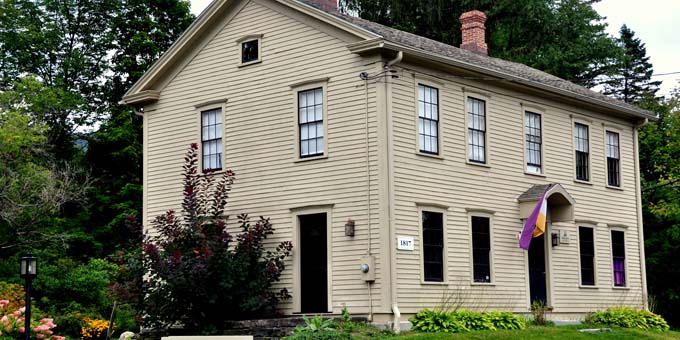 Susan B. Anthony
Birthplace House and Museum[3]
Adams, MA
At the early age of 17, Susan B. Anthony collected anti-slavery petitions and from there, began her lifelong passion for equality. In 1851, she became friends with Elizabeth Cady Stanton and founded the New York Women's State Temperance Society, which was the first step in her societal role in women's suffrage and reform. In 1979, she became the first real woman to be depicted on a United States coin. The Susan B. Anthony Birthplace Museum hopes to preserve the birthplace of Susan B. Anthony and offer education on the work she did for women's rights, slaves, and social beliefs. The museum is full of literature, memorabilia, and furnishings of the time period.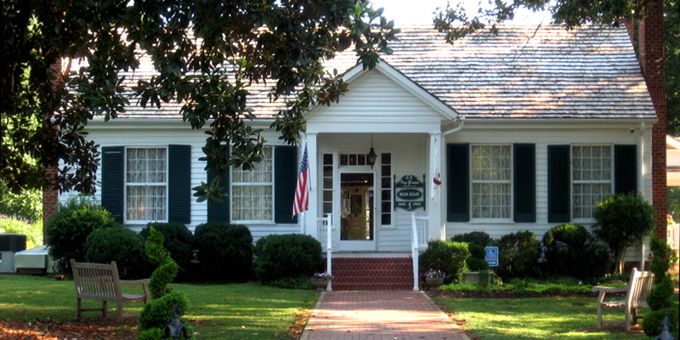 Helen Keller
Childhood Home and Museum[4]
Tuscumbia, AL
Hellen Keller was an internationally known deaf/blind who, against all odds, learned to communicate with the help of teacher Anne Sullivan and conquered the stereotype that people with disabilities couldn't live full lives. Keller later graduated college and went on to found the American Civil Liberties Union (ACLU). She received many recognitions and honors and was close friends with Mark Twain and other famous figures. Ivy Green, her childhood home in Tuscumbia, Alabama, was where Helen Keller first learned to finger spell and later learned to communicate. By visiting the home in late June, you may also participate in the Hellen Keller Festival, which is a celebration of her life and is filled with live music, tours, and family-friendly events.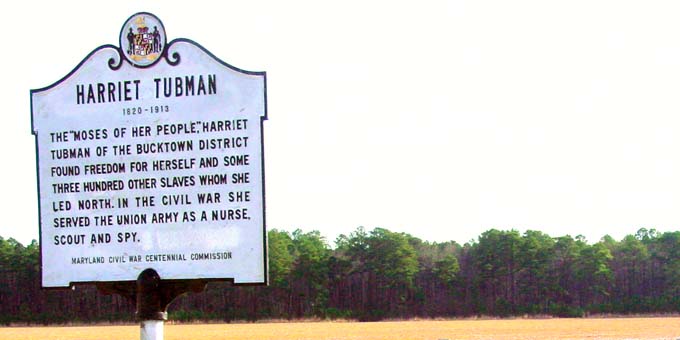 Harriet Tubman
Dorchester County, Maryland
Harriet Tubman was an abolitionist and humanitarian who was born a slave. She is most famously known for her contribution to the Underground Railroad. After she escaped slavery herself, she in turn helped approximately 70 others as well. Just outside of Cambridge, in Dorchester County, is believed to be the location of Harriet Tubman's birth. While there are no buildings, there is an area where you can pull off of the road and read about her life, look out at the nearly unchanged landscape, and ponder the brave choices she made and the sacrificing life she led.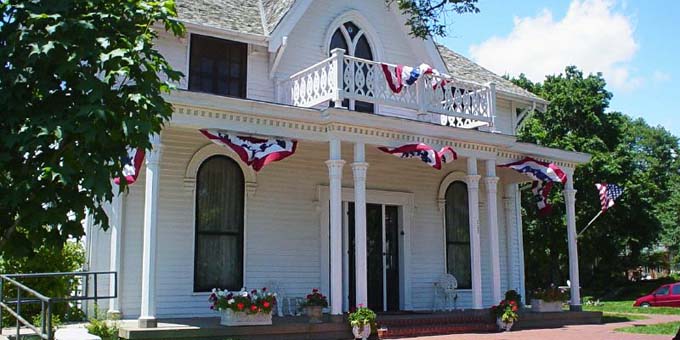 Amelia Earhart
Birthplace and Museum[5]
Atchison, KS
The first woman to fly across the Atlantic, Amelia Earhart gave encouragement to women everywhere that they could accomplish anything. Amelia received the Distinguished Flying Cross, set many records, and wrote a few best-selling books about her adventures. The Amelia Earhart Birthplace Museum displays period furniture, family memorabilia, and some personal belongings of Amelia. The museum also has clothing items worn by Hilary Swank in the movie portrayal of the famous pilot.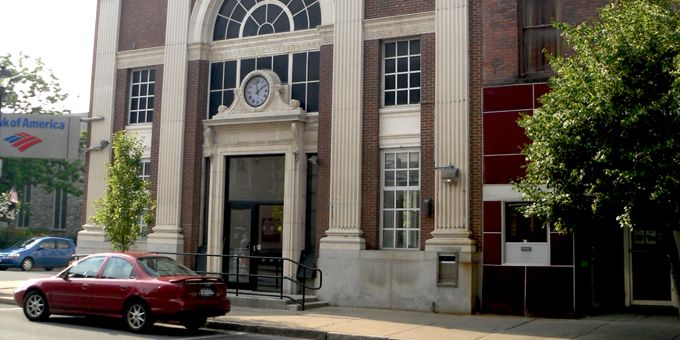 Elizabeth Cady Stanton
Childhood home location
Johnstown, NY
Elizabeth Cady Stanton has been cited as the originator of the first women's rights and suffrage movements. Her fame began with the Declaration of Sentiments at the Seneca Falls Convention in 1848. Elizabeth was born in Johnstown, NY, but the original building in which she was born burned down in 1873. Now a bank stands on the premises with a plaque honoring her birth on the building. Her father worked in a law office next door to the house and Elizabeth learned quickly of the struggles and inequality between men and women. A few years before the famous Seneca Falls Convention, the Stanton family moved into a farmhouse. This farmhouse was called by Elizabeth as the "Center of the Rebellion" and is still visible today.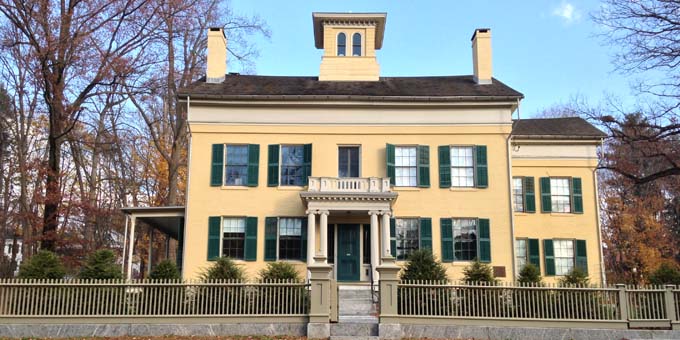 Emily Dickinson
Birthplace, Home, and Museum[6]
Amherst, MA
Emily Dickinson is one of America's finest poets and her poems have been studied by many across the world. Although only 1,800 of her poems were published during her lifetime, she wrote often and was quite a prolific writer. The Emily Dickinson Museum is the combination of two homes: the birthplace and home of the famous poet herself, and the home of her brother Austin and his family. The museum seeks to educate visitors on the life of Emily Dickinson, the continual importance of her work, and offer a historical resource for scholars. The museum is consistently bettering itself by offering a variety of tours with different angles of teaching and restoring the home to fit the time period.
Have you been to any of these inspiring locations? Share your memories with us in the comments below! Don't forget to Like and Share with your friends!