The weird, the cool, the historic and of course, the food.
Get your kicks on Route 66 with these amazing roadside attractions. These must-see landmarks provide the unique image and experience that is traveling along this historic route.
Illinois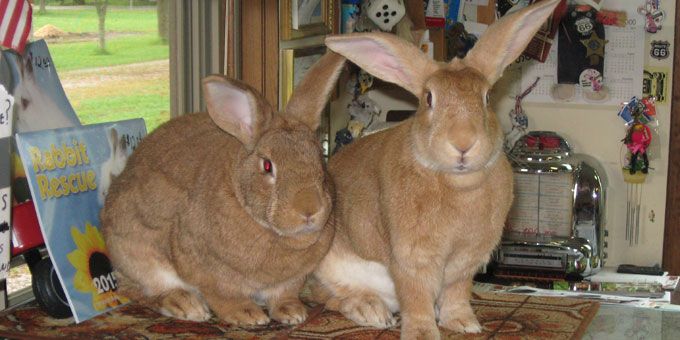 The weird: Henry's Rabbit Ranch in Staunton, IL
Address: 1107 Historic Route 66, Staunton, IL 62088
While visitors can pick up neat souvenirs and collectible items here, the main attraction is really the bunnies. Eleven adorable rescue bunnies from the St. Louis chapter of House Rabbit Society[1] call Henry's Rabbit Ranch[2] home and visitors are welcome to pet and take pictures with them. In addition to real rabbits, the ranch also has Volkswagen Rabbits! The owner displays them proudly alongside three original Campbell 66 Express trailers and a Campbell 66 Express road tractor, all featuring the original logo, "humpin' to please." Keep in mind, Henry's Rabbit Ranch is a cash only establishment and there are no public restrooms. The ranch is open Mon.-Fri. 9 a.m.-4 p.m., Sat. 9 a.m.- 1 p.m. and closed Sunday. Make sure to call ahead for larger groups.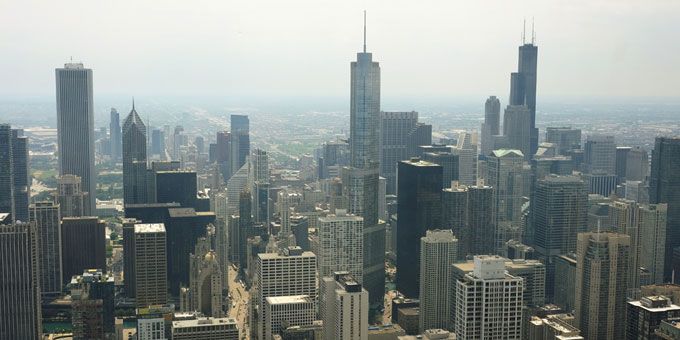 The cool: Willis Tower in Chicago, IL
Address: 233 South Wacker Dr. Chicago, IL 60606
This skyscraper stands just a half mile west of the marker that designates the beginning of Historic Route 66. The Willis Tower[3] (formerly known as the Sears Tower) stands 110 stories tall with a Skydeck visitor's center on the 103rd floor. Browse the informative panels, pick up a snack and beverage from the Skydeck Marketplace or soak up the incredible views of the city from The Ledge — an extension off the side of the building made entirely of glass with breathtaking views 1,353 feet up in the air.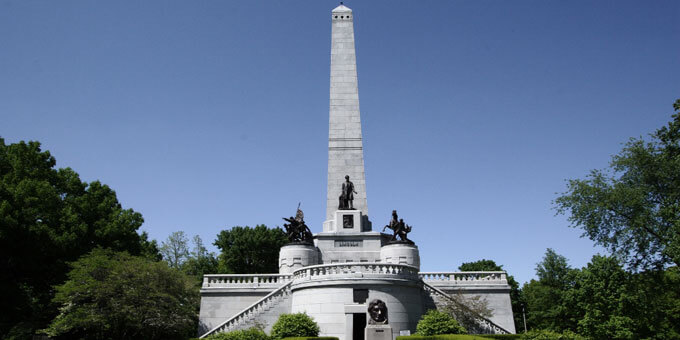 The historic: Lincoln's Tomb in Springfield, IL
Address: 1500 Monument Ave., Springfield, IL 62702
The Lincoln Tomb State Historic Site[4] in Oak Ridge Cemetery is a stately reminder of Abraham Lincoln's service and the impact his leadership had on our country. His 117-foot-tall tomb is a designated National Historic Landmark and visitors from all over the country travel to Springfield, Illinois to see it. Lincoln's wife and three of his four sons are also buried alongside him, and the tomb is also home to several sculptures that honor the Civil War military services: artillery, infantry, cavalry and navy.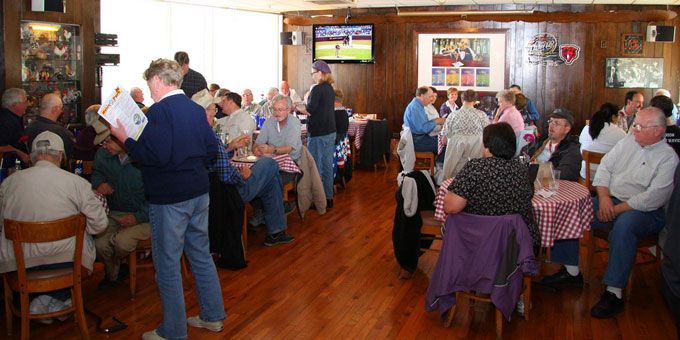 The food: Dell Rhea's Chicken Basket in Willowbrook, IL
Address: 645 Joliet Rd., Willowbrook, IL 60527
Dell Rhea's Chicken Basket[5] is internationally recognized as one of the most delicious roadside stops on Route 66. Since 1946, this establishment has served up famous fried chicken, mouthwatering sides and weekly in-house specials like live Maine lobsters, fried shrimp and fried catfish. They even offer live entertainment on Friday and Saturday nights. Dell Rhea's is one Route 66 pit stop that will continually satisfy hungry travelers.
Missouri
The weird: Uranus Fudge Factory and General Store in St. Robert, MO
Address: 14400 Highway Z, St. Robert, MO, 65584
Chances are, if you've seen the gigantic billboard, you've stopped by the Uranus Fudge Factory and General Store[6] on Route 66. The entirety of the Uranus shopping center offers a wealth of entertainment, restaurants, a Funkyard Food Truck Park and of course, the Uranus Fudge Factory. With the hilarious catchphrase, "the best fudge comes from Uranus," it's pretty much a mandatory stop. Stop for a sightseeing break in the heart of the Ozarks and pick up delicious fudge, other tasty treats and fun Route 66/Uranus collectibles at this quirky general store.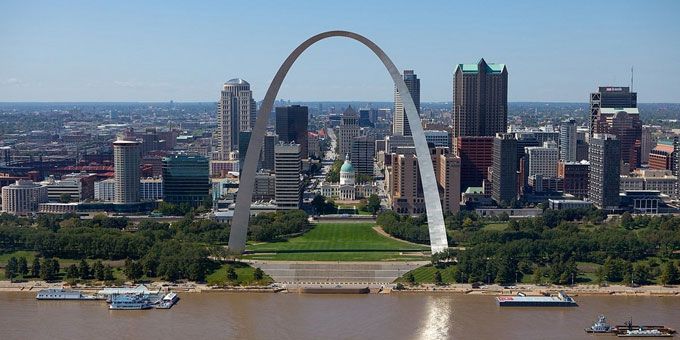 The cool: The Gateway Arch in St. Louis, MO
Address: 100 Washington Ave., St. Louis, MO 63102
As Route 66 makes its way through the St. Louis Metro Area, it eventually turns into Tucker Blvd. The Gateway Arch[7] is located just one mile east of the N. Tucker Blvd. and Chestnut St. intersection, making for a convenient and memorable side-trip to one of St. Louis's most iconic monuments. The 630-foot-tall arch was completed in 1965 and spans 630 feet at the bottom, with the whole monument weighing a whopping 17,246 tons. Visitors are welcome to take a tram to the top of the arch where a viewing area with breathtaking panoramic sights of the city awaits.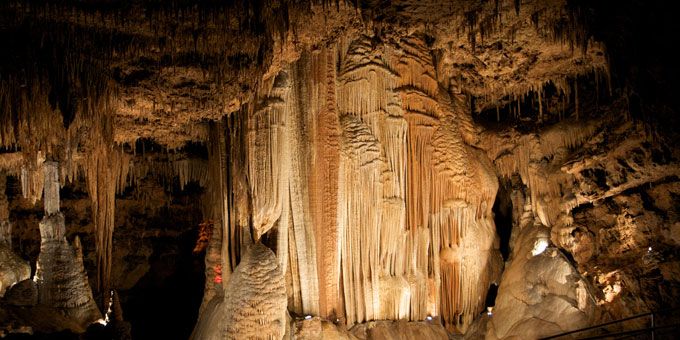 The historic: Jesse James Wax Museum and Meramec Caverns in Stanton, MO
Address: I-44 exit 230, Stanton, MO, 63079
The Jesse James Wax Museum[8] in Stanton, Missouri is located along I-44, formerly Route 66 and offers a fun look into the life of Jesse James, the notorious career criminal and outlaw of the wild west. Visitors will enjoy seeing historic artifacts that belonged to the James family, a vintage gun collection and even real footage of interviews with James and eyewitnesses. Just minutes away from the museum, visitors will also find the famous Jesse James hideout — Meramec Caverns[9], open to the public. Guided cave tours are available every day of the week and additional activities like ziplining, riverboat rides, canoe floating, special lantern-lit cavern tours and gold panning are also available. If you get hungry, a restaurant on site offers homestyle favorites and a snack bar with 28 delicious flavors of ice cream.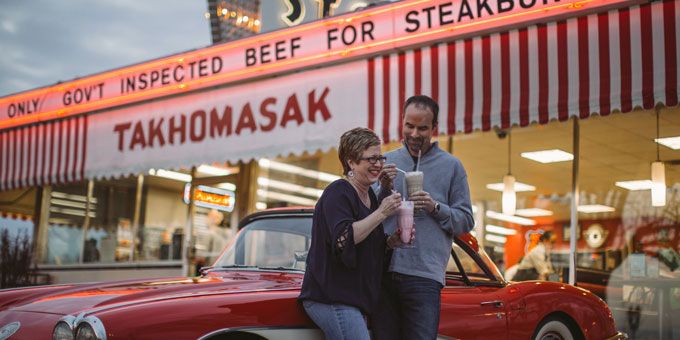 The food: Historic Route 66 Steak 'n Shake
Address: 1158 E. St. Louis St., Springfield, MO 65806
The Steak 'n Shake[10] on the corner of St. Louis St. and S. National Ave. in Springfield, Missouri is actually listed on the National Register of Historic Places. Although it's a chain, this specific Steak 'n Shake opened in 1962 and much of the building, including the original wood door on the back entrance, the kitchen cook line and stainless steel counters, the curb service window and the street neon signs are all original, vintage pieces. Check out this retro Steak 'n Shake for a slice of Springfield and Route 66 history and a delicious, creamy shake.
Kansas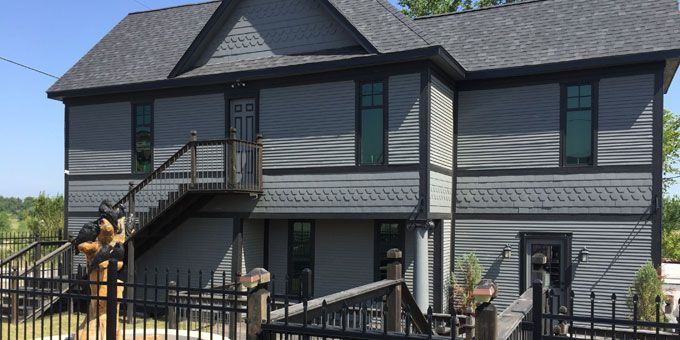 The weird: Galena's Murder Bordello in Galena, KS
Address: 206 N. Main Street, Galena, KS 66739
The Galena's Murder Bordello[11] was built in 1890, and functioned as a brothel for 40 years. Legend says a mother and her three sons ran the establishment and killed many of its customers, stealing their money and then dumping the bodies. Over the years, the house fell into disrepair but has recently been renovated and restored to its original beauty. If you stop by, just call the number posted on the front door and you can get a full tour of the house for $10. But you may also get more than you bargained for.
Visitors and locals swear the Murder Bordello is haunted, citing unexplainable happenings like doors opening and closing on their own, objects moving by themselves, lights going on and off and even sightings of strange shadows and figures. But the only way to find out is to visit the home yourself … we did. Watch the video below to see what happened in the upstairs bathroom when we turned out the light!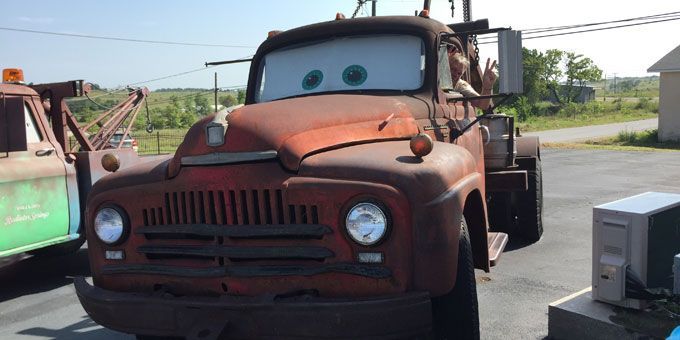 In addition to this place just being flat out creepy (and cool), right across the street you'll find Cars on the Route[12], an old service station that is now home to the truck that inspired the character "Tow Mater" from the Disney movie Cars. Take a picture with Tow Mater out front and stop inside to chat with the friendly staff. Cars on the Route receives about 3,500 international visitors and 1,200 U.S. visitors every year and if you take the time to stop in, you'll see why.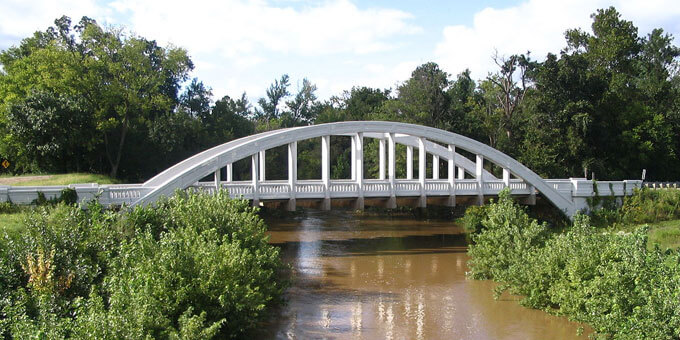 The cool: Brush Creek Bridge in Baxter Springs, KS
Address: Baxter Springs, KS 66713 (2 miles west of Riverton, KS over Brush Creek)
The Brush Creek Bridge[13], commonly called the Rainbow Bridge, is the only fixed Marsh Rainbow Arch Bridge left on Route 66 in Kansas and one of about 35 left in the midwest. Designed by James Marsh and built in 1923, the beautiful bridge's arch design still stands tall today, inviting motorists on Route 66 to stop by, take a picture or two and enjoy its simple beauty.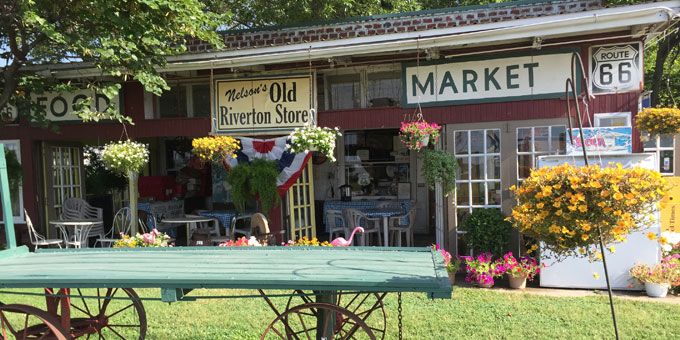 The historic: Old Riverton Store in Riverton, KS
Address: 7109 SE Highway 66, Riverton, KS 66770
The Old Riverton Store[14] just celebrated its 90th birthday and continues to be a significant stop on Route 66. The store was built in 1925 by Leo Williams. It was purchased by Joe and Isabell Eisler in 1973 and is now owned by their nephew, Scott Nelson. He runs the business each and every day and greets thousands of visitors each year, many of whom come all the way from China, Germany and Spain. The general store is internationally known and still maintains its original infrastructure as well as much of the same decor from years past. Stop by for a visit and you'll find everything from groceries and candy to fresh flowers, Route 66 souvenirs and hand-crafted deli sandwiches. The genuine staff will most certainly make you feel right at home at Old Riverton Store and they are more than happy to share the area's history with you too.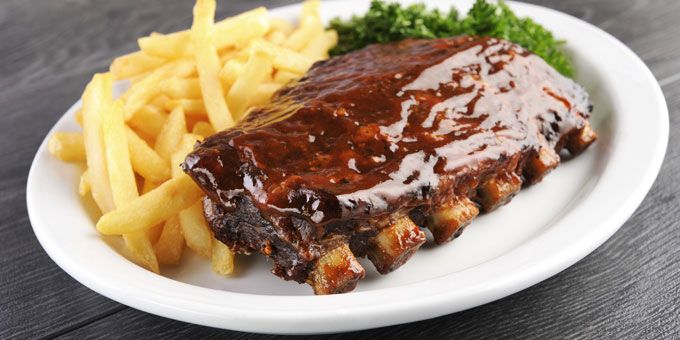 The food: Baxter Springs Smokehouse in Baxter Springs, KS[15]
Address: 2320 Military Ave., Baxter Springs, KS 66713
The savory, tender smoked meats at Baxter Springs Smokehouse are the perfect excuse for a pit stop. Enjoy slabs of hot ribs, brisket, pulled pork and homemade sides at this roadside favorite that has attracted a loyal following of hungry motorists. Don't be put off by this place's modest exterior, because the mouthwatering flavors and friendly service far outweighs any presumptions.
Oklahoma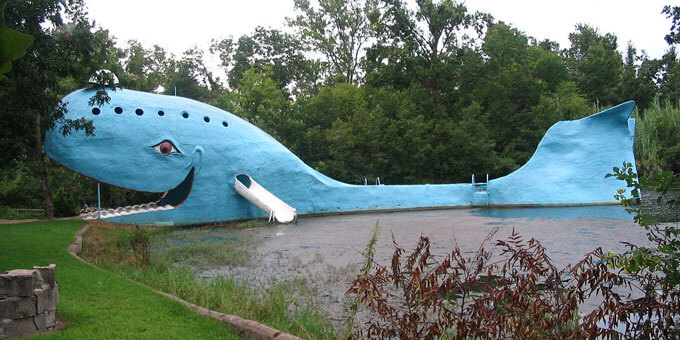 The weird: The Blue Whale in Catoosa, OK
Address: Just a half mile southwest from Port City Mobile Park (2851 N. Old Highway 66, Catoosa, OK 74015)
The Blue Whale[16] rests on the edge of a pond off the roadside, just 1.5 miles south of the Verdigris River crossing on Route 66. The gigantic sea creature is composed of an iron framework and cement and was built by Hugh Davis and friend, Harold Thomas as an anniversary gift. Ever since its completion in 1972, the whale has been a popular swimming and recreation area for visitors passing through.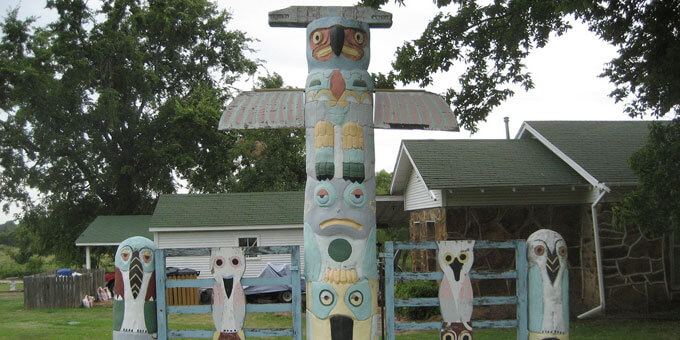 The cool: Totem Pole Park in Foyil, OK
Address: 21300 E. Highway 28A, Chelsea, OK 74016
Just 3.5 miles east of Route 66, you'll find Totem Pole Park[17], an eclectic display of Oklahoma folk art. After artist Nathan Galloway retired in 1937, he began creating the largest art piece on his property, a 90-foot-tall totem pole filled with carved designs, painted murals and a cone top that opens up toward the sky. The park is filled with Galloway's heavily ornamented totem poles and some of his other artistic creations can also be found in the Fiddle House museum, also located within the park.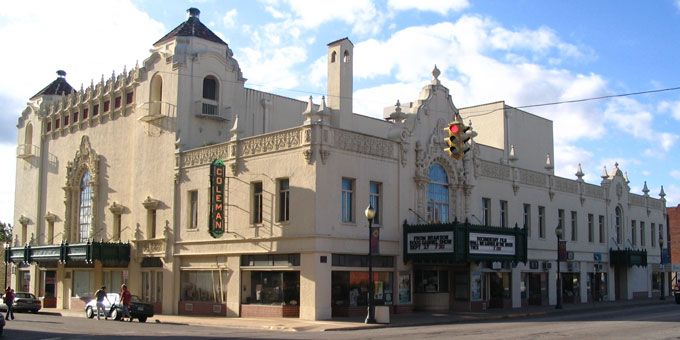 The historic: Coleman Theatre in Miami, OK
Address: 103 N. Main St., Miami, OK 74353
The Coleman Theatre[18] opened in 1929 as a vaudeville theatre and has since transitioned to become a home for movies and dinner, weddings, operas, ballets and live music of all sorts. Some things haven't changed though. The beautifully ornate interior of the theatre still boasts Spanish Colonial Mission-style and Louis XV-style decor, cherubs and gargoyles included. Many people also visit just to see and hear the Mighty Wurlitzer, a beautiful Wurlitzer organ built in 1928 and installed in the theatre in 1929. The theatre is also home to Celebrity Park, a small, serene park with a fountain, benches and the Wall of Fame, which bares the faces of community members who have significantly contributed to the well-being of the public.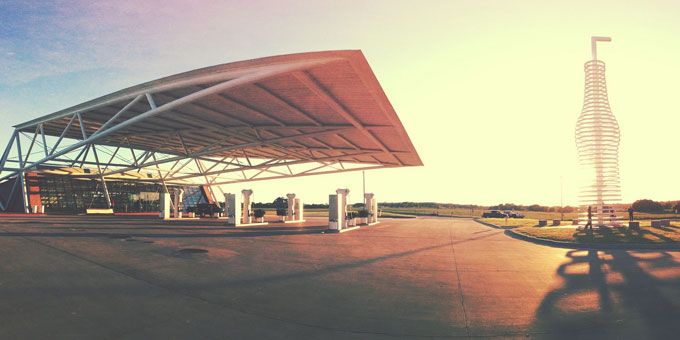 The food: POPS in Arcadia, OK
Address: 660 W. Highway 66, Arcadia, OK 73007
Quench your thirst on Route 66 at POPS in Arcadia, Oklahoma[19], where you'll find more than 600 varieties of soda from around the world and a giant 66-foot-tall pop bottle on display outside. The front of POPS features a futuristic-looking gas station and inside you'll find the POPS Soda Ranch, the Shake Shop and a restaurant serving up delicious breakfast favorites, burgers and sandwiches to accompany your soda of choice. Pick up POPS t-shirts and other fun merchandise or try the Dublin Dr. Pepper or the Round Barn Root Beer, two of the most popular customer favorites.
Texas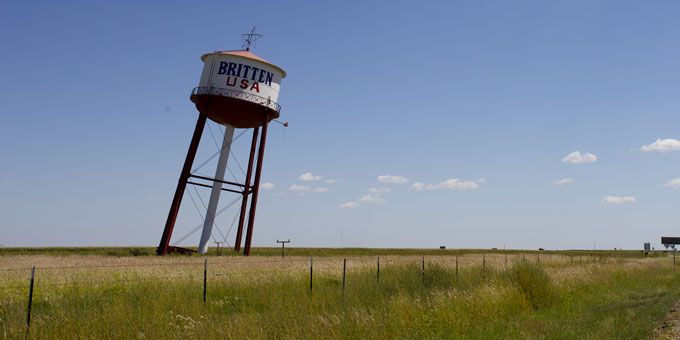 The weird: The Leaning Water Tower in Groom, TX
Address: Just east of Groom, Texas on I-40 (Old U.S. Route 66), 79039
The town of Groom, Texas attracts passersby with quite the unusual attraction: a water tower that looks as though it's about to fall over any minute. The water tower was purchased from a neighboring town in 1980 and it was decided that it would be used as an attention-getter. It was purposely buried crooked in the ground, giving the appearance that it had been blown over or was slowly on its way to a big, crashing fall. Luckily, it's still firmly buried in the ground so keep your eyes peeled for the leaning water tower on the east end of town, right off I-40/Route 66.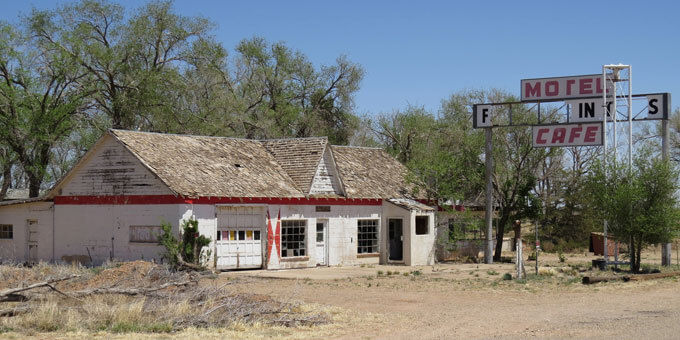 The cool: Glenrio Ghost Town in Glenrio, TX and NM
Address: Exit 369 off of I-40 (Old U.S. Route 66)
Those wanting to experience one of America's historic ghost towns will enjoy Glenrio[20], a ghost town that straddles the state line of Texas and New Mexico. The town was never large but it received many visits from people traveling Route 66. Once I-40 was built, the town didn't stand a chance. Today, the Glenrio Historic District is listed on the National Register of Historic Places, but all of the previously open businesses in the community are closed and no residents remain. The old abandoned buildings and signage make for some pretty cool photos and a visit to this well-preserved ghost town serves as a fascinating peek into the history of Route 66.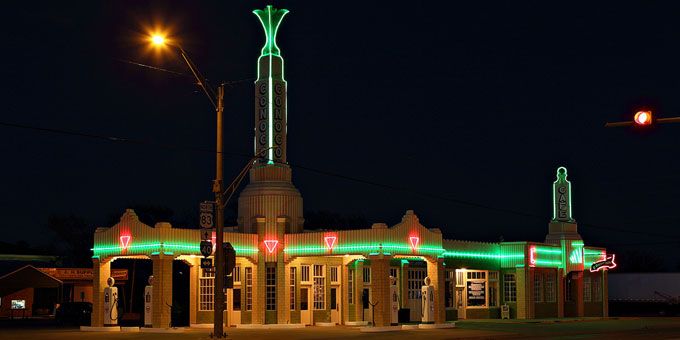 The historic: Tower Station and U-Drop Inn Café in Shamrock, TX
Address: 105 E. 12th St., Shamrock, TX 79079
This art-deco style building located right on Route 66 was originally a Conoco station and the U-Drop Inn Café. It served as a popular spot for Route 66 motorists to stop for a bite to eat. The Tower Station and U-Drop Inn Café[21] was built in 1936 and despite all the time that has gone by, the building has been fully restored to its original beauty and is still open to the public. Although it's not a café anymore, it operates as a visitor center, museum, gift shop and the Shamrock Chamber of Commerce and Economic Development Corporation.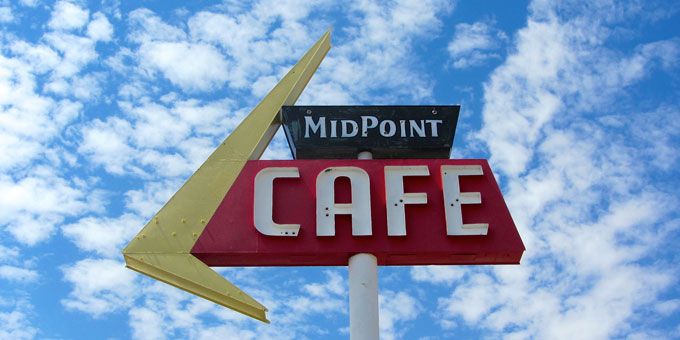 The food: MidPoint Cafe in Adrian, TX
Address: 305 W. Historic Route 66, Adrian, TX, 79001
Celebrate being at the midpoint of historic Route 66 by enjoying a meal at the retro MidPoint Cafe[22] in Adrian, Texas. Built in 1928, this cafe started out as a simple one-room restaurant with a dirt floor. Today, it's a bustling stop for Route 66 travelers featuring big portions, fresh burgers and a one-of-a-kind fried bologna sandwich. The cafe is open 8:30 a.m.- 4 p.m. every day of the week, so just make sure to stop by before 3:30 p.m. when the grill shuts down.
New Mexico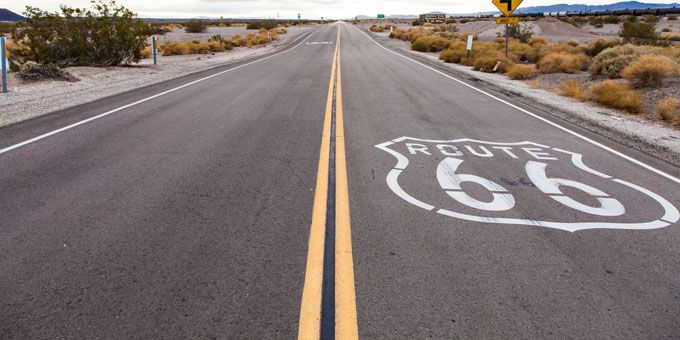 The weird: Musical Road in Tijeras, NM
Address: West of Tijeras, NM on Route 66
One of the most unique attractions on this list is the Musical Road just west of Tijeras. If you're driving east on Highway 333/Route 66, keep your eyes peeled for the Musical Road signs between mile markers four and five. The signs on the side of the road will tell you to reduce your speed to 45 miles per hour, and if you do, you'll be rewarded with a rumble strip version of America the Beautiful.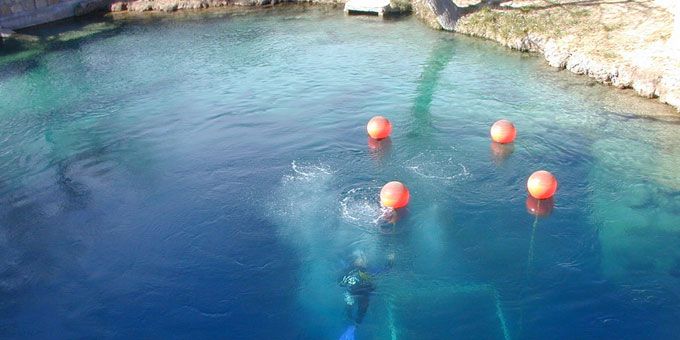 The cool: The Blue Hole in Santa Rosa, NM
Address: 1085 Blue Hole Rd., Santa Rosa, NM 88435
The Blue Hole[23] in Santa Rosa is a beautifully clear, blue lake in the middle of the desert between Albuquerque and Amarillo. Located near the Santa Rosa Visitor Info Center, and a half mile off Route 66, the Blue Hole is a popular spot for scuba divers and visitors looking to take a dive in the cool, fresh waters.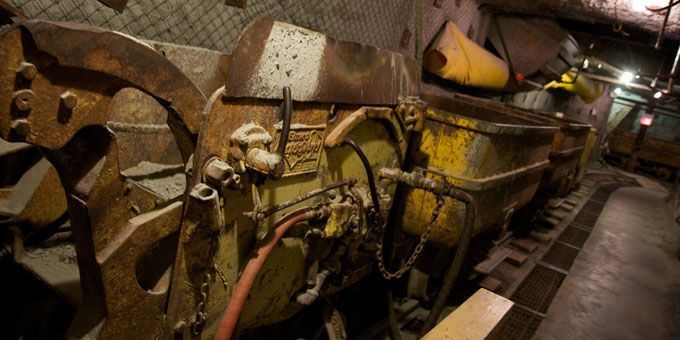 The historic: New Mexico Mining Museum in Grants, NM
Address: 100 N. Iron Ave., Grants, NM 87020
f you've ever wondered what it would be like to live the life of a miner, the New Mexico Mining Museum[24] is for you. Visitors will learn about the old mining community of Grants, New Mexico while experiencing firsthand what it's like to go underground, be in a mineshaft and use the various pieces of mining equipment. This realistic replica is a one-of-a-kind experience off Route 66 that shouldn't be missed.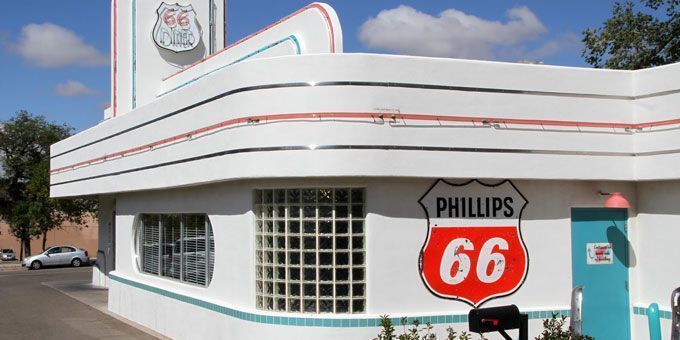 The food: 66 Diner in Albuquerque, NM
Address: 1405 Central Ave. NE, Albuquerque, NM 87106
The 66 Diner[25] in Albuquerque is a fun 50's style diner serving up delicious milkshakes, burgers, sandwiches, salad and more. The old-fashioned soda fountain and jukebox make for an authentic retro experience while traveling the Mother Road. Ask about the shake of the month and the weekly specials when you drop by. You won't be disappointed!
Arizona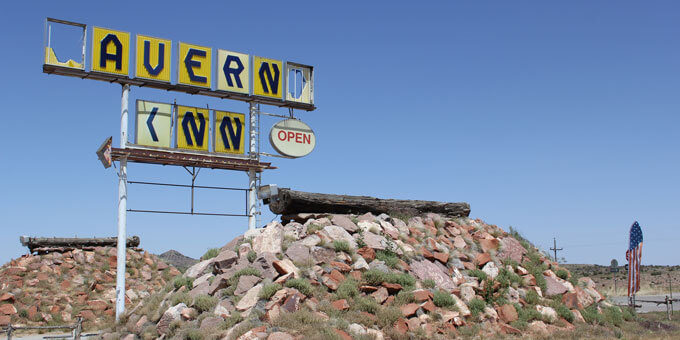 The weird: Grand Canyon Caverns in Peach Springs, AZ
Address: 115 Mile Marker AZ-66, Peach Springs, AZ, 86434
Grand Canyon Caverns[26] offers a truly remarkable experience with spelunking trips, horseback riding, frisbee golf, a restaurant, gift shop, motel and camping for RVs and tent camping. Grand Canyon Caverns also provides guests with a Cave Suite, 220 feet underground, where visitors can spend the night in the largest dry cavern in the country. This roadside attraction right on Route 66 is packed full of unique opportunities and definitely for the adventurous!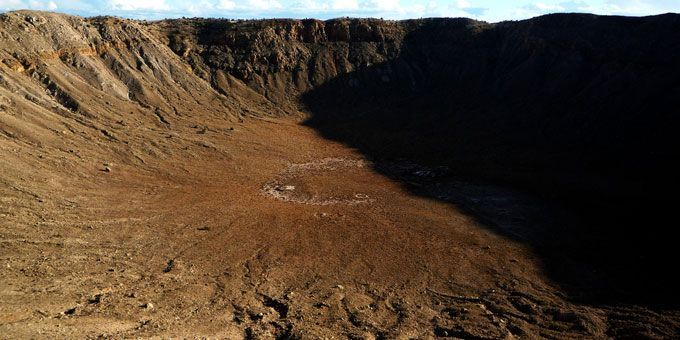 The cool: Meteor Crater near Winslow, AZ
Address: Interstate 40 (Old U.S. Route 66), Exit 233, Winslow, AZ, 86047
Visit the Meteor Crater[27] where a meteor crashed into the earth nearly 50,000 years ago. The crater is located just 15 minutes south of Route 66 just west of Winslow and is well worth the brief detour. The crater is more than 550 feet deep, 2.4 miles in circumference and surrounded by observation trails for an up close experience. The indoor Interactive Discovery Center provides an education escape from the heat of a summer road trip and the movie theater and gift shop provide even more entertainment for visitors. A Subway restaurant is also on site for a quick and easy lunch or dinner. While you're in town, you also need to check out Standin' on the Corner Park[28], a popular photo op with a name inspired by the Eagles hit song Take It Easy. Stop for a few minutes and get some pictures with the giant Route 66 painted on the road and the statue of the 70's man with a guitar resting on his foot.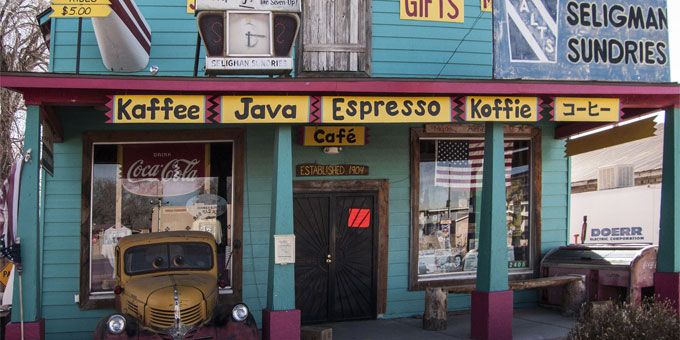 The historic: Historic Seligman Sundries in Seligman, AZ
Address: 22405 Historic Route 66, Seligman, AZ, 86337
For an authentic vintage soda fountain experience, stop by the Historic Seligman Sundries[29] and grab a refreshing beverage or browse the Route 66 merchandise. You can even pick up coffee to go from a full selection of Fossil Creek Trading Company's gourmet coffee before you head back on the road. The historic building that houses Historic Seligman Sundries was built in 1904, one of Seligman, Arizona's oldest commercial buildings, and if you take the time to chat with the owners, you're sure to discover even more interesting facts about the location.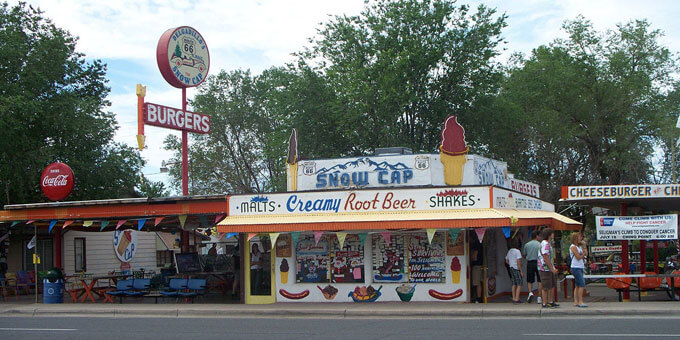 The food: Delgadillo's Snow Cap Drive-In in Seligman, AZ
Address: 301 W. Chino Ave., Seligman, AZ, 86337
Just one of Route 66's delicious roadside stops, Delgadillo's Snow Cap Drive-In[30] is both delicious and quirky. This historic restaurant was built in 1953 and is made mostly from scrap lumber from the Santa Fe Railroad yard. The menu brags delicious burgers, tacos, milkshakes and more, and just a note: the owners love to play pranks on their patrons, so don't be put off by the dead chicken sign.
California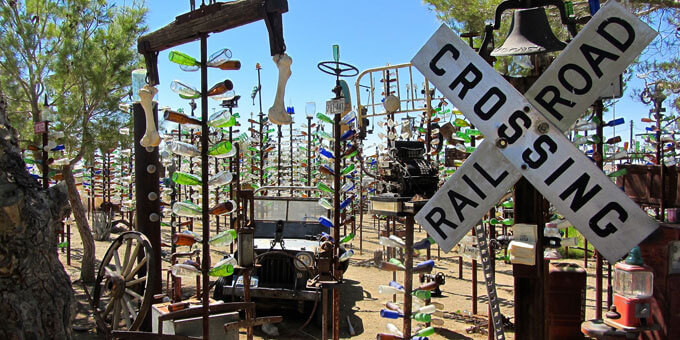 The weird: Elmer's Bottle Tree Ranch in Oro Grande, CA
Address: 34°41'25" N 117°20'25" W (National Trails Hwy., Oro Grande, CA 92368)
Catch a glimpse of the multicolored sunlight through the colorful bottles that adorn the trees of Elmer's Bottle Tree Ranch[31]. Although you've probably never seen a ranch quite like this before, it's a fun experience. Bottles of all different colors, shapes and sizes hang on the branches of a forest of wooden beams. The bottle ranch offers a bright, splotch of color in the midst of a long desert route.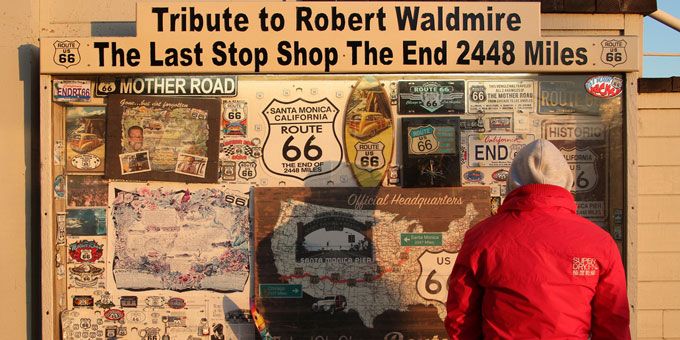 The cool: The Last Stop Shop in Santa Monica, CA
Address: 404 Santa Monica Pier, Santa Monica, CA 90401
If you make the long drive all the way from Chicago to Santa Monica, CA, you definitely deserve a reward. And if being in Santa Monica on the coast isn't good enough already, the Last Stop Shop[32] on Santa Monica Pier offers just about any Route 66 souvenir you could ever want. Choose from a huge selection of mugs, glasses, magnets, t-shirts, license plates, rustic metal signs and more for your family back home.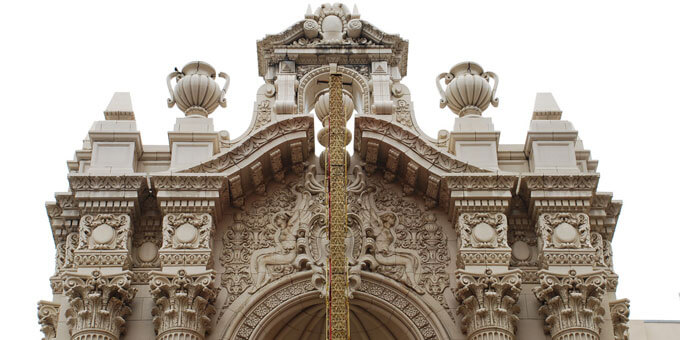 The historic: Broadway Theater and Commercial District in Los Angeles, CA
Address: from West 2nd Street to West 9th Street, Los Angeles, CA 90014
The Broadway Theater and Commercial District[33] in downtown Los Angeles is home to 12 different movie theaters, all built in the early 1900s. Back in that time, moviegoers poured into the theaters for hours of entertainment and today, many of the beautiful historic buildings house loft-style apartments, condominiums and retail shops, and serve as a popular tourist spot.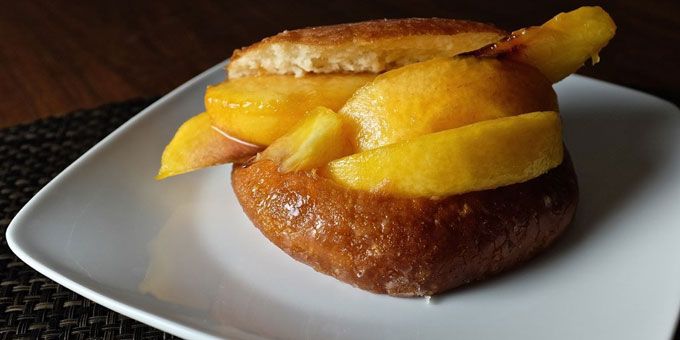 The food: The Donut Man in Glendora, CA
Address: 915 E. Route 66, Glendora, CA 91740
For a sweet treat along Route 66, definitely hit up The Donut Man[34] in Glendora, California. Internationally known as one of the tastiest donut spots, this place isn't your average bakery. Choose from soft sliced donuts filled with chunks of real fruit like strawberries, peaches or apples. Or you can sink your teeth into a generously glazed, twisted and cinnamon-filled tiger tail. With seasonal and fresh ingredients, you can be assured that these top-of-the-line donuts are a step above any glazed delights you'll find elsewhere.
Do you know of any other worthwhile pit stops along historic Route 66? Leave us a comment and let us know!