There are plenty of weird, unusual and just plain odd sights to see when you travel across the country. From the biggest ball of twine to Bigfoot sightings, there are tons of unusual roadside attractions, locations and parks scattered across the country. While we're fairly sure that no one actually wants to see a giant ball of twine, these unusual and fun attractions are sure to grab the attention of young and old alike. So, while on your next road trip, be sure to swing by one of these weird or unique locations and take home a story to tell your friends and family!
See the weirdest of the weird with these 24 Weird Roadside Attractions. Bigfoot, giant yarn balls, and more await!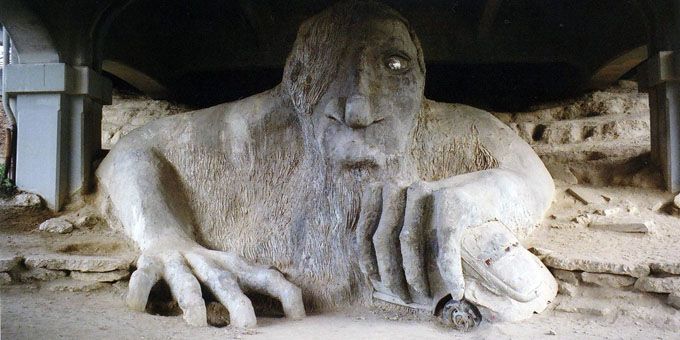 The Fremont Troll
Seattle, WA
In most places, trolls are nothing more than a figment of children's imagination or something found in storybooks. However, visitors to Seattle might find something different under the George Washington Memorial Bridge. Known as the Fremont Troll, this 13,000 pound sculpture includes a real Volkswagon Beetle. Residents are very fond of their troll and even hold Troll-a-ween and Shakespeare at the Troll during various times of the year. The statue is the location of a popular geocache and is definitely one of the more unique sights in the area. If you're in the area on Sunday, make sure you don't miss the Fremont Sunday Market[1] just southwest of the bridge where you can find some delicious food trucks, unique art and other treasures. It's open every Sunday year round, rain or shine, and features more than 200 booths.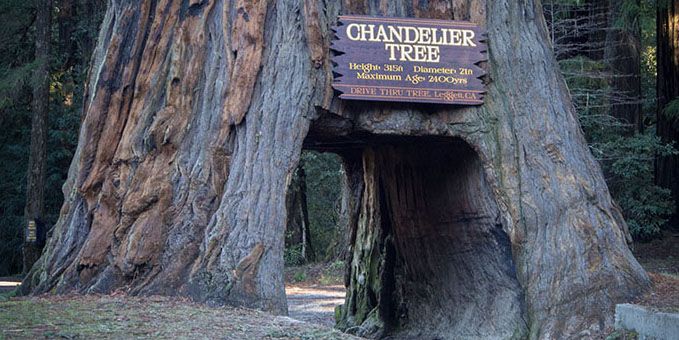 Chandelier Drive Thru Tree
Leggett, CA
Anyone visiting the Avenue of Giants will find themselves driving through a tree, the Chandelier Drive Thru Tree. Located on private property, the Undcerwood family cut a 6 foot by 6 foot hole into the giant Redwood in 1937. Strange enough, this didn't kill the tree and it is still growing to this day. Between the main attraction and the massive redwoods lining the road, this is a unique experience that shouldn't be missed. When traveling through the area, make sure you stop by The Peg House[2] for a hot meal, live entertainment and a fun experience.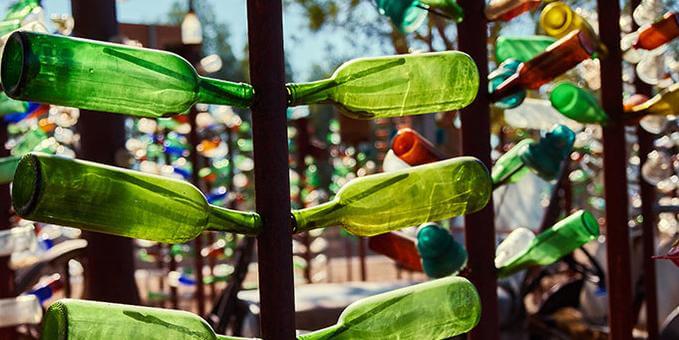 Elmer's Bottle Tree Ranch
Oro Grande, CA
Imagine a forest of metal and glass bottle trees. While it sounds like an alien landscape, you can find just that at Bottle Ranch. Displaying his father's bottle collection, Elmer is the artist behind approximately 200 bottle trees. The ranch also boasts other antique folk art along with various odds and ends. Some lucky folks might even get to meet Elmer. While in the area, also be sure to check out Cross Eyed Cow Pizza[3], a Route 66 favorite, only a few minutes South of the Bottle Tree Ranch.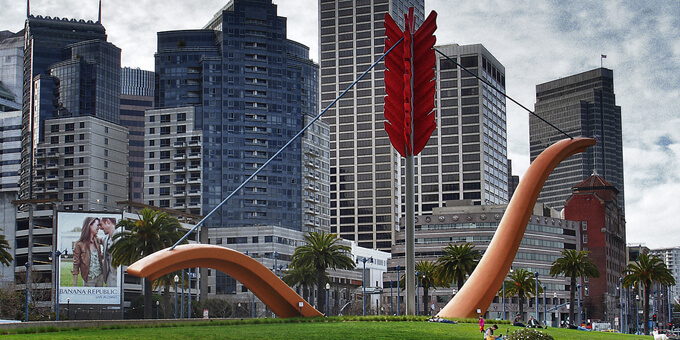 Cupid's Span
San Francisco, CA
Visitors to San Francisco's Rincon Park will stumble across a giant Cupid's bow and arrow, of all things. However, the sculpture known as Cupid's Span, created by Claes Oldenburg and Coosje van Bruggen, represents the Greek God of Love himself. If that isn't bizarre, the arrow plunges into the earth. Why? To represent Cupid ensuring earth's fertility, of course. Once you've finished admiring the monument, stop by the Waterbar[4] to taste some delicious San Francisco seafood at this popular fine dining establishment.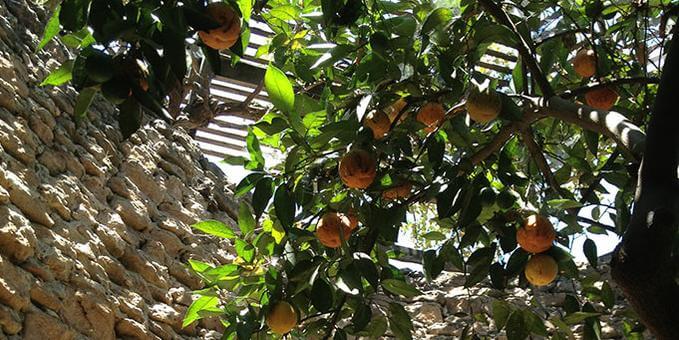 Forestiere Underground Gardens
Fresno, CA
When people think of gardens, they don't imagine the catacombs of Sicily, but Baldassare Forestiere had a unique vision. He created an underground garden to resemble the ancient catacombs of Sicily he loved so much. Indeed, the architecture resembles ancient Rome, complete with vaults and arches. Today, people can enjoy his exceptional vision, including fruit bearing trees and 90-year-old plants. There is also a fantastic art museum nearby, the Fresno Art Museum[5], which art lovers will definitely want to check out.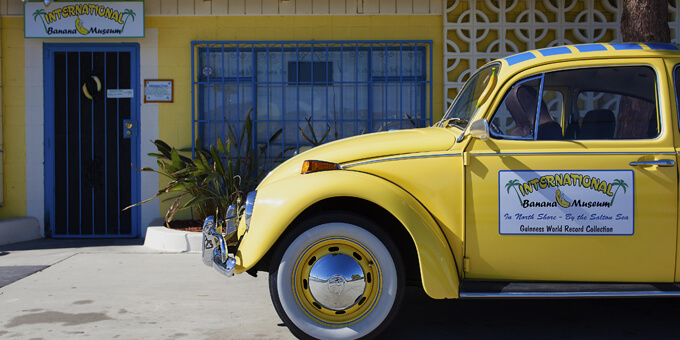 International Banana Museum
Mecca, CA
People love bananas, whether in their cereal, dessert, or as a fruity treat. Still, who would dedicate an entire museum to bananas? The good people in Mecca, California certainly did. Visitors will discover anything resembling a banana or made from bananas is on display at this banana-crazy attraction. Hungry folks can even enjoy a heavenly shake or dreamy soft serve ice cream, banana flavor included. If you're tired of bananas, then visit the Plaza Garibaldi Restaurant[6] for some delicious Mexican food.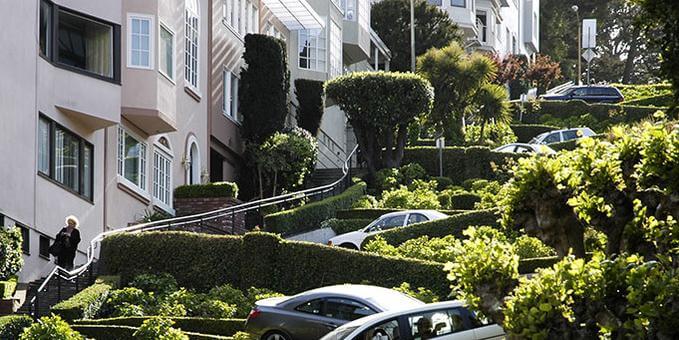 The World's Crookedest Street
San Francisco, CA
People who hear about the world's crookedest street likely think it's a play on words. But no... it's literally the world's most crooked street. Built in 1922, Lombard Street boasts eight hairpin turns over the span of 600 feet of road. Why? To ensure people can safely drive down the rather steep Russian Hill. Or, rather, they crawl at a mere five miles per hour. Once you've successfully navigated Lombard Street, head a few miles South to the Children's Creativity Museum[7] for some great fun for the whole family and a educational experience for the kids.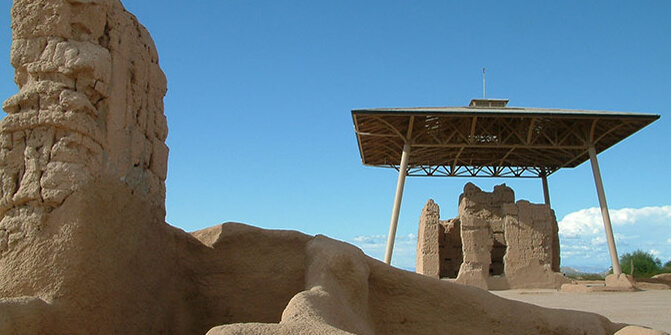 Casa Grande Ruins
Coolidge, AZ
Few people realize prehistoric ruins stand in America. However, visiting the Casa Grande Ruins, once home to the Sonoran Desert people, will change their minds. Sadly, the Sonoran Desert people left behind no written language, but they did leave several structures. The one-mile park is home to several prehistoric buildings dating back to around 1350 C.E., including a structure called the Great House. The area also features a delicious artisan bakery called the Mediterra Bakehouse[8] which features fresh handmade bread every day. It's definitely worth a stop!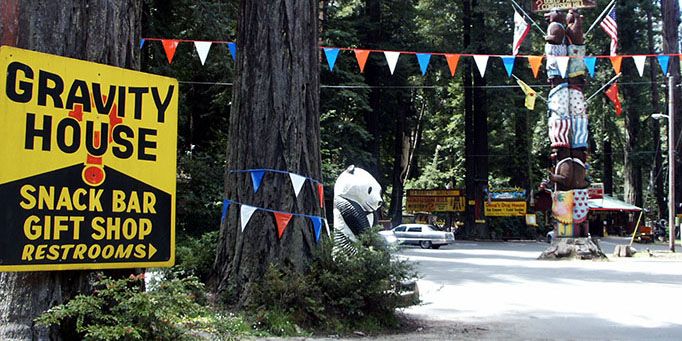 Confusion Hill
Leggett, CA
Gravity isn't something people mess with for any reason. Yet, those who enter Gravity House at Confusion Hill swear they defied the laws of gravity. Not strange enough? Visitors can also marvel at the more than 40 foot tall Totem Pole near the entrance. Fairytale lovers may even enjoy resting in the Redwood Shoehouse after taking the Mountain Trail Ride. This unusual attraction has lots of strange to offer everyone.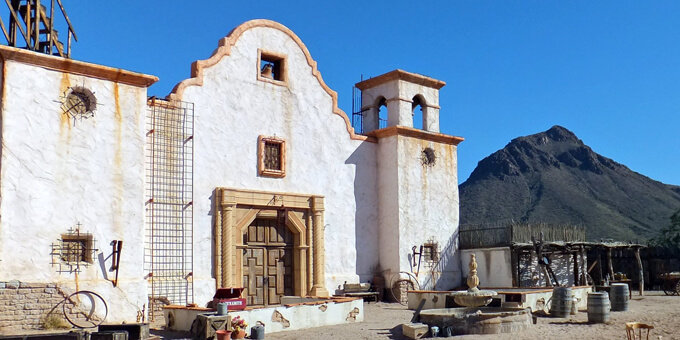 Old Tucson
Tucson, AZ
Visiting Old Tucson is like stepping out of a time machine into the Wild West. Of course, the city only dates back to 1939 and was actually a set built by Columbia Pictures for various western films at the time. Strange but true, people still enjoy the tours that give them a glimpse early America as well as early film making. One can even walk the same path as John Wayne or Ronald Reagan. While in the area, you can't miss one of the top ten museums in the country: the Arizona-Sonora Desert Museum[9], just three miles northwest. Full of exhibits, live animals, an art gallery, and more, this attraction is definitely worth a stop.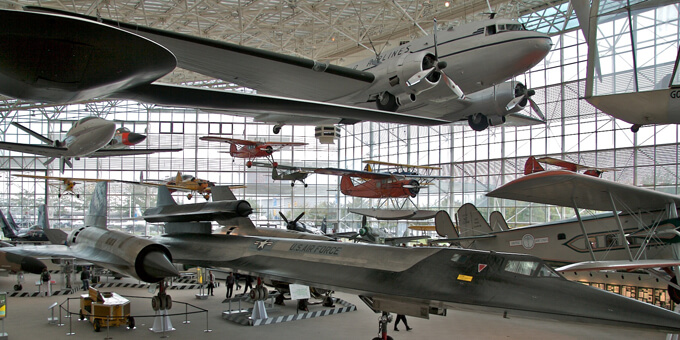 The Museum of Flight
Seattle, WA
The freedom of flight is an achievement that still amazes people. While there are multiple museums of flight, this is the largest one on the West coast and provides visitors with the history of flight and many fascinating exhibits of decommissioned planes and early flying machines. The interactive museum dedicated to preserving old flight equipment is one of many unique sights across the country. After exploring, stop by Wing's Cafe[10] inside the museum for some yummy food. You might even catch an air show!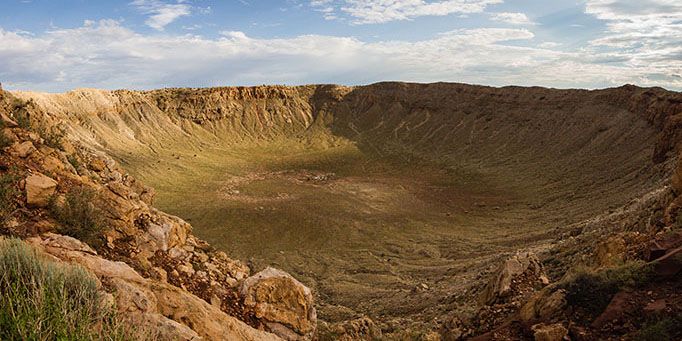 Barringer Meteorite Crater
near Winslow, AZ
When people think of meteorite craters, they probably think of the moon or sci fi movies. Strangely enough, you can see one for yourself at the Barringer Meteorite Crater. In fact, the 50,000-year-old depression is much like those on the moon and measures a whopping 550 feet deep and is a mile wide. Imagine walking on the rim of a massive crater left by a "shooting star." It's both weird and worth a stop.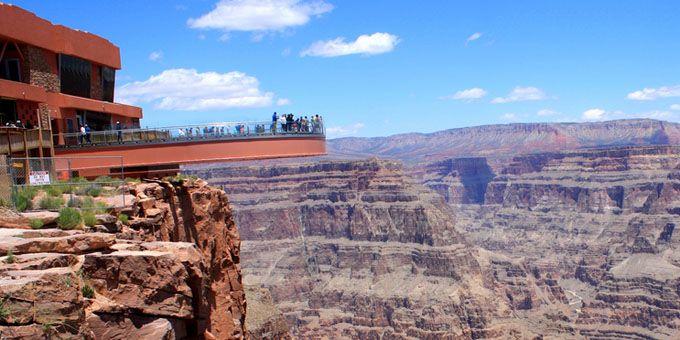 Grand Canyon Skywalk
Grand Canyon National Park, AZ
If one doesn't mind standing on thin air to look down at the canyon floor 2,300 feet below, visit the Grand Canyon Skywalk. Constructed from steel with a glass bottom and sides, the horseshoe walkway extends 70 feet past the canyon wall and hovers over a sheer drop. The panoramic sight is worth the daring step, provided you aren't afraid of heights. Extra bold folks can even reach the landmark via helicopter.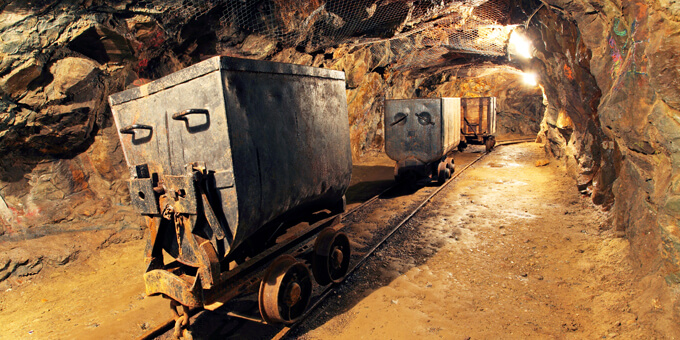 Eldorado Canyon Mine Tours
Searchlight, NV
The Gold Rush is a rich part of American history, but most mines aren't open to the public. The Eldorado Canyon Mine Tours, however, provides people with the unique opportunity to glimpse the past. This unusual attraction is the oldest mine in Nevada where visitors can experience yesteryear's gold fever. You can also take some time to lounge on the beaches or travel along the Colorado River for a bit of relaxation.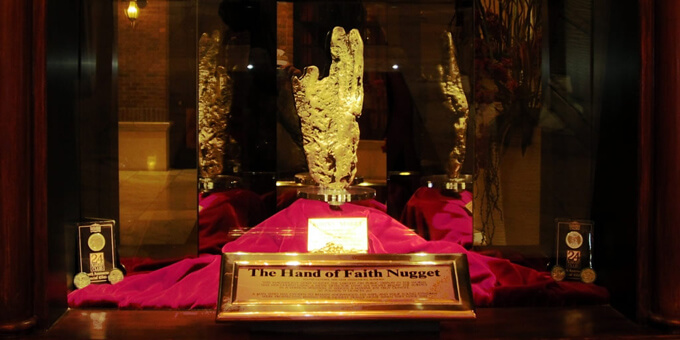 World's Largest Gold Nugget
Las Vegas, NV
Unlike the old Gold Rush days, most people don't believe they'll find gold just searching around the country. Yet, Kevin Hillier did just that with nothing more than a metal detector. His find was an incredible 61 pound gold nugget nicknamed the "Hand of Faith." The largest nugget in existence today, folks can gaze upon the "Hand of Faith" on display at the Golden Nugget Las Vegas casino. Sadly, photographing the golden sighting isn't allowed, but this extraordinary find is definitely worth a stop on your road trip! After gazing at the giant gold nugget, you can head next door to the Mob Museum[11] and learn all about the history of organized crime in the US with interactive exhibits and true stories. Just don't get any ideas!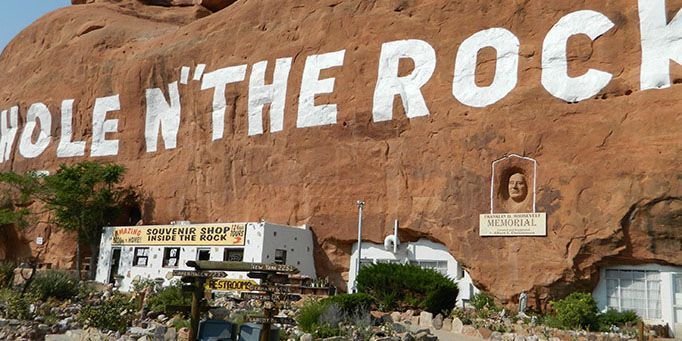 Hole N' The Rock
Moab, UT
Humankind's cave-dwelling days are long gone. Of course, that didn't stop Albert and Gladys Christensen from carving their home into a massive sandstone structure which now serves as an unusual museum. While the usual home accommodations, such as a living room, are there the house also features an impressive collection of Lyle Nicol's authentic metal sculptures and other odd things that most people wouldn't consider part of a regular home--like a petting zoo that features animals like zebras and an ostrich. This unique structure is definitely worth a visit just for the oddity and novelty of it! Be sure to check out Moab's vibrant downtown shopping scene while you're there!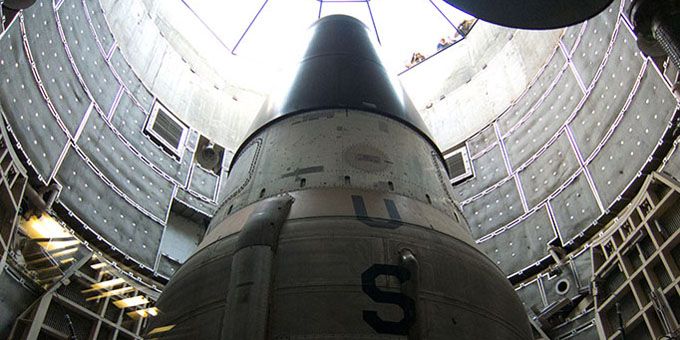 Titan Missile Museum
Green Valley, AZ
The Cold War was a dark time, but one best not forgotten. So, it's no surprise there's a museum dedicated to those days. This museum covers every aspect from bomb shelters to the space race. Here you can have the unique opportunity to see inside a formerly top secret base and get close to a real Titan II Missile from the Cold War.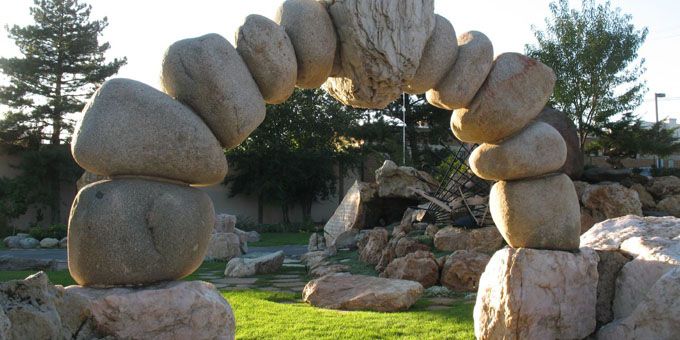 Gilgal Sculpture Garden
Salt Lake City, UT
The Gilgal Sculpture Garden is a wondrous, but unusual attraction nestled between homes and businesses in Salt Lake City, Utah. It might be hard to find, but you won't want to miss strolling among the sculptures, including a statue in the likeness of the artist, Thomas Battersby Child, Jr. The garden was designed to serve as a sanctuary free from troubles and features more than 70 stone structures in various shapes and designs. Once you've finished relaxing at the sculpture garden, head over to Hires Big H[12] drive-in diner for some mouthwatering food, homemade onion wings, frosty root beer and an unforgettable experience.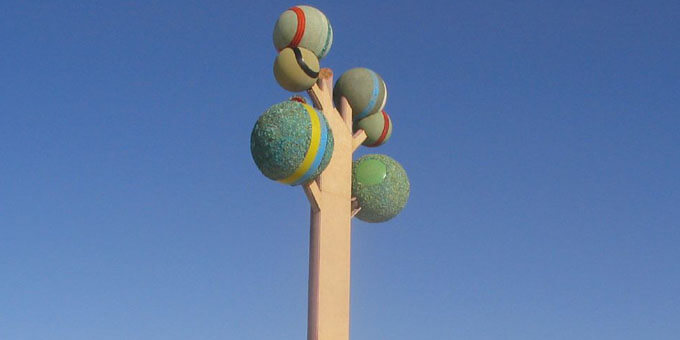 Metaphor The Tree of Utah
Bonneville Salt Flats
No one expects to see a giant sculpture in the desert. Yet, sculptor Karl Momen of Sweden created an 86 foot tall sculpture of a tree in the middle of nowhere in the 1980's. He even financed his creation, which took tons of metal rods, natural rock and cement. Oddly, he donated the strange metaphor to Utah, also referred to as the Tree of Life, and returned home, leaving the residents and visitors to Utah to puzzle out the metaphor for themselves.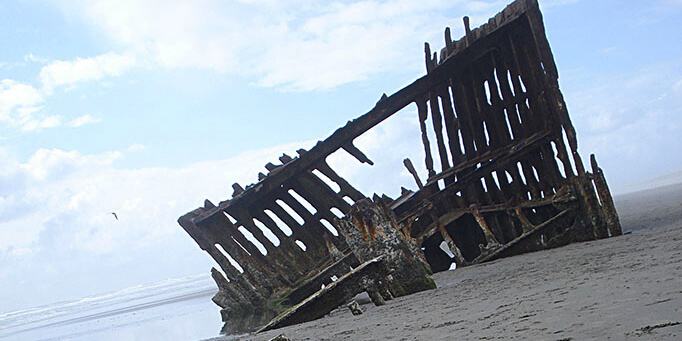 Peter Iredale Shipwreck
Hammond, OR
Most people go diving to see an ancient shipwreck. However, for landlubbers, the Peter Iredale provides offers the chance to gaze upon a doomed ship without getting too wet. Unfortunately, tours aren't offered, but visitors can still learn the history of the ill-fated man who wrecked and explore the ruins themselves. You can even touch the Iredale's rusted metal skeleton resting on this quiet beach. It's a little eerie, but definitely worth a look. The shipwreck is only a few miles away from the city of Warren, where you can enjoy breakfast and lunch favorites at the Serendipity Caffe[13], a local favorite.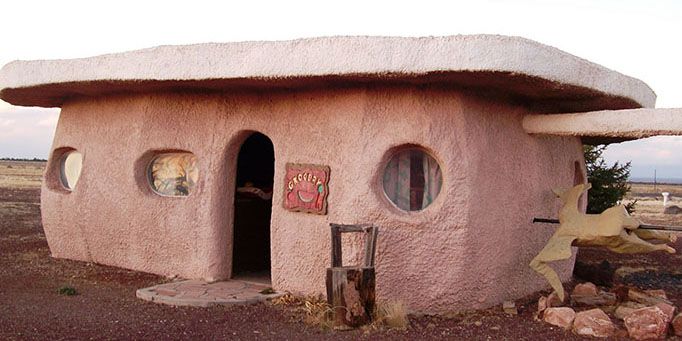 Flintstones Bedrock City
Williams, AZ
People wandering into Flintstone Bedrock City will think they entered the Twilight Zone. Of course, it's actually just a theme park complete with houses, characters, rides and a gift shop inspired the Flintstones cartoon. Anyone with a dinosaur of an appetite can visit Fred's Diner for a chickasaurus dinner and kids will have a roaring good time sliding down the brontosaurus' tail. Be sure to take the whole family over to the Purple Pie Place[14] afterwards for a mouthwatering homemade pie.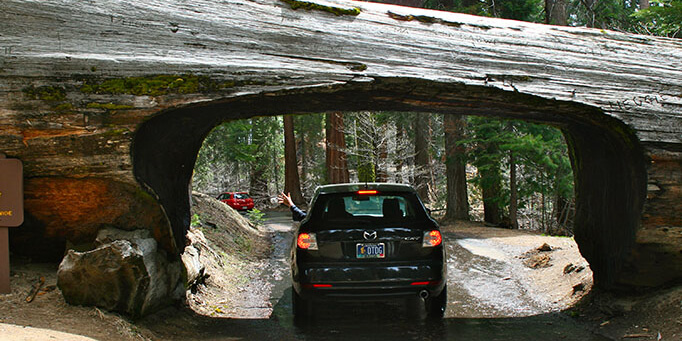 Tunnel Log
Sequoia National Park, CA
Driving through a log is admittedly strange. However, people do just that when visiting the Tunnel Tree. Odd or not, when a giant 2,000-year-old Sequoia fell in 1968-69 thanks to heavy snow and wet soil, a tunnel was cut through the tree rather than removing it. Now, folks can drive through the eight-foot-high, 17-foot-wide tunnel in the log. On the way into the park, don't miss Sequoia Cider Mill Restaurant[15], a popular grill near the entrance.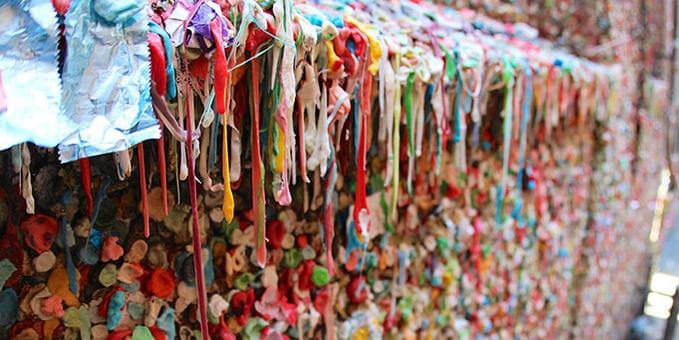 Gum Wall
Seattle, WA
It might sound odd, but the Gum Wall is exactly what it sounds like. This is literally a wall covered in several inches of gum left by millions of residents and visitors of Seattle. Some of the gum is even plastered as high as fifteen feet off the ground. This bizarre landmark started to grow in the 1990's after workers gave up trying to clean off the wall and simply let the gum collect. Now, people have even been known to take wedding pictures before the strange and slightly unhygenic landmark. After leaving your mark on the Gum Wall, be sure to check out the Pike Place Fish Market[16] at Seattle's Pike Place which is just around the corner. Watch out for the thrown fish!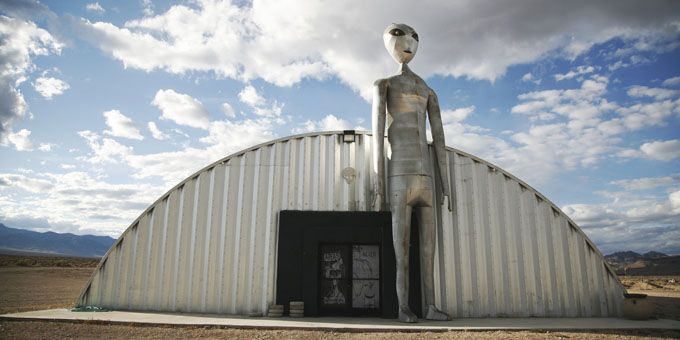 Alien Research Center
Hiko, NV
This roadside attraction will leave people looking for men in black. The Alien Research Center focuses on alien activity in Roswell and other locations. In fact, the site is located on the road leading to Area 51. But don't panic, the giant alien sitting on the door will let you know you've arrived. You can also pick up some beef jerky and snacks at E-T- Fresh Jerky[17] nearby and take a photo at their alien mural.
Have you been to any of these unique attractions? What's the strangest roadside attraction that you've ever seen? Leave a comment below and let us know! And don't forget to share the article with your friends and family!