YOUR PEACE OF MIND IS OUR TOP PRIORITY
Should you need to cancel at any time, you have up to 48 hours from your vacation start date to do so for a 100% future travel credit.
Celebrate our country's natural beauty this Earth Day.
Forty-five years ago on April 22, 20 million American citizens banded together, organizing protests and rallying to raise awareness about environmental issues like water and air pollution.
Their efforts eventually resulted in the creation of the U.S. Environmental Protection Agency[1] and pushed conservation to the forefront of the minds of Americans everywhere. So this year, celebrate Earth Day by experiencing some of mother nature's most awe-inspiring creations.
The natural world offers some of the most breathtaking sights. See what Mother Nature has in store with these 22 photos of natural marvels across the country!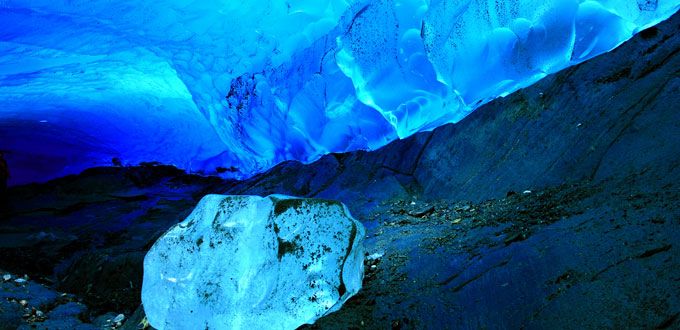 1. Mendenhall Ice Caves[2]
Juneau, Alaska
Venture inside the Mendenhall Glacier to discover these surreal-looking caves. To even access the entrance, visitors must kayak 12 miles and then climb onto the glacier itself. But once inside, a world filled with bright blue ceilings, ice-cold flowing water, and aqua-hued rocks is revealed. Unfortunately, in July of 2014, a portion of the ceiling near the cave's entrance collapsed due to glacial melting.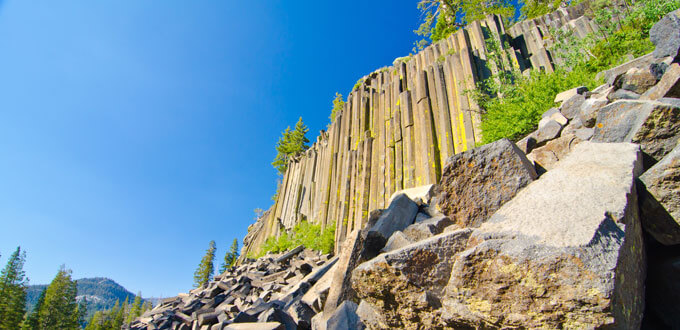 2. Devil's Postpile Formation[3]
Mammoth Lakes, California
This 60-foot-tall rock formation is a highly uncommon example of something called "columnar basalt," which is formed as lava flow cools. Many visitors take advantage of several different hiking trails that cross the entire area. Some trails even lead to the very top of the formation.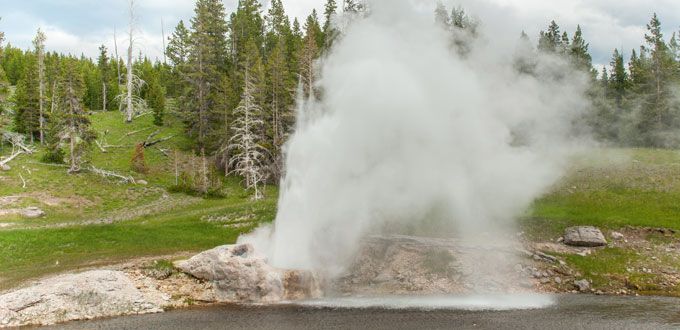 3. Firehole River[4]
Yellowstone National Park, Wyoming
The Firehole River was named by early settlers for the steam it created, which they thought was smoke. Flowing toward the well-known geyser, Old Faithful, and then continuing into the Madison River, the Firehole River is a popular spot for fisherman because of its abundance of brown trout and rainbow trout.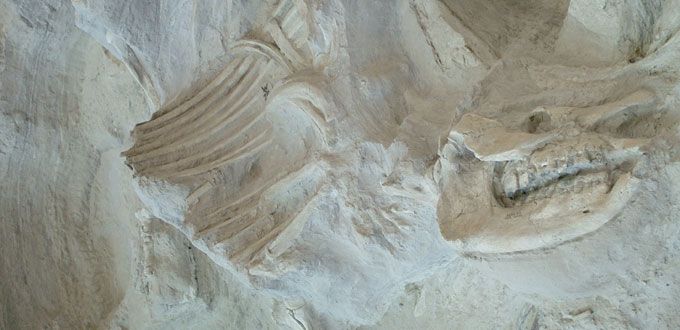 4. Ashfall Fossil Beds[5]
Ashfall Fossil Beds State Historical Park, Nebraska
After a volcano erupted millions of years ago, the vegetation of northeastern Nebraska was covered in ash. The animals that feasted on the ash-covered plants soon died because of it and their bodies were covered by the blanket of ash still in the air from the eruption. The Ashfall Fossil Beds left behind are clearly visible today and give us a revealing glimpse into the past.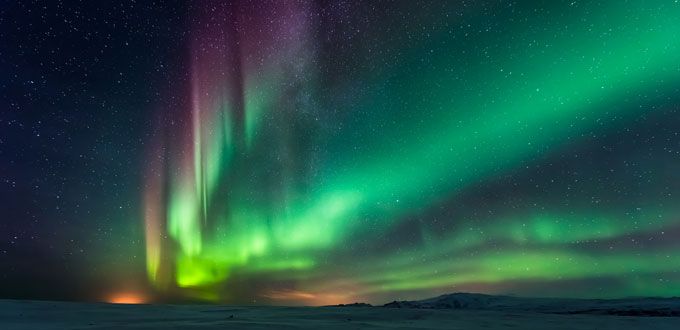 5. Aurora Borealis[6]
Wiseman, Alaska
The Aurora Borealis (also known as the Northern Lights) are one of the most famed natural wonders. Created by gas particles in the atmosphere, the Northern Lights fill the sky with bright greens, pinks, reds, and yellows, which the Inuits of Alaska once believed to be the spirits of the animals they hunted.
6. Red Sand Beach[7]
Kaihalulu Beach, Maui
Kaihalulu Beach, also called Red Sand Beach, is known for its distinctive color. A result of the area's iron-rich land, the beach draws large numbers of tourists to seek out its rare natural beauty. The beach can only be accessed by hiking a steep, arduous trail, but the view from the beach is absolutely worth the trouble.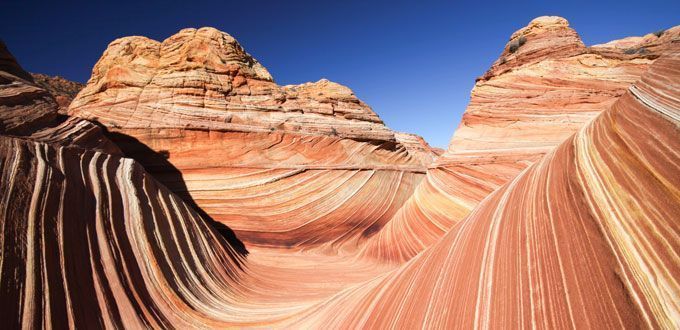 7. The Wave[8]
Coyote Buttes North, Arizona
This beautiful sandstone rock formation is a highly photographed tourist destination. The remarkable wavelike grooves of the rock are a result of erosion and people travel from all over the world to see them. In fact, visitors are required to have a permit to visit The Wave, and the Bureau of Land Management only allows 20 permits per day. The permits are awarded with a lottery system[9].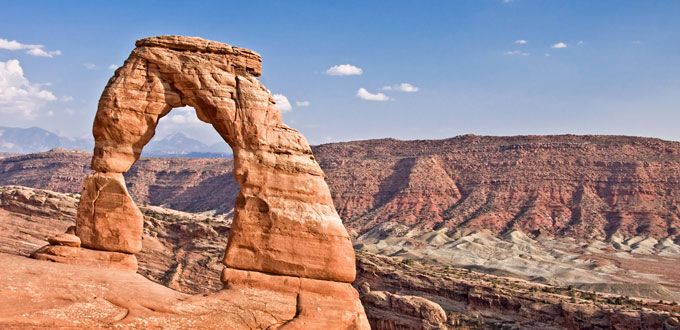 8. Natural Arches
Arches National Park, Utah
Arches National Park in Utah is an incredible sight, featuring more than 2,000 natural arches made of red rock. The giant formations cover a 73,000-acre desert area that serves as one of America's most sought after hiking destinations. Ancient rock art can also be found on many of these rock formations.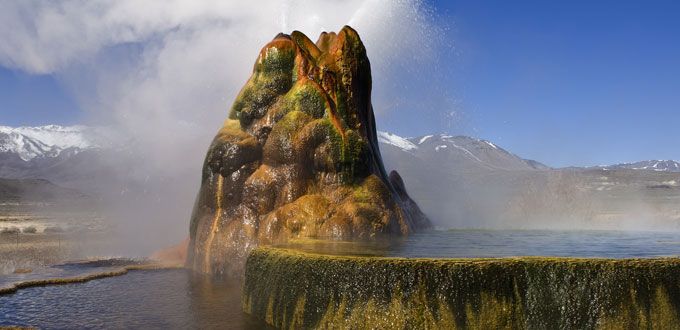 9. Fly Geyser[10]
Washoe County, Nevada
Fly Geyser is one rare natural wonder that was created after well-drillers accidentally tapped into an area of boiling geothermal water below the earth. They resealed the well and left it but the mineral build-up eventually grew into a 12-foot formation, which is now coated in colorful thermophilic algae.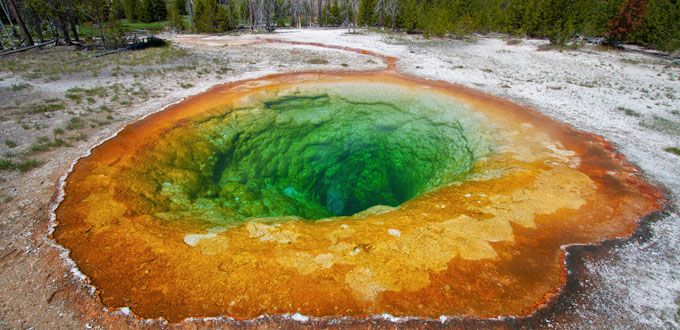 10. Morning Glory Pool[11]
Yellowstone National Park, Wyoming
This colorful wonder in Yellowstone National Park got its namesake because of its resemblance to the morning glory flower and continues to be one of the park's most visited areas. The bright hues of yellow and orange are a result of bacteria that thrive in the water.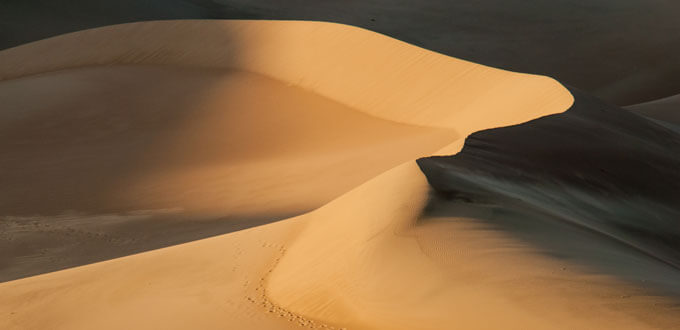 11. Great Sand Dunes[12]
Great Sand Dunes National Park, Colorado
Most people think of mountains when they think of Colorado, but the state is also home to the tallest sand dunes in North America. The elevation ranges from 7,500-1,300 feet and visitors from all over the country enjoy the dunes with hiking, sand sledding, sandboarding, and horseback riding.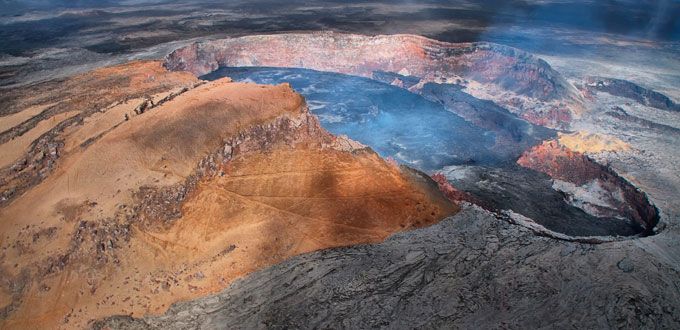 12. Pu'u 'O'o Crater
Paho, Hawaii
One of the world's most active volcanoes, Pu'u 'O'o has been erupting continuously since 1983. As the youngest volcano on the island of Hawaii, it has created more than 538 acres of land with cooling lava flowing into the ocean. Determined visitors can hike and camp their way up the peak, but a permit is required.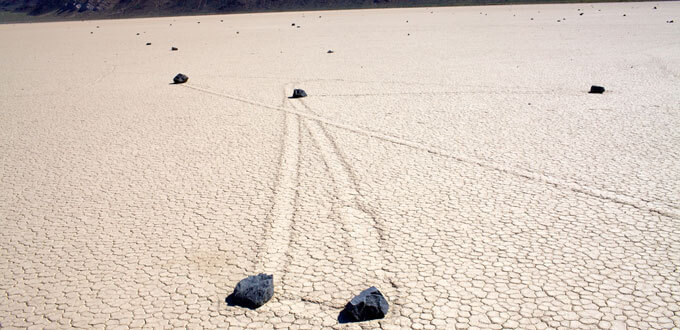 13. Sliding Rocks at Racetrack Playa[13]
Death Valley National Park, California
The Racetrack Playa is found in Death Valley National Park and is home to the mysterious sliding rocks. These rocks are often found with skidmarks trailing behind them in the dry lake bed, but geologists haven't been able to figure out how they moved on their own — until summer of 2014. Geologists discovered that under the right conditions, a thin layer of water would cover the lake bed, freeze overnight, and thaw in the morning, resulting in sheets of ice pushing the rocks along the land. Watch the rocks move in this video[14].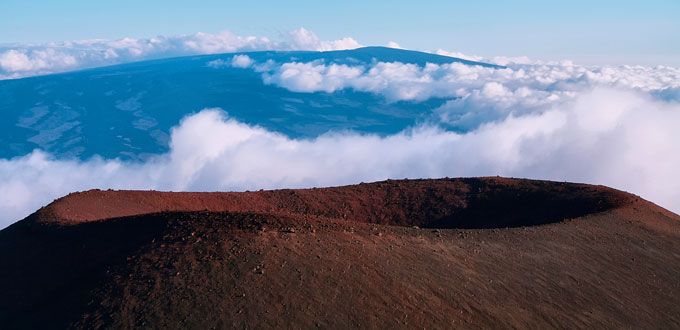 14. Mauna Loa[15]
Hawaii
Mauna Loa is located on the island of Hawaii and remains the Earth's biggest volcano, standing 56,000 feet above its base. It has erupted 33 times, with the most recent in 1984. Visitors can hike up a trail to the summit of the volcano where magnificent views of the Hawaiian islands and the ocean await them.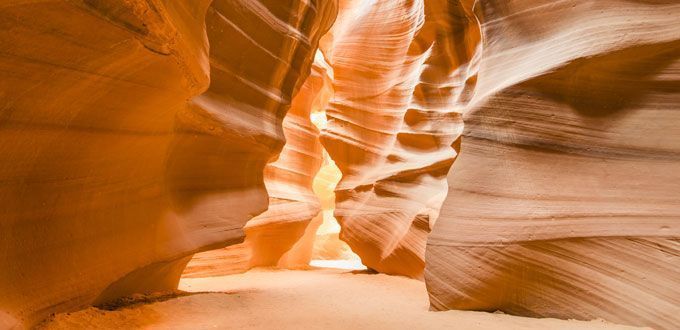 15. Antelope Canyon[16]
Near Page, Arizona
The Navajo call Antelope Canyon "tsé bighánílíní" which means, "the place where water runs through rocks." The name is an accurate one, considering this natural formation was mainly formed by flash flooding. The narrow passageways between rocks have long been admired by humans and guided tours and excursions lead visitors through the cavernous red rock canyon.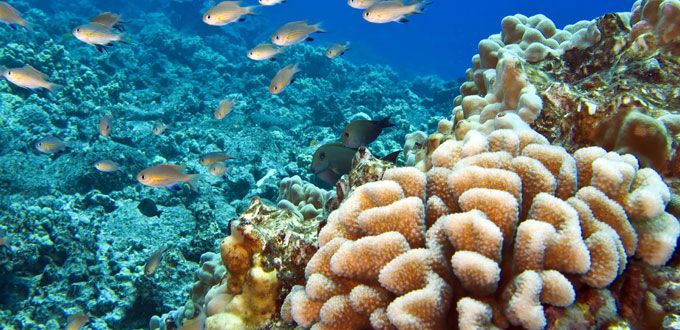 16. Hawaiian Coral Reef[17]
Central Pacific Ocean off the island of Hawaii
The Hawaii Coral Reef is more than 1,200 miles of ocean absolutely teeming with wildlife. A watery home to fish, turtles, lobsters, crabs, live coral, and many more species, the reef remains a popular destination for recreational activities for visitors like scuba diving and snorkeling.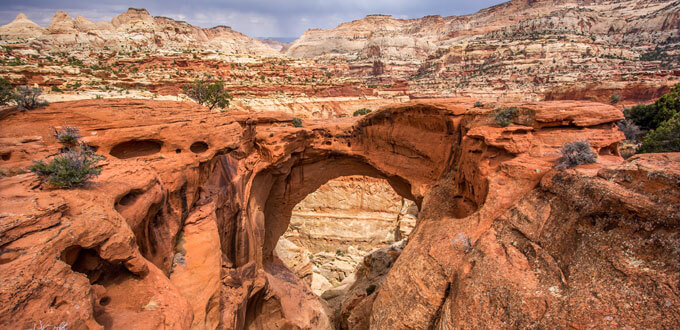 17. Capitol Reef National Park[18]
Torrey, Utah
The ultimate hiker's wonderland, Utah's south-central desert is home to a variety of sandstone rock formations, and Capitol Reef is in the heart of it. Brilliant colors, fascinating rock formations, and a 100-mile wrinkle in the earth, known as a Waterpocket Fold, are just a few of the reasons Capitol Reef is at the top of many bucket lists.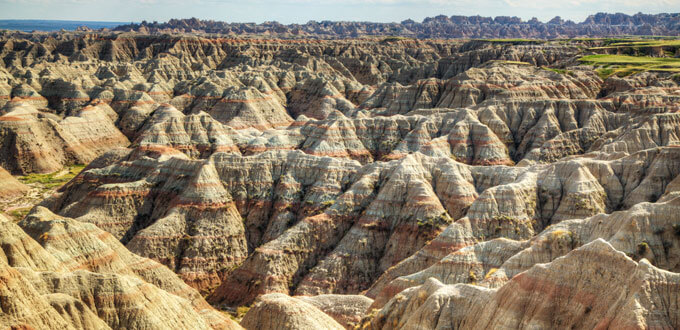 18. Badlands[19]
Badlands National Park, South Dakota
The Badlands of South Dakota span an impressive 244,000 acres and offer visitors a peek into the extremely diverse landscape filled with wildlife. Ancient fossils litter the landscape and the hiking opportunities are endless with eight different trails that wind through the national park.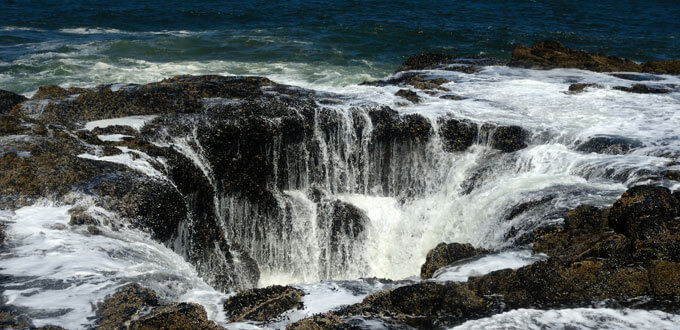 19. Thor's Well
Cape Perpetua, Oregon
This natural wonder got its name because it literally looks like Thor took his hammer and slammed it into the ground, creating an estimated 20-foot hole in the rock. Visitors flock to this site to watch the violent waves from the Pacific Ocean crash over the void's edge and then drain through the hole.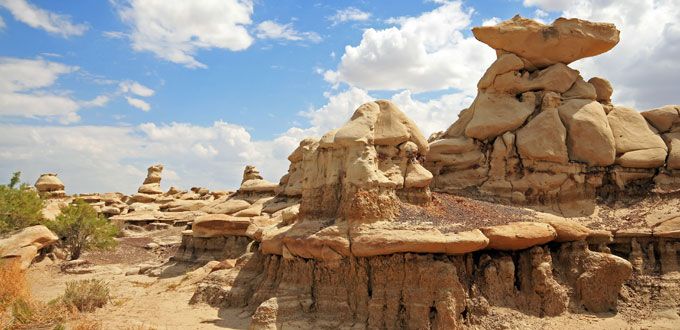 20. Bisti/De-Na-Zin Wilderness[20]
San Juan County, New Mexico
Today, the supernatural-looking landscape of the Bisti/De-Na-Zin Wilderness in New Mexico is an isolated, desert filled with bizarre rock formations called hoodoos. But long ago, this barren wilderness was actually a prehistoric sea and its not uncommon to find dinosaur fossils among the hoodoos.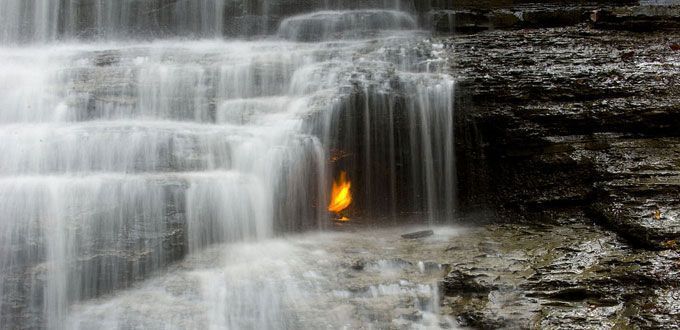 21. Eternal Flame Falls[21]
Chestnut Ridge Park, New York
While this 30-foot cascading waterfall is magnificent on its own, the eternal burning flame within it makes it even more special. Scientists have determined the fire's source comes from a natural supply of ethane and propane, but they haven't been able to figure out where it's coming from or how it actually gets to the rocky alcove within the waterfall.
22. Hubbard Glacier[22]
Yakutat, Alaska
Hubbard Glacier is the largest tidewater glacier in North America, standing 400 feet tall and stretching six miles wide. An abundance of wildlife including sea lions, seals, otters, bears, and more surround the area and visitors regularly cruise the Alaska waters to get a glimpse of this colossal chunk of ice.
Have you visited any of these natural wonders? Do you know of any other marvels that ought to be on our list? Comment below and let us know!