Experience the legends and history of haunted Louisiana.
With so much history and culture, it's no wonder the ghost stories fly in Louisiana. Historic plantations, cemeteries, and creaky, century-old buildings that are now home to bars and restaurants are also home to a rich history filled with stories from the past. Whether you're a skeptic or believer, below, you'll find 17 places that both visitors and residents swear to be inhabited by phantom phenomenon.
Just a note: we know there are plenty of other documented locations in New Orleans, but in an effort to include a diverse assortment of locations around the state, we've left some of those out. Feel free to mention any additional New Orleans locations in the comments below!
Louisiana, especially New Orleans, has a reputation for being one of the most haunted locales in the United States. Experience these haunts the next time you visit the state - if you are brave enough, anyway.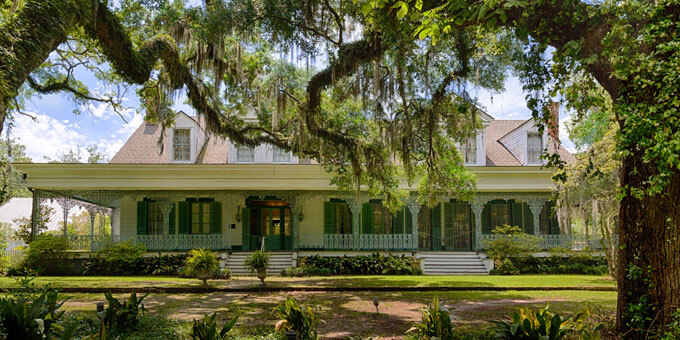 1. Myrtles Plantation in St. Francisville, LA
This historic mansion was built in the late 1700s and is considered one of America's most haunted homes. Photographs taken on the property feature eerie figures and apparitions, such as the famous "Chloe postcard," in which the translucent figure of a slave girl can be seen standing against a wall. In another photograph of a visiting teacher and some of her students, you can clearly see the undoctored image of a young girl peering through the window behind them. Overnight stays and guided tours of Myrtles Plantation[1] are available, but don't be surprised if you feel frigid cold spots, hear strange noises or capture the image of an unseen visitor on your camera.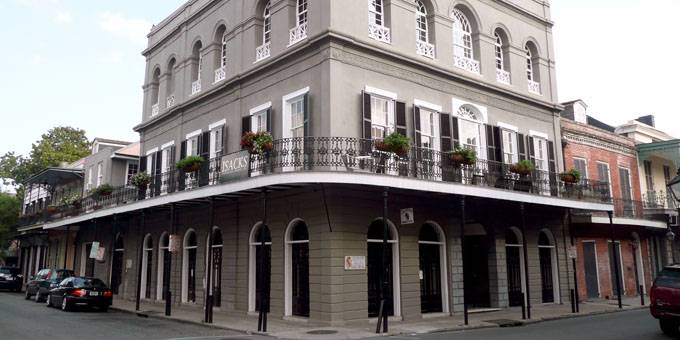 The Lalaurie House has been deemed one of the most paranormal-afflicted locations in the French Quarter and although it is now a private residence, it's one walk-by experience you don't want to miss. Tarnished by an extremely morbid history, this historic building was once the home of the prestigious Madame Lalaurie and her family. As legend would have it, Mrs. Lalaurie was extremely cruel and inhumane to her slaves, chaining them up to walls and performing unnecessary surgical procedures on them. Many people lost their lives in this mansion and one slave even jumped to her death to escape her master's wrath. Even if you're a skeptic of the haunting tales, stop by to get a glimpse of this magnificent home and reflect on its sad but true history.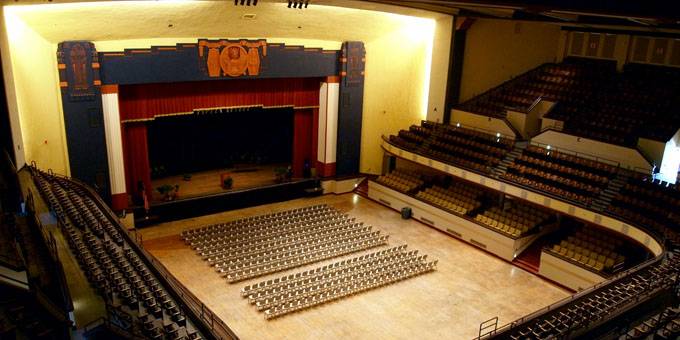 3. Shreveport Municipal Auditorium in Shreveport, LA
A National Historic Landmark, the Shreveport Municipal Auditorium[2] boasts a gorgeous Art Deco style and has hosted big names like Hank Williams, Johnny Cash, Johnny Horton and Elvis Presley. Staff and visitors have reported seeing the door above the foyer open and close on its own, and some even say they've spotted a young girl in a blue dress running around the auditorium. Experience this beautiful, historic building with a creepy ghost tour. Just make sure to contact the auditorium two weeks in advance to schedule it.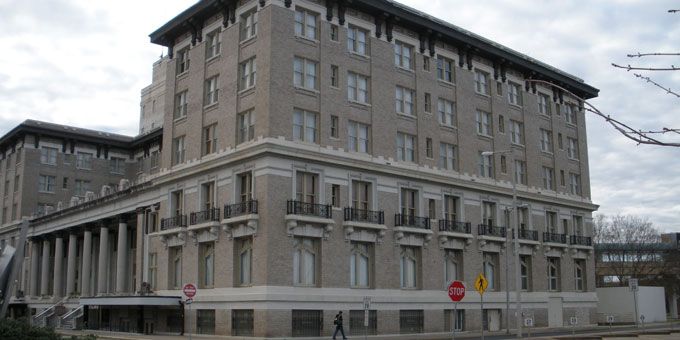 4. Bentley Hotel in Alexandria, LA
Bentley Hotel opened in 1908 and served as elegant lodging for several distinguished individuals including Henry Kissinger, Dwight Eisenhower, John Wayne and Roy Rogers, among others. In 2012 the Bentley Hotel[3] was purchased and plans were made to reopen the once grand hotel to the public. The Mirror Room Lounge reopened on May 1, 2015 and is reportedly still visited by the ghost of the man who built the hotel, Joseph Bentley. Several other mischievous ghosts are said to haunt this place. One is the ghost of a young girl who fell to her death down the elevator shaft. Another is a man that died from a fall off the grand staircase in 1985. Figures have also been seen peeking over the railings above the grand staircase. The cast of Ghost Hunters visited Bentley Hotel in 2011 to investigate and were encountered with several instances of paranormal activity.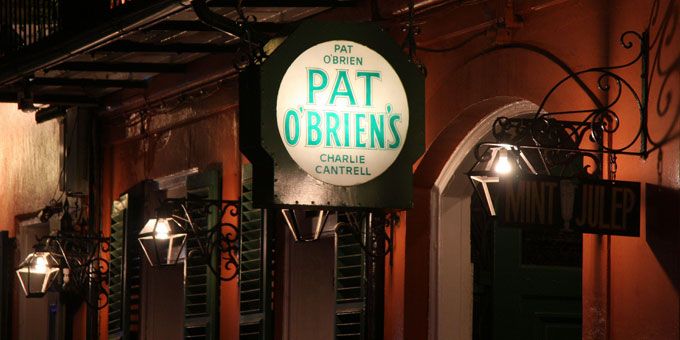 Visitors from around the world stop by Pat O'Brien's[4] for its widely-acclaimed hurricanes, but they also come to experience this bar's ghostly inhabitants. The women's restroom upstairs and the piano bar are said to be the two most haunted areas within the bar and employees report instances of phantom footsteps and the soft sound of piano keys being lightly tickled, only to find no one there. Something mysterious also tends to inhabit the courtyard, where chairs and tables are curiously moved around and objects disappear and reappear without explanation.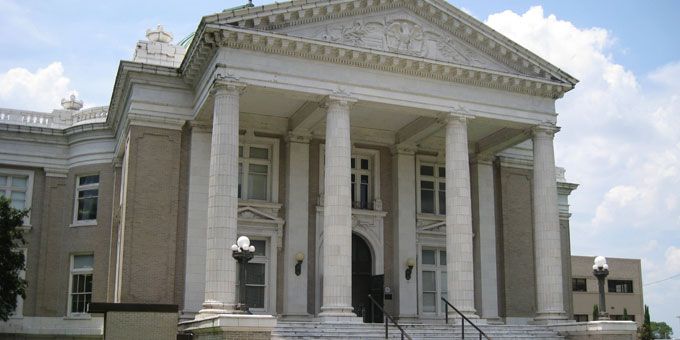 6. Calcasieu Courthouse in Lake Charles, LA
The original Calcasieu Courthouse[5] was destroyed by a fire in 1910 and rebuilt in 1911. That structure still stands today and was listed in the National Register of Historic Places in 1989. It was here that the troubled Louisiana woman Toni Jo was tried, convicted of murder, and sentenced to death in 1942. She was treated very well while in prison and maintained a cool and collected attitude even on the morning of her execution, but she ultimately became the only woman in Louisiana to die in the electric chair. Some courthouse employees say they have heard the whispering of a woman's voice, footsteps roaming the hallways, and even some terrifying high-pitched screams.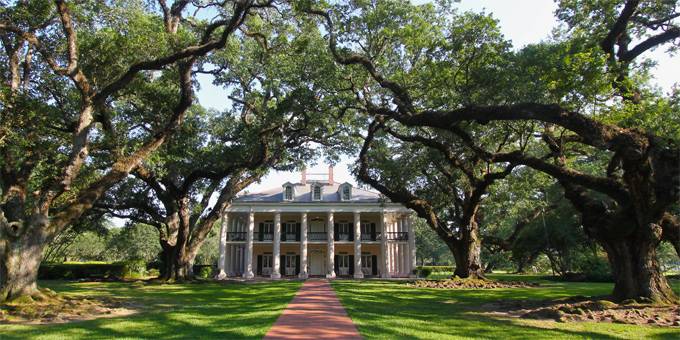 7. Oak Alley Plantation in Vacherie, LA
With the striking pathway shaded by century-old oak trees greeting you at the plantation gate, Oak Alley Plantation[6] is simply a fascinating place to visit. There have also been many supernatural experiences reported by both staff members and visitors, and it's not uncommon for visitors to catch glimpses of figures, feel cold spots, or hear strange voices. One staff member felt someone touch his arm while working alone at the mansion. Another tour guide actually saw two different figures appear, one in the kitchen and the other in the Lavender Room. The Oak Alley Plantation grounds are enchanting, beautiful, and full of rich history, but they are also mysterious. Guided tours are available on the hour and half hour from 9:30 a.m. to close daily.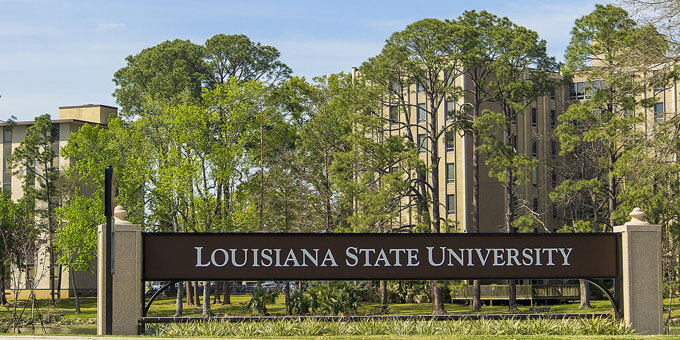 8. Pleasant Hall at Louisiana State University in Baton Rouge, LA
Everyone at Louisiana State University[7] knows the haunting tale of the girl who shot her boyfriend and then turned the gun on herself. Other versions of the story say the girl actually jumped from the third floor window of the building (which was then called Smith Hall) and although there haven't been any police records found to back up the story, some people are convinced it's still affected. Room 312 is believed to have been the room where the girl killed herself, and back when the building served as a hotel, guests reported feeling a presence in that room. Not to mention, the door would open and close on its own.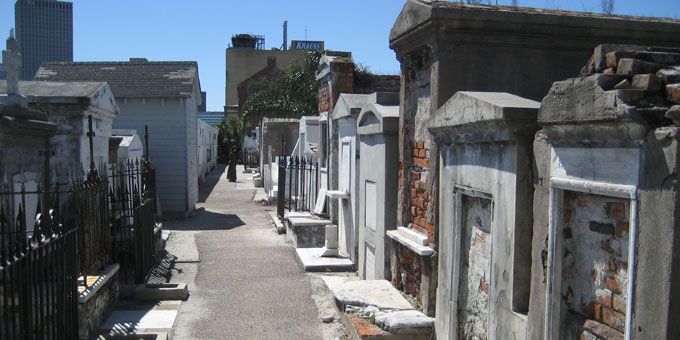 9. St. Louis Cemetery No. 1 in New Orleans, LA
In New Orleans, cemeteries full of above-ground tombs are called cities of the dead, and the rows of ornate graves invoke quite the eerie feeling, especially in St. Louis Cemetery No. 1. This cemetery is home to many old graves, some of which are even from the 1700s. The notorious Voodoo Queen Marie Laveau is buried in this cemetery and voodoo societies still visit it daily to leave offerings in return for the Voodoo Queen's blessing. Restless spirits are said to roam the cemetery, and visitors have claimed to see manifestations of ghosts walking through the rows of tombs, EVPs have been recorded there, and photos display eerie orbs throughout the cemetery. Although it is highly visited by tourists and locals alike, visitors are not allowed to enter on their own. You can only enter with a tour company that has registered with the Archdiocese of New Orleans.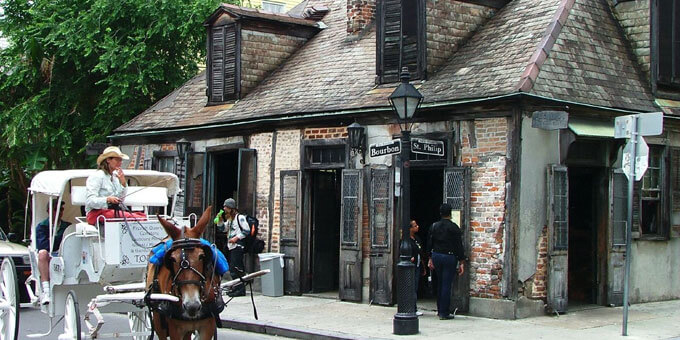 10. Lafitte's Blacksmith Shop in New Orleans, LA
Lafitte's Blacksmith Shop[8] claims to be the oldest bar in the United States and may have been built as early as 1722. The building was believed to have been first used by the Lafitte brothers for their smuggling operation, but today it's frequented by visitors and residents looking to have a good time. One of the oldest buildings in the French Quarter, of course it has to be haunted, and Jean Lafitte has been spotted on more than one occasion, quietly lurking in the corner near the fireplace on the bottom floor. The second floor of the bar is said to be haunted by another ghost, a woman, who likes to whisper in the ears of unsuspecting victims. Nonetheless, these ghosts don't keep away any of the customers, and this location is definitely one you want to check out for yourself.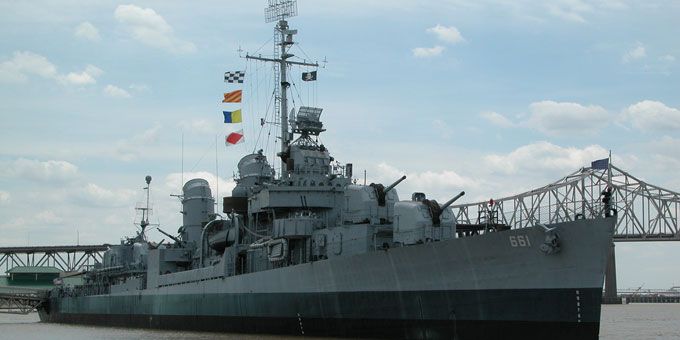 11. USS Kidd in Baton Rouge, LA
The USS Kidd[9] in Baton Rouge serves as a memorial to those who lost their lives aboard the ship. Visitors can walk the decks, tour the ship, and experience real WWII and Korean War artifacts up close. Some visitors claim to have seen apparitions of sailors in uniform aboard the ship, which is no surprise when you consider the vessel's history. Whether or not the hauntings are real, this ship remains a cherished display of the bravery of our armed forces and an important piece of our history.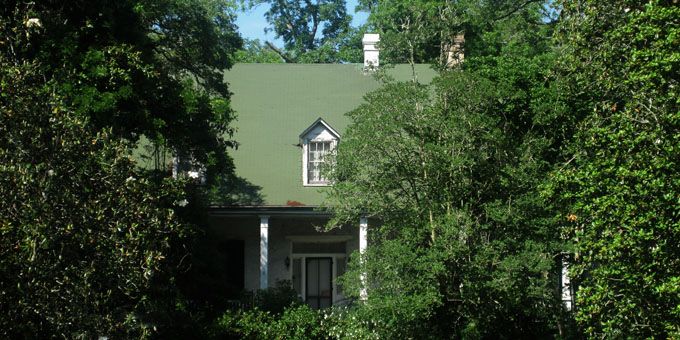 12. Magnolia Plantation Complex, Derry, LA
This former plantation carries a lot of history and apparently spirits too. In 2009, the cast of Ghost Adventures went to investigate the property, which is rumored to host a barrage of ghosts that were once slaves on the property. Evidence of voodoo has been found on the property and ritualistic chanting has been heard coming from one of the former slave cabins. Although the mansion at Magnolia Plantation[10] is privately owned and closed to the public, the rest of the complex is open for self-guided tours and includes a plantation store, a former slave hospital, eight cabins, a gin barn and a blacksmith shop.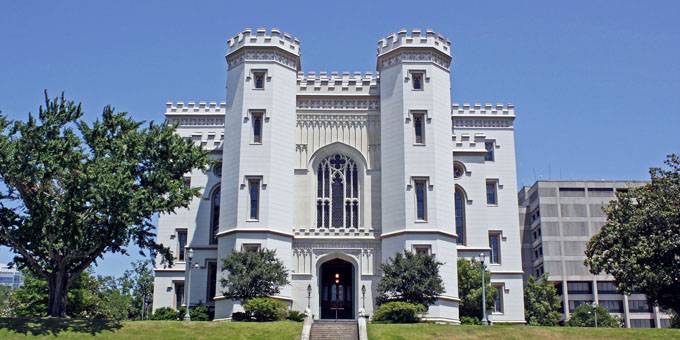 13. Old State Capitol Building in Baton Rouge, LA
Louisiana's beautiful Old State Capitol Building[11] is not only home to a museum but also hosts weddings, special events, and possibly even the ghost of Pierre Couvillion, a congressman during the mid 1800s. Legend has it that he passed away of natural causes in the capitol building and still hangs around the historic statehouse. Staff have reported motion detectors going off when there's no one around and mysterious footprints on the senate floor. The basement is said to be home to the most paranormal activity. At one point, it was used as a hospital and a prison for soldiers.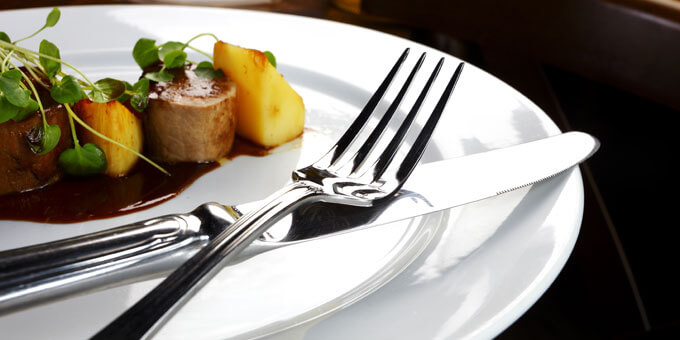 14. Diamond Grill in Alexandria, LA
This upscale restaurant is a favorite spot for many, serving up five star dishes made with fresh, locally-grown ingredients. But the Diamond Grill[12] is also reputed to be quite busy with paranormal happenings. The face of a man peering through a window was captured in a photograph taken by a passerby while the restaurant was closed, and eerie EVPs, dark shadows, and objects moving on their own have all been documented. Should this stop you from dropping in for a bite to eat? Definitely not! It only adds to the authentic experience.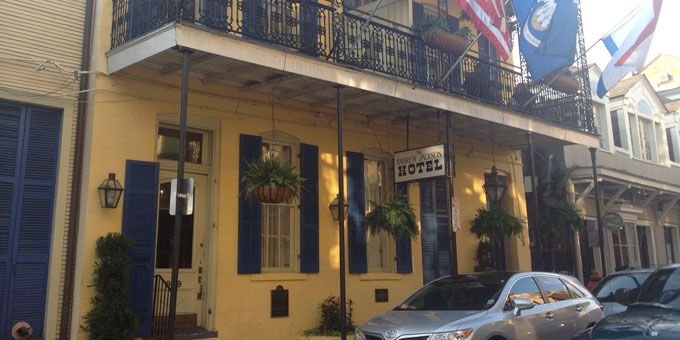 The Andrew Jackson Hotel[13] is a striking display of gorgeous 18th century European design, with an ideal location in the French Quarter. Many visitors stay for the beautiful courtyards, comfortable rooms, and southern hospitality, while others venture there for the ghosts. A well-known haunting location, guests of the Andrew Jackson Hotel report hearing children playing in the halls in the middle of the night and clothes and objects being moved around the rooms. The staff insist the hauntings are friendly and the hotel consistently gets rave reviews from guests. Give it a try and you might leave with a story to tell!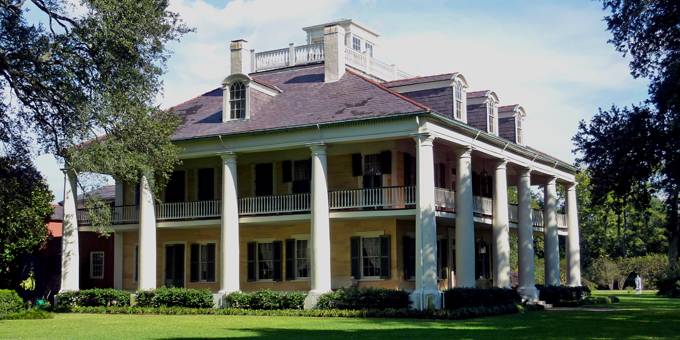 16. Houmas House Plantation and Gardens in Darrow, LA
This antebellum estate is gorgeous and more than two hundred years old! The Houmas House Plantation and Gardens[14] offers daily tours of the grounds and even overnight stays in the rooms decorated with period furnishings and antiques. Several ghostly legends haunt the property, including ancient oak trees that are said to be inhabited by the spirits of 16 workers who lost their lives during a construction project on the Houmas House Plantation property. A young girl in a blue dress has also been seen standing on the staircase, but she rapidly disappears before anyone can talk to her.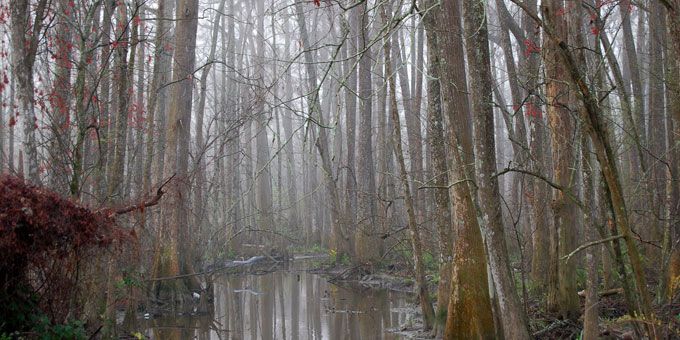 17. Manchac Swamp north of Laplace, LA
Of course we can't write an article about Louisiana without mentioning cajun country. Manchac Swamp is not only really creepy, but it's supposed to hold ghostly occurrences too. Legend says a voodoo priestess, Julie White, lived in the swamp and predicted that her death would take the lives of many others too. Eerily enough, in 1915 on the day of her funeral, a hurricane hit and killed many of the people in the area. Some people have reported hearing a woman's screams or a voice singing the song White was heard singing the day of her death, "One day I'm gunna die, and I'm gunna take all of you with me." If that's not enough to give you the chills, then I don't know what is. You can explore this swamp for yourself with Cajun Pride Swamp Tours[15] located in Laplace, Louisiana, and learn even more about the area's history.
Have you been to any haunted Louisiana places? How about any haunted spots in your hometown? Share a story with us below!