Make traveling easier while connecting with other adventure seekers like yourself.
My family knows that every time we go on vacation, I'm going to forget at least one very important thing. In high school, we went to see my grandparents for Thanksgiving. I left my textbooks at their house in Indianapolis and had to wait a week to have them shipped back home to me. On one of our family trips to Denver, I forgot to bring tennis shoes and spent the trip hiking in flip flops. Or how about the time I forgot my brother at the gas station thirty miles back. (I'm just kidding about that last one.) But seriously, it's a real problem.
Every traveler — yes even you — has a vice. Whether you're directionally challenged, hate planning ahead or just an absent-minded packer like me, you don't have to spend your life repeating the same travel mistakes. Technology is here to help!
There are thousands of great travel apps to assist you in just about every way possible, ensuring an enjoyable and stress-free vacation every time. So next time you pull out the suitcase or set out to plan the trip of a lifetime, try using some of these apps and see what a difference they can make in your life.
Stay connected while traveling with these awesome social traveling apps. Plan the perfect getaway and stay in touch with friends and family. These apps are a must-have, so hurry up and head to the App store!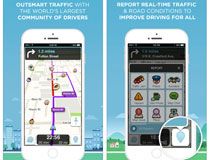 1. Waze
Free for iOS, Android and Windows.
Heading out on a road trip? Waze[1] is a community-updated map that provides motorists with accurate, up-to-date traffic information. Users can get instant travel tips from millions of other drivers on the road and avoid construction delays, police traps and traffic accidents, or even locate the cheapest gas stations along a certain route.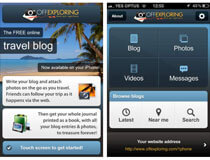 2. Off Exploring
Free for iOS.
Off Exploring[2] is a great way for the avid traveler to keep track of travel experiences and share them with family and friends back home. This paperless travel journal allows users to blog, upload photos, tag posts with a current location, and book lodging with just one app. Blogs and photos can easily be shared on several different social media platforms with just one update and posts can be updated without a wi-fi connection and synched later.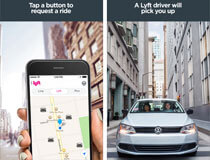 3. Lyft
Free for iOS and Android.
If you're visiting a new area or need a ride to the airport, Lyft[3] is an easy solution. Users can request a ride with a registered driver in the area and be picked up in minutes. It sounds sketchy, but no worries — every driver is subjected to a thorough background and DMV check and then rated by Lyft passengers. Only the highest rated ones are allowed to drive you. When you arrive at your destination, you'll pay with Apple Pay, instead of handing over cash or credit card information to a stranger.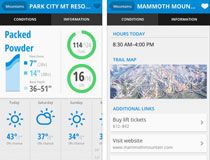 4. AllSnow
Free for iOS and Android.
If you're hitting the slopes while on vacation, AllSnow[4] will be your best friend. With updated resort information for each ski season, users have instant access to trail maps, weather forecasts, snow conditions, powder alerts, slope statistics, discounted lift tickets and directions to ski areas.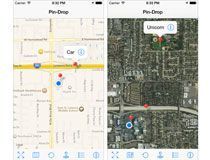 5. Pin Drop
$0.99 for iOS.
Drop at pin at favorite or memorable locations while you're on vacation and revisit it again and again. Pin Drop[5] is a map-based journal that makes it easy to locate points of interest (or your car in a ridiculously packed parking lot). Include a note or picture with each pin to remind you of why each location was pinteresting enough to return there again.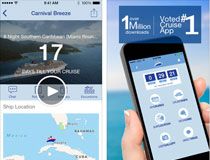 6. Ship Mate
Free for iOS and Android.
Count down the days until that fabulous cruise with Ship Mate[6], an engaging social app that gives users the ability to keep track of itineraries, get ship information and even chat with other cruisers. Post your cruise countdown to Facebook, access port information like nearby attractions and restaurants, share your cruise photos and much more.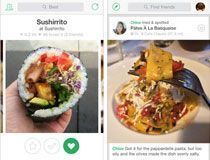 7. OpenTable
Free for iOs and Android.
Looking for a good local place to eat while you're traveling? Avoid sifting through all the negative reviews in all capital letters on TripAdvisor and consult the OpenTable[7] app first. Here you'll only find positive reviews of dishes that people love in popular locations around the globe. If you happen to stumble upon a dish that you just can't stop raving about, share a picture with other OpenTable users. This app also features bookmarks to keep track of foods you want to try, a search option that allows you to search things like fish tacos, bean burritos and fresh tamales, (can you tell I'm craving Mexican?) and you can even rep this app on Instagram.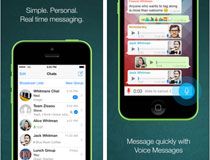 8. WhatsApp Messenger
Free for iOS, Android, Windows, Blackberry and Nokia.
WhatsApp[8] is perfect for those traveling internationally or studying abroad who want to stay in touch with family and friends easily without paying for long distance calls or SMS. With WhatsApp, you can create group messages, send photos, videos and share locations from anywhere in the world — all without paying a cent.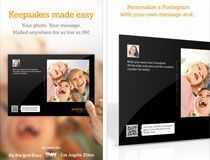 9. Postagram
Free for iOS and Android.
Good ol' postcards may be falling to the wayside, but Postagram[9] is alive and kicking. This app makes it all too easy to snap a picture, create a beautiful postcard with your smartphone and mail a paper copy to anyone in the world. Postagram delivery in the U.S. is $0.99 and $1.99 in other countries. Delivery in the U.S., Canada and Europe takes from 5-10 business days. Delivery can take up to two or three weeks for other international locations.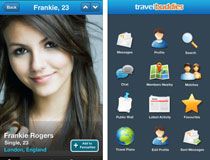 10. Travel Buddies
$0.99 for iOS.
If you're studying abroad or traveling with a small group of friends, Travel Buddies[10] makes it easy to connect with other travelers around the world. This social networking app encourages users to create a simple profile so they can share travel photos and tips, video chat or message other users.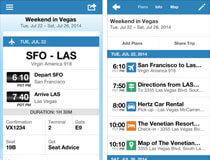 11. TripIt
Free for iOS, Android, Windows and Blackberry.
TripIt[11] is a convenient, mobile travel planner that helps you keep up with your busy itinerary on the go. But that's not all it can do. This app organizes a personal itinerary for you, texts or emails flight details, syncs your travel plans to a mobile calendar of your choice, auto-imports travel information from your email to your itinerary, and keeps track of all your important travel documents like passports while protecting them with a four-digit pin. It's even accessible offline or while you're on a plane, so you can easily get your information anytime you need it.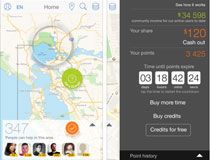 12. Ask A Stranger
Free for iOS.
Ask A Stranger[12] is a community based Q&A service that allows you to ask anyone anywhere a question, while guaranteeing a fast, helpful response. Visiting a new city and need to know where the best free parking is? Ask a stranger. Need a good, cheap hotel? Ask a stranger. You'll get real advice from real life experience. You can even join the community of advice-givers and earn points that can result in real money in your pocket.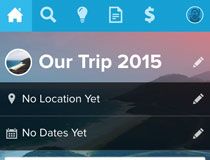 13. Travefy
Free for iOS.
Travefy[13] is the perfect app for group travel. Whether it's a weekend camping trip, bachelorette party, spring break or a church group trip, Travefy makes it easy to organize group travel without one person getting stuck footing the bill. This app gives you access to a database full of activity, food and lodging ideas and allows you to pin, save and discuss those ideas in a group forum. You can also split costs and collect money from each individual and create your own itinerary so everyone knows what's happening when.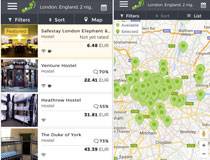 14. hostelbookers
Free for iOS and Android.
Finding hostels or budget lodging has never been easier. Particularly useful for students traveling abroad, hostelbookers[14] features more than 30,000 hotels, hostels and B&Bs worldwide, so you'll never be stuck without a place to lay your head at night. Search by city, date and price. View pictures and reviews for each lodging before booking and securely paying straight from your smartphone.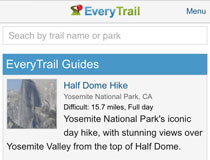 15. EveryTrail
Free for iOS and Android.
EveryTrail[15] is the self-proclaimed "GPS-enabled travel guide of the future," giving hikers and backpackers the ability to track their route and share information with others. You can use this app to view terrain maps, create your own travel route on a map, view and share travel tips from other users and track stats like elevation and distance while biking, hiking, sailing or driving. There's even an audio guide feature for any hands-free instances when you may need some assistance.
What travel app do you use religiously? Have you tried any of these? Let us know in the comments below!