Uncover the heritage of America's southwest.
Northern New Mexico is not only beautiful but it's also full of historic treasures. A trip to Santa Fe, Taos or Los Alamos uncovers a distinct cultural heritage and there's more to see and do than you could ever pack into one vacation. Even so, make the most of your time there with these 12 historic landmarks that everyone should experience while visiting Northern New Mexico.
Take to the gorgeous Northern region of New Mexico to experience amazing historical attractions and activities.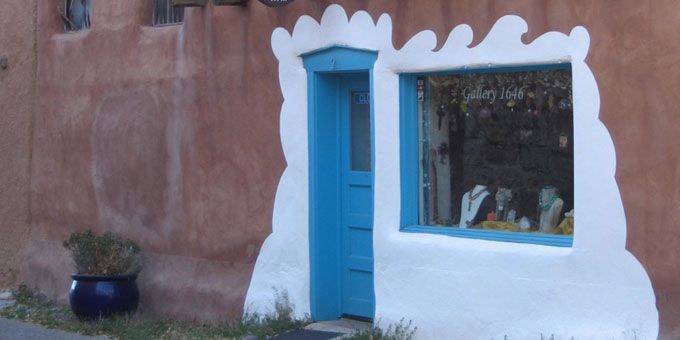 1. Barrio de Analco Historic District in Santa Fe, NM
Today, seven adobe brick buildings make up Santa Fe's Barrio de Analco Historic District[1], a National Historic Landmark. This area is one of the oldest residential neighborhoods in the U.S. with a European origin, and it clearly reflects the early Spanish settlers of the 1600s with Spanish Pueblo architecture. If you take a self-guided walking tour of the area, you'll see The Oldest House on East De Vargas Street, dating back to the mid-1700s, the Chapel of San Miguel, one of the oldest churches in the United States and the beautiful Lamy Building, which was used as a dormitory for St. Michael's College for Boys.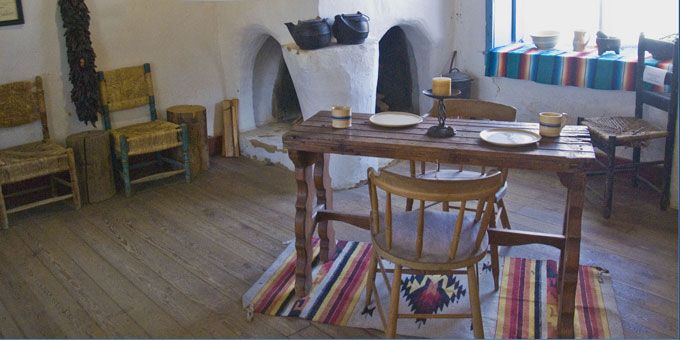 2. Kit Carson Home and Museum in Taos, NM
The Kit Carson Home and Museum[2] in central Taos sees 20,000 visitors every year. It was built in 1825 and served as Kit Carson's home for 25 years, after which the property was declared a National Historic Landmark in 1963. While browsing the interior of the home, you'll see that much of the structure is just as it was more than 150 years ago. The collection inside the museum features Josepha's (Carson's wife) sewing kit, farm tools, Carson's Civil War saber and several other historic artifacts. Walk two minutes down the road and you'll find The Taos Plaza, another popular location in the Taos Historic District, home to several galleries, shops and even live music events.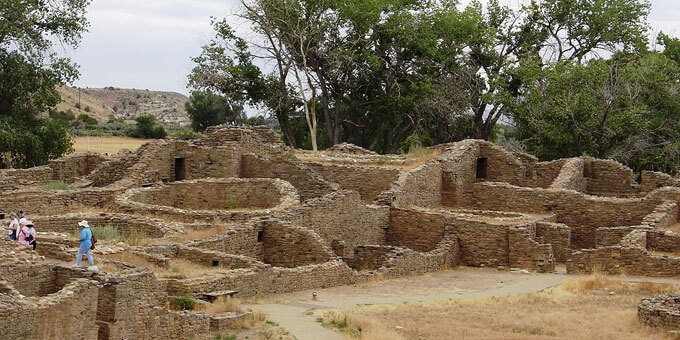 3. Aztec Ruins National Monument in Aztec, NM
Visit the ancient site of a Pueblo society where you'll see ancient structures like a great kiva, a large circular chamber once used by the Pueblo people for ceremonies and the towering 30-foot walls of one of the 900-year-old great houses. The Aztec Ruins National Monument[3] also features a 700-yard trail that leads down to the West Ruin where you'll discover the an excavated great house that once had more than 400 interconnected rooms all focused around an open plaza. The West Ruin is an amazing sight to see and it's an eye-opening experience to imagine it as it was centuries ago.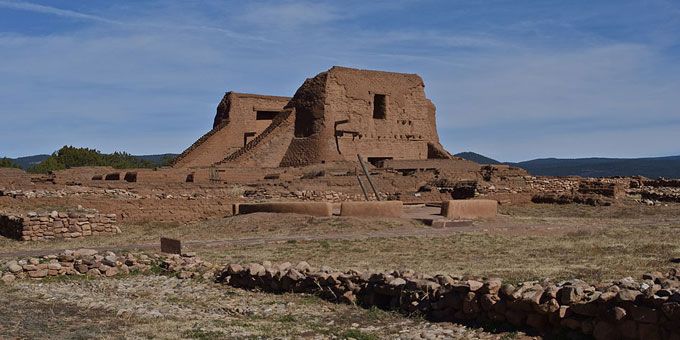 4. Pecos National Historic Park in Pecos, NM
Pecos National Park[4] is situated within the Sangre de Cristo Mountains, just 40 minutes southeast of Santa Fe. The ancient trails throughout this park were once used by Civil War soldiers, Spanish explorers and early American settlers and the numerous historic sites make for a fascinating sightseeing experience. Experience sites like the 14th-century Arrowhead Ruin, the early Franciscan Lost Church, the historic civil war Battle of Glorieta Pass and more. The Pecos River is rumored to have excellent fly fishing, and the E.E. Fogelson Visitor Center in the park is perfect for first time visitors, with a complete overview of the area's landmarks, a museum and a bookstore.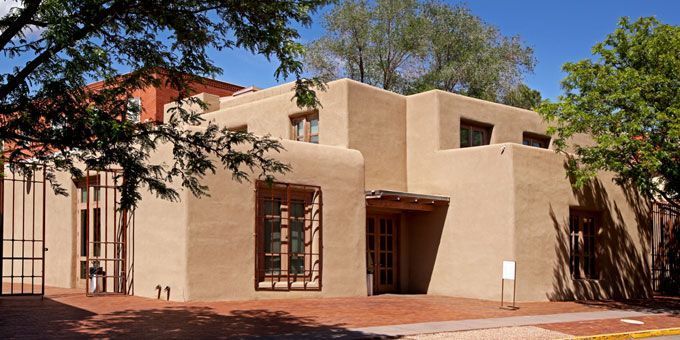 5. Georgia O'Keeffe Museum in Santa Fe, NM
Just two blocks from the Santa Fe Plaza, the Georgia O'Keeffe Museum[5] provides guests with a warm and welcoming atmosphere filled with artistic exploration. The museum explores the life and art of Georgia O'Keeffe, one of the 20th century's most significant artists. Analyze her artwork, learn about the artistic and cultural movement of American Modernism and see artifacts pulled from the archives and holdings of her personal property. The Georgia O'Keeffe Museum also owns a research center in Santa Fe which focuses on the study of American Modernism in art, photography, music, literature and design. You can also reserve a tour of the Georgia O'Keeffe home in Abiquiu, New Mexico.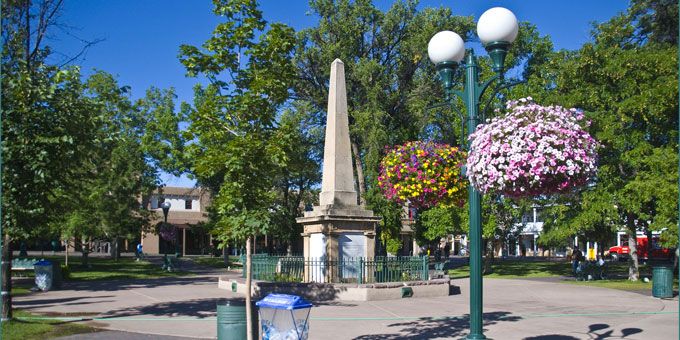 6. Santa Fe Plaza in Santa Fe, NM
The Santa Fe Plaza has always been the heart of the city and today, hosts an array of annual events like the Santa Fe Indian Market[6], Fiesta de Santa Fe[7], the Santa Fe Bandstand[8] and the traditional Spanish Market[9]. Not only is the plaza a cultural center for events, but it's also home to shops, restaurants, galleries and historic monuments and buildings like the New Mexico Museum of Art[10], the Palace of the Governors[11] (which houses the state history museum) the Loretto Chapel[12] and the Cathedral Basilica of Saint Francis of Assisi[13]. The Santa Fe Plaza is absolutely packed full of fun things to see and do, and the area's Spanish-American colonial style makes for a truly authentic New Mexico experience.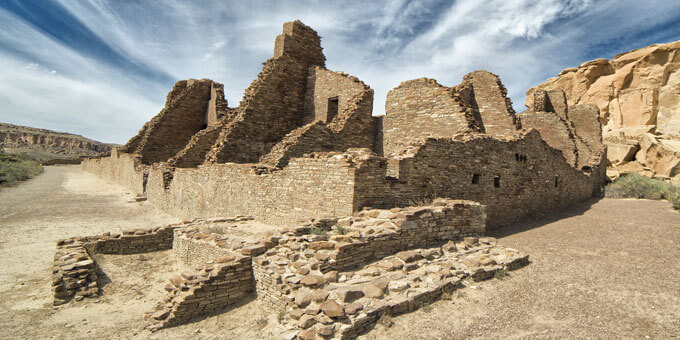 7. Chaco Culture National Historical Park in San Juan County, NM
Chaco Canyon used to be a cultural mecca for the Ancient Pueblo Peoples and today you can still visit Chaco Culture National Historical Park[14] to get a glimpse of the sandstone remnants, sacred sites, ancient roads and petroglyphs, as well as some of the most beautiful panoramic views in the state. Embark on a self-guided tour along the Canyon Loop Drive to see historic structures like Una Vida, Pueblo Bonito, Hungo Pavi and Pueblo de Arroyo or enjoy a guided tour while you learn about Chacoan architecture, spirituality and customs. The park is also home to several hiking and biking trails, campfire talks and star parties at the Chaco Observatory[15].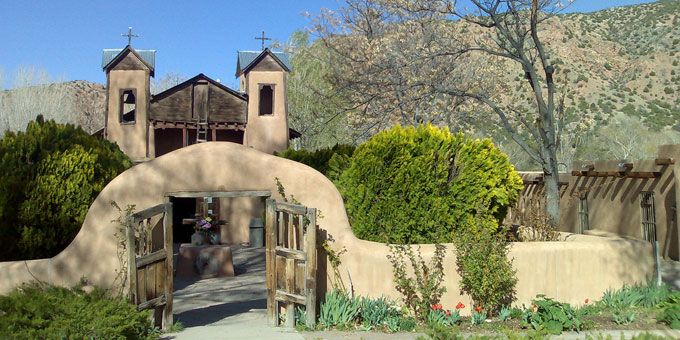 8. El Santuario de Chimayo in Chimayo, NM
Many people of all faiths and walks of life come to El Santuario de Chimayo[16] to pray and be healed. The current chapel was built in 1813 after a friar discovered a crucifix buried in the sandy dirt near the Santa Cruz River. Legend has it, no matter how many times the crucifix was moved and taken back to a village nearby, it would somehow find its way back to the riverside location where it was first found. The site was believed to be holy, and believers tell of miraculous healings that happened there. The Shrine of Santa Niño de Atocha is just a few steps away, and also serves as a sacred spot for thousands of visitors.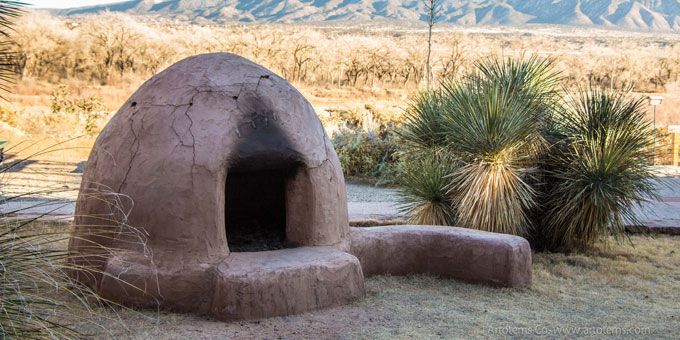 9. Coronado Historic Site in Bernalillo, NM
The ruins of the Coronado Historic Site[17] were once a village inhabited by the Pueblo Indians. The village was first settled around AD 1325 and Francisco Vásquez de Coronado was the first to encounter the Pueblo Indians living there. The ruins were excavated in the 1930s and a ceremonial chamber filled with ancient murals were discovered. Today, you can visit the ancient village, see the ruins and prehistoric artifacts for yourself and browse some of the original paintings, now located in the Visitor's Center.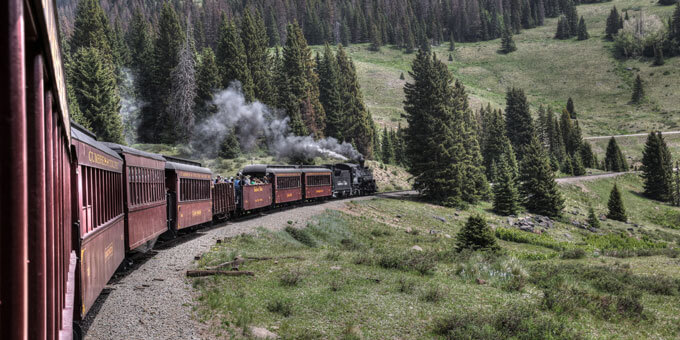 10. Cumbres and Toltec Scenic Railroad in Chama, NM
This historic railroad was originally built in 1880 and after a series of upgrades, was abandoned in 1969. But the states of Colorado and New Mexico decided to purchase a portion of the railroad together, connecting Antonito, CO to Chama, NM once more with coal fired, steam locomotives once more. Hop onboard the Cumbres and Toltec Scenic Railroad[18] for a scenic ride through Rio Chama Valley and Cumbres Pass. You can choose from several different train rides and full day, half day and sunset train ride options are all available. And don't forget to take advantage of the Gondola Car, an open-air train car that allows for fantastic views and clean, fresh air. Snacks and drinks are available on the train too.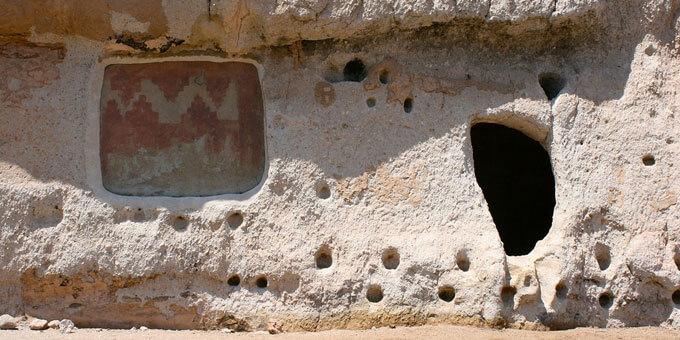 11. Bandelier National Monument in Los Alamos, NM
Bandelier National Monument[19] is home to more than 11,000 years of human history, inviting visitors to experience its ancient cliff dwellings, petroglyphs and gorgeous canyon landscape. The Main Loop Trail begins at the Visitor's Center and takes you on a scenic 1.2-mile journey through the Frijoles Canyon. It's completely possible to immerse yourself in the history and the culture of the area, especially with a knowledgeable guide, but self-guided tours are available as well. Another popular choice for visitors to Bandelier National Monument is the Nightwalk, offered once a week during the summer months. Nightwalk is just what it sounds like: a silent walk through the stillness of the canyon on a beautiful summer night.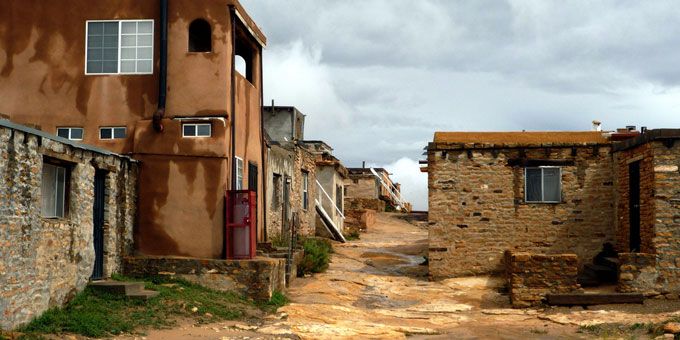 12. Acoma Pueblo in Cibola County, NM
Acoma Pueblo[20] is often referred to as "sky city" because it's perched atop a 367-foot mesa at 6,460 feet above sea level. Located west of Albuquerque, this traditional Native American settlement stretches 431,664 acres and is home to ancient homes, residents displaying traditional dances and the Sky City Cultural Center and Haak'u Museum, an educational and fascinating display of art, culture and history of the Acoma people. Definitely stop by the cultural center and museum when you visit or take an informative walking tour to get the most out of your time in Sky City.
Know of any other cool historic sites in New Mexico that we forgot to mention? Leave us a comment below!