YOUR PEACE OF MIND IS OUR TOP PRIORITY
Should you need to cancel at any time, you have up to 48 hours from your vacation start date to do so for a 100% future travel credit.
With jousting knights and giant turkey legs, these fairs will transport you back in time.
Florida's rich history of folklore and piracy comes to life every year with its hundreds of medieval fairs and festivals! Visitors to the sunshine state will have countless opportunities to revisit the days of yore, catch a good old-fashioned jousting tournament, or chow down on royal cuisine with this incredible list of renaissance fairs and festivals.
Don your favorite medieval-style costume and travel back to the days of knights, queens, and kings at these exciting Florida renaissance festivals! From the St Augustine celebration to the Bay Area Renaissance Festival in Tampa, FL, there are many awesome activities so add these stops to your getaway!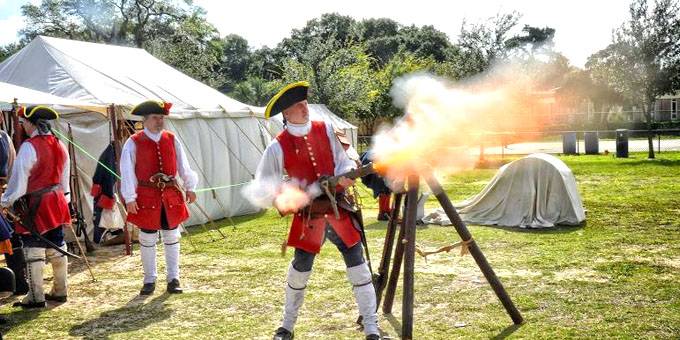 St. Augustine Pirate Gathering[1]
St. Augustine, FL
Hosted by the Ancient City Privateers, the 9th annual St. Augustine Pirate Gathering and Buccaneer Barbecue invites guests to attend a festival of pirates from all over the world as they make their annual pilgrimage to plant their flag and hoist a mug! Families will rub elbows with pirates, break bread with buccaneers, and dance to the music of the infamous Rusty Cutlass Band! Other fun sights include belly dancers, reenactments of mutinies and tales from the high seas, magic shows, and sword fights!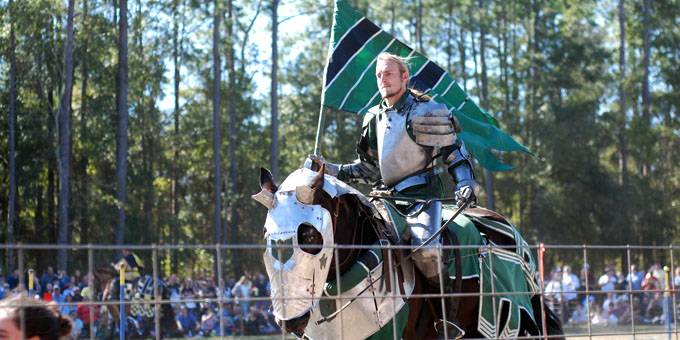 Lady of the Lakes Renaissance Faire[2]
Tavares, FL
Including over 100 performers across 7 stages, knights in armor, jousting, fire-eaters, pirates, dancers, and more than 60 artisans, the Lady of the Lakes Renaissance Faire in Tavares is a medieval festival like no other! For select days in November, the faire will showcase the romantic arts and magical whimsy of the 16th century along with thematic games and food common to an authentic European village.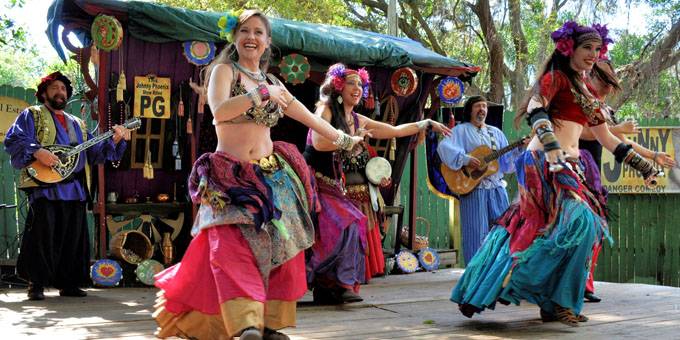 Sarasota Medieval Fair[3]
Sarasota, FL
Each year, Sarasota invites families out to enjoy exciting tournaments, scrumptious feasts, and dazzling performances at the Sarasota Medieval Fair. Each weekend will feature a new lineup of nationally recognized acts including belly dancers, knights, and minstrels. The festival will also include Celtic music and an artisan marketplace with shops, food, and games. All festival goers are encouraged to interact with the cast of characters and participate in the festivities on hand!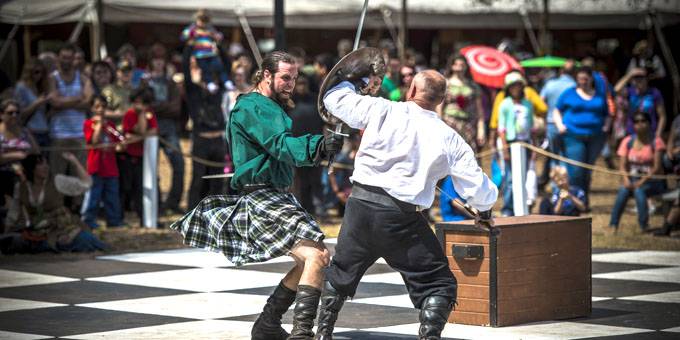 Camelot Days Medieval Festival[4]
Hollywood, FL
Camelot Days Medieval Festival invites Florida guests to revisit the magic of the Medieval era during this two-weekend event! Visitors can eat like kings, cheer on their favorite team at the living chess game and joust, or shop for trinkets in the Artists' Market. Guests are encouraged to dress the part and enter the Camelot Days Costume Contest, where they'll have a chance to win free passes to Camelot Days.
Riverdale Kiwanis Medieval Faire
Fort Myers, FL
Come ye for jousting, live chess, jugglers, minstrels, and tasty 16th century delicacies at the Riverdale Kiwanis Medieval Faire in Lee County! Guests will have the opportunity to see live sword fighting, a royal court and procession, medieval arts and crafts, and jousting by New Riders of the Golden Age! Throughout the event, scheduled shows and roving entertainers will offer acrobatics, minstrel music, and a live-action chess match will take place in the central arena three times daily!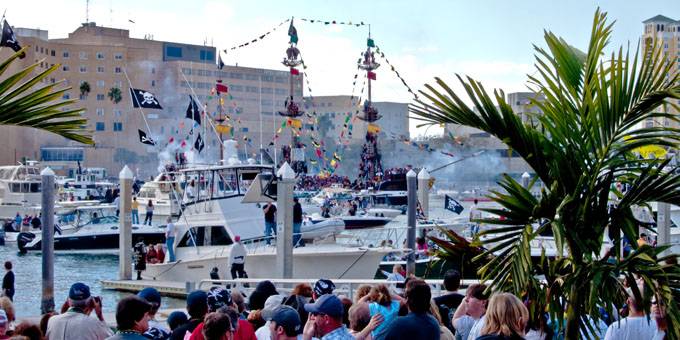 Gasparilla Pirate Fest[5]
Tampa, FL
Over 750 swashbuckling pirates aboard the pirate ship Jose Gasparilla will "invade" Tampa Bay, launching a packed day of pirate-themed events. Once on land, the Ye Mystic Crewe will celebrate their takeover of the city with a four-mile long Parade of Pirates, and continue into the evening for the Gasparilla Pirate Fest Street Festival with live music, food, and entertainment. Guests are encouraged to dress in pirate-themed garb and join in on the fun!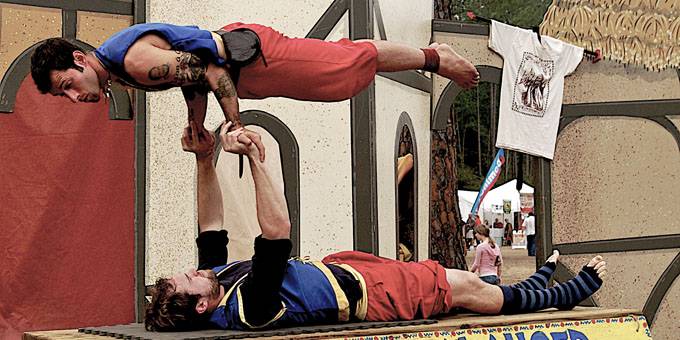 Hoggetowne Medieval Faire[6]
Gainesville, FL
Wander back in time through a medieval marketplace, cheer on dueling knights, witness a battle on the living chess board, and enjoy hearty food as the Alachua County Fairgrounds are transformed into the Hoggetowne Medieval Faire! Featuring nine stages of entertainment, along with full-flight falconry, aerial acrobatics, and medieval magic, this festival has something for the whole family. Guests will be entranced as knife throwers, jugglers, and gypsy dancers fill the streets of Hoggetowne for the 31st annual faire!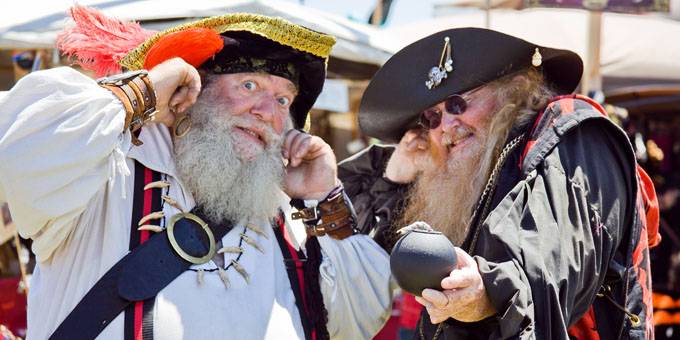 Treasure Coast Pirate Fest[7]
Fort Pierce, FL
Featuring themed attractions such as Blackbeard's Pirate Ship, a Little Buccaneer Kids Zone, Treasure Hunts, and a Living History Pirate Encampment, the Treasure Coast Pirate Fest offers three days of family-friendly piracy! Guests are invited to shop the bevy of pirate and nautical themed arts and crafts, enjoy tasty food and drink, and listen to live music as they wander amongst pirates and wenches. After the sun goes down, adult scallywags are welcome to dance the night away at the Friday night Pirate's Ball for guests 18 and older!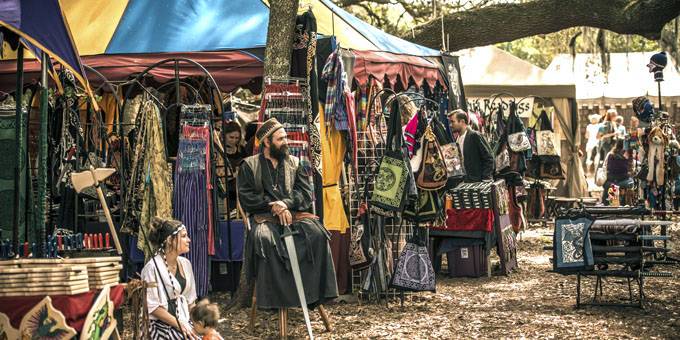 Florida Renaissance Festival[8]
Deerfield Beach, FL
Featuring a large selection of performers and artisan vendors, the Florida Renaissance Festival allows guests to have a glimpse of life back in the 16th century. Kids especially will love the Exclusive Kid's Kingdom–an enchanted playground just for kids. In addition to special events, the festival will feature jugglers, guided village tours, musical stylings from Celtic Mayhem, and more! Patrons will also have the opportunity to try medieval food from around the world, such as spinach pie from the Mediterranean, or a traditional English shepherd's pie!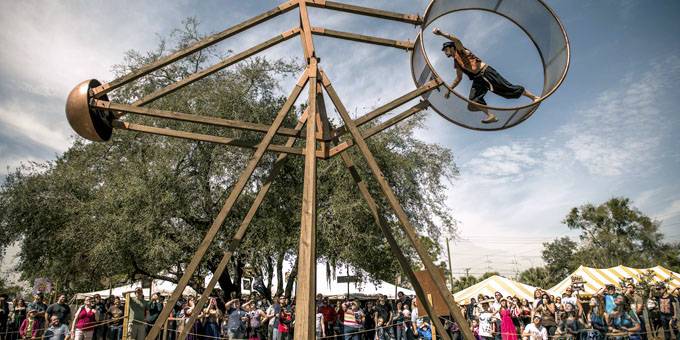 Bay Area Renaissance Festival[9]
Tampa, FL
For more than 40 years, the Bay Area Renaissance Festival has transformed Tampa into a 16th century village featuring more than 12 stages of entertainment, armored jousting, and fun for the whole family! The festival will host minstrels, marionettes, magic, a court jester and dance shows, as well as a live mermaid cove and roaming musicians!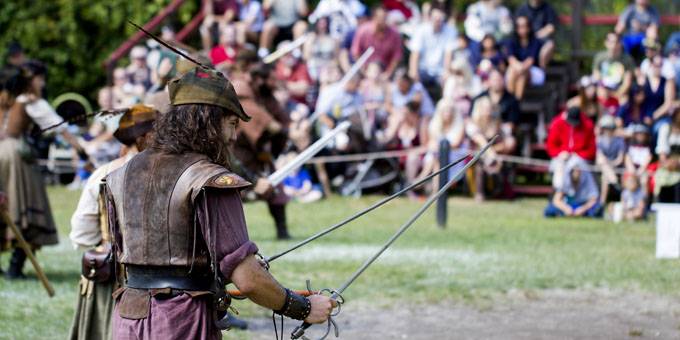 Gulf Coast Renaissance Faire[10]
Pensacola, FL
Make your way out to Pensacola Interstate Fairgrounds and meet the Faire King and Queen at the Gulf Coast Renaissance Faire! Rain or shine, this yearly event allows thousands to come together to experience the spectacle of armored combat, the thunderous clash of jousters, and the sampling of wares of merchants who have traveled from afar.
From swashbuckling to jousting, Florida's renaissance fairs and festivals have something to offer everyone! Have you attended any of the festivals on our list? Tell us in the comments, and don't forget to Like and Share!