Take a peek inside the front doors of the rich and famous.
Malibu was originally a private, gated 27-mile long stretch of coastal property owned by one single family: the Rindges. Eventually, they allowed celebrities of the early 1930's to rent and then buy oceanside property in the highly coveted area. Property in Malibu was highly sought after because it provided a beautiful and private seaside oasis, far from the prying eyes of reporters and paparazzi.
Today, Malibu is still a popular spot for celebrities who snag up lavish properties sporting some pretty hefty price tags. Jennifer Aniston, Brad Pitt, Paris Hilton, Charlie Sheen and Ellen DeGeneres are just a few who have called this place home. And below are 11 more who own some remarkably valuable real estate in the area, to boot.
From golden chains to diamond rings, celebs like to flaunt their riches. Even more extravagant than jewelry or cars comes these celeb homes. We wish we could afford these mansions!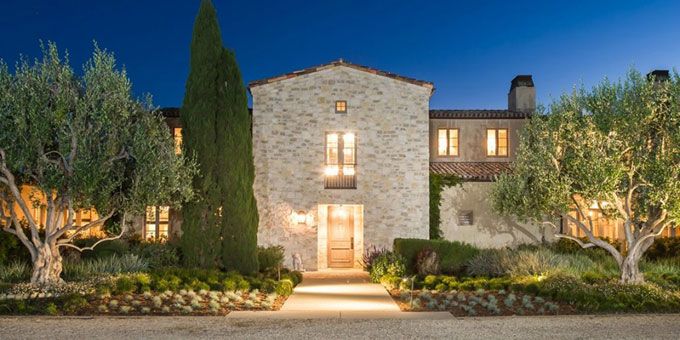 1. Lady Gaga's Oceanside Estate
This 10,000-square foot property on the Pacific Ocean is nothing less than a lavish mansion fit for a queen. A sophisticated interior with muted, earth tones is a surprising choice for the colorful pop icon, but her expensive taste, on the other hand, is no surprise. The lower level of the $23 million mansion is outfitted with a "bat cave" featuring a vintage two-lane bowling alley, stand-up basketball free-throw machines and an 800-bottle wine cellar. Outside, a gorgeous saltwater swimming pool awaits alongside the lighted bocce ball court, leaving nothing to be desired from this six-acre estate.
2. Kid Rock's Scenic Dwelling
Kid Rock's gorgeous Balinese-style Malibu home has actually been on the market since 2013 and it's going for $12 million. If you think that's a lot to ask, just take a peek inside the private gated home. Kid Rock's taste is surprisingly sophisticated with mellow colors and dark wood features throughout the mansion. Sporting a prime beach location, this luxurious five bedroom, five bath home is two stories tall and features 8,305-square feet of living space. The kitchen features a full-size chef's kitchen and the master bedroom is exquisitely designed and accompanied by two walk-in closets and a full spa bathroom. The guest house is equally as inviting, with a view overlooking the outdoor pool.
3. Halle Berry's Beach Home
Halle bought her extravagant beach house for $8 million in 2004 as a recent remodel. With more than 5,000-square feet, nearly every room brags a stunning view of the ocean and the open floor plan features a modern, glass-topped bar, sleek furniture, designer faucets and a luxury outdoor jacuzzi spa facing the ocean. This four bedroom, five bath house may be more ritzy than most of us are used to, but for Halle, it's just right.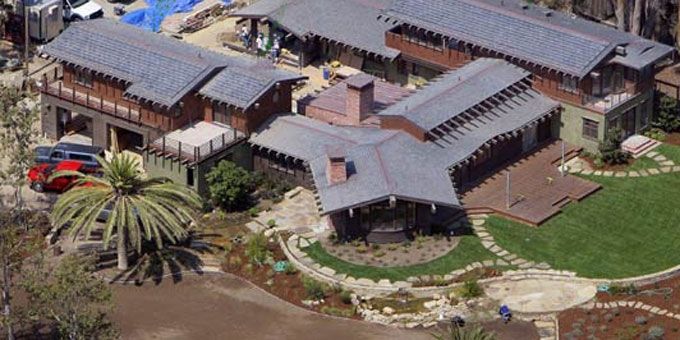 4. Julia Roberts's Eco-Friendly Manor
Julia's "green house" came with a price tag of $20 million after she and her husband outfitted the mansion with energy-saving appliances and a generous number of solar panels to line the roof. The 6,000-square foot home was elaborately designed with the well-being of the earth in mind as well as the peaceful luxury of a cliffside view above the ocean. Roberts paid $9.5 million for the rustic-looking home and it features five bedrooms and six bathrooms.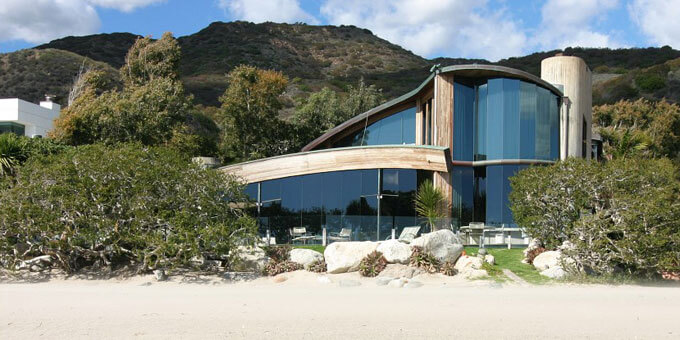 5. Courteney Cox's Personalized Home in Malibu
Before she discovered her stardom, Courteney had dreams of becoming an architect. Her keen eye for design was beneficial when she purchased and renovated her grandiose mansion in Malibu. The home sits right on the coast of the Atlantic Ocean, providing a scenic oasis of privacy and relaxation as well as a number of luxurious amenities. The property, valued at millions of dollars, is home to a saltwater swimming pool, tennis court and house, guest cottages and a screening room. Sleek furniture, stark white walls and a luxury fire pit on the outer deck facing the ocean are just a few of the home's amazing features.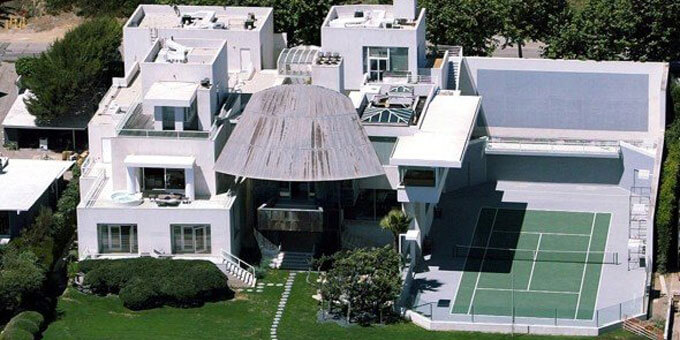 6. Steven Spielberg's Beachfront Compound
Spielberg's striking 7,237-square foot mansion sits on 1.08 acres of land with 150 feet of prime beachfront sand between him and the ocean. The gorgeous complex is made up of several buildings, one being the main seven bedroom, nine bath home. The main home also features a library, massage room and an extravagant screening room. Spielberg also has a guesthouse with two bedrooms and an additional spa and pool. Obviously, he spares no expense. As of last April, the home was up for lease for the heart-stopping price of $125,000 a month. Apparently, that's a bargain in the Malibu Beach area.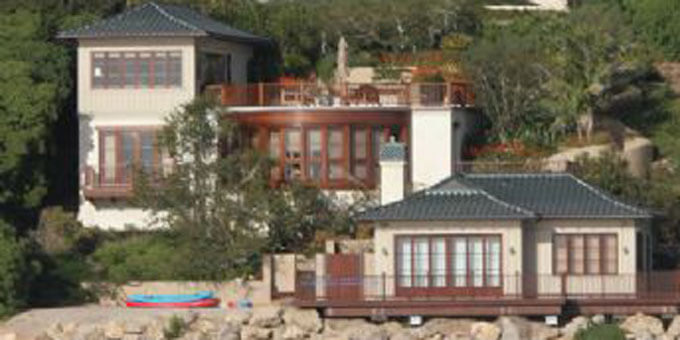 7. Cindy Crawford's Ranch Oasis
In June of last year, Cindy Crawford and her husband purchased a luxurious ranch-style home in the extremely wealthy Point Dume neighborhood. It cost them a grand total of $6 million. The lavish home is secluded, with a private path leading down to the beach where the waves lap the shore and it features a pool with island features. The four bedroom, four bathroom home is smaller than their other Malibu homes, but rumor has it, they are planning to tear down the current home and build an even more swanky property in its place.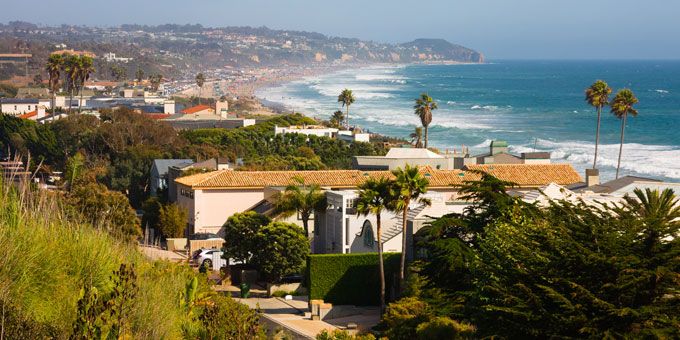 8. Will Smith's Adobe-Style Getaway
Will Smith and his family's Malibu home is beyond extravagant. The 25,000-square foot adobe-style mansion sits on 150 acres and is filled with a personal collection of antique carvings and doors from around the world. Every room has several antiques from various locations worldwide, creating a dramatic backdrop of cultural exploration throughout the home. The mansion was designed by Stephen Samuelson and the Smiths wanted the entire house to be connected with rooms; no dead ends, and filled with hidden spaces and niches.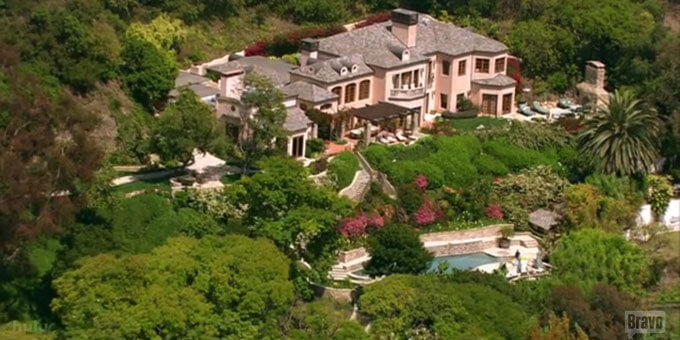 9. Kelsey Grammer's Picturesque Mansion
Kelsey's dignified 6,093-square foot estate boasts a secluded location along the coast in Malibu. Encased by the lush landscape of the mountains, the mansion is spread across 4.75 acres and distinguishes itself with large windows facing the ocean and delicate 19th century benches, fireplaces and fountains. The scenic home's interior features a great room, luxurious home theater and a library alongside a sprawling master suite and Wolfgang Puck gourmet kitchen, and the exterior is not any bit less impressive. Beautiful landscaping with floral gardens, shady trees and a lily pond sit next door to a lighted tennis court and a private pool. The home is currently on the market for $13, 995,000.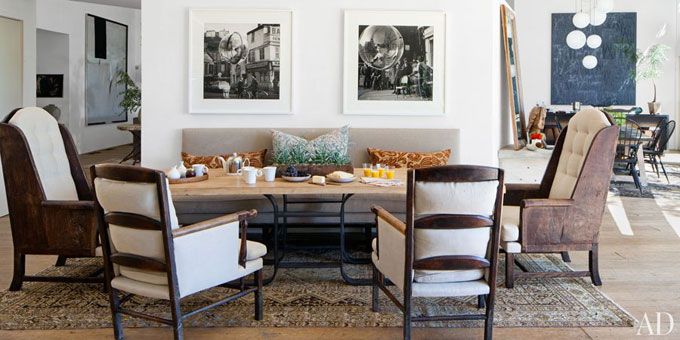 10. Patrick Dempsey's Family Residence
Dempsey's gorgeous 3.3 acre family home in Malibu, stretches across nearly five acres of land. The Dempseys originally bought the home for $7 million and then remodeled it to be more "homey." The front door is a marvel in itself, straying from the traditional door and instead, featuring one single, large glass panel that opens and closes. The stark white walls contrast with the Dempsey's wood floors and dark furniture, giving off a vintage yet modern flair. The home is family-friendly yet still lavishly decorated with antiques, and it even has an Airstream trailer in the midst of a garden filled with flowers, vegetables and herbs. In January, Dempsey's wife filed for divorce and they put this 5,547-square foot home on the market last month. It's listed at $14.5 million.
Do you know of any other ridiculously lavish celebrity homes in the Malibu area? We'd love to oogle over more! Would you like to live in one of these houses? Share in the comments below!