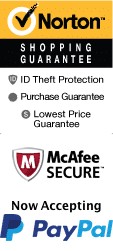 New Orleans Historical Walking Tour
1200 Decatur St New Orleans, LA 70116
1-866-267-5732
Chat Now
Are you ready to dive into the enchanting history of the Big Easy? Look no further than the New Orleans Historical Walking Tour. This activity takes place in the heart of the city and promises to bring the past to life with expert guides and fascinating landmarks.
During this tour, you'll wind your way through the charming streets of the French Quarter, stopping at iconic locations such as Jackson Square, Cabildo, and the St. Louis Cathedral. Your knowledgeable guide will share insider information and intriguing anecdotes, revealing tales of pirates, voodoo queens, and jazz legends.
Lasting approximately two hours, this walking tour requires comfortable shoes and an adventurous spirit. With only moderate mileage and carefully planned breaks, it's suitable for all fitness levels. The experience is suitable for kids aged 6 and above, making it an ideal family destination. Over the course of the tour, you'll explore the rich history of the city, dotted with 18th-century architecture and historical landmarks.
New Orleans is renowned for its vibrant culture, and this activity showcases the best of it. Whether you're a local or visiting for the first time, there's always something new to learn about this extraordinary city. With its mix of tragedy, triumph, and rich culture, New Orleans has an unmistakable attitude and an unbreakable spirit.
Take a walk back in time with the New Orleans Historical Walking Tour and learn all the fascinating details of this unique city. From the food to the music to the notorious events that have taken place here, immerse yourself in the vibrant spirit of this place.
In conclusion, if you want to discover the heart and soul of New Orleans in a fun and educational way, the Historical Walking Tour is the activity for you. Be prepared to experience the past brought back to life before your eyes and leave with a newfound appreciation for one of the most fascinating cities in the world.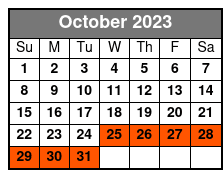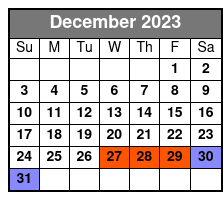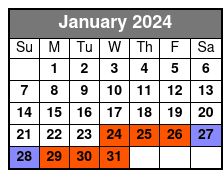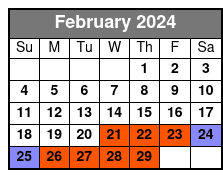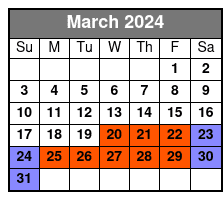 Options:
Nightly Tours: 7pm & 9pm
Available Now until 11/30/2023 View Detailed Schedule
Nightly tour / public options : 7pm and 9pm options Reservations required
All Public Tour Options
Available 10/7/2023 until 11/26/2023 View Detailed Schedule
All public tour options : Public tour options: 11am 2pm 4pm 7pm 9pm Reservations Required Weekends 11am 2pm 4pm Nightly 7pm 9pm (7 days a week)
Private VIP Tour Options
Available Now until 11/30/2023 View Detailed Schedule
Reservation Required. Private VIP tours are priced at a flat rate that includes 1 - 28 participants in the tour.
Book Now!