Ghosts and Spirits

400 Toulouse Street New Orleans, LA 70130
1-800-987-9852
Description
Ghosts and Spirits Photos (11)
Discover why New Orleans is considered 'The most haunted city in America' with the Ghosts and Spirits Walking Tour.
Several of the sites visited on this fascinatingly frightening excursion have been featured in TV specials and episodes on The Discovery Channel as well as The History Channel. After learning about different, true events that have taken place in the throes and dark alleys of this enchanted city, you'll cease to wonder why so many paranormal investigators set up shop in New Orleans.
Detailed Tour Itinerary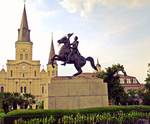 Tour Stop at
Tour Stop at
Jackson Square in New Orleans, LA
Historic Jackson Square, originally known in the 18th century as "Place d'Armes," and later renamed in honor of the Battle of New Orleans hero Andrew Jackson, is a timeless attraction in the heart of the French Quarter of New Orleans. This famous landmark facing the Mississippi River is surrounded by historic buildings, including the St. Louis Cathedral, the Presbytere and Cabildo.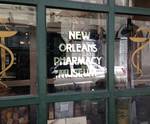 Tour Stop at
Tour Stop at
Pharmacy Museum in New Orleans, LA
Today, Dufilho's 1823 apothecary shop on Chartres Street in the French Quarter houses the New Orleans Pharmacy Museum. It is widely believed to be the largest and most diverse pharmaceutical collection in a single location in the United States, containing old patent medicines, books, and pharmaceutical equipment dating back as far as the early 1800s.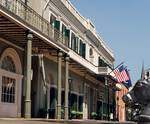 Tour Stop at
Tour Stop at
Bourbon Orleans Hotel
The Bourbon Orleans Hotel is known as one of New Orleans' top haunted hotels. Before the hotel's beginning, the site was home to the historic Orleans Ballroom and Theater before being turned into a convent in the late 1800s. Internationally acclaimed psychic Chip Coffey once performed a reading at the historic Orleans ballroom as part of his Coffey Talk Tour and communicated with several spirits, including a young boy and girl who experienced sudden deaths.
Tour Stop at
Tour Stop at
Charity Hospital
Before Hurricane Katrina struck in 2005, Charity Hospital was the pride of New Orleans. A 1930s Art Deco–style icon built with WPA funds, Charity was one of the oldest continually operating public hospitals in the country and was regarded as one of the most vital and successful. Today Charity is a skeleton of its former self, with smaller, temporary facilities.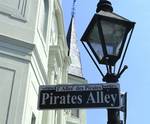 Tour Stop at
Tour Stop at
Pirate's Alley in New Orleans, LA
Pirate's Alley is the subject of much legend and lore, some true, and much false. It is one of the "must see" locations of the French Quarter. Some claim that it was a haven for pirates in days past, while others claimed that slaves were sold at the adjacent St. Anthony's Garden on Royal Street.
Stops may change due to traffic, weather, maintenance, etc.
MOST POPULAR THINGS TO DO
IN NEW ORLEANS LOUISIANA
Book Now!