The George Jones Museum in Nashville, TN
128 2nd Ave Nashville, TN 37201

As of Monday December 13, 2021 The George Jones venue- including the museum, rooftop and restaurant are permanently closed.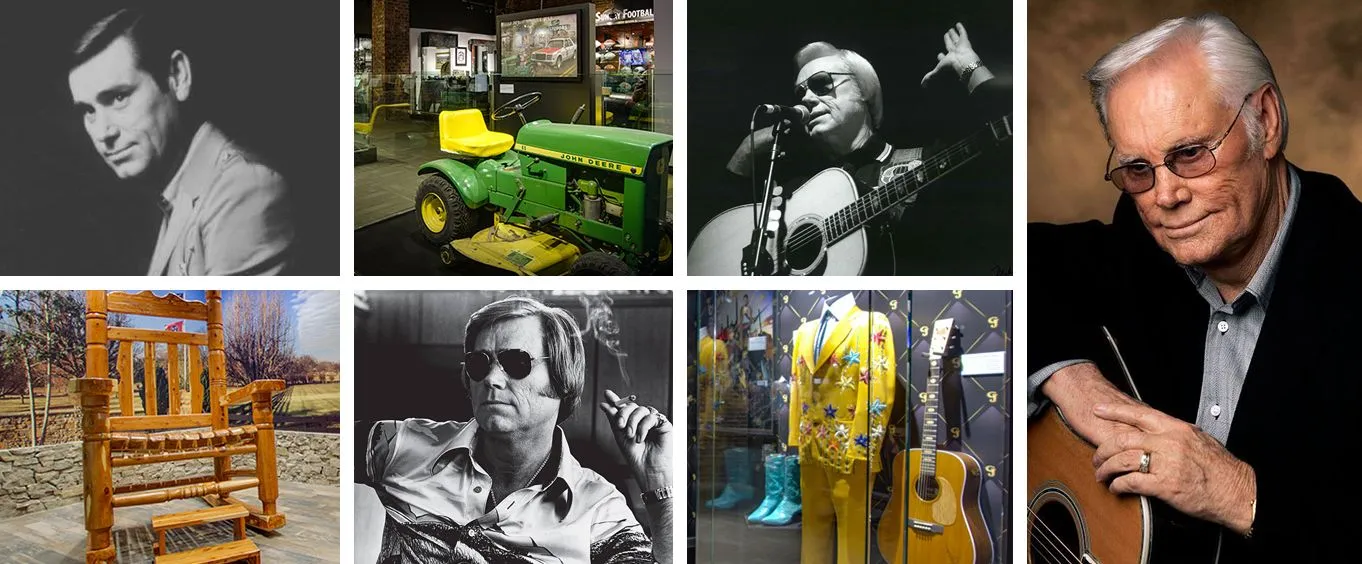 For those who are fans of the legendary country music figure, George Jones, a visit to the museum of his namesake is a must-see attraction in Nashville, Tennessee. Whether you are a new fan or a longtime listener, it's a fantastic experience to be able to learn all about this amazing artist. This legendary star has cultivated an amazing career in the music industry which has spanned generations.
The museum itself not only celebrates the life and works of country artist George Jones, but it also provides quality entertainment to visitors. As well as visiting the museum itself, guests can enjoy a bar atmosphere, dine at the smokehouse, enjoy live music, or hang out at an energetic rooftop bar.
The Museum
George Jones is one of the most famous country music artists of all time. During his legendary career, he racked up tons of hits on the Billboard Chart and cultivated a career filled with amazing country songs, earning him honor of having the most Top 40 songs than any other country music artist. His easily-recognizable sound has created a spot for him as one of the most memorable country music legends in the country music industry. As for the museum itself, guests of all ages can learn all about this legend. Through various colorful and immersive displays and exhibitions, guests can see memorabilia such as his suits, guitars, and the famous tractor. Read personal stories and see his awards, karaoke to some of your favorite country songs, and take a photo in the Big Chair. See the George Jones legacy and have a blast at this interesting place. With so many cool things to learn about the greatest country singer in history, you definitely don't want to miss out. After exploring the exhibits, be sure to stop by the gift shop for some fun memorabilia.
The Rooftop Bar
When you've visited the museum, head up to the roof for some nightlife. The spacious seating options allow visitors to have a fun recreational time. Listen to live music while dining on some delicious food at the restaurant, get some stunning views of the Cumberland River, and dance the night away! There is plenty of room for fun!
With so much to see and do at the George Jones museum, guests who love his legacy are sure to have an amazing time! When you're finished exploring all of the interesting exhibits at the George Jones Museum, be sure to check out other awesome country music attractions. Visitors will have a blast exploring the classic honkytonks of downtown Nashville and exploring other museums like the Country Music Hall of Fame and Museum, the Grand Ole Opry, and other amazing attractions surrounding country music history. So grab your cowboy boots and head out to Music City! Complete your vacation with a hotel or resort reservation.
Reviews

Kenneth Dunham
Temple, ME
✓
Verified Traveler
Wow!!!! This place was amazing!
Frequently Asked Questions for The George Jones Museum in Nashville, TN:
Approximately how long could a customer plan to spend at The George Jones Museum?

Guests spend about 4 hours here.

What amenities are available?

There is a gift shop and restaurant onsite.

Is The George Jones Museum handicap accessible?

Yes.

Is photography & video recording allowed?

Yes.

For what ages is The George Jones Museum appropriate?

Great for all ages.

Is parking available at The George Jones Museum?

Parking is available throughout Downtown Nashville for a fee.