Patsy Cline Museum

119 3rd Avenue South Nashville, TN 37201
1-800-987-9852
Description
Patsy Cline Museum Photos (10)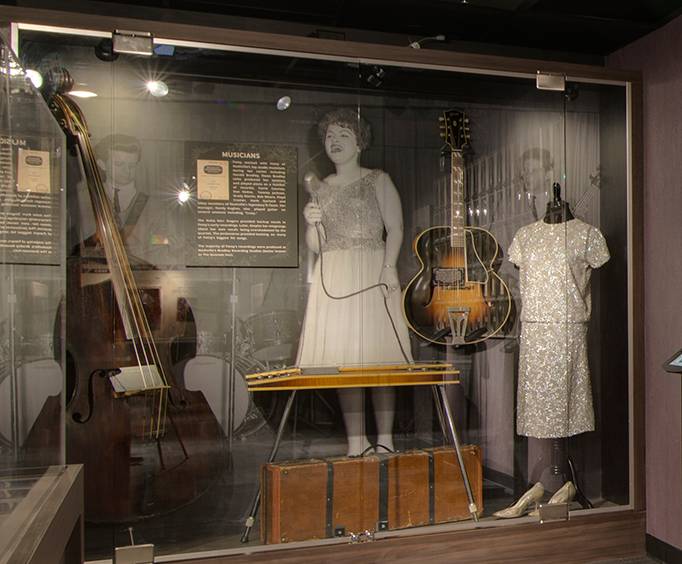 If you're a lover of Patsy Cline, you won't want to miss your chance to see an entire museum dedicated to this legend. From the same founders of the Johnny Cash Museum and located directly above it, this comprehensive collection of rare Patsy Cline memorabilia and exhibits will surely leave a lasting impression on country music fans of all ages. The family of Patsy Cline is helping to furnish the museum with tons of never-before-seen items from their personal collection.
Here are some things you'll have the pleasure of viewing in the museum:
Interactive audio and touch-screen video exhibits
Awards
Handwritten lyrics to hits like "I Fall to Pieces"
Antique furniture
Personal and professional letters
Don Helms' red steel guitar, played on "Walkin' After Midnight"
Patsy's private wedding album
Costumes
Never before seen photographs
More About Patsy Cline
Patsy Cline is a key influencer of country music and helped blend country and pop music to create the Nashville sound we all know and love. She has an undeniably powerful voice paired with a tough exterior which helped her become the most popular female country artist to date before her tragic death in 1963. With plenty of hit songs, including "She's Got You", "Crazy", "Sweet Dreams", and much more, Cline achieved huge successes in her short career. She was part of the Grand Ole Opry cast, performed on stage with legends such as Johnny Cash, June Carter, and George Jones, and was inducted into the Country Music Hall of Fame.
Patsy Cline has been the subject of numerous films and documentaries and to this day maintains a large fan base around the world. Patsy Cline, though she had a career that was unfairly cut short, is still considered to be one of country's most influential and all-together talented vocalists to this day.
Featuring the largest collection of personal and professional artifacts tied to this legendary Nashville artist in the entire world, Patsy Cline fans should not miss their chance to journey through this comprehensive collection. Be sure to visit the Patsy Cline Museum during your Nashville stay!
Reviews
4.3 | 3 reviews
Sharon Colagross
Willowick, OH
✓
Verified Traveler
It was a bit smaller than i expected.
mariah johnson
Newark, OH
✓
Verified Traveler
This museum is a great way to share the legacy of a great singer who was lost too soon. This museum is a must see for any country music fan!

Paulette Nordahl
Sacramento, CA
✓
Verified Traveler
Really enjoyed it, needs more publicity, everyone was down at johnny cash and virtually no one up here. Sad. Great museum.
MOST POPULAR THINGS TO DO
IN NASHVILLE TENNESSEE
Book Now!