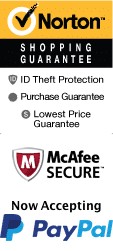 Hydrojet Dolphin Cruise in Destin
102 Harbor Blvd Destin, Florida 32541
1-800-987-9852
Chat Now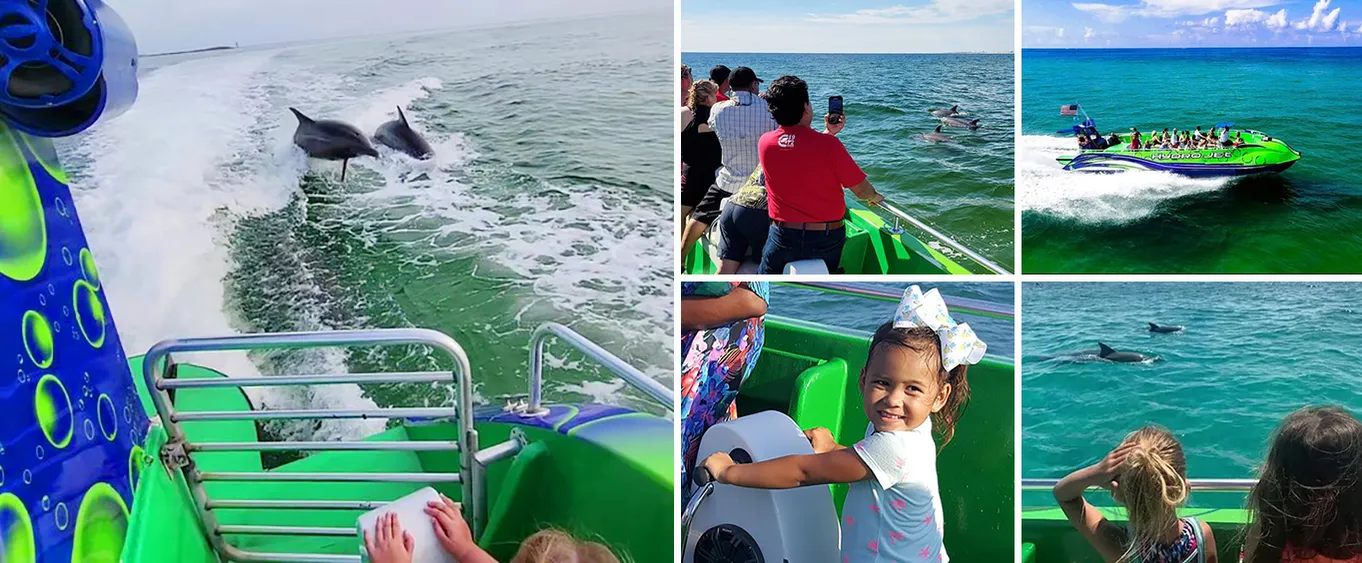 Ready for an exhilarating jet skiing adventure in Destin, Florida? Hop onboard the HydroJet Dolphin Tour, where you'll explore the stunning emerald-green waters and spy on wild dolphins playing in their natural habitat. This is a unique combination of two fun activities that you don't want to miss!
About the Cruise

The tour takes about an hour to complete, departing from the Destin Harbor and venturing into the Harbor, East Pass, and Gulf of Mexico. The adventure takes place on a fun and speedy hydrojet boat which combines the coolest aspects of water vessels with some thrills. With the added safety and stability of the boat, this is the perfect mix for a family-friendly outing or a thrilling solo ride! As you cruise through the refreshing waves, keep your eyes open for the playful dolphins that call this region home. The experienced guides are knowledgeable about the local marine life and will share fascinating facts and stories about the area. You'll get to spot captivating views of the shoreline, navigation landmarks, and beautiful multi-million dollar homes along the way!
If you're looking for a heart-pumping afternoon while enjoying the panoramic views of the Gulf, the HydroJet Dolphin Tour is the perfect pick. It is open to thrill-seekers of all skill levels and has received rave reviews for its professionalism and engaging guides. Be sure to bring some sunscreen, towels, and your camera to capture unforgettable memories! Destin is an iconic beach destination that offers something special for every traveler. Whether it's swimming in the crystal-clear water, soaking up the sun on the white sand beaches, or indulging in the local seafood cuisine, you can find your happy place here. But if you're seeking a unique experience that combines adrenaline-pumping boating and getting up close with dolphins, then this tour is a must-try. Don't miss out on this exciting adventure that will leave you breathless and smiling from ear to ear!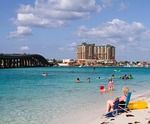 Immerse yourself in the vibrant culture and stunning beauty of Destin Harbor, a sea lover's paradise located in exquisite Florida. From high-energy water sports, charter fishing vessels, to mouthwatering seafood shacks, this place has it all. Don't miss out on the enchanting evening skyline, it's a sight to behold!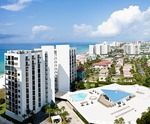 Experience the unspoiled beauty of Destin, Florida at East Pass. This paradise-like destination features pristine white sandy beaches, crystal clear emerald waters and a rich marine life underneath. It's the perfect place for boating, fishing or just relaxing under the sun. Dive into the tranquil world of East Pass and let the troubles of the world drift away. East Pass is truly a hidden gem of Destin. Don't miss it.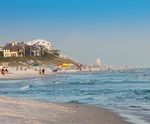 Destin's Gulf of Mexico is more than just a beach destination—it's a vibrant marine world waiting to be explored. Enjoy fishing, dolphin watching, and building sandcastles for a holiday experience like no other.
In summary, the Hydrojet Dolphin Tour is the ultimate combination of adventure, scenic views, and interacting with wildlife. With expert guides, top-of-the-line equipment, and a well-planned route, this tour promises a memorable experience for families, friends, and solo travelers alike. Don't wait- book your spot today and get ready for an unforgettable aquatic experience in the beautiful waters of Destin, Florida!
Frequently Asked Questions for Hydrojet Dolphin Cruise in Destin:
What methods of transportation does the Largest Jet Ski Boat Ride,Dolphin Tour use?

Hydrojet Boat.

Approximately how long does the Largest Jet Ski Boat Ride,Dolphin Tour last?

It lasts approximately 1 hour.

For what ages is the tour appropriate?

5 and older. Children 5 years old must meet the requirements height 3'5 (3 feet and 5 inches)..

Where does the tour meet?

102 Harbor Blvd, Destin, FL 32541, USA
Book Now!