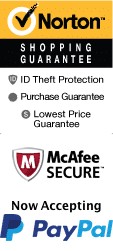 Destin Pontoon Boat Rentals
500 Harbor Blvd Destin, FL 32541
1-800-987-9852
Chat Now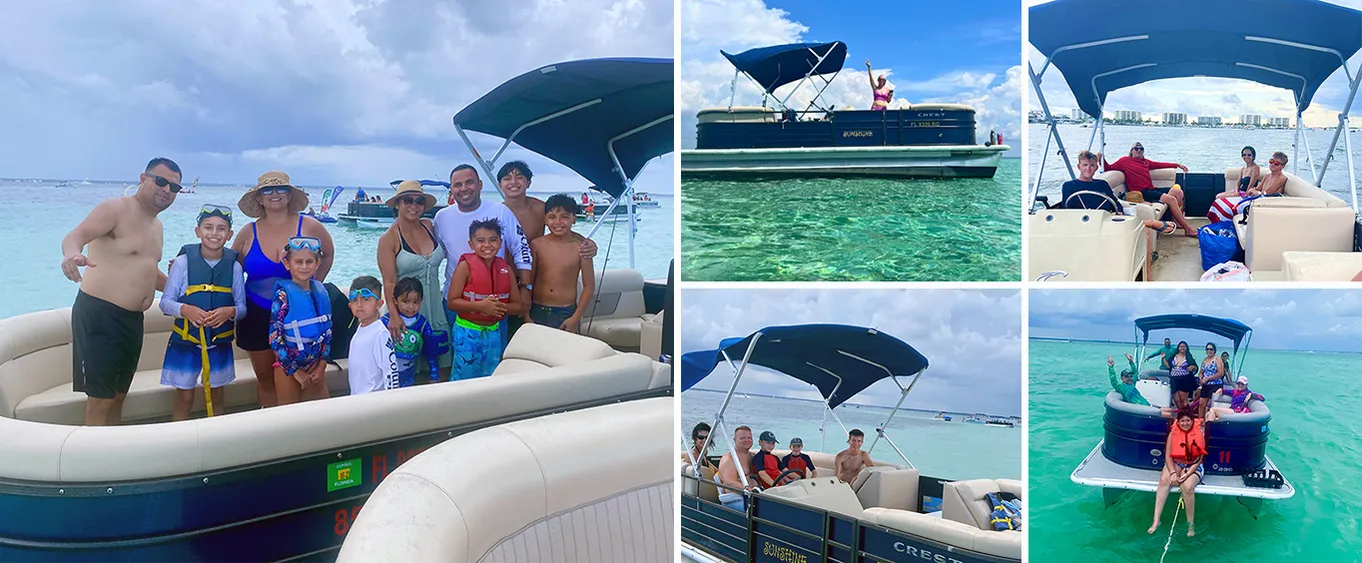 Destin, FL is one of the most incredible places in the country. Known for its stunning beaches and bountiful attractions and activities, guests can find a variety of ways to have an unforgettable adventure. For those who wish to get out on the water in Destin, a Destin Pontoon Boat Rental is a fantastic option.
Become the captain of your own ship with an exciting pontoon boat rental. These rentals give guests the opportunity to completely customize their adventures. Whether they wish to take a sunset cruise through the ocean or want to get in some great inlet fishing, there are so many ways to have an unforgettable time in Destin. Each of these rental options affords guests with ample time to customize their getaway. From short half-day rentals to full-day experiences that get you out on the water, you can discover the natural wonders and waterways of the Destin area.
About the Boats

These immaculate vessels offer the coolest way for guests to get out on the sparkling waters around Destin, FL. The boats can each accommodate up to twelve guests, offering the perfect outlet for larger groups and family adventures. Once you arrive at the dock, the staff will carry all of your belongings including your coolers to the pontoon boat to add extra convenience to the trip. Once on board, you will be able to go where the wind takes you, whether that is in the inlet or off to Crab Island. The pontoon boat will have a full tank of gas as well as plenty of shaded areas to hide away from the sun.
No matter what you do or where you go in Destin, getting out on the water is the best way to have a memorable vacation in the area. And with these Destin Pontoon Boat Rentals, guests will have an easy method to enjoying everything Destin has to offer. Combine this fun adventure with your choice of hotel in the area or create an unforgettable vacation package with all of your favorite Destin attractions. You're going to love Destin!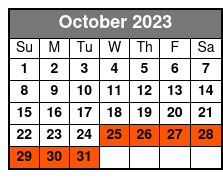 Options:
Half Day Rental
Available 10/2/2023 until 10/31/2023 View Detailed Schedule
Get out on the waters of Destin, FL for four hours with this Half Day Pontoon Boat Rental.
Full Day Rental
Available 10/3/2023 until 10/31/2023 View Detailed Schedule
With this rental option, guests will have eight hours to get out and explore the waters of Destin, FL on this pontoon boat rental.
Frequently Asked Questions for Destin Pontoon Boat Rentals :
What methods of transportation does the Destin Pontoon Boat Rentals use?

24' 2022 or 2023 Pontoon Boat.

Approximately how long does the Destin Pontoon Boat Rentals last?

Half day rentals last four hours and full day rentals last 8 hours.

For what ages is the tour appropriate?

Great for all ages. In order to drive the boat, guests must be 21+ with a valid driver's license and two years of experience as well as no driving convictions. If you are born after January 1 1988 you will need to take the boating test that is on our website to be able to drive. If you are unable to pass boaters test or do not bring proper ID no refund will be issued.

What type of dress & footwear are recommended?

Bring sunscreen, sun glasses, and wear clothes you don't mind getting wet.

Is photography / video recording allowed on the Destin Pontoon Boat Rentals ?

Yes.

Are coolers allowed?

Coolers are allowed on board, but please no glass bottles, and no burners or grills.
Book Now!