2018's Top 8 Tampa Family Activities

Your kids, spouse, grandparents, and other family members will absolutely love their time in this scenic city. Board a vessel for a pleasant cruise, or join your kids on a crazy theme park roller coaster ride. Whatever your preference, your time will be well-spent.
2018's Top 8 Tampa Family Activities
For a great family activity in Tampa, check out the Starlite Majesty Lunch & Dinner Cruises. These cruises not only allow guests to dine upon a delicious meal, but they also allow you to see some of the best views in the area. Relax and unwind on this luxurious cruise while experiencing a great family adventure.
Available 67 days between Oct 2, 2018 & Dec 30, 2018
View Schedule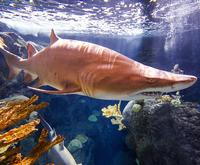 Come see the aquarium full of both freshwater and saltwater wildlife. You can go on tours to specific sections of the aquarium that are themed with names like Bays and Beaches, The Sea Hunt, and The Coral Reefs. Each offers beautiful wildlife and a chance to understand the ocean's creatures in a better light.
Want more information regarding 2018's Top 8 Tampa Family Activities?
Busch Gardens in Tampa, Florida is one of the top family activities in the area. The theme park brings together roller coasters, water rides, and more for a great attraction for all ages. Whether you wish to conquer your fear of heights on one of the thrilling rides or experience a different culture with one of the great shows, Busch Gardens can provide plenty of fun for the entire family.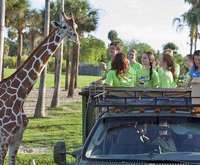 For a top Tampa family activity, make sure to visit Busch Gardens and embark upon the Serengeti Safari Tour. The tour includes a thirty minute adventure through the wilderness as well as photo opportunities and animal interactions. All ages are sure to enjoy this amazing adventure.
Available 99 days between Sep 24, 2018 & Dec 31, 2018
View Schedule
For a top Tampa family activity, the Starlite Sapphire Lunch & Dinner Cruise in St. Petersburg, Florida is a great way to see some of the beautiful views in the area. The sail is relaxing and affords plenty of great attractions and more.
Available 69 days between Sep 26, 2018 & Dec 30, 2018
View Schedule
Dive headfirst into the waters of the the Paradise Lagoon, or make a splash with The Splash Attack, a special water ride with 1,000 gallons of water that dump every seven minutes. The entire family will enjoy the experience, no matter what ride or show they pick. Bring them along for friendly swimming.
This is a great outlet for kids to relax on a fun cruise while still having plenty to do onboard. A professional guide and pirate, dutifully named Captain Memo, will tell legends of the old pirate adventures and answer questions about your role as a pirate. There are unlimited beverages onboard, and the family can participate in a number of activities.
Pricing and schedule are currently unavailable.
For one of the best Tampa Family Activities, check out the Museum of Science and Industry. The museum is full of many different educational and entertaining exhibits sure to make for a great time.
Pricing and schedule are currently unavailable.

Activities