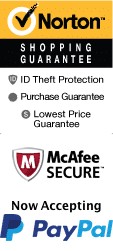 Traveling with Children: Orlando Family Vacation Ideas
ORDERING INFORMATION
Book by Phone:
1-800-987-9852
Book Online:
Orlando is one of the most popular tourist destinations in the world, with over 37 million visitors a year. With beautiful weather and the most fantastic theme parks in the world, who wouldn't want to head there for a vacation? (Note the only theme park actually in Orlando is SeaWorld, while Disney, Universal and the others are located in nearby Kissimmee.) The best time to head off to Orlando is the off-season; then you can enjoy all of the fun, sun and great savings as well. According to Disney World statistics, the periods with the lowest attendance are from January (except New Year's Day) until just prior to Presidents' week in February, the week following Labor Day until just prior to Thanksgiving week, and the week following Thanksgiving until the week prior to Christmas. During these times you can find the best discounts and the shortest lines, so take a relaxing trip down to Orlando and enjoy one of the greatest trips of your life.
Of course you should visit one or all of the various theme parks while you are in Florida, but there are many more attractions to see as well, so take time to enjoy them all. We even have many Orlando Florida vacation packages that include theme park tickets.
FAMILY-FRIENDLY THEME PARKS IN ORLANDO

Walt Disney World Resort Theme Parks. There are four Orlando theme parks as well as water parks, resorts, and entertainment complexes that fall within the Walt Disney World name. Within Disney World you will find:
Epcot Center, where the world comes together in one place. Epcot is a celebration of the many cultures and wonders of the world, including the future.
Disney MGM Studios is where the magic of movies comes to life with shows, movie sets, memorabilia and rides.
Disney's Animal Kingdom celebrates the animals of the world with story telling, shows, rides and more animals than you can count.
Magic Kingdom is the pinnacle of Disney World, where magic happens. Enter this awe-inspiring world through Cinderella's castle and let the magic overtake you.
Disney's water parks are open year-round with water that is climate controlled to be the most comfortable temperature no matter what the weather.
At Downtown Disney, you'll find shopping, entertainment, and restaurants galore. Here, you'll find Planet Hollywood, that tribute to Hollywood and California cuisine.
SeaWorld Orlando. SeaWorld is not just about dolphins jumping through hoops. SeaWorld is an adventure you won't soon forget with rides to rival those at any theme park and shows that bring animals up close and personal. SeaWorld offers many benefits not found anywhere else. SeaWorld offers extra activities that are available at extra cost such as the 'Trainer for the Day' program where you can work with the animals of SeaWorld or swim with a killer whale. Kids can enjoy various Adventure Camps.
Universal Studios.Universal Studios has a hit on its hands with this park. With rides that come straight from the movies and shows unlike any others, you can't go wrong with a visit here. You may want to check out Universal's new addition, CityWalk. This is a hot and trendy shopping, dining and nightclub area. Dance to the thumping beat of all kinds of music and different types of clubs.
FAMILY FRIENDLY SHOWS IN ORLANDO
Orlando is full of opportunities to see some great shows:
Solve a mystery at Sleuth's Mystery Dinner Theater. This long-running performance lets you put on the detective hat and participate in the excitement. And the dinner can't be beat--your choice of prime rib, lasagna, or Cornish game hen for an entrees, and a 'mystery' dessert are just the tips of the iceberg.
Pirate's Dinner Adventure. It's yo, ho, ho, and a whole lot of fun at this multi-million dollar production. You'll find yourself amid pirates and pyrotechnics during this thrilling, Broadway-quality show.
OUTDOOR RECREATION IN ORLANDO
If you really want to see the real outdoors take a trip on the Boggy Creek Airboat Rides and see Florida wetlands' native wildlife.
With some of the best golf courses in the world, Orlando is the destination of choice for golf enthusiasts. Disney World has five championship courses on its grounds and is now the home to the PGA Tour's Funai Classic.
With so much to do and see even in the off-season and plenty of Orlando Florida family vacation packages, you will wish that you had the chance to spend more time in Orlando.