SeaWorld, FL
7007 Sea Harbor Drive Orlando, FL 32821
1-800-717-1905
Description
SeaWorld - Orlando, FL Photos (13)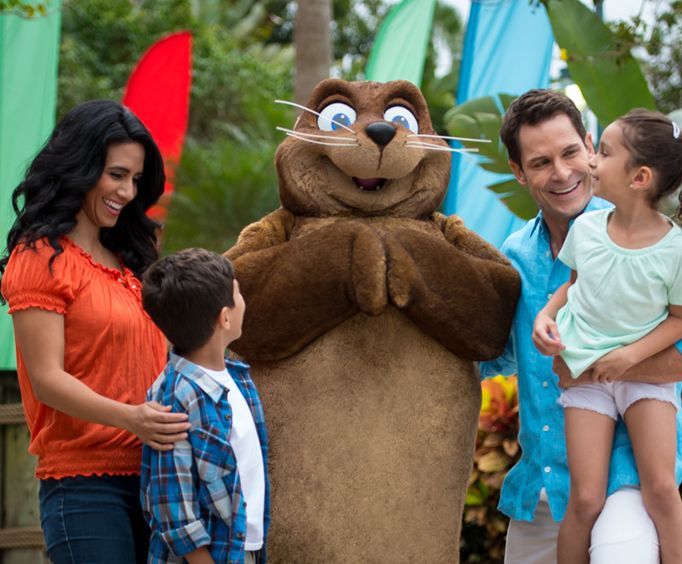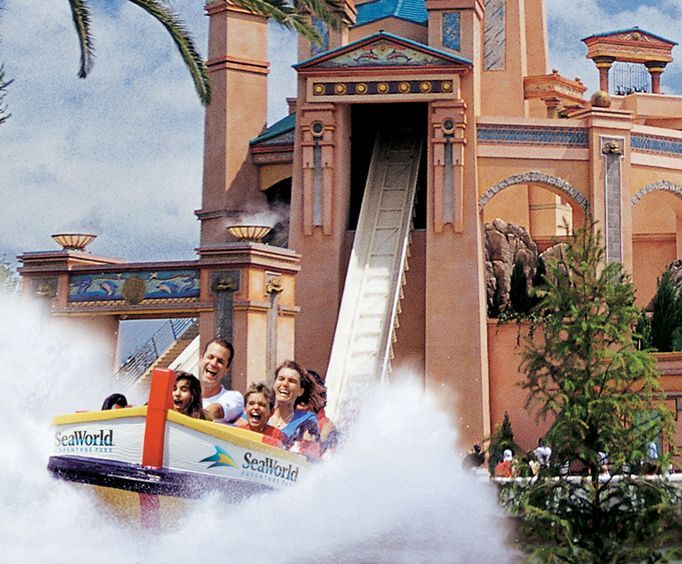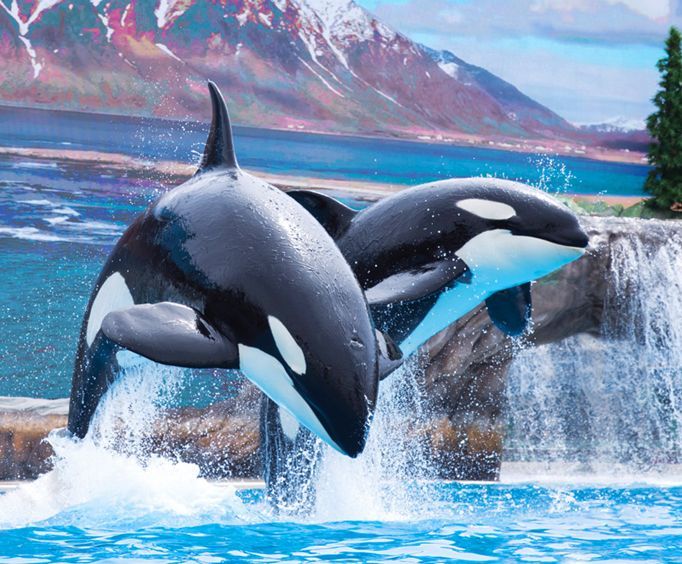 SeaWorld Orlando takes families below the surface and above their expectations, while immersing guests in the mysteries of the sea from up-close animal experiences and unforgettable performances to thrills all around. SeaWorld is not onnly fun, but it is one of the greatest options for Florida family vacation packages.
At this unique theme park, you can touch and feed dolphins, count the teeth on a shark, and ride thrilling coasters. Meet Shamu, the regal prince of the deep, and ride the thrilling Kraken. Or even take a thrilling journey aboard the fast-paced water ride Journey to Atlantis.
SeaWorld Orlando features several thrill rides including the Manta; a flying roller coaster and aquarium exhibit featuring rays, sea dragons and other species, and the ride Shamu Express. For the younger crowd, children can ride attractions like the Swishy Fishies, Jazzy Jellies, and Ocean Commotion.
Of course after a full day of rides and fun you will have worked up a monster appetite, so come have lunch and dinner at one of the park's exquisite restaurants. You can stop for some mouth-watering barbeque at Voyager's Smokehouse, head to Seaport Pizza for some delightful pizza and pasta, get some burgers, hotdogs, and sandwiches at the Spice Mill, or stop at the Seafire Inn for some delicious seafood and burgers! Recharged and refreshed you can now head back out to experience more fun.
No visit to SeaWorld would be complete without watching one of the park's signature animal shows. Witness the interaction between otters and trainers at the Sea Lion and Otter Stadium. Or, check out the Sea Lion & Otter Theater, where you can watch the fun personalities of sea lions, otters, walruses, and more.
SeaWorld Orlando is a treat for visitors of all ages, kids and adults alike. So get started on your Florida vacation and book today!

Other Attractions:

Adventure Island: Adventure Island is located across from Busch Gardens in Orlando, FL and is home to many water rides sure to delight all ages. From waterfalls, a wave pool, lounging areas, and live entertainment, the park is filled with plenty of opportunity for fun.

Busch Gardens: Busch Gardens is another fantastic park families will enjoy. Located in Tampa, the park features plenty of great roller coasters, food stands, shows, and everything you need to have a fun time.

Aquatica: SeaWorld's water park, Aquatica, is one of the best parks in the area. Slide down huge water slides, relax in a wave pool, or simply soak up the sun while you have a splashing good time.
Park Highlights:
Thrill Rides and Attractions:
Kraken: A floorless roller coaster themed after the legend of the Kraken sea monster.
Antarctica: Empire of the Penguins: An all-family adventure ride where you get a one of a kind chance to explore the the colony of penguins both above and below their chilly world. So come see the adventure through the eyes of Puck, a young gentoo penguin and Empire of the Penguins' hero.
Manta: A flying roller coaster and aquarium exhibit featuring rays, sea dragons and other species.
Journey to Atlantis: An indoor boat ride with roller coaster elements themed to the mythical Atlantis.
Shamu Express: A Zierer family roller coaster with cars themed as Shamu.
Sky Tower: A 400-foot tall rotating Gyro tower.
Wild Arctic: An indoor zoo featuring polar bears, beluga whales, and walruses that is designed to resemble a research station in the Arctic Ocean. Guests can take a motion-simulated helicopter journey to the exhibit, or may bypass the ride and watch the film without the motion and proceed directly to the exhibit.
Turtle Trek: An outdoor/indoor exhibit featuring sea turtles, West Indian manatees, and American alligators. The highlight of the exhibit is a theater dome where a 3D computer-animated film details the average journey of a sea turtle. The theater is a 360° dome with 3D content completely surrounded the audience. The theater and media was developed by Falcon's Treehouse, LLC.
Sea Carousel: A carousel themed with caricatured marine mammals and fish without the organ music.
Jazzy Jellies: A balloon tower style ride that lifts up and spins controlled by riders with a disk.
Swishy Fishies: A Mad Tea Party-themed ride themed as fish.
Ocean Commotion: A rockin' tug ride.
The Flying Fiddler: A kiddie crab themed Frog Hopper-style free fall attraction
Shows and Live Entertainment:
The Whale and Dolphin Stadium: Features dolphins, macaws and an Andean condor in Blue Horizons, which also adds human acrobats and divers. False killer whales were once part of the show until the eventual death of the park's two specimens. Rescued pilot whales are also housed here, away from public view.
The Sea Lion and Otter Stadium: Hosts 'Clyde and Seamore,' a pair of California sea lions in the comical presentation Clyde and Seamore Take Pirate Island. Otters and a Pacific walrus also partake in the show.
Bayside Stadium: Today, the stage is used for SeaWorld's numerous music concert series and other special events as well as the official viewing area for the seasonal Reflections firework show.
The Nautilus Theatre: An acrobatic show similar in style and presentation to the works of Cirque du Soleil.
Seaport Theatre: Features dogs, cats, and other animals that have been rescued from local animal shelters in Pets Ahoy!. This venue is also home to Elmo & Abby's Treasure Hunt.
Seafire Inn: Is both a restaurant and a theatre in the style of a dinner theatre.
Reflections: A seasonal firework show on the park's central lagoon featuring fireworks, dancing fountains, and mist screens synchronized and inspired by the musical soundtracks of the park's shows and attractions. The show was formerly called Mistify. During the Holidays, there is a Holiday Reflections.
Animal Exhibits:
Shark Encounter: Which features an underwater tunnel and a wide array of sharks, stingrays, barracuda, and venomous fish. At Sharks Underwater Grill, guests can dine while observing the sea life in the main exhibit tank.
Pacific Point Preserve: Home to the park's sea lions and seals.
Dolphin Cove, an outdoor exhibit where guests can feed and touch Bottlenose Dolphins.
Stingray Lagoon: A covered exhibit where guests can touch stingrays.
Dolphin Nursery: A covered exhibit where new-born Bottlenose Dolphins reside.
Flamingo Point: An outdoor exhibit where flamingos are exhibited.
Pelican Preserve: an outdoor exhibit where brown pelicans are exhibited.
Be sure to enjoy some amazing fun at SeaWorld the next time that you visit the area.
SeaWorld & Busch Gardens 2 Park 2 Day Combo Ticket
Ages 3 and older. Valid for admission to both SeaWorld and Busch Gardens.
SeaWorld & Aquatica 2 Park 2 Day Combo Ticket
Ages 3 and older. Valid for admission to both SeaWorld & Aquatica
SeaWorld & Adventure Island 2 Park 2 Day Combo Ticket
Ages 3 and older. Valid for admission to both SeaWorld & Adventure Island.
SeaWorld Single Day Ticket
Includes admission to SeaWorld Orlando for one day, full of rides, food, and fun at this unique theme park. Watch one of the signature animal shows, take a fast-paced water ride Journey to Atlantis, and see rays and sea dragons on a flying roller coaster and aquarium exhibit!
Reviews
4.7 |
61 reviews
Roxanne
Ny
✓
Verified Traveler
We have been to sea world - orlando several times over the years. We've always had a great time. Our kids always enjoyed the shows and the rides. We have taken other children from church and our neighbors over the years and just had a superb time. When we come to florida we just have to make a day at sea world.
Joan Hanson
WI
✓
Verified Traveler
The main attraction was to me so emotionally fantastic, the goosebumps i got on how those trainers treated, respect and loved those whales, put me in tears, thank you for that wonderful show.
Elvira Garcia-Rodriguez
FL
✓
Verified Traveler
"We had a great time!"
We had a great time! There were not that much people and it rained only a little bit. We only had to wait about 15 minutes to get on rides.
Lisbeth Dame
Hudson, NH
✓
Verified Traveler
I love sea world and the all dining deal, love their winter on ice show and had a wonderful new years eve there
Book Now!