Aquatica
5800 Water Play Way, Orlando, , FL 32821
1-866-267-5732
Description
Aquatica is a thrilling water theme park from SeaWorld that places you right in the middle of the mystery and wonder of the sea in Orlando. You will find a heap of sandy expanses to relax upon, wave pools, exciting water rides, and much more! This park features a new and unique enclosed tube slide that sends you through a clear lagoon inhabited by real dolphins for a unique ride/natural attraction unlike anything you've ever experienced before! Take in many wonders of the sea with Aquatica, which pairs great with Orlando FL packages.
What does Aquatica feature? You'll see that no matter what you find fun in regards to aquatic entertainment, you'll find plenty of it inside of this park. You'll find so many awesome rides, attractions, and other things to do.
Rides and Attractions

These thrilling rides and attractions are great for the whole family. You'll have a blast racing your friends down slides and hanging on to the tube as you're rushed down a ride.
Cutback Cove & Big Surf Shores: giant, side-by-side wave pools that offer you incredible fun.
Dolphin Plunge: These side-by-side tube slides offer you enormous fun and incredible speed. Clear tubes let you race through the home of Commerson's Dolphins!
Karekare Curl: This tube ride will have you feeling weightless as you spiral along on a thrilling adventure.
Ray Rush: This brand new family raft ride sends rafters spinning along for a thrill!
Ihu's Breakaway Falls: This free-fall is the steepest multi-drop ride in the park!
HooRoo Run: Very fast 2-person tube ride.
Breakaway Falls: Free Fall drop slide.
Omaka Rocka: Speed down flumes into funnels.
Walhalla Wave: A 6-story maze of twists and turns for the whole family.
Roa's Rapids: This whitewater rapid filled river blasts you around the park with speed and fun.
Tassie's Twisters: Climb to the top of an island tower and plunge down lighting fast tubes into a giant bowl, which will spin you around and around until you wind up in Loggerhead Lane.
Taumata Racer: This is the largest thrill ride in Aquatica. You must be at least 42 inches tall to ride this mat ride.
Whanau Way: This is a quadruple ride that blasts riders through enormous slides down from a tower for incredible fun.
Relax

Sometimes you just want to take a break from the thrill of the park and relax by the water. With these areas, you can sit with the family and enjoy a refreshing beverage or enjoy a float around the park on a lazy river.
Loggerhead Lane: This lazy river ride takes you around the park in comfort. Enjoy the relaxation that only comes from a leisurely float in cool waters.
Sandy Beaches: Relax on a beautiful white sandy beach with your favorite drink in hand. There are plenty of lounge chairs to sit in.
Kids Activities

Adults aren't the only ones who can have fun at this park! Take the kiddos to these areas and let them get their energy out.
Kata's Kookaburra Cove: This is the best spot in the park for kids and features numerous sprinklers, waterfalls, shallow pools and much more.
Walkabout Waters: Another great place for kids; you'll meet colorful characters and splash through pools and streams.
Wave Pools: These areas are suitable for kids who are being watched by an adult. They can walk out into the water and enjoy the sun.
Dining

Of course, all of the fun is sure to work up an appetite. Head over to these dining options and grab a bite to eat.
Banana Beach Cookout: Enjoy anything from BBQ chicken, ribs, wraps, pulled pork, salads, and more.
New! Papa's Cantina: Serving up empanadas, boneless wings, and more, this new restaurant will help you with all of your cravings.
Ke'Re's Bar & Motu's Beach Bar: Grab appetizers and yummy cocktails at these bars!
Mango Market: Grab a wrap, hot dog, plate of fries, or salad. This market also has plenty of desserts.
Waterstone Grill: This grill has everything you're looking for. From chicken sandwiches and burgers to beer and cake, this has it all.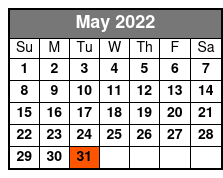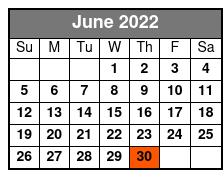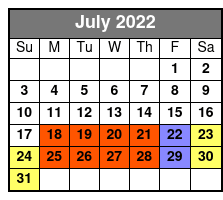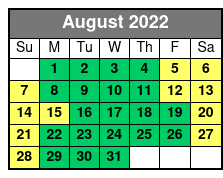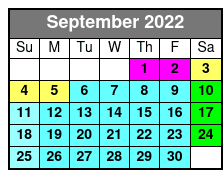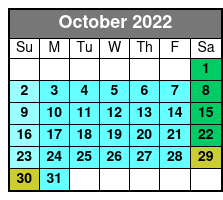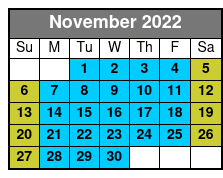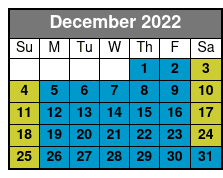 Options:
Aquatica Single Day Ticket
Available Now until 12/31/2022 View Detailed Schedule
Enjoy the waterpark fun at Aquatica with this single-day ticket.
Aquatica & Busch Gardens 2 Park 2 Day Combo Ticket
Available Now until 12/30/2022 View Detailed Schedule
This ticket includes admission to Aquatica or Busch Gardens for two consecutive days.
Aquatica & Adventure Island 2 Park 2 Day Combo Ticket
Available Now until 11/13/2022 View Detailed Schedule
Enjoy admission to both Aquatica and Adventure Island for 2 Days.
Aquatica & SeaWorld Two 2 Park 2 Day Ticket
Available Now until 12/31/2022 View Detailed Schedule
Enjoy the Aquatica & Seaworld 2 Park 2 Day Ticket, allowing you to visit both parks!
Reviews

Customer

✓
Verified Traveler
"it is one of the trillion wonders of the world."
If you have never been there what have you been doing in your life... It is one of the trillion wonders of the world.

Lisa Barton
FL
✓
Verified Traveler
"Very nice water park"
Very nice water park, and the staff were very nice.

Toni Fulliver
IA
✓
Verified Traveler
"It was fantastic."
Definitely need to visit this park if you are in town!!! It was fantastic.

The Snyder Family

✓
Verified Traveler
"This was the best water park we have been to."
This was the best water park we have been to. The water was so much cleaner than the rest that we have previously gone to. We will be going back again.
Frequently Asked Questions for Aquatica:
What on-site amenities are available?

There are plenty of dining options, shops, restrooms, and cabanas to relax.

What style of dress is recommended?

Casual dress is recommended. You must wear shoes, shirt, and family-appropriate clothing.

Is parking available on-site?

Parking is $25 a car.

Are lockers available at Aquatica?

Yes, lockers are available for a small fee.

Do we have to wear life jackets?

For safety, guests under 48' must wear a life jacket on most of the attractions.

Is smoking allowed inside Aquatica?

Smoking is allowed at designated smoking areas.
Book Now!