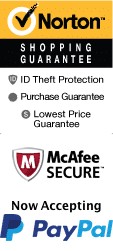 Night Walking Tour Through Haunted New Orleans
1140 Royal St New Orleans, Louisiana 70116
1-866-267-5732
Chat Now
Get ready to embark on a spine-chilling adventure through the streets of New Orleans with the Nightwalking Tour through Haunted New Orleans. Led by an experienced guide, this tour will take you through the city's historic French Quarter, where you'll encounter ghostly tales and haunted locations.

Once the sun sets, the tour gets started at Jackson Square, where you'll learn about the city's history and supernatural legends. With the company of an expert guide, you'll walk down eerie alleys, shadowy streets, and spooky cemeteries, all while hearing unsettling stories about the ghostly apparitions that haunt New Orleans.

During the two-hour tour, your guide will take you to several locations known for their haunting histories, including the infamous LaLaurie Mansion, where unspeakable horrors occurred, and the Pirate's Alley, where you'll hear tales of pirate ghosts still roaming the streets. You'll also have the opportunity to visit the St. Louis Cemetery No. 1, where Marie Laveau, the Voodoo Queen, is buried.

With the company of an expert guide, you'll learn about the history that surrounds these haunted spots and the terrifying events and ghostly apparitions that haunt them. Your guide will share their extensive knowledge of the city's past and its supernatural underworld, making this tour both informative and thrilling.

As you stroll through the French Quarter, you'll feel the vibrations of the city's supernatural past, and come to understand why New Orleans is one of the most haunted cities in the world. It's an experience that will send shivers down your spine and leave you with a newfound appreciation for the city's rich history and supernatural folklore.

Get ready for an unforgettable experience as you embark on the Nightwalking Tour through Haunted New Orleans. This is the perfect activity for thrill-seekers and history buffs alike, who are curious to learn about the fascinating and chilling history that haunts the French Quarter. Don't miss out on this opportunity to discover the spine-chilling mysteries that await in the historic streets of New Orleans.
Book Now!