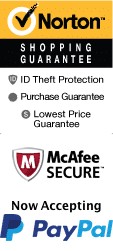 New Orleans Haunted History Ghost Tour
723 St Peter New Orleans, Louisiana 70116
1-866-267-5732
Chat Now
Take a step back in time as you meet your costumed professional guide who will take you through the eerie, thrilling, chilling and adventurous tour that walks you through the history of New Orleans. This tour takes you through many famous locations, including a stop at Vieux Carre, all of them have reported supernatural sightings like ghosts and spirits, some even have reported haunting phantoms! You'll learn the unbelievable history that caused these spirits to roam the streets today. You'll even be treated to a visit to a haunted bar that is famous for 2 different kinds of spirits! Throughout the entire tour you will remain entertained by your theatrical guide who will give you a very comprehensive history of the area, but keep you amused and engaged the entire time.
This tour requires reservations. Due to the subject matter, children who frighten easily may not enjoy this tour. All children should be accompanied by an adult. This is a walking tour, please wear comfortable shoes and dress comfortably for the weather.
Step out of the norm and into a real ghost adventure where you'll learn the dark history and visit many locations that are famous for the spirits who still roam their halls today with the New Orleans Haunted History Ghost Tour.

This famous New Orleans Haunted History Ghost Tour explores the grim and ghastly deeds of the old French Quarter. Secret and sinister, most of these events occurred a very long time ago. Yes! Ghosts and Spirits still haunt the legendary Vieux Carre. Phantoms and Ghosts abound!
Escape into the past as your offbeat, theatrical New Orleans tour guide provides you with an eerie, chilling yet fun-filled adventure! You'll visit sights of documented hauntings, Ghosts, Spirits and see the French Quarter residences in which unbelievable events took place. You will even visit a haunted bar along the way of this New Orleans Ghost Tour!
Book Now!