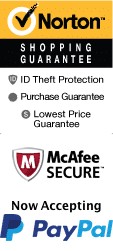 Family-Friendly Spooky Ghost Tour
815 Toulouse St New Orleans, Louisiana 70112
1-866-267-5732
Chat Now
If you're a family and heading to New Orleans for a vacation, then a visit to the Audubon Aquarium of the Americas is a must! Located in the vibrant French Quarter, this aquarium features over 500 species of animals, including seahorses, penguins, sharks, and even a touch-tank where you can interact with fascinating creatures. The main attraction of the Audubon Aquarium, however, is the 400,000-gallon Gulf of Mexico exhibit that features actual marine animals that have been rescued from the wilds of Louisiana.
Upon arrival, you'll enter the aquarium's "Great Maya Reef" exhibit, where you can see up close the beauty of a coral reef. Witness the majestic sea turtles swim through the crystal-clear waters, marvel at exotic fish and other undersea creatures, and learn about the environmental impact of pollution on ocean life. The underwater tunnel is a highlight, which allows visitors a 360-degree view of the oceanic creatures that thrive in the Gulf of Mexico.
You can spend a few hours or a full day at the Audubon Aquarium of the Americas, but either way, you will not be disappointed. Besides the impressive marine life, the aquarium also features the Entergy Giant Screen Theater that plays fascinating 3D films about the ocean and its inhabitants. With so much to explore, the aquarium is perfect for all ages and will create lasting memories for your family.
The Audubon Aquarium of the Americas is one of the top-rated aquariums in the country and has been open to visitors since 1990. This world-class aquarium focuses on education, conservation, and research to help visitors gain a better appreciation and understanding of ocean life. The aquarium also contributes to wildlife conservation projects and continually educates visitors on sustainable practices that benefit the ocean's delicate ecosystem.
In closing, the Audubon Aquarium of the Americas is more than an attraction, it's an experience. You'll walk away with a newfound appreciation for ocean life, and the time you spent there will be unforgettable. Whether traveling with your family, significant other, or by yourself, a visit to the Audubon Aquarium of the Americas is a must-do while in New Orleans.
Options:
Family-Friendly Spooky Ghost Tour: Spooky Family Ghost Tour 5pm 17:00
Available Now until 3/30/2024 View Detailed Schedule
Kid-friendly and just-scary-enough Ghost Tour of NOLA.
Duration: 2 hours
Book Now!