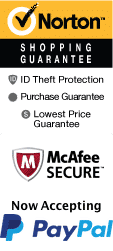 YOUR PEACE OF MIND IS OUR TOP PRIORITY
Should you need to cancel at any time, you have up to 48 hours from your vacation start date to do so for a 100% future travel credit.

Webster's Flea Market and Farmer's Market near Orlando, FL
524 N. Market Blvd. Webster, FL 33597
With its eclectic assortment of merchandise and great deals, the Webster's Flea Market is undoubtedly one of the most popular and busiest shopping
destinations
in the region; as great a favorite with locals as it is with visitors to
Florida
.
Open all through the year on Mondays only, Webster's Westside Flea Market is one of the best places to go to if you're looking for exquisite fiestaware, antiques to adorn your home, or even some quaint jewelry to pamper yourself. The Farmer's Market is well-stocked with fresh local produce which varies with the season. Gourmet chefs can stock up their larders with delicious homemade salsas and jellies, while unconventional fashion enthusiasts can also score a great bargain on new and used apparel.
As regulars will vouch, the variety is endless and you can always expect to find something new each time to stop by! Webster's Flea Market and Farmer's Market also offers scooter rentals at very attractive rates on federal holidays which fall on a Monday, as well as during the winter months. This offers visitors an unusual way to take in the Florida sights and experiences.
The Webster Cycle Meet, which is held on the first Sunday of every month, allows biking enthusiasts an excellent opportunity to meet other like-minded individuals over a day of great food, beer and no-holds-barred entertainment. Admission is priced at $4 per person and includes free use of hot showers and restroom facilities.
You can also bring your pets along to the Webster's Flea Market and Farmer's Market as long you as keep them on a leash and clean up after them. If you run out of cash just as you are about to strike a great bargain, simply head to the on-site ATM which is located just a few minutes away from all the action!
Summer hours for the Webster's Flea Market and Farmer's Market are from 6 a.m. to 2 p.m., while winter months see the market open from 5 p.m. to 3 p.m. generally.