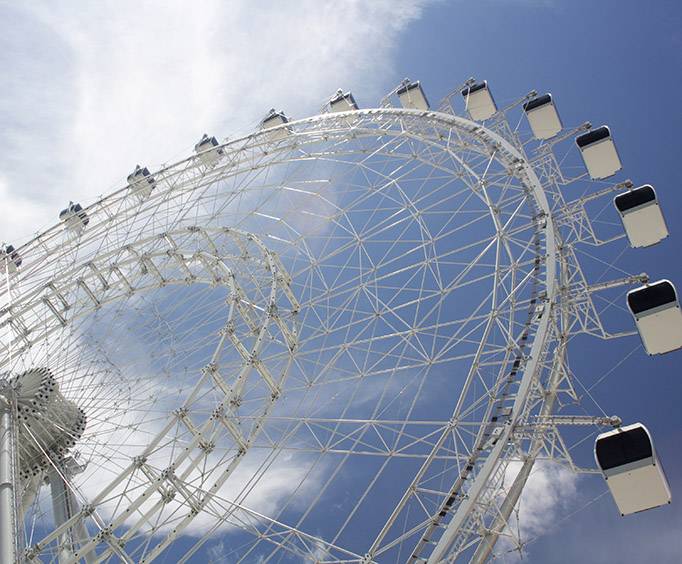 The Orlando Eye in Orlando, FL
8401 International Dr #100 Orlando, FL 32819
Take a moment and escape the hustle and bustle of the busy city of Orlando, Florida with a visit to one of the area's newer attractions, The Orlando Eye. See the city in a whole new way from 400 feet in the air on an observation wheel. Guests of all ages will be amazed at this wonderful view and amazing ride.
Visiting Orlando has always been thought of as a trip full of driving and walking, but the city has created a new way to take in the city all at once. The Orlando Eye is a 400 foot tall observation wheel that takes you high above the city and allows you to see it in it's entirety from a birds eye view. From the amazing and breathtaking skyline to the theme parks that rise up from nowhere, not to mention the natural wonders like lakes and lush green landscape that flourishes in Florida's tropical climate. On a clear day, you can see all the way to Cape Canaveral set on the east coast. Each group is taken high in the sky in a fully enclosed and air conditioned capsule, making the experience not only amazing but comfortable. For an even more amazing view, enjoy the included pre-flight 4D Cinema Experience that includes multi-sensory special effects while you enjoy a breathtaking view of the city.
This amazing and new attraction is ideal for guests of all ages. Enjoy the city of Orlando, Florida from a whole new perspective, high up in the sky. DOn't miss your opportunity to check out one of the nations most popular vacation destinations in a whole new way, Head to the Orlando Eye today.

By Date: