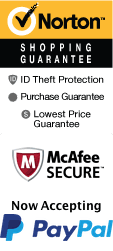 YOUR PEACE OF MIND IS OUR TOP PRIORITY
Should you need to cancel at any time, you have up to 48 hours from your vacation start date to do so for a 100% future travel credit.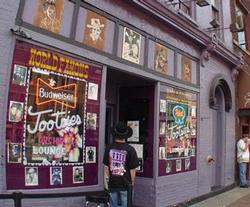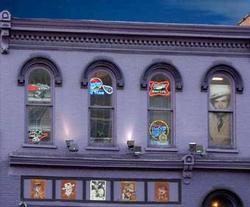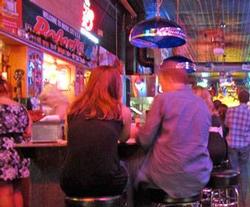 Tootsies Orchid Lounge in Nashville, TN
422 Broadway Nashville, TN 37203





(5.0)
Based on 3 reviews ↓
One of the most famous honky tonks in the city, Tootsie's Orchid Lounge is full of historic memorabilia and features some of the best live musical acts in downtown Nashville, Tennessee.
Located in downtown Nashville in the alley behind the Ryman Auditorium, Tootsies Nashville has been a place for musicians to perform and have some drinks with patrons and fans.
Originally called Mom's, Tootsie Bess bought the bar in 1960 and after it was painted an orchid purple color to her surprise, the name was changed to Tootsie's Orchid Lounge. Some of her first lounge customers included Willie Nelson, Mel Tillis, Waylon Jennings, and Patsy Cline. Several other famous artists have performed their music here over the years, such as Hank Williams Sr., Jimmy Dean, Kris Kristofferson, Roger Miller, and many others.
Being located right on Broadway behind the Ryman Auditorium, this is a popular honky tonk destination not just in the terms of desirability, but also because of its prime location on Broadway in Nashville, with all of the other popular honky-tonks. This great downtown Music City location makes the bar more of a tourist spot. Not a far drive from Music Row, guests and visitors are able to make a quick drive from the bar to just about any other location within the heart of the country music entertainment industry.
Just a short distance from other notable tourist destinations within Nashville, this bar is perfectly and conveniently located. Follow Broadway until it turns into West End Avenue, and find yourself at Centennial Park, where you can see the majestic Parthenon, a perfect replica of the original Greek temple. Continue east on Broadway and run into the beautiful Cumberland River, or head about five blocks north to see the Tennessee State Capitol Building. If you travel east along the Cumberland, you will eventually come to the Grand Ole Opry and the Gaylord Opryland Resort and Convention Center and just south of there you can find the Nashville International Airport.
Initially just a bar/honky-tonk, Tootsie's had a place in the backroom that she would let musicians hang out in and practice or host jam sessions, which many of them would take her up on, considering how she was like a mother to a great many of them. Though not a legitimate performing venue, this location definitely saw many different country musicians and aspiring stars perform in its early days.
It is also here than many performers get their first chance to shine. In fact, it is rumored that Willie Nelson got his first songwriting job after singing at Tootsies. After performing at Tootsie's one night, Nelson met Hank Cochran, who worked as a songwriter for Pamper Music, and convinced the owners of the company to sign Nelson to Pamper Music.
About Hattie Louise "Tootsie" Bess
Tootsie was a singer and comedienne prior to opening the bar, often performing with Big Jeff & The Radio Playboys, a band fronted by her husband "Big Jeff" Bess. She had recorded songs My Little Red Wagonand Tootsie's Wall of Fame, which referred to the massive collection of photos of musicians on the wall in her bar.
Tootsie loved great music and loved to help the struggling artists who took the stage each night, often slipping money into their pockets. It is also said that she kept a cigar box behind the counter full of IOUs from when she had given free food and drinks away to the down-on-their-luck performers. Each year members of the Grand Ole Opry would get together and pay off all the IOUs so Tootsie's place wouldn't lose any money.
Even though she was caring and nurturing, she also didn't put up with any trouble. She owned a jeweled hatpin that was gifted to her by Charlie Pride, and she would often use that hatpin to stick patrons with if they got too unruly, showing that she had a tough side to her.
After losing a battle with cancer, the beloved owner of the famous honky-tonk passed away in 1978. Among the many different famous artists and musicians that attended her funeral were Tom T. Hall, Roy Acuff, and Faron Young. Connie Smith performed some of Tootsie's favorite hymns at her funeral, and she was buried in an orchid-colored dress and an orchid was placed in her casket so she could be sent to heaven with her favorite flower.
Even after passing away, Tootsie has created quite the legacy for her bar in the country music world.
Tootsie's Legacy
Tootsie's is now a legitimate performing venue for aspiring country music artists that wish to hit it big. As a major tourist destination in Tennessee, this place has attracted people from all over the world that wish to see this notorious bar and venue.
Today, some of the best up-and-coming country artists can be found playing their live music and performing covers at Tootsies. There are two different stages located in the bar; one upstairs and one downstairs. Live music begins when the doors open at about 10 AM and continue until the early morning hours at around 2 AM.
Tootsies Orchid Lounge is a true Nashville honky-tonk. With its rich history, it continues to serve as a platform for country artists on the rise and keeps the crowds entertained with true Nashville sound. Of course, when you aren't sipping on a cocktail at Tootsies Nashville, you can explore all of the other awesome adventures that Music City is known for. Check out fun downtown honky tonk bar venues and attractions such as the Grand Ole Opry, Musician Hall of Fame and Museum, Music Row, and hotel options to ensure that your stay is comfortable.