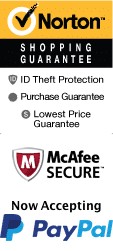 Belle Meade Plantation Tour
5025 Harding Pike Nashville, TN 37205

Belle Meade Plantation Tour is no longer available.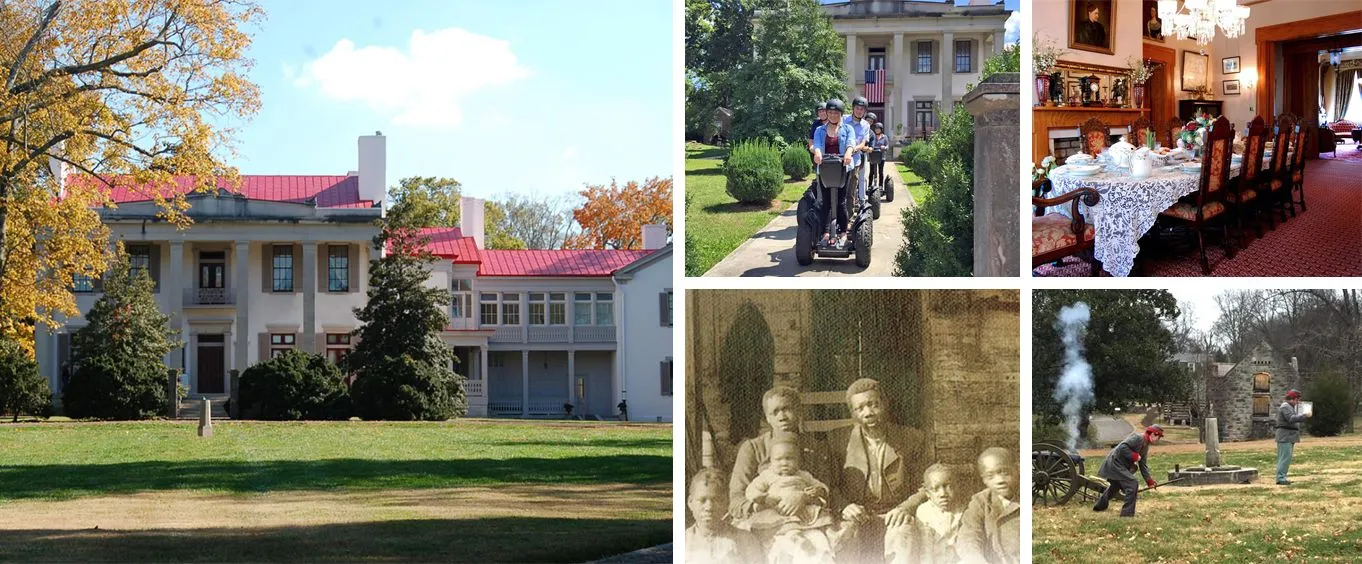 Journey back in time to spectacular magnolia trees and immaculate estates as you enjoy a guided tour of the Belle Meade Plantation, a beautifully-restored Antebellum mansion in Nashville that dates back to 1807.
About the Mansion
Originally a Federal-style house, the house was expanded in 1853 to be in style of a Greek Revival mansion, to reflect the success of the great plantation. This opulent house has a massive 14-foot high central entrance that spans the length of the house from east to west, allowing for a natural cooling method. One aspect of this sprawling estate is that the mansion also has a basement, which was not a common aspect for houses in the time period and was used as a sort of wine cellar. The house is beautifully furnished with period fixtures and furniture, showing its place in history. Adorning the interior walls of the mansion is gorgeous paintings by many famous 19th-century painters that depict the famous horses that got their start on the plantation.
The Stables
The Harding family plantation's stables became renowned for their breeding of quality thoroughbred horses; buyers from around the world would flock to the plantation for the chance to purchase the magnificent animals. In fact, famous horses such as Secretariat, Seabiscuit, Funny Cide and Smarty Jones can all trace their lineage back to this farm! The plantation was also a popular destination for entertaining evenings, full of fine wining and dining. As the epicenter of society and social events, the plantation was the site of many events with guest lists of hundreds of people.
Blacksmithing, Sawmills and More
Beginning in 1807 as a plantation that was used for numerous services such as blacksmithing, grist mills, cotton gins, and sawmill. Around 1816, the plantation began boarding houses for nearby neighbors like former President Andrew Jackson, among many others. After picking up thoroughbred breeding, John Harding's heir William Giles Harding inherited the Belle Meade Mansion and expanded the estate to a massive 5,400-acre plantation that had one hundred and thirty-six enslaved people working on it.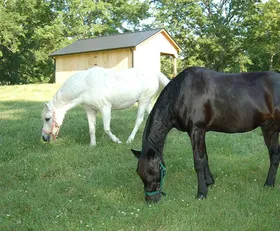 Horse Racing and Breeding History at Belle Meade
The beginning of the Civil War saw the halt of breeding and racing operations on the plantation, with the inherited owner being imprisoned temporarily for staunchly supporting the Confederate Army and donating $500,000 for their aid. During the early years of the Civil War and during the infamous Battle of Nashville, numerous farms were having horses relinquished to be used by armies on both sides of the war, yet Harding managed to keep all of his thoroughbreds in his care. A battle took place in the front yard of the mansion, causing there to be bullet holes and damage to the stone pillars of the house still seen to this day.
Civil War Era and Slave History
When the Civil War finally subsided, Harding resumed his thoroughbred operations, though now with drastically reduced numbers in workforce, with the Emancipation Proclamation having freed the slaves. The plantation went from a number of 136 slaves to a workforce of 72, most of which were living off-grounds, and the newly freed slaves that chose to stay on the grounds were made to sign a contract containing 18 Rules and Regulations, which stated that pay would be reduced if said rules were broken. With a beautifully kept Antebellum mansion comes a vast and rich history and this one does not shy from that. Starting out as a farm and working its way to being a renowned location for thoroughbred horse breeding and boarding, this location has made quite the name for itself.
There is an abundance of poplar wood, which is the state tree of Tennessee, a grand cantilevered staircase constructed of cherry wood, and numerous other qualities that make this gorgeous estate so magnificent. There are seven original outbuildings on the property, which include a dairy, horse stables, a carriage house, a mausoleum, and log cabins that were slave cabins. The cabin on the property was purchased for the property in 1807 by John Harding, and the Carriage House and Stables were built in 1892.
About the Carriage House
When visiting the carriage house, guests are able to see a wide collection of carriages that the Harding and Jackson families collected for a wide array of events. The stables are a grand affair and the house a decorative antique carriage collection. The grounds of the house are just as extravagant as the mansion itself, filled with history and Tennessee splendor that is quite abundant in the Nashville area. Covering over thirty acres, this sprawling estate will leave any guest in awe over its majesty and beauty.
There are picturesque views from all over the grounds, providing a wonderful perspective on the land around the house. At one point, this house raised and sold a breeding stock of ponies, Alderney cattle, Cotswold sheep, and Cashmere goats and featured a deer park that spanned over 600-acres.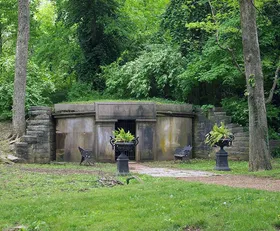 About the Guided Tour
On this tour, guests will walk the grounds that used to be host to numerous types of social events and see what kind of splendor this locale has offered to guests such as two United States presidents, the Secretary of War, who was also the son of Abraham Lincoln, General William Tecumseh Sherman, Major General Winfield Scott Hancock, and even Vice President Adlai Stevenson. With such a massive history of renowned guests, Belle Meade mansion is a great house filled with such rich history that it is easy to see where this house got its fame from. You'll tour the 1820's Nashville Mansion with a knowledgeable tour guide dressed in period costume.
About the Winery
After the
tour
, you can spend some time at The Winery at Belle Meade Plantation. The winery opened on the plantation in 2009 and is now available for visitation seven days a week. Explore the beautiful grounds, try out some of the most exceptional-tasting wines made at Belle Meade Winery, then bring some home for yourself. The wine tasting is included in the tour price. Taste the flavor of the Southern grape, muscadine and the blackberry, three fruits that have been made into wine for over 200 years.
The winery also offers a full complement of Tennessee Reds and White. This Nashville gem is sure to leave guests and visitors with a feeling of awe and wonderment after touring the grounds and historic buildings held there. There is even a gift shop on the property for those guests that would be interested in taking home a piece of history or a souvenir to mark their visit to this location. Belle Meade has long since reached its pinnacle of success but has definitely made a lasting impression on the history of the Nashville, Tennessee area. T
These beautiful grounds still host an array of events, such as wedding ceremonies and receptions. Tour Highlights 1790s Durham Station Log Cabin 1853 Antebellum Mansion 1890s Carriage House and Stables Antique Carriage Collection 7 Historic Outbuildings.
Reviews

Elizabeth Adolf
Edmonton, Alberta
✓
Verified Traveler
"The plantation is beautiful"
The guide was both informative and funny. His sense of humour added to the tour. The plantation is beautiful - wish we would have spent a little more time there exploring the grounds. The winery is very cute and being able to taste and purchase some of their wines was a bonus. We ate at the restaurant on site and very much enjoyed the food as well.

ABO
Iowa
✓
Verified Traveler
"The grounds were very well maintaned."
Just got back from our civil war trip. We greatly enjoyed our time spent at belle meade. Our guide, kate, was extremely well informed and was able to answer all the questions asked. She was very gracious and seemed to really enjoy interacting with us, and it was not just a job to her. The grounds were very well maintaned. The ladies in the tour office were very helpful, giving us a lot of information, not only about belle meade, but other sites that may be of interest to our group. A great stop.

Diana Brookes
Newport Beach, CA
✓
Verified Traveler
"These California girls loved every minute of it!!!"
Erica, our tour guide really made history come alive at belle meade! We felt like we really got to know the characters of the day and of course all the famous horses and their sires that resided there. This was our favorite tour in nashville and believe me, we did almost everything! I was there for spring break with my 24 year old twin girls who are in grad school. Thank you for a real introduction to the southern way of life. These california girls loved every minute of it!!!

sherry crisel
saint louis, Missouri
✓
Verified Traveler
My favorite. The grounds were beautiful, the people there were awesome, and the winery was great. We all enjoyed this alot.Loaded with great history. Being able to walk thur every room was so cool.
Frequently Asked Questions for Belle Meade Plantation Tour:
Approximately how long could a customer plan to spend here?

Guided tours last an hour.

What amenities are available?

There is a winery and a gift shop.

Is it handicap accessible?

Yes.

For what ages is it appropriate?

Great for all ages.

Is parking available?

Free parking is available onsite.